Spicy Thai Beef Salad Recipe - delicious sweet and spicy cold Thai Beef Salad is a cool, refreshing summer hit - great for a hot day, picnic, or lunch on the go. Tastes just like takeout Thai Beef Salad, but a million times better in less time than it takes to pick up takeout!
This sweet and spicy Thai beef salad is so delicious - and super easy! If you love sweet and spicy Thai food flavors, this salad is a hearty but refreshing dish you can make ahead and take for lunch at work or on the go - and it's naturally low carb, making it a delicious keto Thai beef recipe!
This salad is great with pre-cooked sirloin, as a way to use up leftover steak, or with some quick stir fried beef. You can even use ground beef instead of sliced steak or change it up and use precooked chicken or shrimp, even tofu or tempeh - this recipe is really versatile!
JUST TAKE ME TO THE SPICY THAI BEEF SALAD RECIPE ALREADY!
If you'd rather skip my (very helpful, i think) tips and tricks, essential cooking info, and similar recipe ideas – and get straight to this deliciously easy chilled spicy Thai beef salad (Thai food takeout copycat) recipe – simply scroll to the bottom of the page where you can find the printable recipe card.
Tips to Serving Spicy Thai Beef Salad Recipe at a Dinner or Potluck:
This Thai Beef Salad is one of my favorite meals to make ahead for an easy on the go meal - in part because it tastes best when cold!
-Let your beef marinate in the dressing for at least an hour before serving.
Letting your beef sit in the dressing will help soak up all the delicious flavors and help your dressing come together.
-Don't dress lettuce until you're going to eat.
Dressing your lettuce shouldn't happen until you're ready to eat (unlike the other vegetables and the beef) because it will wilt and get super soggy.
-Keep chilled.
For food safety's sake, keep your dish chilled the entire time.
-Vary up your veggies.
If you don't love the vegetables I'm adding to this spicy beef salad, change them up and pick vegetables you love. Try sugar peas, zucchini, onions - whatever you have on hand or love!
To Make This Spicy Thai Beef Salad Recipe You'll Need:
This delicious cold beef salad is seriously one of the easiest recipes ever - you don't need any special equipment to make a delicious restaurant quality Thai beef dinner.
To make this recipe, you will need:
Mixing Bowl
Since we're making the sweet and spicy Thai beef dressing and letting it marinate, you'll need a bowl that is easy to mix the dressing in and stir well to dissolve the sugar to create an addictive layered flavor.
Pre-cooked Beef or Steak
This recipe doesn't require any cooking whatsoever - you'll need chilled pre-cooked beef that was quickly browned or stir-fried. Leftover steak sliced thin works great.
Sharp knife, shredder, or mandoline
To make the most delicious salad, I prefer very very thinly sliced vegetables - think coleslaw sized strips instead of chunks. This will give your salad more surface area for the deliciously addictive dressing to stick to!
Spoon
You're going to need to stir or whisk the dressing to get it to come together.
Plastic Wrap or airtight container
Since we're going to chill the beef salad for about an hour before serving, letting the flavors come together beautifully, it's important to keep the dish chilled in an airtight container or under plastic wrap to prevent contamination, oxidation, or taking on funky fridge flavors.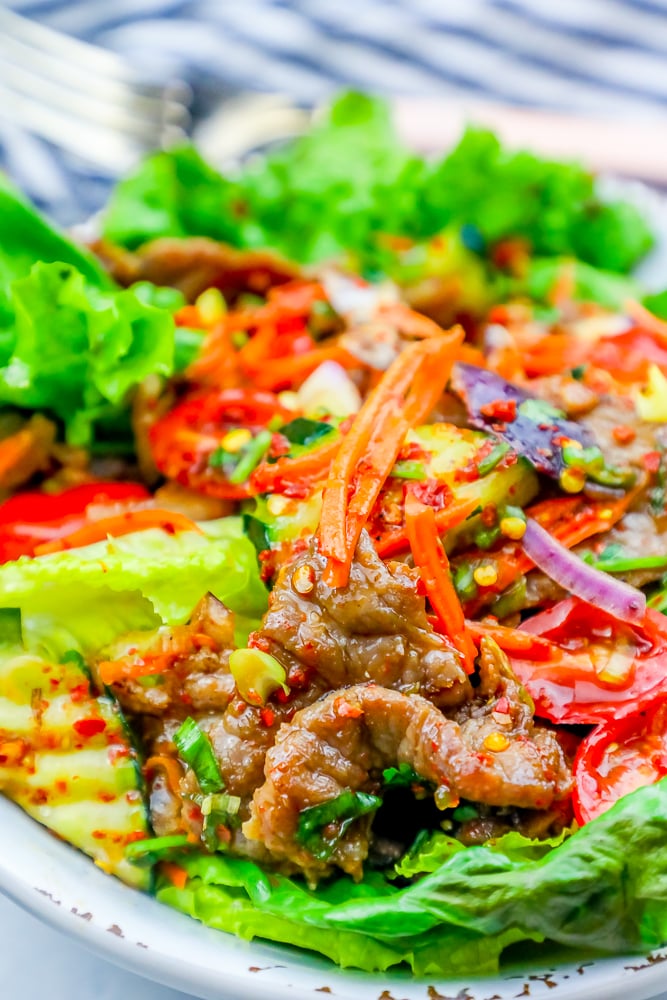 Other Delicious Thai Food Dinners You'll Love:
If you love this easy and delicious Thai inspired salad, please check out some of my other favorites:
Easy Chicken and Shrimp Pad Thai Noodles Recipe
f10 Minute Pan Seared Thai Chili Scallops Recipe
One Pot Easy Beef Drunken Noodles
Other Delicious Low Carb Salads You'll Love:
If you love this sweet and spicy Chilled Thai Beef Salad, be sure to try my favorite hearty low carb salads!
Spicy Thai Shrimp Salad Recipe
Scallop & Pepper Antipasti Salad
Spicy Thai Beef Salad Recipe
If you love this Spicy Thai Beef Salad Recipe as much as I do, please write a five star review, and be sure to help me share on facebook and pinterest!
CONNECT WITH SWEET C'S!
Be sure to follow me on my social media, so you never miss a post!
Facebook | Twitter | Youtube | Pinterest | instagram
Sign up to receive an email in your inbox for each new recipe:
FREE EMAIL SUBSCRIPTION
Yield:

6 people
Spicy Thai Beef Salad Recipe
Total Time:
1 hour
5 minutes
Spicy Thai Beef Salad Recipe is a light, delicious, and refreshing meal full of spicy sweet Thai beef flavors! Great for picnics, parties, or a busy lunch or weeknight - for a delicious spicy sweet low calorie salad that is bursting with delicious Thai beef salad flavor! 
Ingredients
1 teaspoon salt
1 teaspoon pepper
1 lb thin sliced ribeye or sirloin, cooked and peeled
2 tablespoon olive oil
2 tablespoon lime juice
4 teaspoons fish sauce
1 tablespoon canola oil
2 teaspoons light brown sugar
½ teaspoon crushed red pepper
1 cup bell pepper, thinly sliced
1 cup cucumber, thinly sliced
¼ cup fresh herbs - basil, cilantro, and mint
¼ cup cherry tomatoes, sliced
3 cups butter lettuce
Instructions
Season beef with a pinch of salt and pepper, sprinkled evenly across beef.
Heat a large skillet or wok on high heat.
Add oil and swirl around pan until shimmery.
Add beef to pan and cook until well browned, stirring often to prevent burning; about 5-8 minutes.
Remove beef from pan and set aside.
In a small bowl, combine fish sauce, oil, lime juice, sugar, and bell pepper and mix well until combined and sugar is dissolved.
In a large bowl, add beef, herbs, and vegetables and drizzle sauce over.
Toss well and chill, covered, for at least 1 hour and up to overnight.
Add lettuce to a bowl and toss beef and vegetables over the top.
Nutrition Information
Yield
6
Serving Size
1
Amount Per Serving
Calories

324
Total Fat

23g
Saturated Fat

8g
Trans Fat

0g
Unsaturated Fat

15g
Cholesterol

72mg
Sodium

757mg
Carbohydrates

6g
Fiber

1g
Sugar

3g
Protein

24g