The Best 10 Minute Pan Seared Thai Chili Scallops Recipe is the secret to perfect pan seared scallops in a Thai chili sauce, bursting with lemon and Thai basil flavor for a Thai Restaurant quality scallop dinner in under 15 minutes – from fridge to plate!
Scallops are a great low calorie and low fat choice that are packed with protein for dinner – especially during Lent.
If you're looking for a hearty, delicious, and restaurant-quality Thai Seafood dinner, these Thai Chili Scallops are the perfect easy and impressive meal – they cook in under 10 minutes (with a sauce!!), are bursting with flavor without any hard to find ingredients, and make you look like a pro in the kitchen, regardless of cooking experience.
This Thai scallop dinner can go from the fridge to the plate in just under 15 minutes – and is perfect for dinner parties, romantic evenings, or just a quick filling meal.
While this Thai Scallop Recipe post is long, it does contain lots of information on the nutrition facts of the dish, substitute ingredient ideas, and tips to make it perfect, every time.
Please consider the post text and be sure to follow through my tips to ensure perfect pan seared scallops and an irresistible Thai chili sauce!
Just take me to the Spicy Asian Scallops Recipe already!
If you'd rather skip my (very helpful, i think) tips and tricks, essential cooking info, and similar recipe ideas – and get straight to this deliciously easy low carb baked ranch chicken recipe – simply scroll to the bottom of the page where you can find the printable recipe card.
Swaps For Scallops with Thai Chili Sauce
Alternatives to Butter For Pan Searing Scallops
If you're watching fat or cutting dairy, extra virgin olive oil or another heart-healthy oil whose flavor you love (and has a higher smoke point – coconut oil, walnut oil, avocado oil are all good additional options) is an easy swap.
If you're wondering what the difference between Thai Basil and Basil is, you're not alone.
Thai Basil looks a lot like basil – and while it can be used in place of basil and vice versa, they do have different flavor profiles.
Thai basil has become a lot more easy to find in grocery stores across America than it used to be – but if you can't find it, don't worry, this dish is still delicious with basil.
Thai basil has a bright citrus and slightly minty and anise flavor that basil doesn't – so if you're swapping Thai basil with basil, you might want to toss in a sprig of mint and a dash of lemon juice or a couple fennel seeds to get a similar flavor – however for a quick dinner, you basil will still give you an outstanding flavor.
I used a Thai chili paste because I love the rich, spicy, and slightly smoky flavor – but there are numerous substitutions that work well in this recipe. Sriracha is an easy almost-even swap (you might want to use a tiny bit less sriracha sauce depending on your tolerance to heat), or add chili flakes + a dash of rice vinegar.
You can also take the heat out completely and swap the chili paste for some soy sauce (or coconut aminos if you're on a paleo or keto diet) for a saltier take on this dish that is incredibly delicious.
If you're looking for something sweeter, a sweet chili sauce gives a deliciously sweet (but not overpoweringly sweet) twist to this dish – orange chicken sauce, teriyaki sauce, soy sauce, sweet and sour sauce are also great options to use to replace the Thai Chili Sauce I made here – and all go great over perfect pan seared scallops.
While this dish was created to spotlight the sweet and buttery flavor of perfect pan seared scallops, it is a delicious method to cook some other favorites as well – especially other seafood dinners.
Using Shrimp Instead of Scallops – cook 1 lb peeled and de-veined shrimp exactly like scallops, until opaque. Cooktime can vary depending on size of shrimp, so watch to see when they are turning opaque and adjust timing based on the color of the shrimp.
Using Salmon Instead of Scallops – sear top of salmon filet in HOT oil, then flip to finish skin-side down, and cook as listed in scallop recipe to create sauce. Salmon is cooked when it is no longer pink in the middle, before the albumin (the tiny dots of white – Salmon's fat – that pop out of salmon when overcooked). Salmon filet size will change cooking time – for larger filets, you might need to add a couple minutes. Watch your fish to see how it's cooking and adjust as needed.
Using Lobster Tails Instead of Scallops – Lobster tail is a great swap for scallop – simply remove lobster meat from shell and cook as listed for scallops. Depending on the size of the tails, you might need to cook faster or longer – lobster tails curl slightly when cooked, so watch to see when they are turning opaque and adjust cooktime.
Tofu – If you think this recipe sounds delicious, but want a vegan swap, tofu is a great alternative – it has a similar texture to scallops, soaks up flavors it is cooked with, and is quick to cook. Be sure to get a good, crispy and crunchy sear on scallop-shaped cuts or tofu (or cut them into strips) – since this will give you a meatier, smokier, and rich buttery flavor.
Mushrooms – King Oyster Mushroom stems happen to look just like scallops – and have a delicious, sweet, meaty flavor that is perfect in this Thai Chili Sauce. If you can come by some from a local farm or specialty food store, they are an awesome swap that you can cook just as you would a scallop (again, a good sear on the outside is essential). If you can't find King Oyster mushrooms, you can also cook this dish with cremini mushrooms, button mushrooms (both of which I like just whole, with stems removed) in this dish – or strips of portobello mushrooms, too!
If you're drying to try out King Oyster Mushroom stems, you can order them here.
Tips to Perfect Pan Seared Scallops
Perfect pan seared scallops can seem intimidating – but I am sharing my best tips to get the most amazing pan seared scallops, ever!
These tips work with any scallop recipe, so be sure to save this post for later!
Pat Scallops Dry.
Scallops really benefit from the delicious buttery seared crunchy crust – which won't properly form with wet scallops. Be sure to pat scallops dry before searing to get the best results – obviously, scallops are a very watery shellfish and will still be quite moist to the touch, but we want all excess water patted off.
Frozen Scallops are Fine.
If you watch Top Chef like I do, you know that using frozen scallops can cause quite a stir. Unfortunately, to get the freshest fish isn't easy for those who live far from the ocean (like me in Northern Colorado) – so I opt for fresh-frozen.
Simply chose scallops that are still frozen from your fishmonger (and if defrosted, don't be shy and ask to smell them – scallops shouldn't smell overly fishy, and have a sweet scent when fresh.)
Let scallops defrost naturally in the refrigerator.
I like to put them on a plate, layered in paper towels, to get some of the excess ice off the scallops, fast.
Scallops will give off a lot of water when defrosting, so be sure to have something to catch all that liquid so it doesn't go all over your fridge!
Cook through, but Don't Overcook.
While some people are hesitant of the springy texture scallops offer, most of the complaints about Scallops come from overcooking.
Like shrimp and lobster, scallops can take on a fishy taste and gummy, tough texture when overcooked.
Scallops should be springy to the touch, but not jiggly like jello. It should feel like the fleshy part of your hand between your thumb and finger – not slippery and loose like it is raw, or firm like a well done steak.
Keep the pan scorching hot.
Scallops are best when cooked hot and fast – giving them a lovely, crunchy crust, and cooking the meat all the way through without drying it out or losing it's liquids.
Don't form sauce until the last few minutes.
The bulk of the time for this recipe is spent searing the scallops – with some time to soften and brown the garlic and lemons – but if you add the chili and Thai basil too early, it can burn or get bitter.
Remove lemons when serving.
The lemons flavor will cook quickly into the sauce, but can turn bitter if left in the sauce for too long.

Other Delicious Easy Seafood Recipes in Under 30 Minutes:
If you love this 10 Minute Pan Seared Chili Thai Scallops Recipe, be sure to look over some of my other favorite easy seafood recipes – these are family pleasing seafood dinners that take less than 30 minutes – many of them are even one-pot dinners!
Click the links below to find the super easy 30 minute or less seafood dinner printable recipes:
10 Minute Perfect Broiled Lobster Tails Recipe
Sweet Chili Soy Glazed Foil Baked Salmon
Scallop & Pepper Antipasti Salad
Sriracha Honey Sweet Chili Popcorn Shrimp
The Best Pan Seared Scallops with Garlic and Lemon Recipe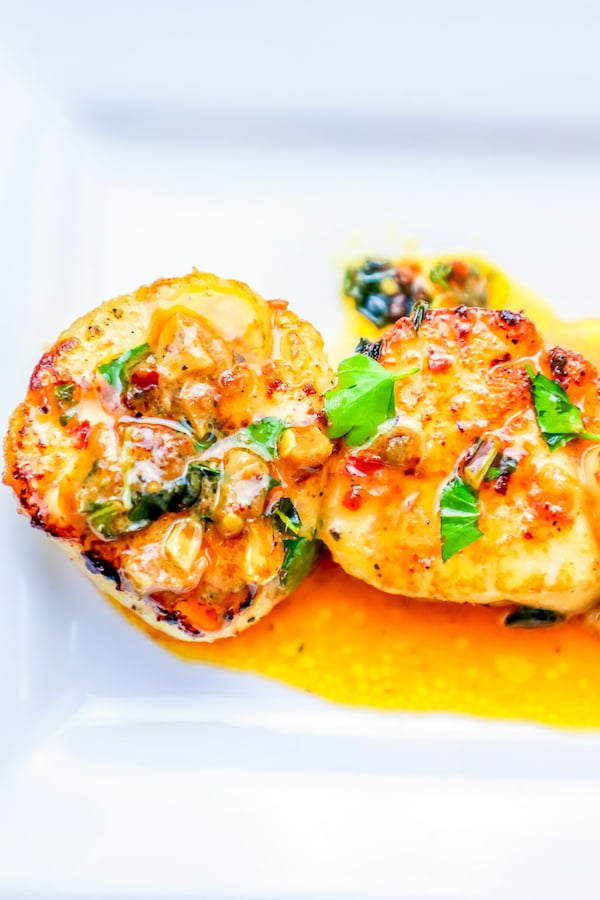 To Make This Thai Chili Scallops Recipe, You'll Need:
This recipe is insanely easy – but there are a few tried and true tools that make this dish super simple and perfect, every single time.
This post may contain affiliate links which won't change your price but will share some commission.
-Nonstick Pan
A nonstick pan is essential for making perfectly seared scallops – I prefer to use ceramic coated pans, as they are naturally nonstic and don't leach harmful chemicals into your food – plus they are a breeze to clean! Get my favorite here.
-Chili Paste
I love chili paste for all sorts of recipes – it gives a rich, spicy, and almost smoky flavor that is an awesome accent to seafood, chicken, and beef. I prefer this brand – but you can also swap it for sriracha or my favorite sweet chili sauce!
-Thai Basil
While Thai Basil isn't critical – I LOVE the flavor it gives this easy dish. Thai Basil is usually available at most American grocery stores, but you can buy it worry-free here.
-Fish Spatula
While this spatula isn't required, if you're not used to cooking fish often, this spatula makes flipping fragile fish much easier!
10 Minute Pan Seared Thai Chili Scallops Recipe
If you love this recipe as much as I do, please write a five star review, and be sure to help me share on facebook and pinterest!
Yield:

2 people
10 Minute Pan Seared Thai Chili Scallop Recipe
The Best 10 Minute Pan Seared Thai Chili Scallops Recipe is the secret to perfect pan seared scallops in a Thai chili sauce, bursting with lemon and Thai basil flavor for a Thai Restaurant quality scallop dinner in under 15 minutes - from fridge to plate! Scallops are a great low calorie and low fat choice that are packed with protein for dinner - especially during Lent. 
Ingredients
3 tbsp butter, grass-fed
1 lb scallops, defrosted, patted dry
1 tsp salt, celtic sea salt
1 tsp pepper, freshly cracked
2 tbsp garlic, diced
1/4 cup thai basil, diced
1 tsp chili paste, add more as desired
1/2 lemon, sliced into half-wedges
Instructions
Heat butter in pan on high heat until melted and lightly foaming.
Pat scallops dry with paper towel and generously season scallops with salt and pepper.
Add scallops into pan, with space in between so they can crisp.
After about 4 minutes on one side, flip scallops. They should have a golden crust on the side that was face-down. (If not, increase heat, and let sear a bit more.)
Add garlic and thai basil and stir quickly, let lightly brown and become fragrant, do not let burn (about 2-3 minutes).
Add lemon slices, chili paste, and stir.
When scallops are still springy to the touch, but bright white and opaque and browned on both sides, serve and top with sauce.
Nutrition Information
Amount Per Serving
Calories

669
Saturated Fat

22g
Cholesterol

200mg
Sodium

4413mg
Carbohydrates

27g
Fiber

2g
Sugar

2g
Protein

57g