This 10-minute pan seared Thai Chili scallop's recipe is the secret to perfect pan seared scallops in a Thai chili sauce. Bursting with lemon and Thai basil flavor for a Thai Restaurant quality scallop dinner in under 15 minutes from fridge to plate!
Don't want all the extras in a recipe post? We provide a skip to recipe button in the top left corner, as well as a clickable table of contents, just below, to help make this page easier to navigate.
10 Minute Pan Seared Thai Chili Scallops
If you're looking for a hearty, delicious, and restaurant-quality Thai Seafood dinner, these Thai Chili Scallops are the perfect easy and impressive meal – they cook in under 10 minutes (with a sauce!!), are bursting with flavor without any hard to find ingredients, and make you look like a pro in the kitchen, regardless of cooking experience.
This Thai scallop dinner can go from the fridge to the plate in just under 15 minutes – and is perfect for dinner parties, romantic evenings, or just a quick filling meal.
To Make This Thai Chili Scallops Recipe, You'll Need:
This recipe is insanely easy make, start by assembling the following ingredients:
Butter – I prefer grass fed butter for the best flavor, butter add a rich fat that will be the base of the sauce.
Scallops – scallops are a soft mollusk that have a flakey texture, are high in protein, and absorb the flavor of sauce well.
Salt and Pepper – high quality salt and pepper are essential in every recipe to draw out the flavor of the other ingredients and bring the dish together.
Garlic – garlic has a strong herbaceous flavor that pairs well with the Thai spices.
Thai Basil – while Thai Basil isn't critical – I LOVE the flavor it gives this easy dish. Thai Basil is usually available at most American grocery stores; you can use regular basil if you can't find Thai basil or a garlic clove and some fresh mint for a more similar flavor profile.
Chili Paste – I love chili paste for all sorts of recipes – it gives a rich, spicy, and almost smoky flavor that is an awesome accent to seafood, chicken, and beef. I prefer this brand – but you can also swap it for sriracha or my favorite sweet chili sauce!
Lemon – lemon is the perfect acid hit to offset this spicy seafood dish.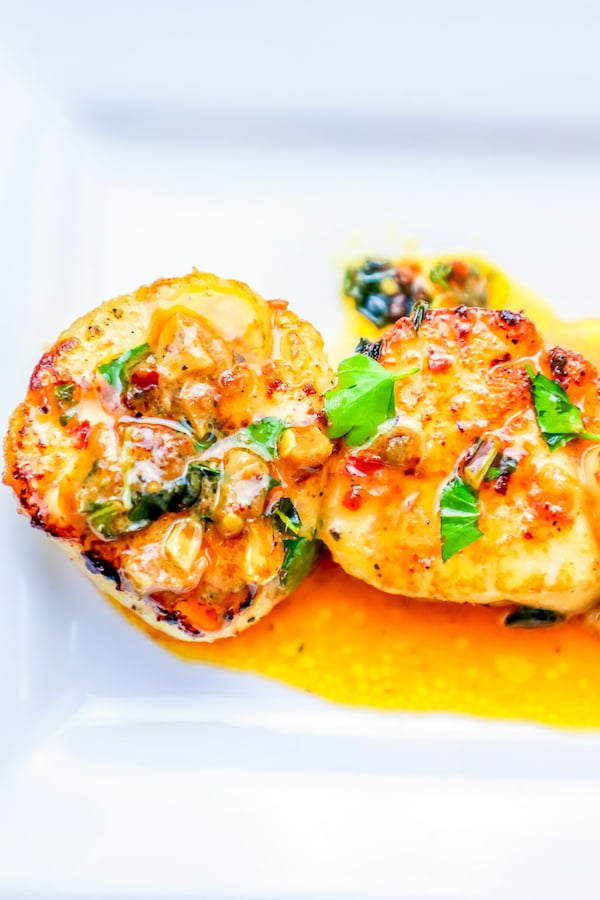 Once you have assembled the ingredients use the following method:
Heat and season – Heat the butter in a pan on high heat until its foamy. Rinse and pat dry the scallops and season them with salt and pepper on both sides. Add the scallops to the pan and cook with space in between them.
Cook. Cook the scallops on high heat about 4 minutes on each side.
Make sauce. Add the garlic and thai basil and quickly sauté until fragrant. Add the lemon spices and chili paste and stir.
Serve. When the scallops are springy to the touch and browned on both sides remove from heat, serve topped with sauce. Enjoy!
Tips and Tricks to Perfect Pan Seared Scallops
These tips work with any scallop recipe, so be sure to save this post for later!
Pat Scallops Dry. Scallops really benefit from the delicious buttery seared crunchy crust – which won't properly form with wet scallops. Be sure to pat scallops dry before searing to get the best results – obviously, scallops are a very watery shellfish and will still be quite moist to the touch, but we want all excess water patted off.
Frozen Scallops are Fine. If you opt for frozen chose scallops that are still frozen from your fishmonger (and if defrosted, don't be shy and ask to smell them – scallops shouldn't smell overly fishy, and have a sweet scent when fresh.)
Let frozen scallops defrost naturally in the refrigerator. I you use frozen scallops, put them on a plate, layered in paper towels, to get some of the excess ice off the scallops, fast when defrosting in the fridge.
Cook through, but Don't Overcook. Like shrimp and lobster, scallops can take on a fishy taste and gummy, tough texture when overcooked. Scallops should be springy to the touch, but not jiggly like jello. It should feel like the fleshy part of your hand between your thumb and finger – not slippery and loose like it is raw, or firm like a well-done steak.
Keep the pan scorching hot. Scallops are best when cooked hot and fast – giving them a lovely, crunchy crust, and cooking the meat all the way through without drying it out or losing it's liquids.
Don't form sauce until the last few minutes. The bulk of the time for this recipe is spent searing the scallops – with some time to soften and brown the garlic and lemons – but if you add the chili and Thai basil too early, it can burn or get bitter.
Remove lemons when serving. The lemons flavor will cook quickly into the sauce, but can turn bitter if left in the sauce for too long.
FAQs
Can I use something besides butter for searing?
If you're watching fat or cutting dairy, extra virgin olive oil or another heart-healthy oil whose flavor you love (and has a higher smoke point – coconut oil, walnut oil, avocado oil are all good additional options) is an easy swap.
What can I use instead of Thai basil?
Thai basil has a bright citrus and slightly minty and anise flavor that basil doesn't – so if you're swapping Thai basil with basil, you might want to toss in a sprig of mint and a dash of lemon juice or a couple fennel seeds to get a similar flavor – however for a quick dinner, regular basil will still give you an outstanding flavor.
Can I make this recipe with anything besides scallops?
Yes! This recipe is very diverse and pairs well with any seafood. I often mix it up with lobster, shrimp, or salmon.
Can I make this vegan?
For a vegan dinner you can substitute tofu or mushrooms for the scallops. Make sure you press your tofu before adding it so it can soak up the sauce. King oyster mushrooms (especially dried) are my favorite mushroom alternative, but any mushroom will work.
What to Serve With Thai Scallops:
If you love these incredible seared chili Thai scallops, you will also love these Sweet C's seafood favorites alongside like Sesame Ginger Grilled Bok Choy, Wild Rice Pilaf, Spicy Peanut Noodles, or Vegetable Spring Rolls!
Click here to see other one pot dinners!
10 Minute Pan Seared Thai Chili Scallops Recipe
If you love this recipe as much as I do, please write a five star review, and be sure to help me share on facebook and pinterest!
CONNECT WITH SWEET C'S!
Be sure to follow me on social media, so you never miss a post!
Facebook | Twitter | Youtube | Pinterest | Instagram
Only have 30 minutes to get dinner on the table? Sign up for my 30 minute dinner plans direct to your inbox!
Find and shop my favorite products in my Amazon storefront here!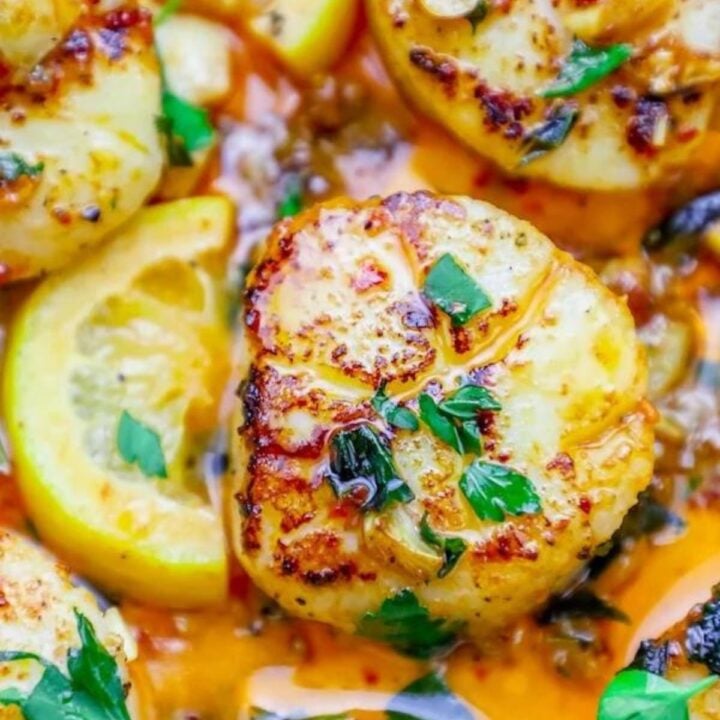 Yield:

2 people
10 Minute Pan Seared Thai Chili Scallop Recipe
The Best 10 Minute Pan Seared Thai Chili Scallops Recipe is the secret to perfect pan seared scallops in a Thai chili sauce, bursting with lemon and Thai basil flavor for a Thai Restaurant quality scallop dinner in under 15 minutes - from fridge to plate! Scallops are a great low calorie and low fat choice that are packed with protein for dinner - especially during Lent. 
Ingredients
3 tbsp butter
1 lb scallops, defrosted, patted dry
1 tsp sea salt
1 tsp pepper, freshly cracked
2 tbsp garlic, diced
1/4 cup thai basil, diced
1 tsp chili paste, add more as desired
1/2 lemon, sliced into half-wedges
Instructions
Heat butter in pan on high heat until melted and lightly foaming.
Pat scallops dry with paper towel and generously season scallops with salt and pepper.
Add scallops into pan, with space in between so they can crisp.
After about 4 minutes on one side, flip scallops. They should have a golden crust on the side that was face-down. (If not, increase heat, and let sear a bit more.)
Add garlic and thai basil and stir quickly, let lightly brown and become fragrant, do not let burn (about 2-3 minutes).
Add lemon slices, chili paste, and stir.
When scallops are still springy to the touch, but bright white and opaque and browned on both sides, serve and top with sauce.
Recommended Products
As an Amazon Associate and member of other affiliate programs, I earn from qualifying purchases at no extra expense to you.
Nutrition Information
Yield
2
Serving Size
1
Amount Per Serving
Calories

436
Total Fat

19g
Saturated Fat

11g
Trans Fat

1g
Unsaturated Fat

6g
Cholesterol

139mg
Sodium

2964mg
Carbohydrates

20g
Fiber

1g
Sugar

2g
Protein

48g
Nutrition is automatically calculated by Nutritionix - please verify all nutrition information independently and consult with a doctor or nutritionist for any and all medical and diet advice.