The Best Grilled Pork Tenderloin
Apr 12, 2021, Updated Jun 25, 2021
Absolutely The Best Grilled Pork Tenderloin – deliciously tender and juicy grilled pork tenderloin that is so easy and delicious! Keto and low carb.
This grilled pork tenderloin is based off my incredibly popular Baked Garlic Pork Tenderloin and Garlic Baked Pork Chops – two of my absolute favorite dinners of all time.
This grilled pork tenderloin is full of flavor, juicy, never dry – and works with a keto or low carb diet – making it a perfect easy dinner for all sorts of picky eaters!
This grilled pork tenderloin is never dry, always full of juicy pork flavor – and is great for leftovers the next day.
If you can turn on a grill, you can make this easy grilled pork tenderloin – no previous cooking experience required!
I hope you love this delicious grilled pork tenderloin as much as I do!
Don't want all the extras in a recipe post? We provide a skip to recipe button in the top left corner, as well as a clickable table of contents, just below, to help make this page easier to navigate.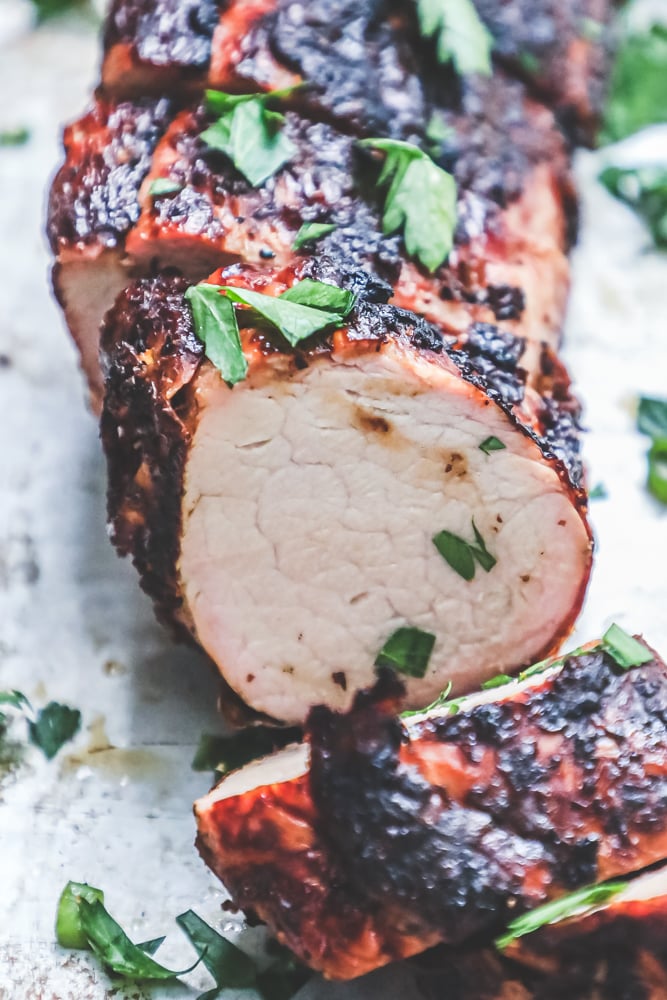 How To Keep Pork Tenderloin From Drying Out
Since pork tenderloin has little fat, it can become tough very quickly when overcooked – I'm providing my best tips and tricks to keep pork tenderloin moist below:
This step is completely optional (and not recommended if you are more comfortable grilling) – but for cooks just learning to grill, you can lessen your grilling time by pre-searing your pork tenderloin in a pan inside, before wrapping it in foil and placing on the grill to cook to 145 degrees.
Searing your pork before grilling it not only helps to lock in the pork's juices – it tastes great and gives you a perfect crunchy texture, even though you can continue to cook in a foil pouch on the grill.
The foil pouch will help to keep the pork's tenderness, so it is a bitt more foolproof when starting out grilling – but you will miss out on the smoky grilled flavor a bit since you won't have more char like my photos.
But if you're starting out grilling, or don't know if you will have enough propane or charcoal to last – or you've just had weird luck grilling pork tenderloin on the grill and want an easier hack, this tip works wonders!
Look for "Pre-Seasoned" Pork Tenderloins
Pre-seasoned pork tenderloins from your grocer are often dry-brined with salt beforehand, so it doesn't need additional marinating or brining.
While this cuts WAY down on your cook-time, know that pre-seasoned/brined pork tenderloins tend to be a bit smaller than untreated pork tenderloin, and can sometimes be packaged with preservatives that might not work with restrictive diets or food allergies.
Double check the label to check on the pork tenderloin size and any marinade ingredients.
How Much Pork Tenderloin Per Person
It can be tricky to figure out how much grilled pork tenderloin to serve per person – but I plan on 1/2 pound (8 ounces) of meat per person.
If you have eaters with big appetites, or if you want to have leftovers, plan on 3/4 pounds of pork (12 ounces) per person.
How To Grill Pork Tenderloin
These tips will help you get juicy flavorful pork tenderloin on the grill, every time.
You can use this recipe with charcoal, wood chips, or a propane grill – I prefer this recipe over charcoal personally, but any of the above will work just great!
Marinating or brining pork tenderloin before cooking will always help to soften the pork tenderloin and keep it from drying out.
I love using a bottle of simple Italian Dressing or a cup of olive oil with some lemon juice, salt, and pepper for an easy overnight pork tenderloin marinade.
Pork tenderloin dries out very quickly when overcooked – and grilling can be really easy to overshoot your temperature after you set down the lid.
Make sure you watch your pork and pull it from the grill at 140 degrees, and then tent in foil.
Tenting in foil will help the tenderloin carryover cook to the FDA suggested cooked temperature of 140 degrees, without over-cooking and drying out your grilled pork tenderloin.
I often pull my pork tenderloin at 140-145 degrees and tent it with foil to continue carryover cooking as it rests for about 10 minutes before serving.
Other Delicious Pork Dishes You'll Love
If you love this easy grilled pork tenderloin, be sure to check out some of my other favorite pork dishes – favorites like ranch pork stir fry, garlic baked pork chops, the best pork chops ever – so many delicious dishes full of the other white meat!
You can find our complete pork recipe index here.
What To Serve With Grilled Pork Tenderloin
If you're looking for knockout sides to serve with this grilled pork tenderloin, I am rounding up my favorites below:
You can find our complete side dish recipe archives here.
When is pork tenderloin cooked?
Pork is cooked at 145 degrees – which may look a little pink in the middle, though it is fully cooked.
We recommend pulling meat from grill at 135 degrees, as the tenderloin will continue to cook to 145 degrees. Do not slice for at least 15 minutes.
How long can pork tenderloin leftovers last?
Pork tenderloin can be refrigerated in an airtight container for up to four days.
The Best Grilled Pork Tenderloin Recipe
If you love this easy grilled pork tenderloin recipe as much as I do, please give it a five star review (simply click the stars, below) and help me share on facebook and pinterest!
CONNECT WITH SWEET C'S!
Be sure to follow me on social media, so you never miss a post!
Only have 30 minutes to get dinner on the table? Sign up for my 30 minute dinner plans direct to your inbox!
Find and shop my favorite products in my Amazon storefront here!
The Best Grilled Pork Tenderloin Recipe
Marinating Time, Optional :
1 day
Total Time:
1 day
20 minutes
The Best Grilled Pork Tenderloin - delicious juicy keto low carb grilled pork tenderloin that is so easy and delicious, you'll want to grill every night of the week!
Ingredients
1 bottle Italian Dressing (optional: if marinating pork use this as marinade)
1 tbsp celtic sea salt and fresh cracked pepper
2 lb pork tenderloin, optional: pre-marinate pork before cooking for foolproof never dry tenderloin
2 tbsp diced garlic
1 tsp dried basil*
1 tsp dried oregano*
1 tsp dried thyme*
1 tsp dried parsley*
1/2 tsp dried sage*
*OR 1 tbsp Italian Herb Seasoning Blend
Instructions
If Marinating Pork:
Pat pork dry from any packaging.
Salt generously.
Add to large bowl and cover with bottle of Italian dressing.
Cover and refrigerate 4 hours or overnight.
Let pork come to room temperature while preheating grill.
If not marinating, or using pre-marinated tenderloin:
Salt pork generously and let come to room temperature while grill warms up.
How To Grill Pork Tenderloin:
Get grill to 350 degrees.
Add pork to grill.
Let pork sear on all sides, rotating about every 5-6 minutes until evenly charred.
Cook pork tenderloin for 10-15 minutes until 140 degrees internal temperature on a digital thermometer, inserted into thickest part of pork tenderloin.
When pork has come to 140 degrees, remove from grill, and tent in foil.
Let pork finish carryover cooking, and let rest for 5-10 minutes, under foil.
Carve into slices, and enjoy!
Leftovers can be refrigerated for up to four days, or frozen for three months.
Nutrition Information
Yield

5
Serving Size

1
Amount Per Serving
Calories

379
Total Fat

14g
Saturated Fat

5g
Trans Fat

0g
Unsaturated Fat

8g
Cholesterol

162mg
Sodium

1625mg
Carbohydrates

3g
Fiber

1g
Sugar

0g
Protein

56g
Nutrition is automatically calculated by Nutritionix - please verify all nutrition information independently and consult with a doctor or nutritionist for any and all medical and diet advice.
If you loved this recipe and want to see more of our readers favorites, be sure to start with the most viral popular recipes on Sweet C's!
Sweet C's Favorite Recipes
Favorite recipes from Sweet Cs Designs