Top 15 Bucket List Tacos To Eat in California – my favorite tacos worth road tripping Southern California to taste - from five star to taco truck, the best Southern California tacos you need to taste!
This post is sponsored by Visit California. All opinions are my own.
Visit California is one of my favorite travel destinations to work with – they help visitors from all over the world connect with amazing vacations across California every day – California has something to offer for everyone!
From five star to budget travelers, romantic trips to solo treks, foodies to film buffs – California truly has something for everyone, and Visit California helps bring the best ideas to make your trip memorable!
How To Plan A California Road Trip
Before we get to all the delicious tacos, I wanted to share the BEST way to plan a California road trip – with the Visit California 50 Life Changing Road Trips guide book.
While planning the perfect trip to California can be seriously daunting (there is just SO MUCH I always want to do and see… and never enough time for it all) – Visit California's new 50 Life Changing Adventures Road Trips publication has made it incredibly easy to take in some of California's best sights and locations!
Be sure to get your own copy to check out this road trip - and 49 other amazing trips that will bring you the best of the Golden State!
When I think about food in California, I always think about my favorite tacos.

The amazing thing about tacos is that there are some many delicious variations. Frankly, tacos are a lot like California, there's so much verity, so many diverse flavors, there truly is something for everyone when you visit California.

Tacos are such part of that fresh, seasonal and diverse California spirit, they are an indispensable part of the experience when you visit California.

If I could only eat one food for the rest of my life, I think I would be happy to eat California tacos for the rest of my life.

Tacos are truly a platform for so many different types of fillings.

Want fish? Taco Maria has your covered with amazing cod batter in the most amazing crunchy but light batter.

Want ceviche style shrimp? Marisco Jalisco is the delicious ticket.

Want decadent and fancy? Pork Belly with chili verde at Taco Maria will scratch that itch with a Michelin Star taco.

Looking for that authentic, historic LA taco? Grab a beef taquito from Cielito Lindo on historic Olvera Street.

Fancy running into a celebrity or rubbing shoulders with LA's first responders grabbing a bite between shifts?
Arrive early at Tito's for a crunchy braised beef taco with cheese — an LA cultural staple — and one of my family's favorites.

I've put together twelve of my all-time favorite, bucket list tacos to try when you visit Southern California.
There's something for everyone, from vegetarian to carnivore, from hard shell devotees to lovers of soft shell tacos; from corn to flour.

Top 15 Bucket List Tacos To Eat in California
1. Pork Belly with Salsa Verde Tacos - Taco Maria
Taco Maria is a Michelin award winning restaurant in Costa Mesa.
Located in the hip Mix - the OC's newest mixed used shared space with local boutiques, coffee shops and artisanal cheese shop.

Their hand made soft corn tortillas are the perfect blend of pliability and substance to support their tender pork belly with Chile verde.
Their chefs were able to achieve a magical blend of crisp and soft pork when made this taco a decadent treat.

I highly recommend trying it with one of their homemade agua fresca.

2. Tijuana style tacos with garlicky beans - Lola's Mexican Fare
Lola's is a gem in Long Beach on Fourth Street and Retro Row.
Their Tijuana style hangar steak tacos are delicious with a side of garlicky beans.
I like beans - though they are never something I go out of my way for - but Lola's garlicky beans are the best I've ever eaten.
If the weather is nice, you should sit outside and soak up the casual retro row vibes.

After you've shopped for vintage clothes and vinyl on retro row, you should head down to the Aquarium of the Pacific.

3. Crunchy Beef Taco With Cheese - Tito's Tacos
Tito's is a religious experience for my family, who's been eating them since my grandparents moved with the Dodgers from New York to California in 1958.
Tito's is famous for its crunchy hard shelled corn tacos with juicy braised beef with shredded iceberg lettuce and copious amounts of yellow cheddar cheese.
The shredded beef is so tender in it's red Chile sauce, and the cheese and cool crisp lettuce is a prefect compliment to the warmth of the meat.
It's a favorite spot of LA's first responders and celebrities like Jack Back alike.
As much as I love the tacos, their tomato salsa might be even more amazing, tart, fresh and full of onion and garlic.
Some of my family have been known to drink it straight from the jar, it's that good!
My husband, who's not a native Californian, has grown to love Tito's classic tacos so much he insists that we stop there as soon as we leave the airport!
Also on the menu are amazing beef and bean burritos that will have you in a food coma in no time.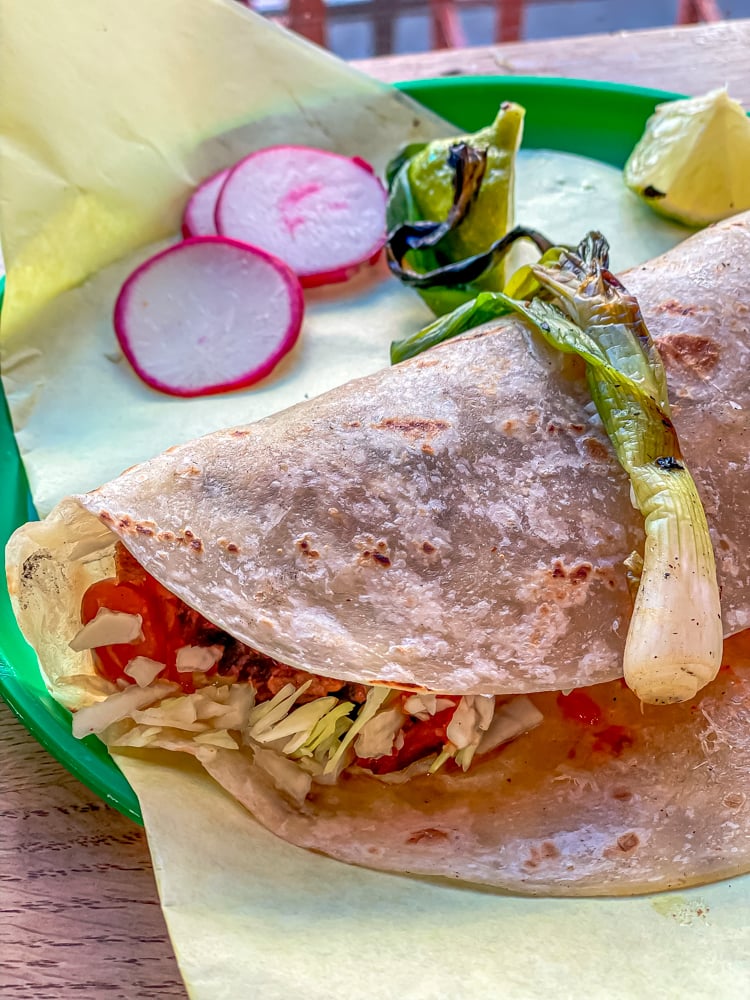 4. Steak Carmelo - Caramelo
Sonoratown tacos is a great place for a first (or second) date, or to meet a friend.
There inviting atmosphere at their Downtown locations is almost as welcoming as their signature steak Carmelo taco.
Family-owned and run, it's an LA take on a Sonoran classic taco.
The steak is tender and flavorful with grilled green onions and cheese melted on a large tortilla.
The watermelon agua Fresca is sublime and a great way to refresh your pallete on a hot day.

5. Camerones Taco Dorado - Mariscos Jalisco
This taco truck was a bit hard to find, but is worth the effort.
They're famous for their camerones taco dorado.
They marinade their shrimp and potato's in lime juice before lightly frying the filing and soft taco immediately prior to serving.
This technique makes for a sublime crunch for the taco and lightly cooks the fish.
It's served with avocado slices for one the lightest and freshest tacos I've ever eaten.
The fish and potatoes were light and cool, the tortilla was warm and crunchy — a mouth watering combination.

Be sure to bring cash - the food truck doesn't take cards.

6. Beef Taquito - Cielito Lindo
Located on the historic Olvera Street, it's one of old LA's original market streets.

CL's taquito s are a taste of taco history, representing one of the original taco styles from historic Los Angeles. Crunchy corn tortilla rolled with beef and fried, they're served with Their families famous Chile verde sauce. They're crunchy and beefy and a satisfying meal or a quick hand held snack.

I really enjoyed the authentic and historic taco style they represent. They are truly a part of La history.

Seating is very limited so be prepared to take out and eat while you wander Olvera Street.

7. Black Cod Fish Taco - Taco Maria
Taco Maria is back for their second offering on my Top 15 Bucket List Tacos.

Their black cod taco might be the best fish taco I've ever had... you're given a generous and thick piece of cod that I swear is battered by angels!
The batter is crispy, in spite of being wrapped in tortilla and covers in aioli, but is also light and airy; protecting the moist and flavorful cod on the inside.
It's served with charred scallion aioli, sliced grapes and shredded cabbage.
When you think of fried fish you doesn't necessarily think it would be light, but these tacos are light as clouds!
Playa Mesa is a Costa Mesa sit-down spot, great for families and meeting friends at the bar alike.

Their traditional birra is a succulent braise beef taco with red Chile salsa.
It's a deeply flavorful and satisfyingly savory bite.
I highly recommend dipping your taco in the red sauce the beef is cooked in.
Savory and delicious!!

Playa Mesa also has an amazing selection of tequila and meszcal cocktails that are sure to take the edge of mom and dad's travel stress!

If you have room for dessert save some room for Paletas de agua fresca — they're made with a little gelatin so they take a while longer to melt for a delicious take on a light, refreshing dessert.

9. Steak Queso Taco - Lucha Libre
Lucha Libre was one of most unique taco shops I've ever been to.
Their luchadore wrestling theme makes for a fun trip into San Diego's Mission Hills area.

Their bright pink interior and wrestling theme interior is fun for the family.
VIP's can even sit at a special mid-ring table that makes you think you're going to be in the middle of the action.

The Undefeated is their irreverent take on a seafood taco, with shrimp - topped with cabbage, cheese, and pico sauce.

10. Taco-ish for Breakfast - Taco Mesa Chilequiles
Ok sure, you may not think of Chile quiles as tacos, but it's my list so I make the rules!

Taco Mesa achieves what I thought was impossible, maintaining incredibly crispy hearty tortilla chips despite something them with sauce, chicken and scrambled eggs.

I cannot understate how amazing and delicious this feat of culinary magic is.
Often Chilequiles have limp, soggy tortillas that lack crunch and texture.
Taco Mesa has selected the best tortilla chips specifically for the Chilequiles, which makes ALL the difference.

You should grab a coffee with your food, they season their coffee with Mexican spices to give it a fun twist.

11. Coffee Braised Short Rib Tacos - Mari Los Angeles
Mari is the in-house restaurant inside the Intercontinental Century City serving fresh and innovative takes on all sorts of American regional cuisines - but their coffee braised short rib tacos are to die for!
Bring friends when dining at Mari - because you'll want to order a number of the delicious, playful dishes - and try everything!
We loved the rich and meaty tacos - but also the rosemary chicken and waffles (chicken fried in a rosemary waffle batter), as well as all the amazing cocktails.
Mari is a bit of a hidden gem - and one definitely worth checking out (especially if staying in the Intercontinental, who offers large rooms at a great price in a central location to tons of top tourist spots in Los Angeles.)
12. Taco Cake - Hotel Intercontinental Century City
As I said.. my list, my rules!

The Intercontinental Hotel in Century City is fantastic value for getting around the LA area.
The bakery in the hotel makes amazing custom pastries if you call ahead and arrange with the staff - they wowed us with this amazing taco cake, as well as an adorable cupcake platter themed to celebrate all of the shops on Rodeo drive and around Beverly Hills!

Be sure to order something special for yourself, like a cake to commemorate your bucket list taco trip!

13. Verduras Veggie Taco - Puesto
One of Puesto's locations is in The Headquarters shopping plaza in downtown San Diego, just a short walk from the battleship museum.
Puesto is a fun sit-down spot with San Diego vibes and great scratch made tacos.
One of their truly great tacos is there Verduras vegetarian taco.
It comes with crispy melted cheese, rajas, tatume squash, papas, corn & tomato, nopales, avocado, jalapeño, zucchini blossom.

14. Lobster Taco - Puesto
Puesto's tender lobster taco rounds out the seafood selections on our Top 15 bucket list tacos of Southern California.

The taco perfectly suits the easy but sophisticated San Diego vibes. The lobster is amazingly tender after being gently butter grilled.
It's joined on soft homemade tortilla with black beans, crispy onions, avocado, crema de cilantro, and jalapeño pico.

It's a real symphony of rich and fresh flavors.

15. Calamari Taco - Local Tap House
Local tap house takes fresh fried calamari strips and loads them in a soft corn tortilla with avocado, bacon, and a chipotle crema for an addictively delicious salty and creamy treat you won't be able to get enough of!
Local Tap House has large tables and a great bar - so it's the perfect spot for lunch or happy hour with friends, or grab a big group and make a night of it!

Plan Your Own Southern California Taco Tour
If these tacos got you hungry for more - be sure to check out my post detailing all the spots we hit on our Southern California Taco Tour here.
You can also see ALL the spots wee visited (in truth, EVERYTHING makes my top list... we were SO spoiled for amazing foods on this roadtrip, I highly reccomend each and every spot!)
The Ultimate California Taco Tour Road Trip
Travel from Los Angeles to San Diego sampling some of Southern California's best taco spots for an incredibly delicious road trip you won't soon forget!