Delicious, easy, simple donut holes made in just 10 minutes with simple ingredients you probably already have on hand – either in a cake pop machine, donut hole pan, aebleskiver pan, or even a mini-muffin pan!
These donut holes are light and fluffy, full of warm, vanilla and butter flavor, and rolled in cinnamon and sugar for a perfect, light treat that are totally addictive!
Don't want all the extras in a recipe post? We provide a skip to recipe button in the top left corner, as well as a clickable table of contents, just below, to help make this page easier to navigate.
How to make Cinnamon Sugar Donut Holes
These donut holes are a reader favorite on my site – this recipe first appeared here on Sweet C's in 2013. I first made them when I was pregnant, on rest with my second born, using a cake pop machine instead of in an aebleskiver pan (the way I'd normally make them) – so I didn't have to bend over or hassle with the oven.
They taste just like concession cart donut holes – I hope you love them as much as we do!
You can make these in a cake pop machine, an aebelskiver pan, a mini muffin pan – whatever you have on hand.
How to Make Cinnamon Sugar Donut Holes
To make these donut holes, we will need:
Flour – this recipe works with all-purpose flour or gluten-free all purpose flour. If you have self-rising flour, omit baking soda.
Baking soda – baking soda helps to give lift and rise to donut holes as they bake, so they are light, fluffy, and aren't dense and thick.
Butter – butter helps to give a rich flavor and velvety texture to batters. Using softened (or slightly melted) butter helps to incorporate it into a batter easily, without overworking.
Eggs – eggs help to bind our recipe together, add needed fat to keep our donut holes perfectly moist and delicious, and give lift so they are light, airy, and not at all dense.
Sugar – sugar has two uses in this recipe – both to sweeten our batter, and to combine with cinnamon to roll donut holes in for cinnamon sugar. If using pre-mixed cinnamon sugar, you can just use the amount for batter and skip the additional tablespoons called for garnishing in the recipe below.
Vanilla – vanilla has a warm, earthy, sweet flavor that is classic in baked goods – it has a "home-baked" smell and flavor that everyone loves, and can't be beat!
Lemon extract – I love to add a bit of lemon to batter, as the bittersweet extract highlights the rich butter fat and complex vanilla notes and helps to make breads taste a bit less dense.
Milk – milk acts as a binder and helps to thin the batter, as well as giving a rich, creamy flavor that is lightly sweet to our batter.
Cinnamon sugar – yes, cinnamon sugar is a thing! Cinnamon sugar is just a blend of granulated sugar and cinnamon, but we use it so often for french toast, buttered toast, cupcakes, muffins, crumbles, crisps, and cakes – I just buy it pre-blended to always have on hand. My kids love to sprinkle a little bit on all kinds of foods – even fruit salad! You can buy pre-mixed cinnamon sugar here.
Water – if your batter is thick, you'll want to thin it with a tablespoon of water at a time until it is about the consistency of pancake batter. I keep a cup of warm water next to my batter as I make it, then add, slowly, as needed.
Once you've gathered your ingredients, we will use the following method:
Mix. Mix donut holes in a stand mixer or by hand – be careful to not over mix.
Bake. Bake in a cake pop machine, an aebelvskiever pan or ebelskiever machine
Roll in cinnamon sugar.
Tips and Tricks to Perfect Cinnamon Sugar Donut Holes
Bake in a silicone pan. Add to silicone pan and bake 6-8 minutes at 400F, until lightly browned and puffy. Using a wooden skewer or silicone spatula, carefully flip and continue cooking additional 2-4 minutes until browned on all sides and perfectly puffy and round!
Bake in an aebleskiver pan. Bake just like you would an aebleskiver, at 400 degrees, until lightly browned on one side, about 6 minutes, then flip in cast iron and let cook until browned.
Bake in a mini muffin pan. These won't be round, but they will be just as delicious! Bake at 350 until a toothpick inserted into the middle comes out clean, about 12 minutes.
Use a piping tool. We love using piping bags or handheld piping bulbs – it helps to really quickly fill your cake pop machine or cake pop pan.
Use a nonstick spray with flour. Using a nonstick spray with flour formulated in it really helps to release the baked good, and makes for a perfect release!
FAQs
When are donut holes done?
Your donut holes are done when they are browned on the outside and a toothpick in the middle comes out clean. If donut holes are a little soft in the middle that is ok – you just don't want them gooey. Keep baking until middle is more done if they are gooey.
Can I add other flavors?
Add up to a teaspoon of extracts or food-grade oils to flavor your donut holes – almond, lemon, peppermint, and raspberry are all delicious extract additions!
How do I store these donut holes?
Donut holes can be stored in a paper bag for up to two days. If storing in a plastic bag or plastic container, leave a tiny hole open for the best texture.
Other Easy Desserts You'll Love
If you love these easy donut holes, be sure to check out some of our other favorite easy desserts like our Easy Pumpkin Crisp, Easy Peach Cobbler, or some chewy, delicious Cowboy Cookies.
Don't forget to try dunking these donut holes in some Israeli Cardamom Coffee or Stroopwafels Vodka Coffee!
Check out some of our recent favorite dessert recipes here:
Cinnamon Sugar Donut Hole Recipe
If you love this easy recipe please click the stars below to give it a five star rating and leave a comment! Please also help me share on facebook and pinterest!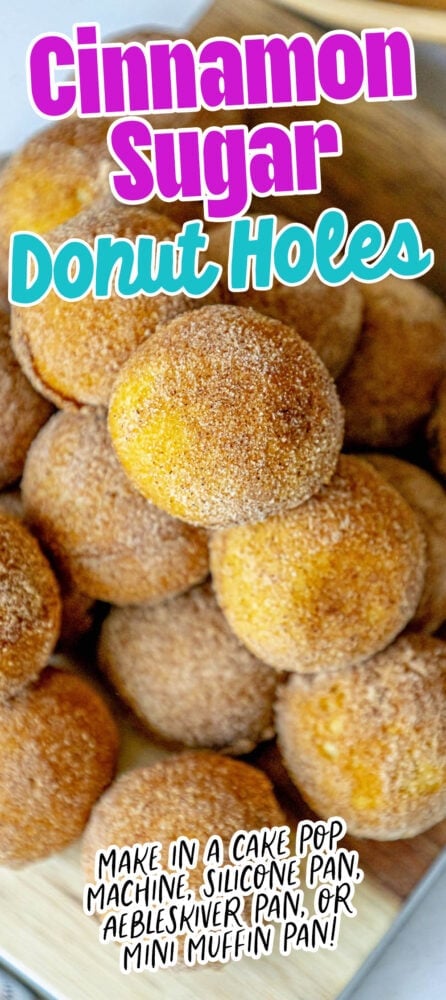 CONNECT WITH SWEET C'S!
Be sure to follow me on social media, so you never miss a post!
Facebook | Twitter | Youtube | Pinterest | Instagram
Only have 30 minutes to get dinner on the table? Sign up for my 30 minute dinner plans direct to your inbox!
Find and shop my favorite products in my Amazon storefront here!
Yield:

50 donut holes
10 Minute Baked Cinnamon Sugar Donut Holes
Delicious vanilla baked donut holes rolled in cinnamon sugar with a rich buttery flavor in just 10 minutes!
Ingredients
1 1/2 cups flour
1 teaspoon baking soda
1/2 cup butter, softened
2 eggs
1 cup sugar, + 1/2 cup for dusting
1 tablespoon vanilla extract
1/2 tablespoon pure lemon extract
1/2 cup milk
1/4 cup cinnamon, for dusting
up to 1/4 cup water, added 1 teaspoon at a time, if needed to thin
Instructions
Fill a large bowl or paper bag with cinnamon and sugar to top and set aside.
Cream together sugar and butter in a stand mixer.
Add in eggs, mix thoroughly.
Add in vanilla, milk and extracts.
Slowly fold in flour and baking soda- be careful not to overmix. Batter should be pancake-like, a bit runny. Add a teaspoon of water at a time to thin if thick.
Pour batter into a squeeze bottle or a ziploc bag with the tip cut off.
Squeeze batter to fill bottom of a well heated and greased cake pop machine.
Cook according to manufacturers directions (about 5 minutes).
While piping hot out of the machine, dump into sugar and cinnamon bag/bowl and toss to evenly coat.
Eat immediately and enjoy!
Nutrition Information
Yield
10
Serving Size
5
Amount Per Serving
Calories

222
Total Fat

11g
Saturated Fat

6g
Trans Fat

0g
Unsaturated Fat

3g
Cholesterol

63mg
Sodium

220mg
Carbohydrates

28g
Fiber

2g
Sugar

11g
Protein

4g
Nutrition is automatically calculated by Nutritionix - please verify all nutrition information independently and consult with a doctor or nutritionist for any and all medical and diet advice.