This is the BEST Easy Blueberry muffins recipe ever - super easy, simple, and so much delicious blueberry flavor in muffins that won't taste dry, and can use frozen or dehydrated blueberries!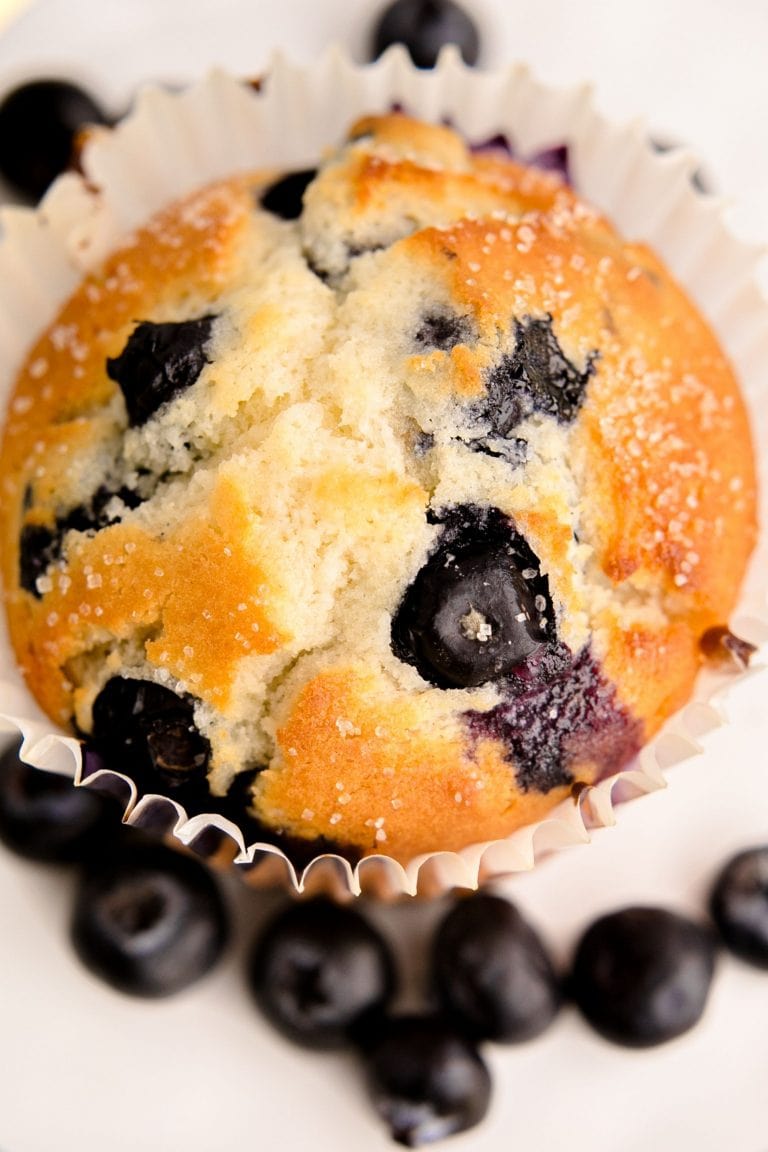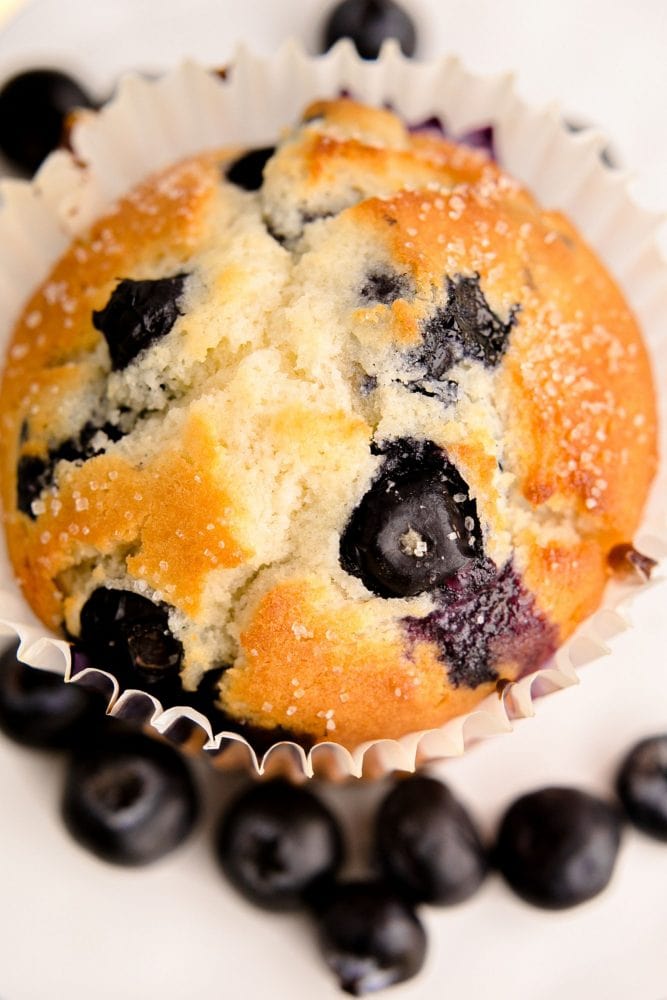 These easy blueberry muffins stay fresh longer and are nice and moist, with a perfect crumb.
Once you try these muffins, you will never want another blueberry muffin recipe again - they are so delicious and simple, they are instant family favorites!
One of the reasons I truly love this recipe is it isn't too fussy - while you will cream together wet ingredients in a large bowl, and then sift in dry ingredients, you don't have to be nearly as precise, and I've been known to dump everything in a bowl while in a hurry and have it come out just fine.
This recipe is the best for jumbo muffins - they stay nice and moist and don't dry out.
If you love blueberries, be sure to visit my easy blueberry peach cobbler and blueberry dutch baby (oven pancakes) recipes as well!
Here at Sweet C's, we have lots of types of readers - those who want to get straight to the recipe, and those who need more information to feel more comfortable in the kitchen.
To better serve all readers, we have a "skip to recipe" button in the top left corner of each page to save you from scrolling.
We also have a clickable table of contents below that can help you navigate quickly through our recipe.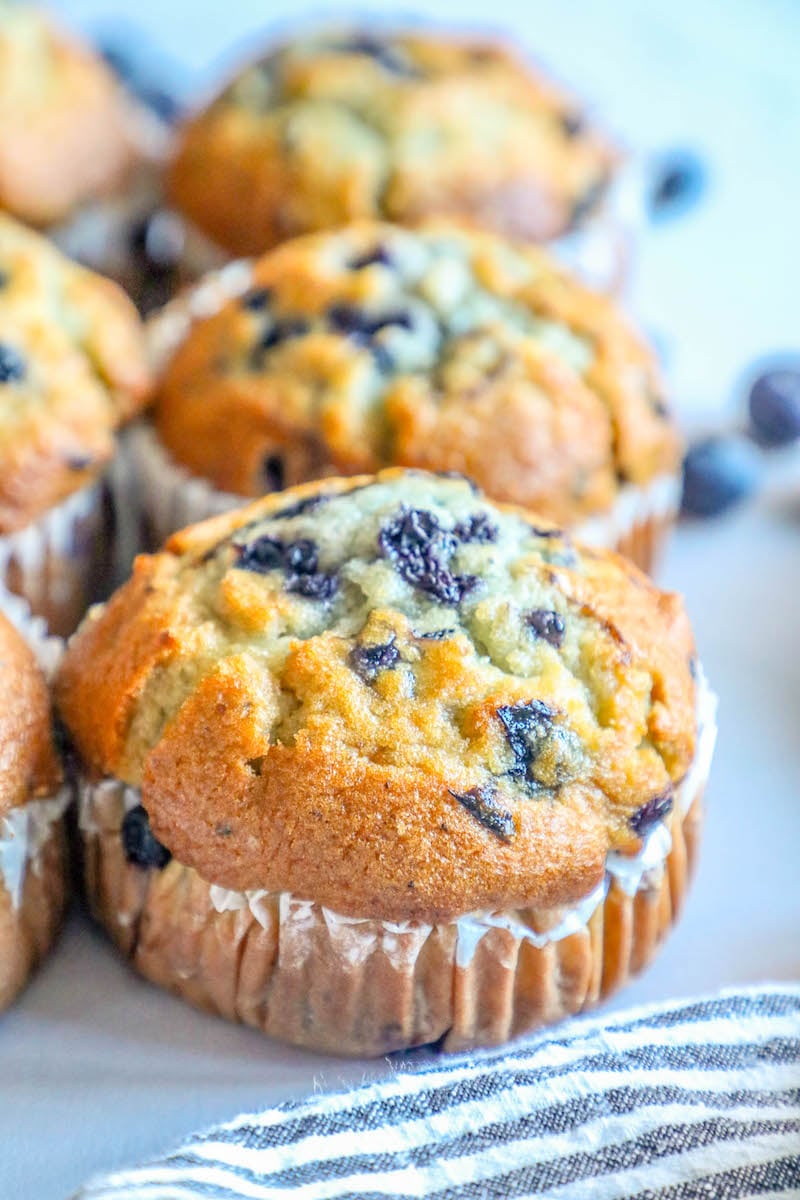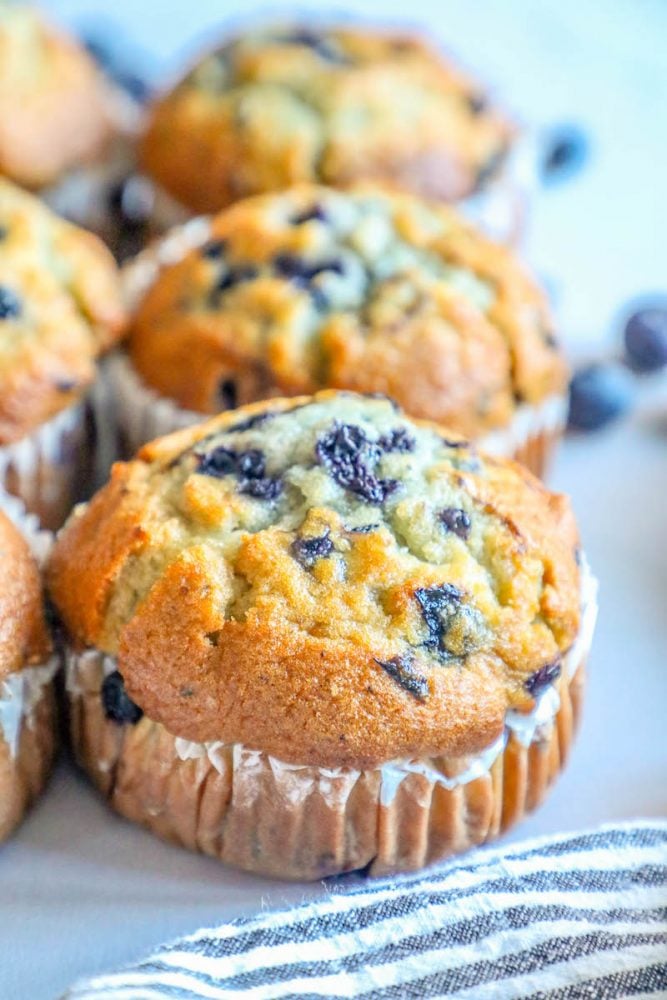 How To Make Jumbo Blueberry Muffins
Once you know how to make jumbo blueberry muffins from scratch, you'll want to make them all the time!
These blueberry muffins are super simple - and crazy delicious.
You don't need to worry about mixing wet ingredients and dry ingredients in separate bowls - you can dump them straight from a measuring cup into the muffin batter and mix!
Grease your muffin tins well even when you line with muffin liners.
What Blueberries to Use In Blueberry Muffins
If you're worried about what blueberries you can use in this recipe, I've designed it to work with whatever you have on hand.
This recipe is written assuming you're using fresh blueberries, but you can also use frozen or even dehydrated blueberries in this recipe, too!
No matter what type of blueberry you have, these will be the most delicious blueberry muffins ever!
Muffins with Frozen Blueberries
This recipe is best with fresh blueberries, but frozen blueberries can work in a pinch if thawed and drained of excess liquid.
Let your frozen blueberries thaw naturally in the refrigerator, and add to dish.
Make sure blueberries are not frozen at all when adding to recipe, after lightly smushing.
Muffins in photos used frozen blueberries - from fresh there will be bigger berry marks across the top of the muffins.
If you need a great jumbo muffin pan, click here.
Muffins with Dehydrated Blueberries
If you don't have frozen or fresh blueberries on hand, no worries - this recipe works fabulously with dehydrated blueberries.
While you can go on ahead and use them as-is, I like to sugar blanch my dehydrated blueberries when making blueberry muffins.
To blanch your blueberries, mix 1 cup sugar, 1 cup corn syrup, and 2 cups water in a saucepan on the stove and bring to a boil, stirring frequently to dissolve sugar into water.
Add dehydrated blueberries to saucepot and boil for 3 minutes, stirring to keep blueberries from burning on the bottom of the pan.
After 3 minutes, remove blueberries from blanching liquid. I like to use a fry basket or metal mesh colander.
Then go on ahead and use blueberries as called for in recipe below!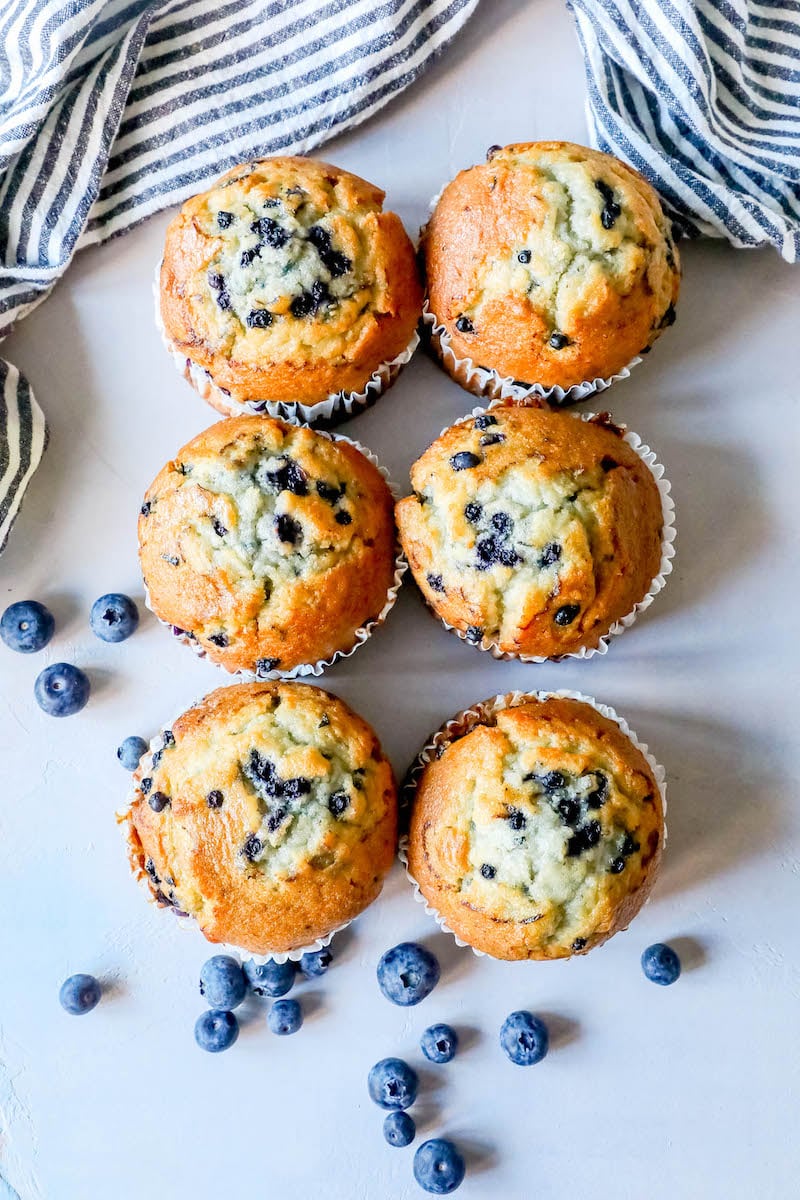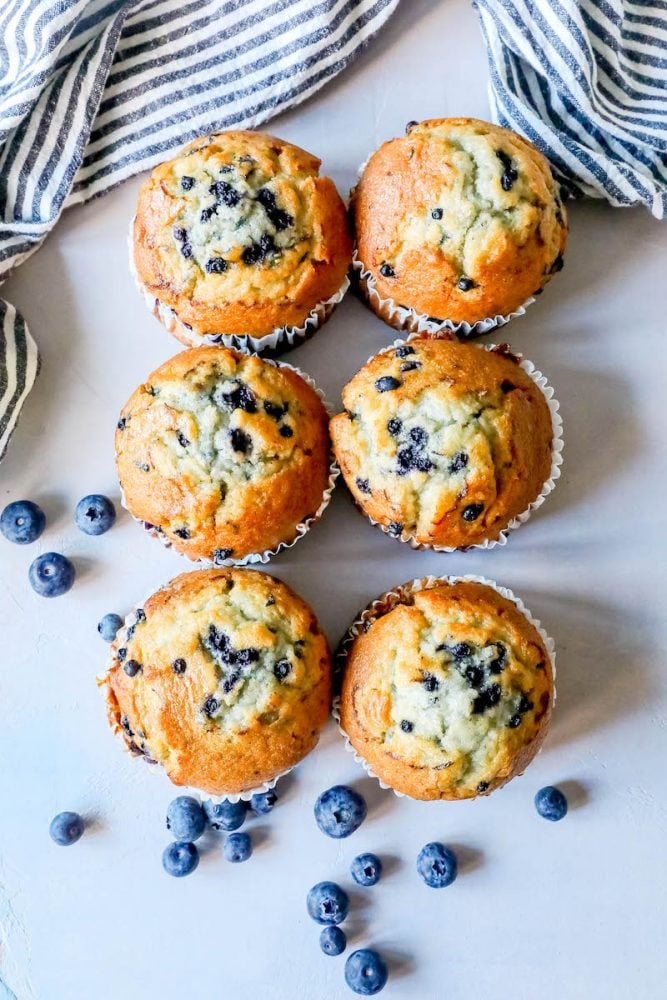 How Long to Bake Jumbo Blueberry Muffins
I prefer to preheat my oven to 400 degrees before putting my muffins in, so it is piping hot to help the muffins rise.
When it's time to put the muffins in the oven, reduce the heat to 375 degrees, and bake until golden brown on the sides and top.
Bake until toothpick inserted in the middle comes out clean for perfect doneness!
If you need a great jumbo muffin pan, click here.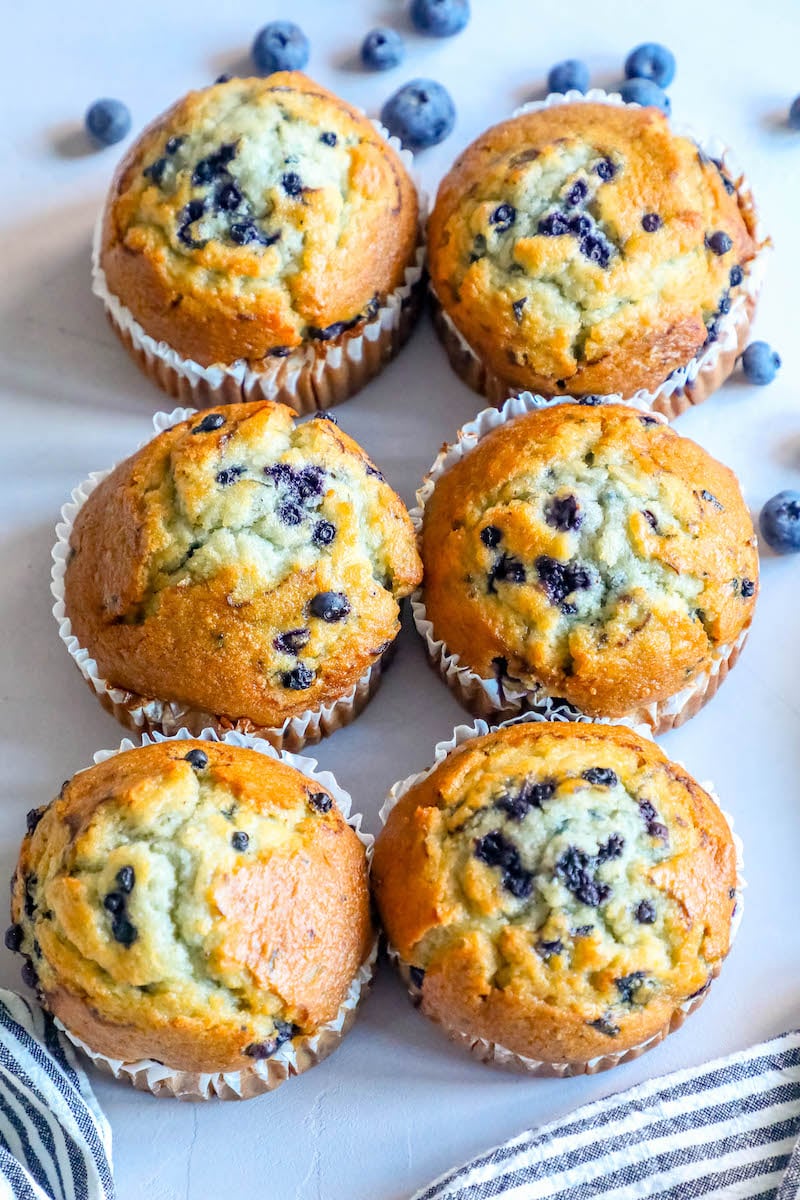 Other Easy Breakfast Recipes You'll Love:
If you love these easy blueberry muffins, please be sure to check out some of my other favorite easy breakfast recipes that are sure to bring the whole family to the table!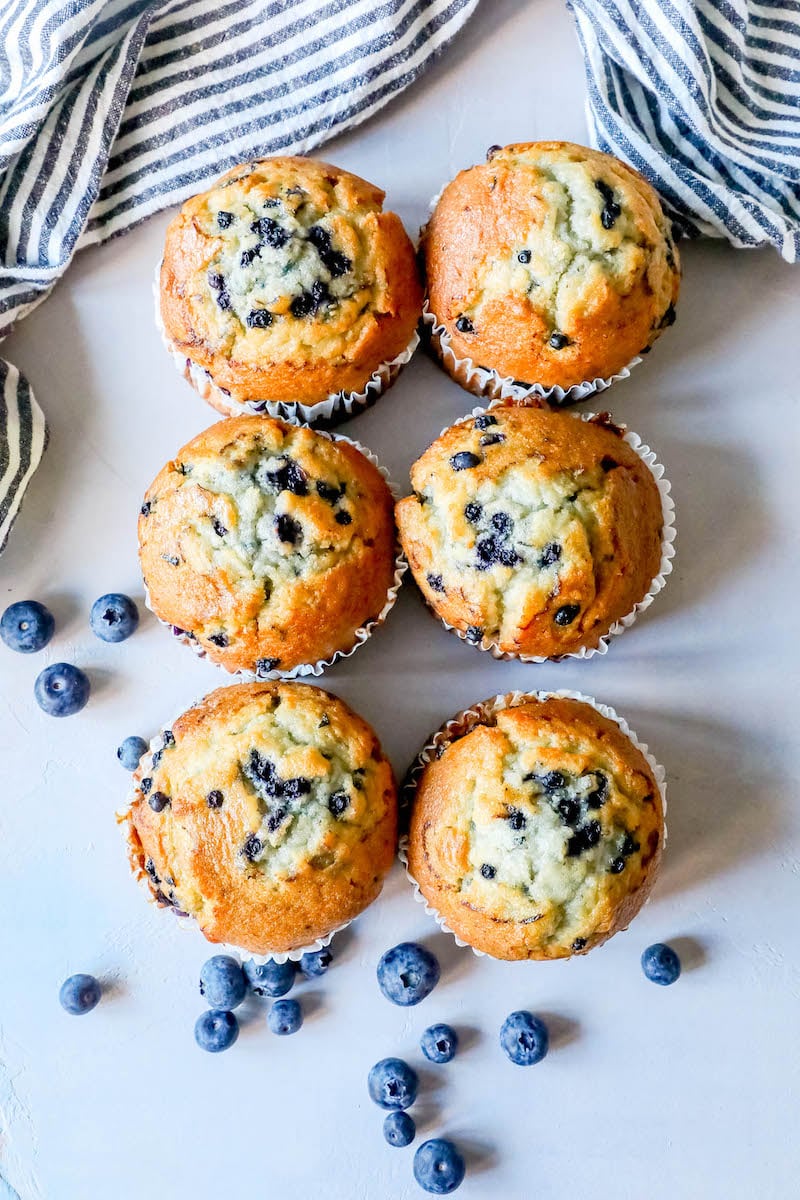 This recipe is a spinoff of the NYT Jordan Marsh Blueberry muffin recipe - where we got the inspiration to lightly mash part of the berries - but with quite a few tweaks to the flavor and process that we think takes this recipe over the top.
What kind of blueberries should I use?
This recipe was formulated to work with frozen, dehydrated, and fresh blueberries.
For evenly spaced blueberries that don't sink to the bottom and look professional, go for the dehydrated blueberries, soaked in syrup before baking.
For fresh flavor and blueberries that pop with juicy flavor, pick fresh. For easy to work with berries that are extra sweet and don't sink to the bottom, opt for frozen.
How to keep berries from sinking to bottom
Berries, especially fresh blueberries, sink quickly to the bottom of muffins.
If you are using fresh berries, add to the batter in muffin cups to keep them evenly spaced and from sinking.
Berries that are dehydrated or frozen won't sink as easily, so that's why we use them in our muffins often.
You can see in our pictures we made two sets - we used some with dehydrated berries and some with fresh berries.
Save a couple of berries to add to the tops of muffins once in the pan.
When are blueberry muffins done?
Muffins with fruit can be tricky to tell when they are done, since the fruit juice can come off on a toothpick when checking for doneness and make it look "wet" when the batter is cooked.
Look for browned edges, a lightly browned top, and firm muffin dough when pressed to know your muffins are cooked through.
A fully cooked muffin should be light and springy to the touch, but NEVER jiggly like jello!
The Best Easy Jumbo Blueberry Muffins Recipe
If you love this delicious easy blueberry muffin recipe as much as I do, please give it five stars (click the stars in the recipe below!) and help me share on facebook and pinterest.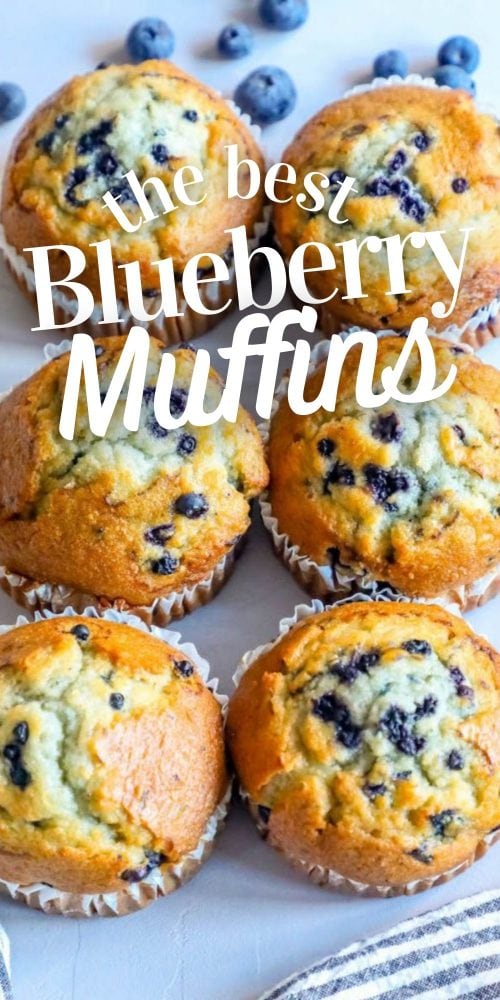 CONNECT WITH SWEET C'S!
Be sure to follow me on social media, so you never miss a post!
Facebook | Twitter | Youtube | Pinterest | Instagram
Only have 30 minutes to get dinner on the table? Sign up for my 30 minute dinner plans direct to your inbox!
Find and shop my favorite products in my Amazon storefront here!
Yield:

6 jumbo muffins
The Best Easy Jumbo Blueberry Muffins Recipe
The Best Easy Jumbo Blueberry Muffins Recipe - delicious easy jumbo blueberry muffins that taste better than a bakery and a family favorite!
Ingredients
½ cup butter, softened
1 ¼ cups sugar
2 eggs
1 teaspoon vanilla extract
1 teaspoon fresh lemon juice (can use lemon zest instead for even more flavor)
½ cup buttermilk (can use milk if you don't have buttermilk on hand, but we love the flavor buttermilk provides to this recipe)
2 cups all purpose flour
1 ½ teaspoon salt
2 teaspoons baking powder
2 cups blueberries; or 2 cups frozen blueberries, thawed; or 2 cups rehydrated blueberries (we often use dehydrated blueberries since they don't sink when mixing, as pictured in this post)
3 teaspoons sanding sugar
optional: 2 tbsp melted butter
Instructions
Preheat the oven to 400 degrees Fahrenheit.
Cream together the butter and 1 ¼ cups sugar until it becomes light and fluffy, preferably in a stand mixer or with a hand mixer.
Add in the eggs, one by one, making sure you beat well after each addition.
Stir in vanilla, lemon juice, and buttermilk and mix well to combine.
Sift the flour, salt, and baking powder into to the sugar, buttermilk, butter, and eggs. Using a sifter will help to reduce clumping and prevent you from overworking muffins.
In a small bowl, lightly mash/smush about half of the blueberries with the back of a spoon (sort of like muddling mint in a drink) and then stir into the batter.
Fold in the remaining blueberries. We also like to save a couple to drop right on the tops of the muffins.
Line a 6 cup jumbo muffin tin or 12 cup standard muffin tin with cupcake liners.
Fill with batter - leave ⅓ muffin tin/liner for muffins to rise above.
Sprinkle the 3 teaspoons sanding sugar over the tops of the muffins, reduce oven heat to 375, and bake at 375 degrees for about 30-35 minutes.
Optional: Reserve sanding sugar until end of cooking. In final 10 minutes of baking, brush tops of muffin with melted butter. Top with sanding sugar. Continue baking until cooked until toothpick inserted comes out completely clean.
Remove muffins from tin and cool at least 30 minutes.
Enjoy!
Nutrition Information
Yield
6
Serving Size
1
Amount Per Serving
Calories

522
Total Fat

18g
Saturated Fat

11g
Trans Fat

1g
Unsaturated Fat

6g
Cholesterol

104mg
Sodium

497mg
Carbohydrates

84g
Fiber

2g
Sugar

49g
Protein

8g
Sweet C's Favorite Recipes
If you love these easy muffins, be sure to check out my other favorite recipes!
Many of them are low carb, all of them are quick, easy, and totally delicious!
Sweet C's Favorite Recipes
Favorite recipes from Sweet Cs Designs