Hi! I'm Katie from the food blog Katie's Cucina. I am a Marketing professional during the day and home cook extraordinaire at night! I have no classical culinary training. Everything I've learned has been from my mom, watching cooking shows, and good 'ol trial and error. Katie's Cucina is a place where I share my love for food – developing and cooking mouthwatering recipes weekly, baking indulgent desserts, and sharing foodie travels from coast to coast.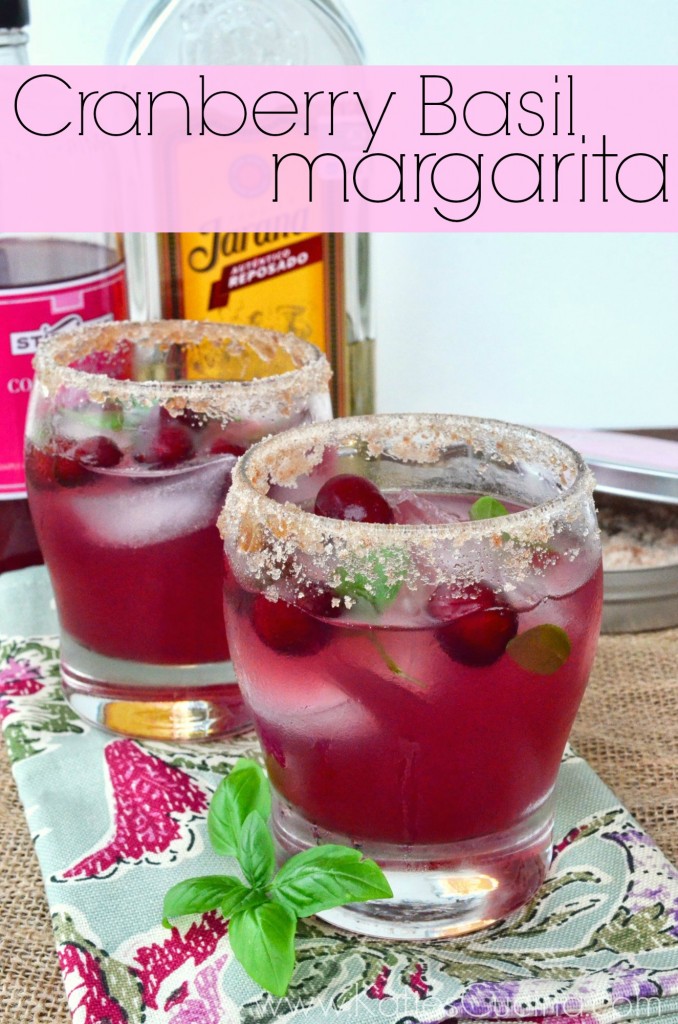 I'm so excited to be here today and contribute to Sweet C's Summer Sippers! I love making easy cocktails at home. Earlier this month, I attended BlogHer Food in Austin, Texas. On the last day of the trip, I spent an afternoon at the W Hotel. As soon as my friend Christine and I flipped open the menu at the restaurant in the hotel, both of our eyes gravitated toward the Cranberry Basil Margarita. We both continued to read through the drink menu; however, our eyes kept going back to the margarita. As soon as the waiter approached our table we instantly ordered the cranberry basil margarita.
We chatted and slurped up our drink, chatted some more and more slurping... it was so good and helped cooled us off during that hot summer day in Texas. The W served up the most delicious cranberry basil margarita, and I tried to do it and justice and replicate this refreshing drink. I used a few simple ingredients from World Market, tequila, frozen cranberries, and fresh basil from my garden. Within minutes I had a delicious tasting drink that accompanied my Mexican themed dinner oh-so well!
If your tastebuds like to be adventurous I would highly suggest you give my recipe for Cranberry Basil Margaritas a try this summer!
Looking for more tasty drinks from Katie's Cucina? Check out my recipes for Sparkling Vietnamese Limeade, Pineapple-Tequila Cooler, Blackberry Pomegranate Sangria, and Peach Mojitos!
And to compliment all of these tasty drinks try a few of my favorite recipes: Grilled Italian Sausage with Grilled Sweet Peppers, Spicy Beef Sliders, and Grilled Shrimp Boil.
Katie Original Recipe
Prep Time: 5 minutes
Total Time: 5 minutes
Servings: 1, 6oz drink
Ingredients:
Stirrings Pomegranate Rimmer
4 oz Stirrings Cosmopolitan Mix
2 oz Tequila
4 basil leaves
4 frozen/fresh cranberries
Directions:
Dip the rim of a glass in water. Then carefully twirl glass in the tray of the pomegranate sugar to coat the edges of the glass (repeat if making multiple drinks). Add ice to each glass (be careful not to the knock the sugar off the rim).
In a cocktail shaker add 4 oz Stirrings Cosmopolitan Mix, 2 oz Tequila, and fresh basil leaves.Shake well and pour into the glass over ice. Add frozen/fresh cranberries and enjoy!