Easy keto butter chicken recipe - a creamy, rich, and delicious chicken dish with creamy curry flavor that everyone loves that is naturally gluten free and low carb!
If you love butter chicken... you're going to love this recipe and my twist on my favorite Indian food dish - with chicken thighs!
This rustic, hearty butter chicken dish is bursting with creamy curry flavors and lots of fresh garlic and fresh ginger.
Just Take Me To The Easy Butter Chicken Recipe Already!
I get lots of questions and comments on my posts – so I try to provide as much information in them as possible for my readers.
I have readers of all level cooking ability on my site - and frequently get lots of questions on my recipes - so I put a lot of information in my posts for my readers.

If you'd prefer to skip over these tips, tricks, and serving suggestions - please scroll to the bottom of the page where you will find the easy printable recipe.
Is There Butter in Butter Chicken
Butter isn't a traditional part of Indian curries - so many people wonder if there is even butter in butter chicken. Unlike garam masala, or other popular Indian curries, there is actually butter in butter chicken.

While the dish can be made with coconut cream and other non dairy options, butter chicken does often contain butter and heavy whipping cream mixed into the spicy, savory tomato sauce.

Butter chicken isn't an old dish in Indian cuisine - it was created in the now world renowned Moti Mahal restaurant in Delhi, India when they mixed leftover chicken in a tomato based gravy with butter and cream.
Butter Chicken is now one of the most popular curry dishes in India, and across the world!

Chicken Thighs Butter Chicken Recipe
Traditionally, chicken thighs aren't used in butter chicken recipes - as they use chunks of chicken breasts, or leftover Chicken Tikka.

I love the rich, savory flavors of butter chicken - but often buy chicken thighs since my husband is on a keto diet and chicken thighs work better into his macros.

Chicken thighs offer a higher fat content for those on a keto diet - and are a much more economical cut of chicken for those on a budget.

This method is in no way traditional - but does bring the flavor of my favorite Indian chicken dish to chicken thighs, for a rich and hearty meal that will blow you away with flavor.

This recipe is built off my Best Baked Chicken Thighs Ever recipe - you will pan sear and then bake the chicken thighs, while making the butter sauce in the pan you browned the chicken on as the chicken thighs bake.
Keto Buter Chicken Recipe
Butter Chicken is an excellent keto friendly dish for those on a keto diet, since the ingredients (like many Indian food favorites) are gluten free and lower in carbohydrates.
This keto Indian chicken recipe is one you will love making over and over again!

I recommend serving this keto butter chicken recipe with my recipe for the Best Cauliflower Rice ever - or with Keto Naan Bread (recipe coming soon!)

Be sure to double check ingredients - make sure you use olive oil and not a vegetable oil, and opt for fresh herbs for the most flavor, where possible.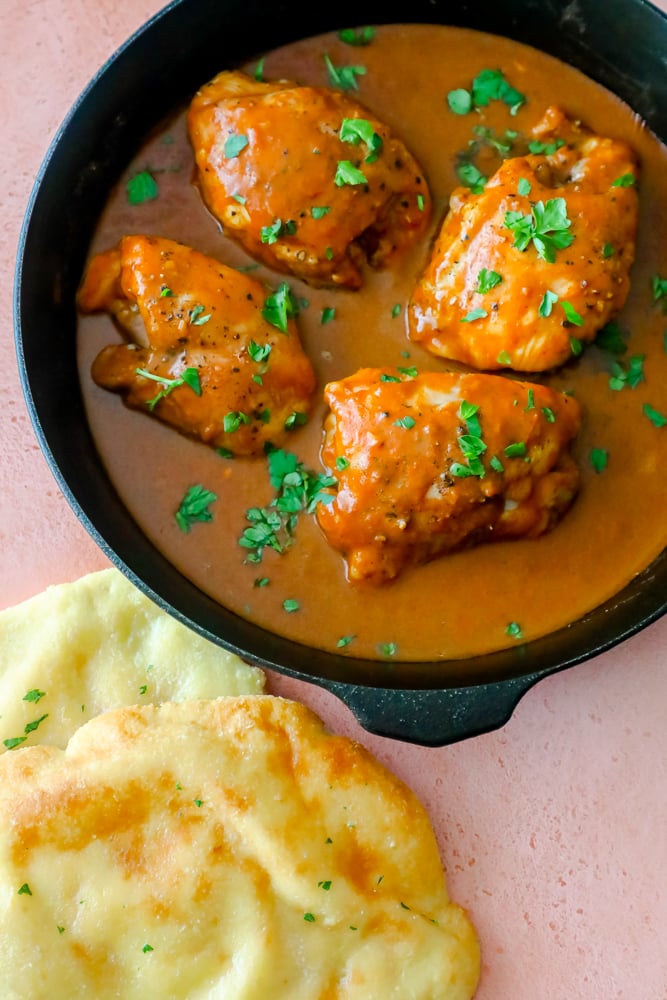 Other Delicious Chicken Thigh Recipes You'll Love:
If you love this delicious easy keto butter chicken recipe, please visit some of my other favorite chicken thigh recipes!
They are simple, quick, and all bursting with juicy chicken flavor!
Keto Chicken Thigh Recipes
The Best keto chicken thigh recipes ever - easy delicious chicken thigh recipes the whole family will love.
Easy Butter Chicken Recipe
If you love this easy butter chicken recipe as much as I do, please give it five stars (click the stars in the recipe below), and help me share on facebook and pinterest!
CONNECT WITH SWEET C'S!
Be sure to follow me on my social media, so you never miss a post!
Facebook | Twitter | Youtube | Pinterest | instagram
Sign up to receive an email in your inbox for each new recipe:
FREE EMAIL SUBSCRIPTION
Yield:

10
Easy Butter Chicken Thighs Recipe
Easy keto butter chicken recipe - a creamy, rich, and delicious chicken dish with creamy curry flavor that everyone loves that is naturally gluten free and low carb!
Ingredients
2 tablespoons lemon juice
1 tablespoon ground turmeric
2 tablespoons garam masala
2 tablespoons ground cumin
3 pounds chicken thighs, on the bone
¼ pound unsalted butter
2 tablespoon olive oil
2 medium-size yellow onions, peeled and diced
4 cloves garlic, minced
2 tablespoon fresh diced ginger
1 tablespoon cumin seeds
1 cinnamon stick
2 medium-size tomatoes, diced
2 red chiles, like Anaheim, or 1 jalapeño pepper, seeded and diced
Kosher salt to taste
⅔ cup chicken stock, low-sodium or homemade
1 ½ cups cream
½ teaspoons tomato paste
½ bunch cilantro leaves, stems removed, chopped
Instructions
Whisk together the lemon juice, turmeric, garam masala and cumin in a large bowl for the chicken thigh marinade.
Put the chicken in the marinade, and make sure it is evenly coated. Cover, and refrigerate for at least 1 hour and up to one day.
Preheat oven to 350 degrees.
In a large pan over medium heat, melt the butter in the oil until it starts to foam.
Remove chicken from marinade, and quickly brown chicken on all sides.
When chicken is browned, remove pan from heat. Do not clean out pan, we will make sauce in it.
Add chicken to a baking sheet with a metal rack placed over the top and bake until cooked through (when chicken reaches 175 internal temperature with a digital thermometer inserted into the thickest part of thigh (do not touch bone.)
Return pan to medium high heat.
Add the onions, and cook, stirring frequently, until translucent and soft.
Add the cumin seeds, garlic, and fresh ginger and cook until the onions turn lightly brown and are soft - be sure to stir occasionally and don't let garlic burn.
Add the cinnamon stick, tomatoes, chiles and salt, and cook until the chiles are soft, about 10 minutes.
Add chicken stock.
Bring the mixture to a boil, then lower the heat and simmer, uncovered, for approximately 30 minutes.
If you prefer a smooth sauce, add to blender and blend completely. While I prefer a slightly textured sauce, my kids prefer it to be very, very smooth. Return back to pan when desired texture is met. Sauce will be very liquid until cream and tomato paste are added.
With heat on low, stir in the cream and tomato paste, and add cooked chicken to pan, tossing to coat in sauce, and let sauce reduce approximately 10 to 15 minutes.
Remove from pan and plate with naan, rice, or riced cauliflower and garnish with the cilantro leaves.
Enjoy!
Nutrition Information
Yield
10
Serving Size
1
Amount Per Serving
Calories

555
Total Fat

44g
Saturated Fat

20g
Trans Fat

1g
Unsaturated Fat

23g
Cholesterol

239mg
Sodium

352mg
Carbohydrates

8g
Fiber

2g
Sugar

3g
Protein

35g
Nutrition is automatically calculated by Nutritionix - please verify all nutrition information independently and consult with a doctor or nutritionist for any and all medical and diet advice.