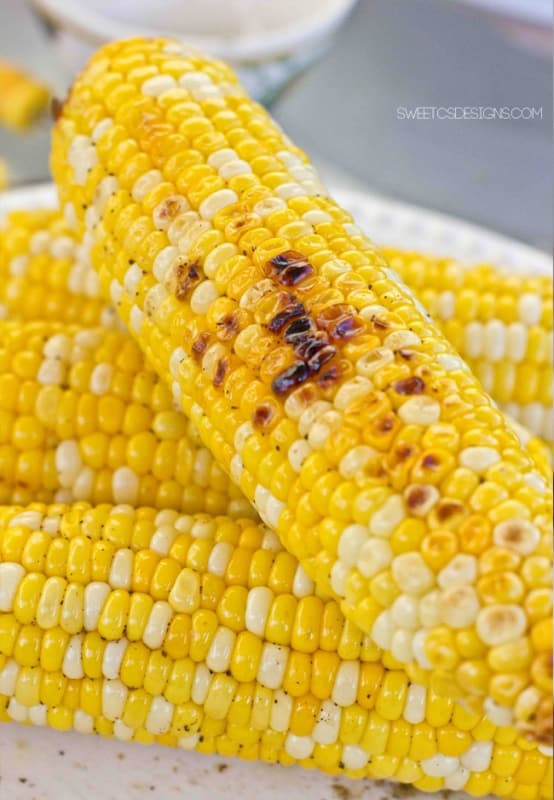 We love grilled foods in the summer- and we LOVE corn on the cob. It is cheap, easy and so delicious- there is nothing better in summer than a delicious ear of fresh corn! Boiling perfect corn can be a pain. So can grilling it in the husks with the silk still attached. We've tried so many methods for how to grill perfect corn on the cob, and I've found the best grilled corn on the cob recipe ever!
So if you are looking how to grill corn on the cob with the best grilled corn recipe ever- you are in the right place!
This is really more of a method than a recipe, really. All you need is some delicious butter, sea salt, pepper and tinfoil.
I also like to throw these on while the grill heats up, and keep cooking while we throw on burgers, steaks or hot dogs for a perfect flavor that is lightly charred, but retains all the corn's moisture for juicy, fresh and delicious corn on the cob. Cooking it over a longer period of time makes the kernels surprisingly soft and also makes this an easy way to eat corn on the cob, especially for kids. It helps to not be as stringy and in your teeth- while tasting great!
This will quickly be your favorite method to grill corn on the cob- and it's so easy to make, let's get to it!
The Best Grilled Corn on the Cob Recipe
Ingredients
4

ears of corn

cleaned with husk and silks removed

4

tablespoons

room temperature

soft butter

1/2

teaspoon

sea salt per ear of corn

pepper

to taste

4

large squares of foil
Instructions
First, de-hull corn and remove all strings.

Pat dry with paper towel.

generously coat corn with butter, salt and pepper.

Wrap in foil tightly.

Grill for 45 minutes- turning sides every 10 minutes.

I like to throw the corn on the grill while the coals are still heating up and take them off when the steak, chicken or hot dogs we're cooking are done.