Perfect every time with no pre-boiling- The Best Grilled Corn on the Cob Recipe Ever - how to grill corn on the cob with the best foolproof method to grill perfect corn on the cob every time!
Perfect corn on the cob for cookouts, BBQ parties, or anytime you're grilling!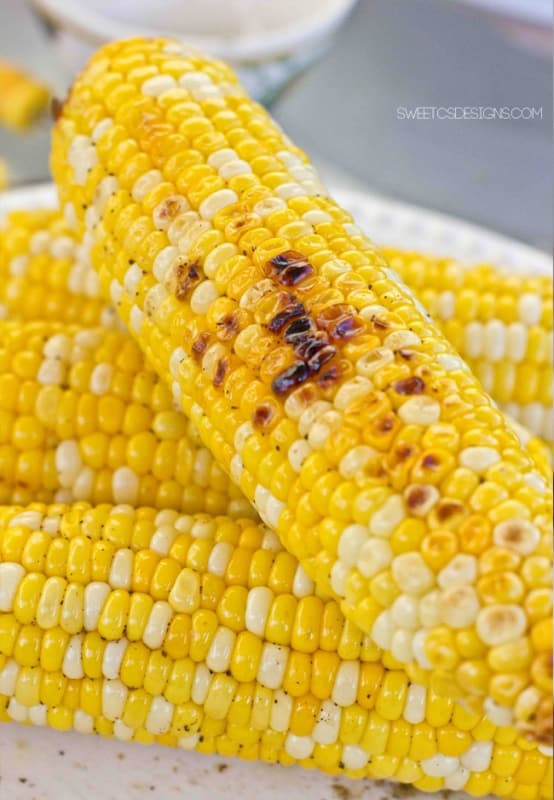 We love grilled foods in the summer- and we LOVE corn on the cob.
It is cheap, easy and so delicious- there is nothing better in summer than a delicious ear of fresh corn! It's also the one side dish my kids beg for - for a truly perfect family friendly side dish that is always the first thing gone when we fire up the grill.
Boiling perfect corn can be a pain.... and so can grilling it in the husks with the silk still attached - but this method is a truly fuss-free recipe for grilled corn on the cob because there is no soaking, hoping the silks will dissolve, or boiling water - simply clean the corn, season, and toss it on the grill for the easiest corn on the cob, ever.
We've tried so many methods for how to grill perfect corn on the cob, and I've found the best grilled corn on the cob recipe! This is the perfect base for grilled street corn recipes, roasted corn for salads, and more.
And if you're looking for a super easy and crazy delicious baked corn side dish, don't miss out on my easy baked scalloped corn recipe!
Just Take Me To The Best Grilled Corn on the Cob Recipe!
If you'd rather skip mytips and tricks, essential cooking info, and similar recipe ideas – and get straight to this deliciously easy Best Grilled Corn on the Cob Recipe – simply scroll to the bottom of the page where you can find the printable recipe card or click the skip to recipe button in the top left.
You can also find two delicious recipes using this grilled corn recipe - a cilantro pesto grilled corn on the cob and a spicy sriracha grilled corn on the cob - both of which are delicious twists on this easy grilled summer classic!
So if you are looking how to grill corn on the cob with the best grilled corn recipe ever- you are in the right place.
This is really more of a method than a recipe, really. All you need is some delicious butter, sea salt, pepper and tinfoil.
I also like to throw these on while the grill heats up, and keep cooking while we throw on burgers, steaks or hot dogs for a perfect flavor that is lightly charred, but retains all the corn's moisture for juicy, fresh and delicious corn on the cob.
Cooking it over a longer period of time makes the kernels surprisingly soft and also makes this an easy way to eat corn on the cob, especially for kids.
It helps to not be as stringy and in your teeth- while tasting great!
This will quickly be your favorite method to grill corn on the cob- and it's so easy to make, let's get to it!

How to Grill Corn on the Cob
Grilling corn on the cob seems intimidating - but it doesn't need to be.
While a lot of people soak corn, work at removing silks but keeping the husks attached, or simply toss the corn on the grill without hulling and then saving the cleanup for when you eat the corn - this recipe is the most simple and easy way to grill corn I've found.
To get perfect grilled corn, you need the right amount of fat to help bring out the corn's rich, earthy flavor, to add a little caramelization to the corn, and to give a rich buttery flavor that everyone loves.
How to Grill Corn Without Husks
Removing husks from corn before adding it to the grill does two things - it does lower the smoky flavor charred husks brings to grilled corn, and can make corn more prone to burning and sticking on your grill grates.
Corn's husks are great for naturally protecting the corn on the cob as you grill it - but can also be a pain. I'm going to help you decide if you want to grill corn with or without the husks, and how to make sure either way is perfect!
To prevent these possible problems, read my tips below:
If you're cooking your corn on the cob on a propane grill, but still crave a smoky flavor, you can use some of the corn's husks to create the smoky flavor you can't get from propane alone.
Keep the smoky charred corn husk flavor by leaving 1-2 husks on the corn - OR remove all husks and prep corn as noted in the recipe below, laying a couple of the husks flat on the foil we will wrap corn in.
When corn has been prepped, lay on the husks and fold foil into a pouch to grill.
Keep husk side down, and check after 30 minutes. If husks are charred, remove from pouch (you just want to char husks enough for the smoky flavor it will add to the corn when cooking with propane.)
Keep Corn From Sticking to Grill
To keep corn on the cob from sticking to your grill grates, be sure there is a good amount of fat (butter or olive oil) all over your corn to help it caramelize without sticking, as well as pull out corn's rich buttery flavors.
Cooking corn on the cob in a foil pouch makes it easy to toss on the grill without worrying about sticking, burning, or making cleanup messy - so when grilling corn without husks, I always grill it in a foil pouch to provide the perfect mess-free way to get corn to not stick to the grill grates.
How Long to Grill Corn on the Cob
Corn on the cob takes a while to cook - and cooks best when not directly over the heat to prevent burning.
This can make it a bit tricky to tell when your corn is done, since it is a little longer - but because you can add the corn to the grill as it heats up for chicken, burgers, or whatever else you're grilling, this recipe won't throw off your dinner plans even though it does take a bit longer.
How to Tell When Corn is Done
Grilled corn is done when the kernels look slightly wrinkly, are soft to the touch, and have a lovely golden char to each side (be sure to flip your corn and rotate it often so it's evenly charred on all sides.)
Other Easy Grilled Recipes You'll Love
If you love this easy grilled corn on the cob as much as I do, you're going to love some of my other favorite grilled dishes!
Click each link to find the easy printable recipe:
The Best Garlic Grilled Flank Steak Recipe
Grilled Chicken Antipasto Salad Recipe
The Best Grilled Chicken Strips
Veggie and Pancetta Grilled Pizza
The Best Grilled Corn on the Cob Recipe
If you love the Best Grilled Corn on the Cob Recipe as much as I do, please write a five star review, and be sure to help me share on facebook and pinterest!
CONNECT WITH SWEET C'S!
Be sure to follow me on social media, so you never miss a post!
Facebook | Twitter | Youtube | Pinterest | Instagram
Only have 30 minutes to get dinner on the table? Sign up for my 30 minute dinner plans direct to your inbox!
Find and shop my favorite products in my Amazon storefront here!
Yield:

4 people
The Best Grilled Corn on the Cob Recipe
Additional Time:
10 minutes
The Best Grilled Corn on the Cob Recipe Ever - how to grill corn on the cob - is the best foolproof method to grill perfect corn on the cob every time, no soaking required. Perfect corn on the cob for cookouts, BBQ parties, or anytime you're grilling!
Ingredients
4 ears of corn, cleaned with husk and silks removed
4 tablespoons room temperature, soft butter
½ teaspoon sea salt per ear of corn
pepper, to taste
4 large squares of foil
Instructions
Preheat grill to 450 degrees or high temp on a gas grill.
De-hull corn and remove all strings.
Pat dry with paper towel to remove any excess moisture from corn.
Generously coat corn with butter, salt and pepper.
Wrap in foil tightly.
Grill for 45 minutes on a top rack- turning sides every 10 minutes.
When corn is lightly charred, kernels have wrinkled a bit, and are soft to the touch, corn is done.
Let cool 5-10 minutes before serving.
Nutrition Information
Amount Per Serving
Calories

711
Saturated Fat

29g
Cholesterol

120mg
Sodium

1616mg
Carbohydrates

67g
Fiber

7g
Sugar

22g
Protein

12g