Easy Cube Steak in Gravy Recipe
Oct 21, 2020, Updated Nov 26, 2020
Pan fried cube steak in a mushroom and onion gravy in just one pot – this easy keto cube steak recipe goes from fridge to fork in less than 30 minutes!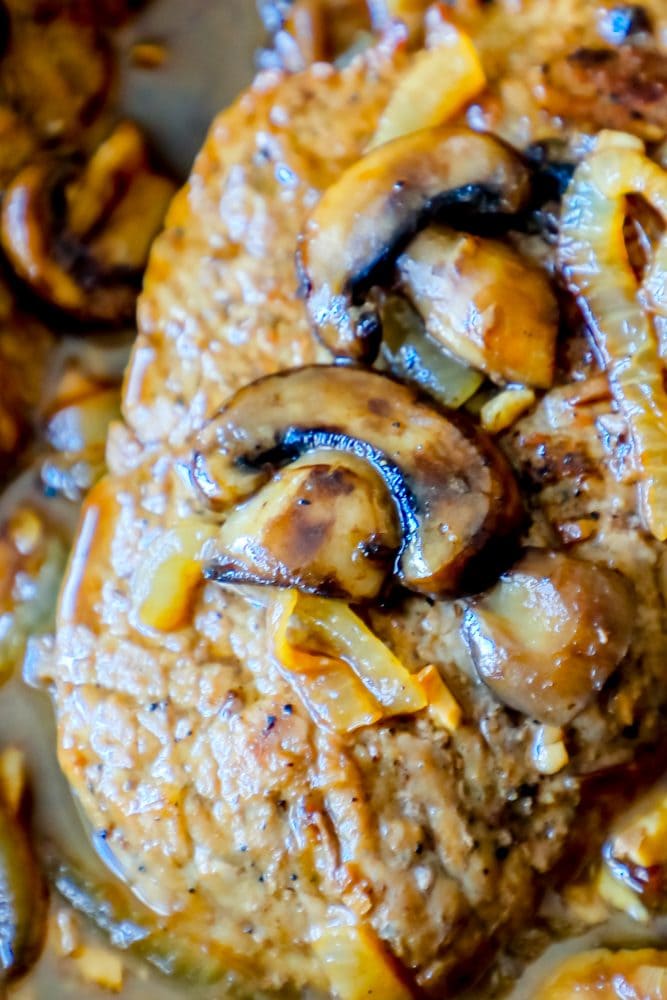 If you've never had cube steak, you're in for a treat. This tender, delicious cut of meat is an incredibly economical choice to serve, and is great when pan fried for a quick and easy hearty steak dinner in no time.

This quick and easy cube steak recipe has a ton of garlic, onion, mushroom, and meaty flavor – with notes of black pepper, gravy, and rich butter.

Serve with mashed potatoes or your favorite keto-friendly steak dinner side, and you have a meal your whole family will love.
This keto cube steak recipe is naturally gluten free and features whole food ingredients, for a one pot comfort food classic you don't have to beat yourself up over!
I get lots of comments and questions on my recipes and posts – so I provide as much information as possible for my readers.
If you'd like to skip over those tips and tricks, please scroll to the bottom of the page where you will find the easy recipe, click the "skip to recipe" button in the top left corner above, or click the table of contents links below.
If you're wondering just what exactly cube steak is, you aren't alone.
Cube steak has a funny name – but it really just means it is a steak that has been flattened by pounding with a meat tenderizer.
Cube steak isn't actually the shape of a cube, either – the cube refers to the shape of indentation left in the meat from the tenderizer.
Most often, cube steak is the cut of beef used for chicken fried steak – but it is also well known for being served with mushrooms and onions in a creamy and rich brown gravy sauce.
There are a lot of ways you can make this delicious brown gravy your own – including using onion powder, mushroom soup, garlic powder, onion soup mix, or even gravy mixes.
Use the tips below to make a gravy your family will love over this easy cube steak!
-Add a roux.
-Use soup mix.
-Use gravy mix.
-Use garlic powder and onion powder to make your own gravy without a flour mixture.
Once added, let cook to reduce and thicken on medium high heat until gravy is velvety smooth.
Slow Cooker Cube Steak in Gravy Recipe
If you love this delicious cube steak recipe and want to convert it to make in the slow cooker or crock pot, please follow the instructions for easy slow cooked cube steak and gravy:
Brown cube steak in pan.
Add steaks to slow cooker after browning on each side. Add in other ingredients.
Cook on low for 6 hours.
What To Serve With Cube Steak:
From mashed potatoes to rice and vegetables, easy bread to pasta, there are lots of delicious dishes that pair perfectly alongside cube steak:
What to Serve With Cube Steak
Delicious easy side dishes that pair perfectly with cube steak in gravy.
Is cube steak ground beef?
Cube steak looks dimpled – like a ground beef patty – but it is not ground beef. It is a very lean steak, tenderized to give it more surface area and break down tough meat. Ground beef is not a substitute for cube steak in this recipe.
What is cube steak?
Cube steak is a thin sliced top sirloin or top round steak, pulverized with a meat tenderizer.
Is Salisbury Steak Cube Steak?
Salisbury steak can be made from cube steak (if pounded very thin) but is not always made from cube steak.
Easy Cube Steak in Gravy Recipe
If you love this delicious and easy cube steak in gravy recipe as much as I do, please give it a five star review and help me share on facebook and pinterest!
CONNECT WITH SWEET C'S!
Be sure to follow me on social media, so you never miss a post!
Only have 30 minutes to get dinner on the table? Sign up for my 30 minute dinner plans direct to your inbox!
Find and shop my favorite products in my Amazon storefront here!
Cube Steak in Gravy Recipe
Pan fried cube steak in a mushroom and onion gravy in just one pot - this easy cube steak recipe goes from fridge to fork in less than 30 minutes!
Ingredients
1 1/2 pounds cubed steak (5 cube steaks)
1/2 teaspoon salt
1/2 teaspoon black pepper
4 tbsp butter, divided
8 oz cremini mushrooms, sliced
6 cloves garlic, diced finely
1 large onion, sliced
1 (14-ounce) can beef broth
Instructions
Season steak generously with salt and pepper.
Heat butter in a large skillet (preferably cast iron) over medium-high heat.
Add cube steaks and cook on medium high until well browned on each side, about 4 minutes per side. Remove steaks from pan when browned and set aside.
Add second half butter to pan and melt.
Add onions and mushrooms and sauté on medium, stirring often, until onions are soft and mushrooms have browned slightly.
Add garlic and cook until soft and fragrant, another 2 minutes.
Stir in beef stock, stirring to deglaze pan as you add stock.
Bring to a boil and let reduce, about 4 minutes.
When gravy has thickened, add steaks back to pan.
Toss in gravy to coat.
Serve immediately.
Leftovers may be stored for up to four days in an airtight container in the refrigerator - up to three months in a freezer.
If freezing, let thaw naturally in the refrigerator overnight and reheat in pan on the stove. Add up to 2 cups beef stock to make more gravy if needed.
Nutrition Information
Yield

5
Serving Size

1
Amount Per Serving
Calories

445
Total Fat

29g
Saturated Fat

14g
Trans Fat

0g
Unsaturated Fat

12g
Cholesterol

150mg
Sodium

689mg
Carbohydrates

6g
Fiber

1g
Sugar

2g
Protein

40g
Sweet C's Favorite Recipes
If you love this easy keto cube steak recipe please check out my other favorites!
Many are low carb, all are easy, quick and loaded with flavor!
Sweet C's Favorite Recipes
Favorite recipes from Sweet Cs Designs