One Pot Chicken Risotto is a delicious, simple, and easy dish - just add ingredients and stir for a creamy restaurant quality risotto at home! 
I love risotto. When thinking of easy weeknight meals, it isn't always the top of our list- but this One Pot Chicken Risotto really should be!
While it is a bit stir-intensive (you will be stirring this for about a half hour, not constantly but frequently), it really isn't much other work- Just toss and stir!
One Pot Chicken Risotto Recipe Variations
Also, you can easily adapt this recipe to what you have on hand. Think of it as a hearty, rustic peasant dish- if you have chicken stock or vegetable stock, use that instead.
Have some asparagus and mushrooms instead of peppers and green onions? Use those!
Be flexible and find the flavors you love.
Also, I add vermouth in to the recipe because I love the flavor.
You can skip this entirely, or add a different type of white wine.
Try the vermouth sometime though- I cook with it all the time! Its fabulous to sauté mushrooms in and has a flavor that pairs wonderfully with risotto.

Tips to Perfect Risotto at Home
The one thing that makes this recipe is the process. Don't rush it.
While this recipe will only take 30-40 minutes, don't skip the steps or add to much liquid when stirring rice.
This will keep your risotto from getting too gummy or runny! Also, YOU HAVE TO STIR VERY FREQUENTLY.
I've made risotto both with and without cream, but the "creamy" texture comes from the rice giving off it's starches. To do this, you need to STIR, BABY, STIR!
It isn't much work, but it is crucial! It's a little odd because we're used to stirring dishes just to prevent from burning- but this one needs to be stirred to get the right texture. It's kind of like when you overwork bread and it gives the bread a weird texture and becomes too gummy- thats exactly what we want the rice to do because it makes the sauce creamy!
My husband makes this with two pots- he heats up the stock in one, and pours it into the risotto from the other pot which sits on low.
I usually just do it all in one pot with room temperature stock though- and I dont have a problem. Just add stock a little more slowly and stir a little more.
If you like your risotto on the very soft side (it is supposed to be al dente, but some like it softer)- HEAT YOUR STOCK IN ANOTHER POT. This cuts waaay down on cook time. Some readers have had to add more time as it cooks to get to be completely soft.
If you are rushed for time, cook it at a much higher heat (medium high to high), stirring frequently, and add more liquid. This will speed it along faster.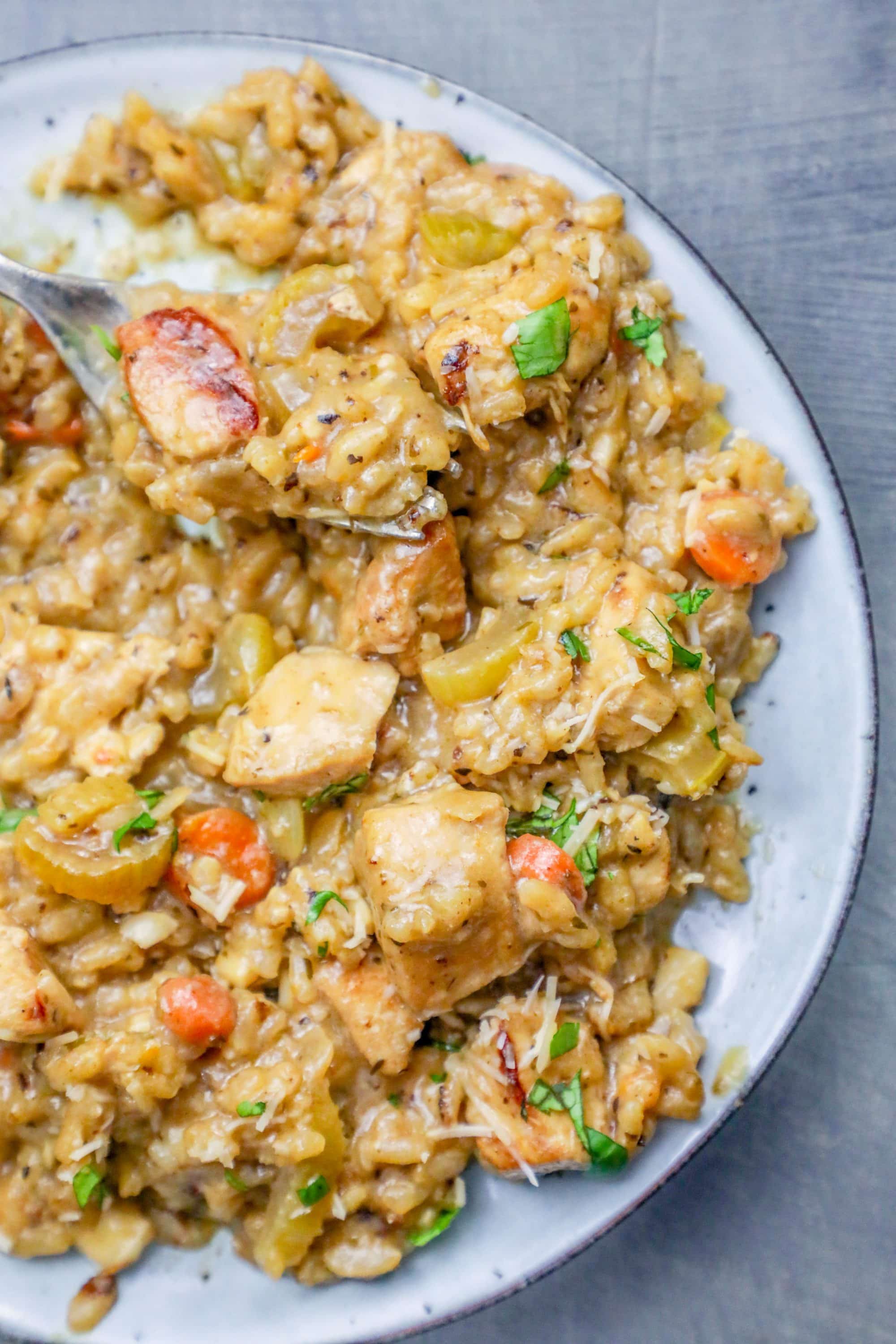 Reheating Leftover Risotto
As a reader noted, this makes a TON of risotto. We like making big batches because it is a super delicious leftover food, and that means a few less meals to cook (if it even lasts that long).
Feel free to cut it in half if you have a smaller family.
To get a perfect creamy leftover risotto, you'll want to heat it up quickly, without adding much liquid to it (or it will turn to mush). I like to melt about 2 tablespoon butter and then add the risotto to it in a pan, stirring to mix well until hot.
This dish also reheats great in a microwave for work meal-prep!
Other Easy One Pot Dinners You'll Love:
If you love this recipe, be sure to check out my other risottos! It is such a fun and versatile dish, you'll love trying different flavors!
Jambalaya Risotto
One note: this method will work perfectly with other meats, but don't use this for shrimp.
Instead of cooking the shrimp at the beginning, start the veggies and then add the shrimp towards the end of the process- just toss in and cook until opaque- otherwise your shrimp will be totally overcooked gummy and gross.
For more delicious easy dinners, please check out some of my other recipes:
Cheesy Pesto Stuffed Prosciutto Wrapped Baked Chicken
Cheddar and Pepper Stuffed Bacon Wrapped Chicken
One Pot Chicken Risotto Recipe
If you love this easy recipe please click the stars below to give it a five star rating and leave a comment! Please also help me share on facebook and pinterest!
CONNECT WITH SWEET C'S!
Be sure to follow me on social media, so you never miss a post!
Facebook | Twitter | Youtube | Pinterest | Instagram
Only have 30 minutes to get dinner on the table? Sign up for my 30 minute dinner plans direct to your inbox!
Find and shop my favorite products in my Amazon storefront here!
Yield:

6 servings
One Pot Chicken Risotto
This delicious risotto is packed with chicken and vegetables for a hearty Italian style dinner.
Ingredients
2 chicken breasts, or 1 full breast if attached, diced to 1" cubes, seasoned with salt and pepper
1 large onion, diced
1 bell pepper, bunch of asparagus, or other veg, diced
2 ½ cups arborrio rice
28 oz beef or chicken stock, lower sodium is best
3 tablespoon butter
1 tablespoon olive oil
1 teaspoon sea salt
¼ teaspoon fresh ground black pepper
¼ cup green onions
½ cup dry vermouth, (optional)
1 cup water
Parmesan Cheese, optional
Instructions
Heat a large pan or ceramic dutch oven over high heat.
Add 1 tablespoon olive oil.
When oil is shimmery, add diced chicken.
Cook until browned on all sides.
Add diced onion and bell pepper.
When vegetables are slightly browned, add butter and stir.
Lower heat to medium-low, add rice, stir well.
Let rice brown just slightly (think "toasted" for a little flavor)
Add a little bit of stock and vermouth (optional!!)- just enough to keep the consistency liquid.
Stir frequently until rice thickens.
Add a little more stock until it is just barely liquid. Repeat stirring frequently until thickened and adding just enough stock to keep it from burning or becoming too thick.
Realistically, using a regular sized container of stock, you'll use it in about 6ths or 8ths.
When your stock is gone, and the risotto has become thicker, taste a bit of it.
If the rice is too crunchy for your taste, add a little water and proceed with the steps above. Risotto should be slightly al dente- just a slight, teeny crunch when bit. If you over cook the rice, it will become a bit gummy- but it's all individual tastes.
Add diced green onions just before your risotto is done cooking- you won't want them to overcook.
When risotto is thick enough to not spread all over a plate, but not so thick you can shape it like mashed potatoes, it is ready.
Serve when warm.
Grate fresh parmesan cheese over the top and enjoy!
Notes
For the stock, I like beef in this even though its a chicken dish because its a bit saltier and has a richer flavor when cooked down, but that is just a personal preference
Recommended Products
As an Amazon Associate and member of other affiliate programs, I earn from qualifying purchases at no extra expense to you.
Nutrition Information
Yield
6
Serving Size
1
Amount Per Serving
Calories

642
Total Fat

32g
Saturated Fat

14g
Trans Fat

1g
Unsaturated Fat

16g
Cholesterol

166mg
Sodium

663mg
Carbohydrates

29g
Fiber

2g
Sugar

3g
Protein

51g
Nutrition is automatically calculated by Nutritionix - please verify all nutrition information independently and consult with a doctor or nutritionist for any and all medical and diet advice.