Peach Blueberry Dutch Baby Oven Pancakes
Aug 28, 2016, Updated Oct 16, 2023
Peach blueberry dutch baby oven pancakes are a delicious, super-easy, and hearty breakfast your whole family will love. Great with powdered sugar, butter, or syrup! 
Don't want all the extras in a recipe post? We provide a skip to recipe button in the top left corner, as well as a clickable table of contents, just below, to help make this page easier to navigate.
Fruity Dutch Baby Pancakes
The peach blueberry Dutch baby is an irresistible culinary masterpiece that captures the essence of summer's bounty in every decadent bite. As it emerges from the oven, this puffy pancake surprises with its dramatic rise, reminiscent of a golden-hued cloud. The fragrant aroma of sweet peaches and plump blueberries melds with the buttery, custardy pancake base, creating an olfactory symphony that beckons all to the table. The first spoonful is a revelation — the tender, slightly crisp edges yield to a soft, pillow-like center bursting with the juiciness of ripe peaches and the burst of tartness from blueberries. Each bite is a harmonious balance of flavors, where the natural sweetness of the fruits meets the gentle richness of the pancake batter, leaving a lingering sweetness on the palate that keeps you coming back for more.
What truly sets the peach blueberry Dutch baby apart is its versatility. Whether enjoyed as a sumptuous breakfast, a delightful brunch centerpiece, or a show-stopping dessert, it effortlessly transitions from one occasion to the next. The contrast of textures and the fusion of fruity, buttery, and slightly tangy notes make this dish a sensory delight. As you savor each mouthful, it becomes abundantly clear that the peach blueberry Dutch baby is not merely a breakfast indulgence; it is a celebration of flavors and a testament to the magic of simple ingredients, expertly combined to create a culinary masterpiece that truly satisfies the soul.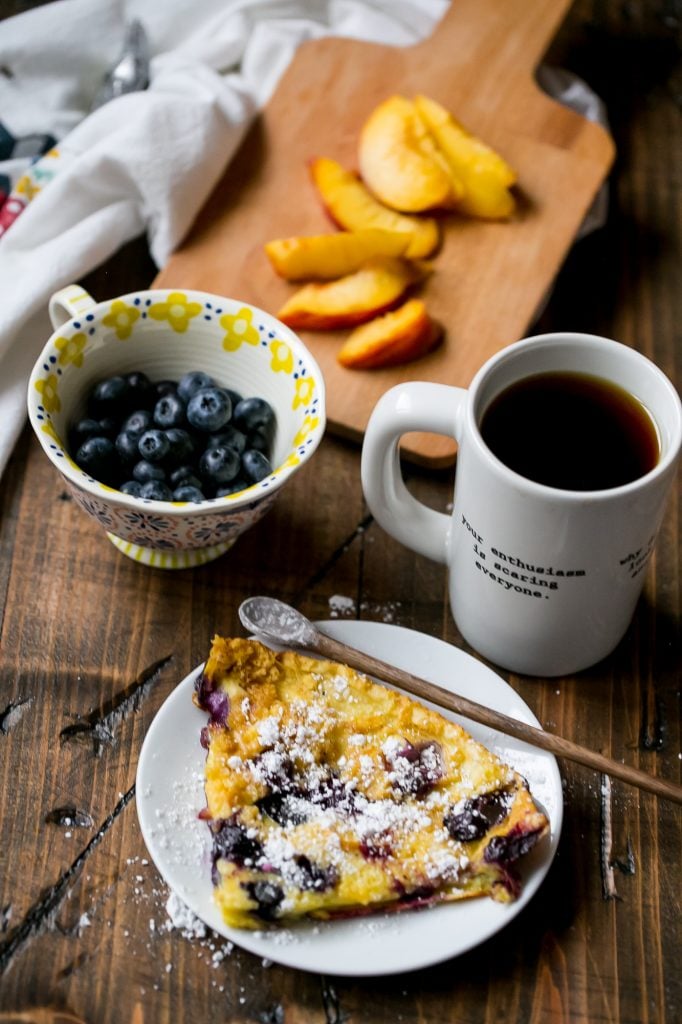 How to Make Peach Blueberry Dutch Oven
First assemble the following ingredients:
Eggs (3) – Eggs offer a mild and creamy richness with a subtle hint of umami, lending structure and a custardy quality to this pancake.
Whole milk (1/2 cup) – Whole milk imparts a creamy and slightly sweet flavor, adding a velvety richness.
Flour (1/2 cup) – Flour has a neutral taste on its own but serves as a versatile base ingredient, contributing structure and texture.
Butter (4 oz) – Butter provides a lusciously rich, creamy, and savory flavor.
Sea salt (1/4 tsp) – Sea salt offers a clean, briny note that enhances the natural flavors of ingredients and adds depth.
Sugar (1 tbsp) – Sugar delivers a sweet and slightly caramelized flavor, balancing the taste of other ingredients and providing sweetness.
Vanilla extract (1/2 tsp) – Vanilla extract imparts a warm, sweet, and floral note, enhancing the overall flavor.
Peach (1) – Peaches offer a juicy, sweet, and slightly tangy flavor with a delicate floral aroma.
Blueberries (1/4 cup) – Blueberries provide a sweet and slightly tart taste with a burst of fruity freshness, ideal for adding a pop of flavor.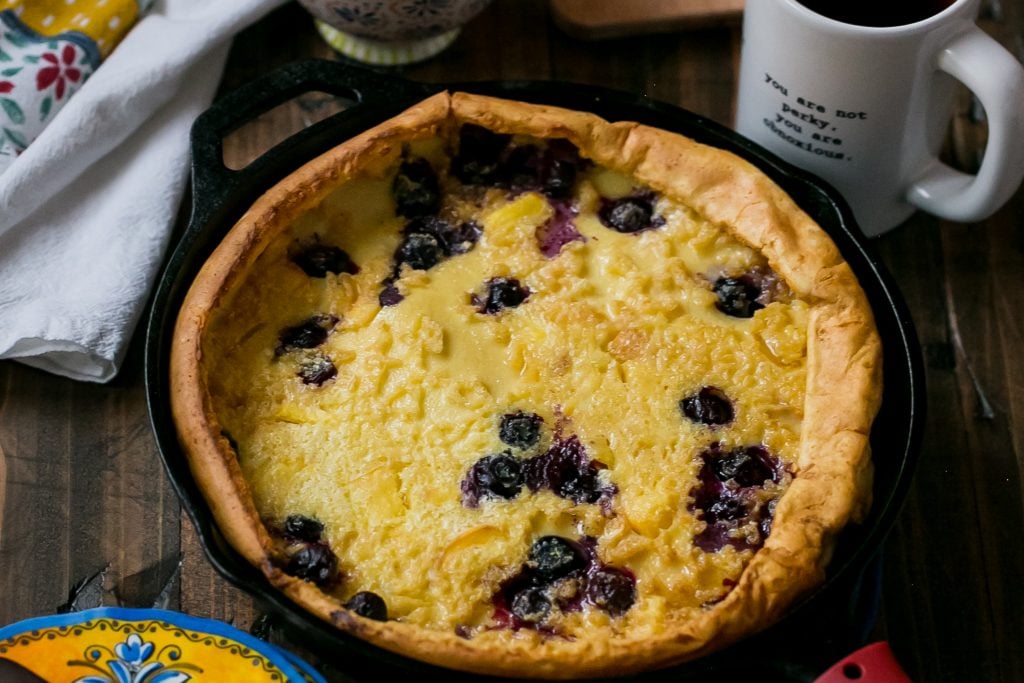 Use This Method
Make the Batter. In a blender combine the eggs, milk, flour, salt, sugar, and vanilla extract. Blend until smooth scraping down the sides as needed.
Heat Pan. Heat the cast iron skillet in the oven until while it preheats. Add the butter to the pan and let it melt in the oven till bubbly.
Combine. Add the fruit to the cast iron skillet with the hot butter. Pour the pancake batter into the skillet and place it immediately into the oven.
Bake. Bake for 12-15 minutes until puffy and golden brown on top. Do not open the oven door while baking. Top with powdered sugar, jam, or more fruit and enjoy!
Tips and Tricks for Fruity Dutch Baby
Preheat Your Oven: Make sure your oven is fully preheated to 425°F (220°C) before you start making the Dutch baby. This ensures that the pancake puffs up properly.
Use a Blender: To achieve a smooth batter, consider using a blender or a food processor to mix the ingredients. This helps incorporate air into the batter, leading to a fluffier Dutch baby.
Room Temperature Ingredients: Allow your eggs and milk to come to room temperature before using them. This helps create a smoother batter and ensures even cooking.
Fresh vs. Frozen Fruit: While fresh fruit is ideal, frozen peaches and blueberries work well, too. If using frozen fruit, do not thaw them before adding them to the batter.
Cast Iron Skillet: A cast iron skillet is the traditional choice for making Dutch babies, as it conducts heat evenly and retains it. However, you can use other oven-safe pans if you don't have a cast iron skillet.
Preheat the Pan: Place the skillet in the preheated oven for a few minutes before adding the batter. This ensures that the pan is hot when the batter is poured in, helping the Dutch baby rise and puff.
Avoid Opening the Oven: Once the Dutch baby is in the oven, resist the urge to open the oven door while it's baking. The sudden drop in temperature can cause it to collapse.
Quick Cooking Time: Dutch babies cook quickly, usually in 20-25 minutes. Keep an eye on it towards the end to prevent overcooking, as it can become dry.
Don't Overmix: Mix the batter until just combined. Overmixing can lead to a tougher texture.
Variations: Feel free to get creative with your Dutch baby by adding spices like cinnamon or nutmeg to the batter or experimenting with different fruit combinations.
Serve Immediately: Dutch babies are best enjoyed straight out of the oven when they are at their puffiest and most impressive. They can deflate as they cool.
Toppings: Consider serving your Dutch baby with a sprinkle of powdered sugar, a drizzle of maple syrup, a dollop of whipped cream, or a scoop of vanilla ice cream for added flavor and presentation.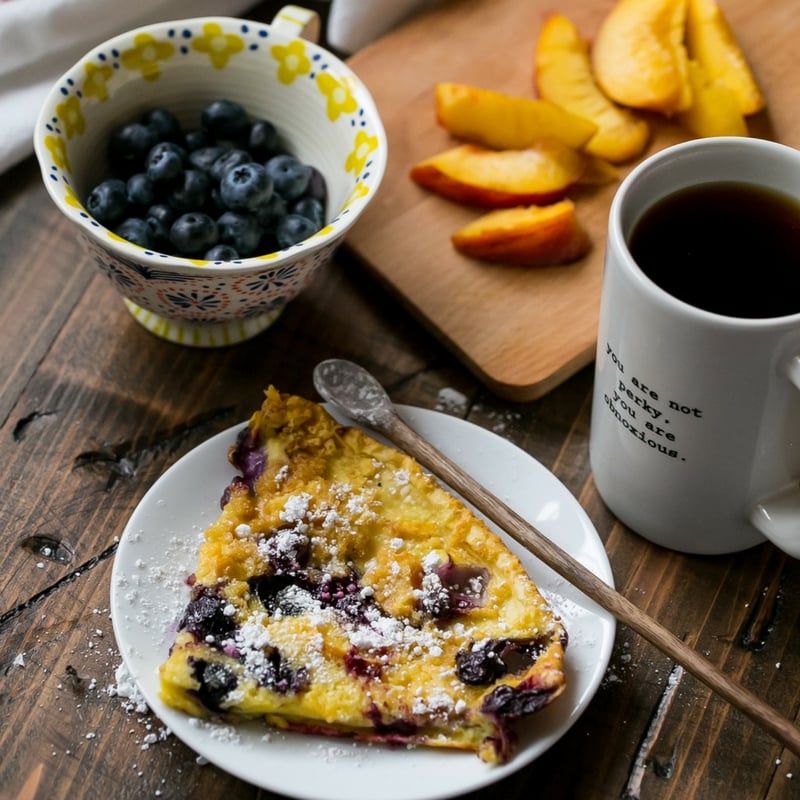 FAQs
Can I use fresh, canned, or frozen peaches and blueberries for the Dutch baby?
You can use either fresh or frozen peaches and blueberries for your pancake. Fresh fruit is great when in season, but frozen fruit works well too and is available year-round.
Do I need a cast iron skillet to make a Dutch baby, or can I use another type of oven-safe pan?
While a cast iron skillet is a traditional choice for making Dutch babies, you can use other oven-safe pans, such as a heavy-bottomed stainless steel or ovenproof non-stick skillet. The key is to ensure the pan can withstand high oven temperatures.
Can I prepare the batter for the Dutch baby in advance and refrigerate it overnight?
It's best to prepare the batter for the Dutch baby just before baking it. The leavening agents in the batter, such as baking powder, start working as soon as they are combined with liquid. If you refrigerate the batter, it may not rise as effectively.
Can I use other fruits besides peaches and blueberries in a Dutch baby?
Yes, you can use a variety of fruits in a Dutch baby, such as apples, pears, strawberries, or raspberries. Be creative and use your favorite fruits or a combination of them.
Do I need to let the Dutch baby rest before serving?
It's not necessary to let the Dutch baby rest before serving. It's best enjoyed hot, right out of the oven when it's at its puffiest and most delicious.
What are some common toppings for a peach blueberry Dutch baby?
Common toppings include a dusting of powdered sugar, a drizzle of maple syrup, a dollop of whipped cream, or a sprinkle of cinnamon.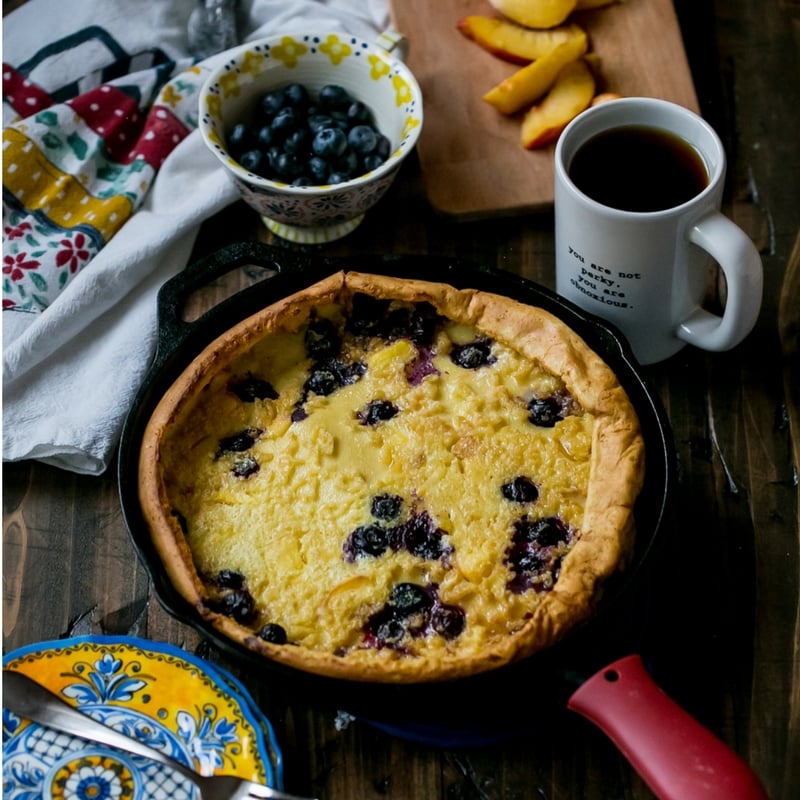 What to Enjoy with your Dutch Pancake
Dutch pancakes, also known as pannenkoeken, can be enjoyed with a variety of toppings and accompaniments. Here's a list of foods to pair with Dutch pancakes:
Powdered Sugar: A dusting of powdered sugar is a classic topping for Dutch pancakes, adding sweetness and a touch of elegance.
Maple Syrup: Drizzle pure maple syrup over your Dutch pancake for a delightful blend of sweet and savory flavors.
Fresh Berries: Strawberries, blueberries, raspberries, or any seasonal berries make a refreshing and fruity topping.
Whipped Cream: A dollop of whipped cream adds creaminess and complements the sweetness of the pancake.
Lemon and Sugar: Squeeze fresh lemon juice over the pancake and sprinkle it with granulated sugar for a tangy and sweet combination.
Nutella: Spread Nutella or any chocolate hazelnut spread for a rich and indulgent topping.
Banana Slices: Thinly sliced bananas provide a natural sweetness and pair well with other toppings.
Apple Compote: Stewed or sautéed apples with cinnamon and sugar create a warm and comforting topping.
Bacon: Crispy bacon strips offer a savory contrast to the sweet pancake.
Ham and Cheese: Fold slices of ham and cheese into the pancake batter before cooking for a savory twist.
Sour Cream: A dollop of sour cream adds a creamy and tangy element to balance the sweetness.
Caramel Sauce: Drizzle caramel sauce over the pancake for a rich and buttery flavor.
Ice Cream: Top your Dutch pancake with a scoop of vanilla or your favorite ice cream for an indulgent dessert.
Yogurt: Greek yogurt or plain yogurt provides a tangy and creamy topping.
Honey: A drizzle of honey adds a natural sweetness and complexity to the flavor.
Cheese: Grated Gouda or Edam cheese can be melted onto the pancake for a unique savory option.
Nuts: Chopped nuts like almonds, walnuts, or pecans add a delightful crunch and nutty flavor.
Savory Fillings: Experiment with savory fillings such as sautéed mushrooms, spinach, or smoked salmon for a more substantial meal.
Dutch pancakes are versatile and can be enjoyed with a wide range of sweet and savory toppings, making them suitable for breakfast, brunch, or even dessert.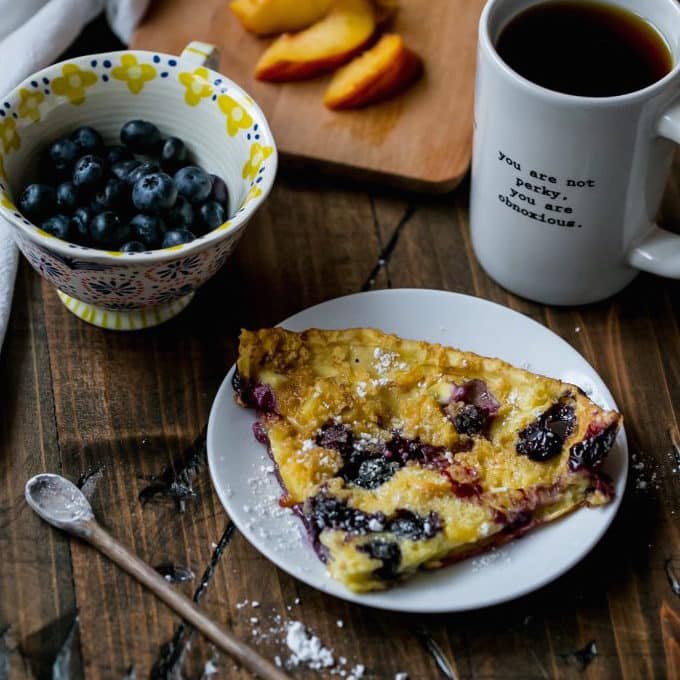 Peach Blueberry Dutch Baby Oven Pancakes Recipe
If you love this easy recipe please click the stars below to give it a five star rating and leave a comment! Pease also help me share on facebook and pinterest!
CONNECT WITH SWEET C'S!
Be sure to follow me on social media, so you never miss a post!
Only have 30 minutes to get dinner on the table? Sign up for my 30 minute dinner plans direct to your inbox!
Find and shop my favorite products in my Amazon storefront here!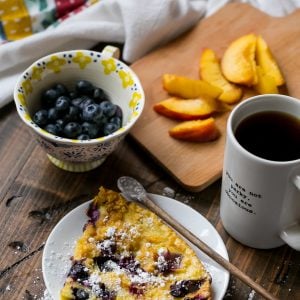 Peach Blueberry Dutch Baby Oven Pancakes
Gorgeous puffy German pancake is packed with fruit and sweetness!
Ingredients
3 eggs
1/2 cup whole milk
1/2 cup flour
1/4 tsp sea salt
1 tbsp sugar
1/2 tsp vanilla extract
4 oz salted butter
1 peach, diced into small 1/4" bites
1/4 cup blueberries
Instructions
Preheat oven to 400 degrees, add the cast iron skillet to the oven so it can preheat with the oven.
In a blender combine the eggs, milk, flour, salt, sugar, and vanilla extract.
Add the butter to the hot cast iron skillet.
Melt the butter in the pan and swish it around the pan to coat all sides.
Add the sliced peaches and blueberries to the pan.
Pour the Dutch baby batter from the blender into the hot butter in the pan.
Bake immediately for 12 - 15 minutes until golden brown and very puffy.
Recommended Products
As an Amazon Associate and member of other affiliate programs, I earn from qualifying purchases at no extra expense to you.
Nutrition Information
Yield

6
Serving Size

1
Amount Per Serving
Calories

243
Total Fat

19g
Saturated Fat

11g
Trans Fat

1g
Unsaturated Fat

6g
Cholesterol

136mg
Sodium

263mg
Carbohydrates

14g
Fiber

1g
Sugar

6g
Protein

5g
Nutrition is automatically calculated by Nutritionix - please verify all nutrition information independently and consult with a doctor or nutritionist for any and all medical and diet advice.