Peach blueberry dutch baby oven pancakes are a delicious, super-easy, and hearty breakfast your whole family will love. Great with powdered sugar, butter, or syrup! 

When my mom is in town, she spoils my kids rotten.
She's always cooking up something delicious, and takes the time to make sure their little bellies are full of whatever their hearts desire (mean old mom just makes them something she expects them to eat without input from them...), and one of their favorite grandma indulgences quickly became dutch babies for breakfast.
My kids love dutch babies - or oven pancakes - and I've come to love making them for them early in the morning for the kids.
Dutch babies are super-simple, can have a ton of different flavors, and are really easy to cleanup.
They are the perfect breakfast food!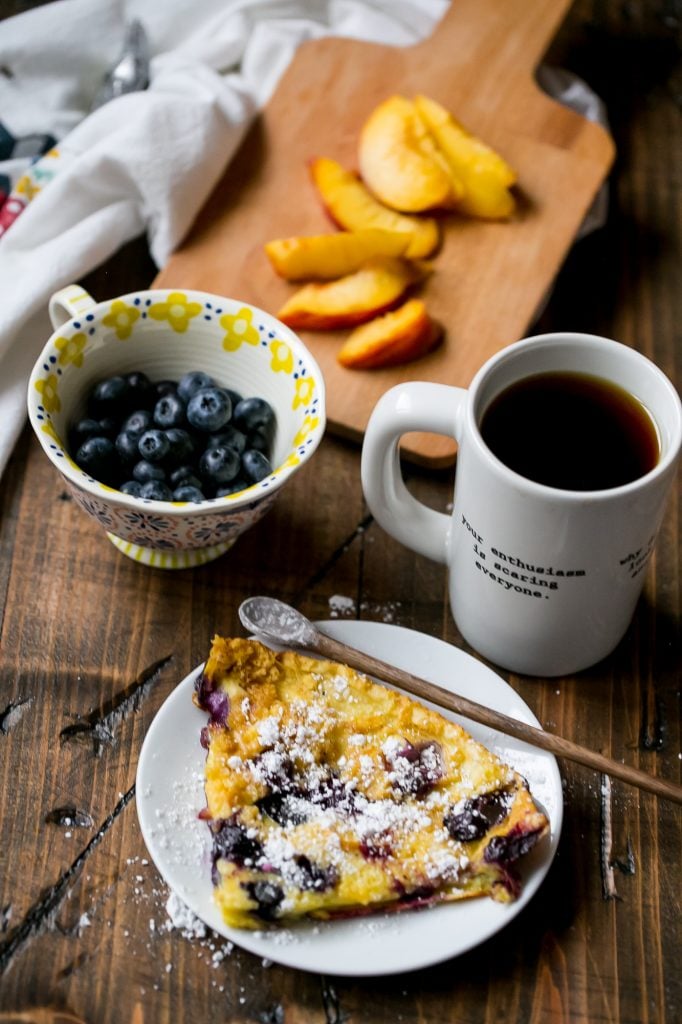 With a ton of delicious late-summer peaches from Palisade (Colorado's Palisade peaches are literally THE BEST PEACHES EVER!), I wanted to add a little extra flavor for my kids with some fresh fruit right in the pancake.
I usually make a quick fruit syrup to put on them, but as they are wearing school uniforms this year, I tried to make it a bit less messy to eat by putting the fruit right in the pancake.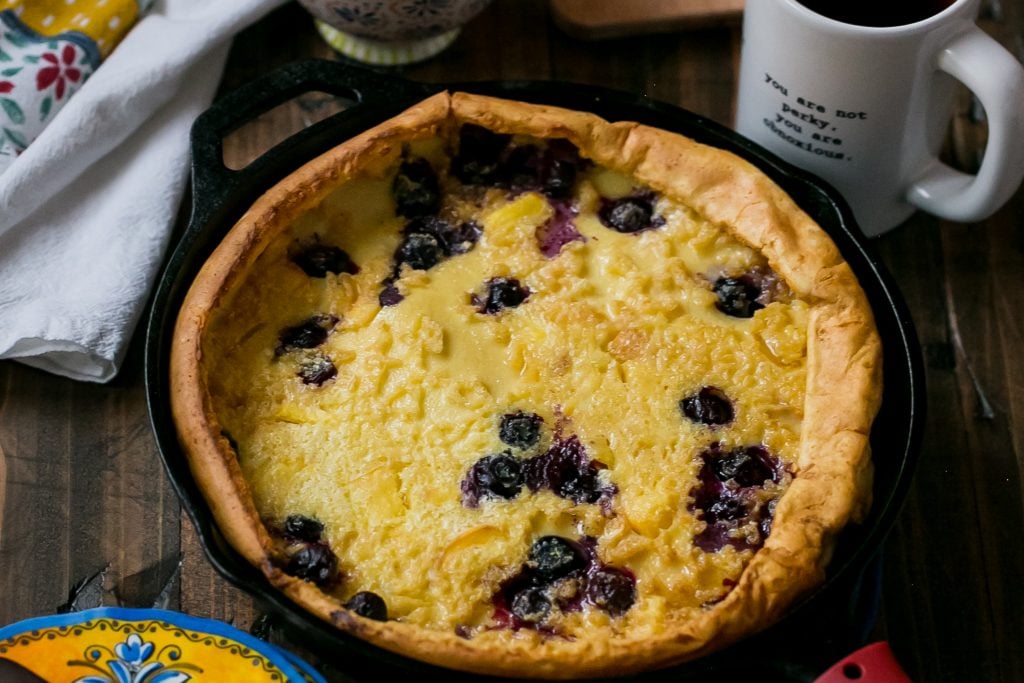 They are SO easy - I almost don't mind having to wake up a tiny bit earlier to make them.
Oh- and waking up early? The best part?
This new mug!!

Not even kidding, it is one of my favorite mugs ever (I have a massively unhealthy obsession for mugs... it's a problem.)
Check out both sides... it was SOOOOO made for me!
How perfect is that for early mornings?? Love it so much.

Peach Blueberry Dutch Baby Oven Pancakes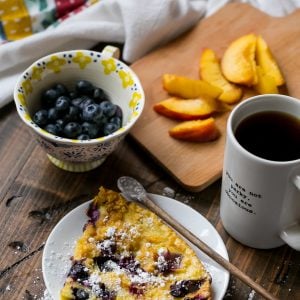 Yield:

1
Peach Blueberry Dutch Baby Oven Pancakes
Ingredients
1 peach, diced into small ¼" bites
¼ cup blueberries
3 eggs
½ cup whole milk
½ cup flour
4 oz butter
Instructions
Preheat oven to 475 degrees.
In a large bowl, whisk eggs until frothy.
Mix blueberries, peaches, flour and milk.
Add cast iron pan to oven, reduce heat to 400 degrees.
Add butter to pan, let melt.
When butter is bubbly and melted (do not let it burn- this only takes a minute or two!), carefully swish butter around pan to grease.
Add melted butter to dutch baby mix, stir.
Pour back into pan in oven.
Let cook 12 minutes until golden brown and very puffy.
Nutrition Information
Amount Per Serving
Calories

1383
Saturated Fat

64g
Cholesterol

747mg
Sodium

1051mg
Carbohydrates

74g
Fiber

4g
Sugar

23g
Protein

29g