Perfect Sauteed Mushrooms
Jun 20, 2022, Updated Apr 12, 2023
Perfect Sautéed Mushrooms – these steakhouse-style mushrooms are hearty, rich, and so easy for the most delicious mushroom side dish ever!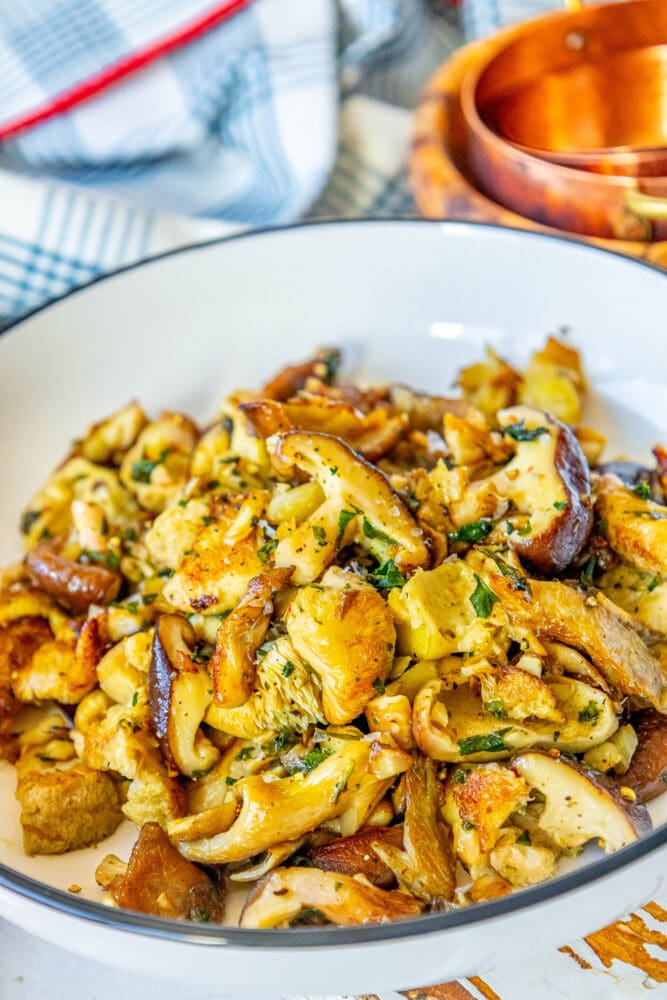 Don't want all the extras in a recipe post? We provide a skip to recipe button in the top left corner, as well as a clickable table of contents, just below, to help make this page easier to navigate.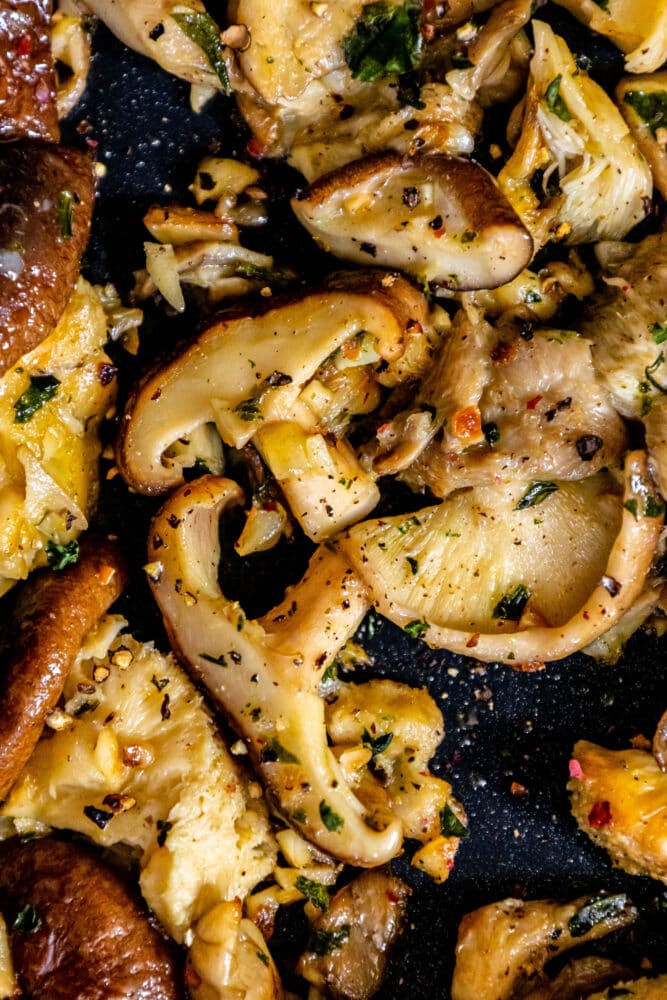 Easy Garlic Butter Mushrooms
These perfect sautéed mushrooms are one of my absolute favorite dishes on earth – they are hearty, taste meaty, are a little salty, and so incredibly delicious. I love to eat mushrooms with steaks, pasta, pork chops, chicken, and fish – they are one of my all-time favorite side dishes.
This recipe is one of the most simple, easy, and delicious side dishes that goes with just about any dinner – full of rich garlic and butter flavors that taste meaty.
I once talked the chef of a fabulous Northern Colorado restaurant to show me the secret to perfect sauteed mushrooms, and these deliciously easy sauteed mushrooms are a perfect replica of his five star restaurant's mushroom side dish!
Check out my web story on these mushrooms, they're so easy!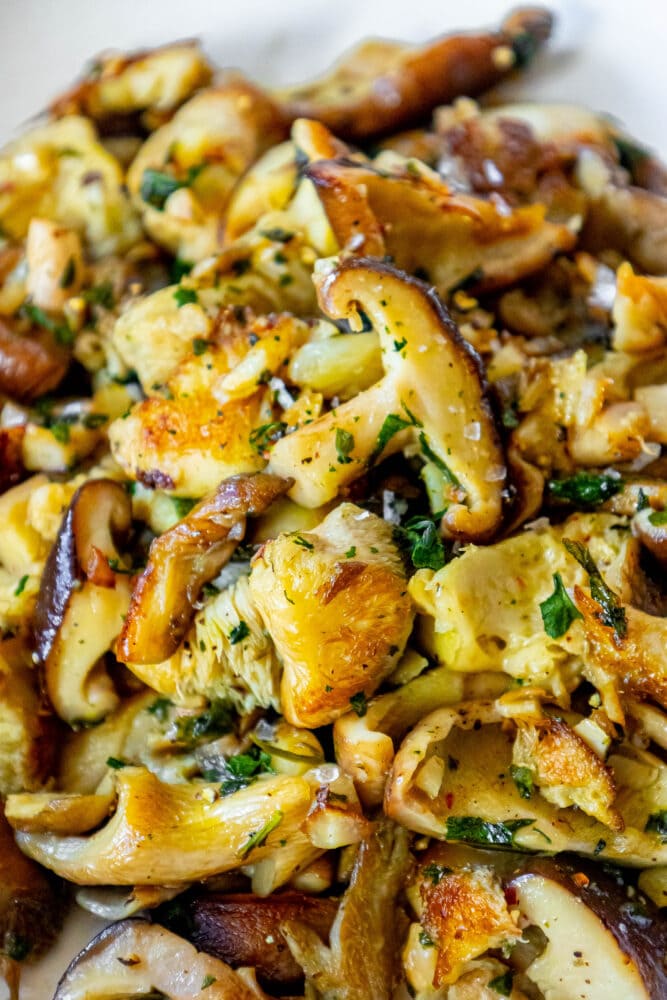 How To Get Perfect Sautéed Mushrooms:
Butter – fat is essential to helping vegetables brown, and butter's rich, salty flavor is a match made in heaven for mushrooms – as it deepens the "meaty" flavor they can take on. If you're vegan, consider an oatmilk butter as a substitute, or you can just use olive oil.
Olive oil – we're starting this recipe off with olive oil to quickly soften our garlic, until adding with butter for an extra layer of fat. Using both olive oil and butter helps to keep butter splatter down, but primarily, the olive oil's higher smokepoint mixes with butter to raise the smoke point of your fats – which helps to keep your butter solids from over-browning and burning.
Gourmet Mushrooms – cinnamon cap, oyster, king oyster and shiitake, fill out your 1/2 pound with cremini if you can't source some of the mushrooms but try as many exotics as you can.
Garlic – garlic has a pungent, earthy flavor that is a lovely addition to mushrooms to majorly up their addictive factor!
White wine – wine adds a sweet, bright flavor to cut through the buttery richness and meaty flavor of mushrooms, so they aren't overpowering – it brings balance and depth with just a few splashes! If you don't like to cook with alcohol, you can use half grape juice and diluted white wine vinegar OR 1/4 cup stock, though wine will taste best.
Method:
Have you ever had soft, rubbery mushrooms that almost taste….. slimy? I LOVE all things mushroom – but there is absolutely nothing worse than weak, soft, and slimy mushrooms with very little flavor or texture.
To make perfectly delicious mushrooms, you have to let them release their liquid and brown them to be slightly crispy – it brings out the rich, meaty flavor in mushrooms everyone loves.
To do this, we're cooking the mushrooms over high heat until they are golden brown before we add back lots of liquid to the pan when we add in white wine.
Don't skip browning your mushrooms – this is one of the best steps you can take to avoid slimy, soggy mushrooms.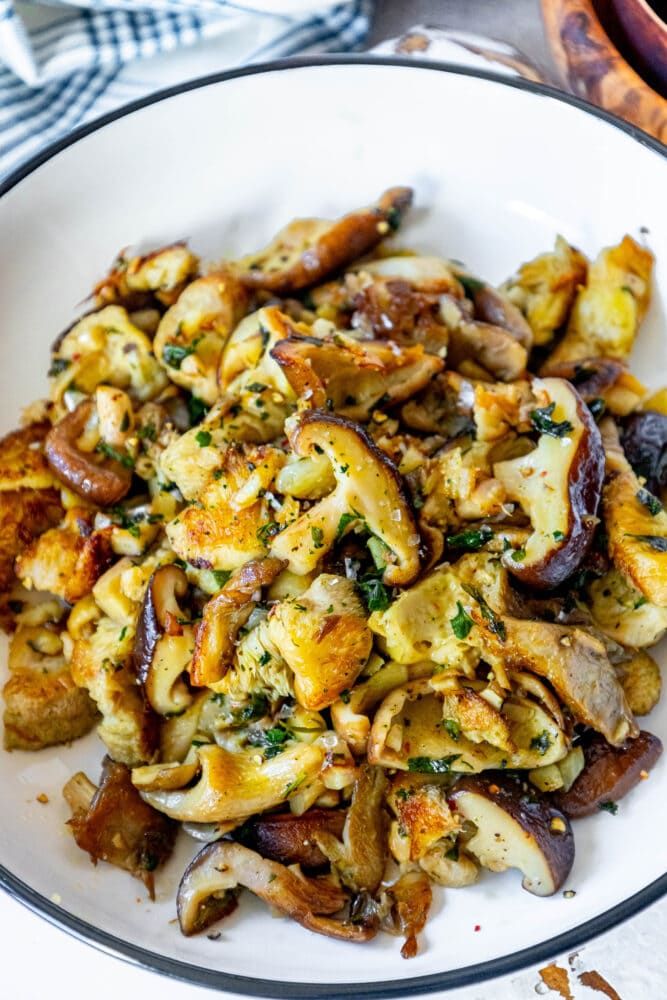 Tips and Tricks To Perfect Mushrooms & FAQs
Don't soak mushrooms in water! Mushrooms already hold a lot of water, and are prone to a slimy texture when soaked in water to clean them. Instead, clean mushrooms with a very lightly damp cloth or a paper towel to wipe away any dirt.

Add mushrooms only after pan is scorching hot and olive oil is shimmery/butter is melted and foamy.

Be sure to salt and pepper mushrooms while sautéing with butter or olive oil.

Don't add your cloves of garlic to the pan until mushrooms have started to become soft brown.

Be sure to mix in gourmet mushrooms of all shapes and sizes – I use baby bella mushrooms as a "base" and then add in some fancy mushrooms since they tend to be a lot more expensive.

When adding wine, keep the pan over medium heat and then return to high to cook off.

Serve sautéed mushrooms when piping hot – reheat with a little butter in a pan for leftovers.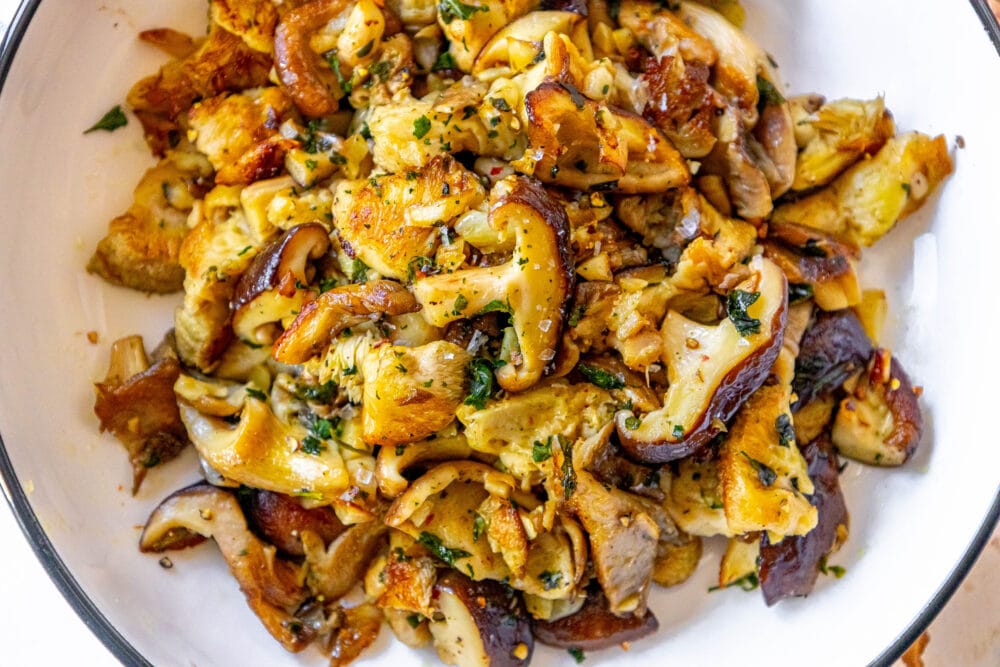 FAQs
What type of mushrooms should I use?
We love using whatever mushrooms we can find fresh – cremini, button, oyster, shiitake, hen of the woods – I wouldn't use chanterelles as this recipe is a bit overpowering for their delicate flavor and high price tag – but other easily sourced mushrooms work well!
How do I clean mushrooms?
Never soak mushrooms in water to clean them – instead, lightly dampen a paper towel or clean kitchen towel and wipe away any dirt from the mushrooms.
Do I leave mushroom stems on?
This is a bit of a personal preference – I leave them on, but trim away the woody bits of mushroom stems (for example, shiitake mushrooms can have very dry, tough ends that are not pleasant to chew, I always cut them to where they feel soft and springy close to the cap.)
When are mushrooms done cooking?
Mushrooms are done when they have released their liquid and have browned lightly on all sides.
How do I cut mushrooms?
This is entirely up to you – for this recipe, I sliced cremini and shiitake mushrooms in fourths to give a classic sliced mushroom shape – but the other mushrooms I add in that don't have a uniform texture I just roughly chop into bits about the same size as the cremini slices. The shape doesn't matter as much as trying to have bits about the same size, so they all cook uniformly. Mushrooms with very small caps, like enoki, tend to just be joined at a woody, dirty base – I will just cut off the base and use the small caps with some of their long stem attached. Be sure to remove any woody, tough bits from the base of mushrooms, as they add nothing to the flavor and will be tough (and unpleasant) to eat.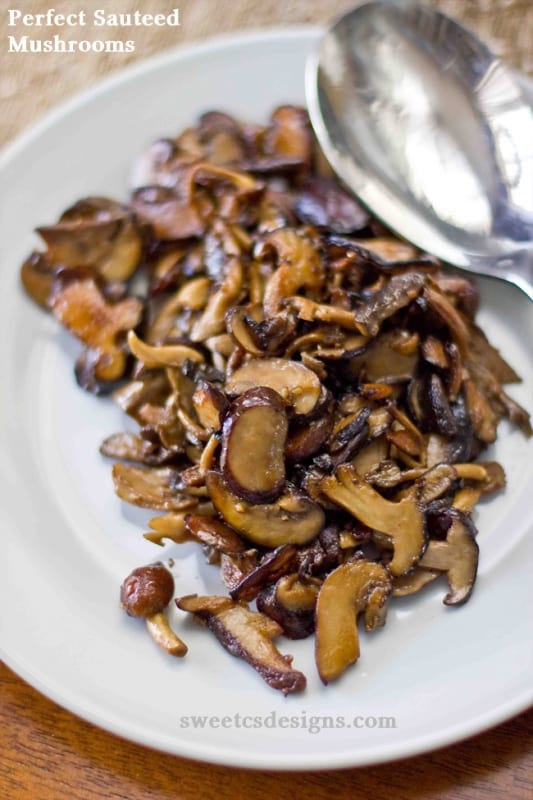 What to Serve With Sautéed Mushrooms:
Mushrooms, made steakhouse-style, are delicious as a side to meaty and vegan dishes alike – they are light but rich, buttery, and don't overpower your palate.
What wine to pair with mushrooms? We love medium to full-bodied reds like a Beaujolais, Syrah, Pinot Noir, or Bordeaux – or a rich, full-bodied Chardonnay. Since we're using meatier-tasting mushrooms in this dish, opt for wines you'd normally pair with a steak or lamb dinner.
We love serving these mushrooms alongside pork tenderloin, rich and delicious ribeye roast, meaty and flavorful grilled tuna steaks, vegetarian cauliflower steaks with red pepper sauce, or whole roasted chicken.
If you're as big a fan of funghi as we are, please check out some of our other favorite mushroom recipes: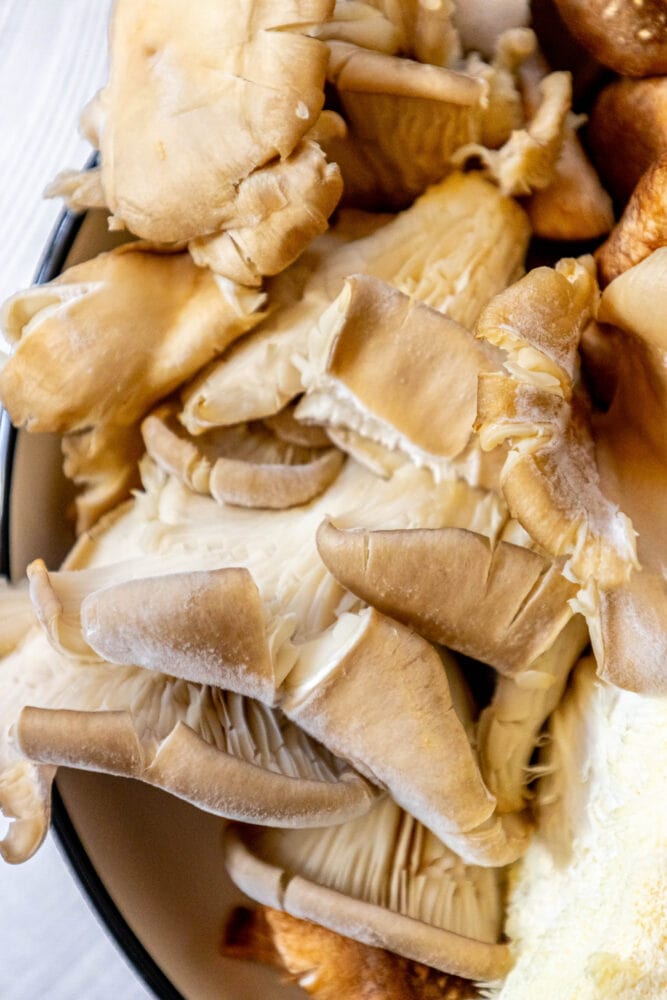 Perfect Sautéed Mushrooms Recipe
If you love this perfect sauteed mushrooms recipe as much as I do, please give it a five star review and help me share on facebook and pinterest!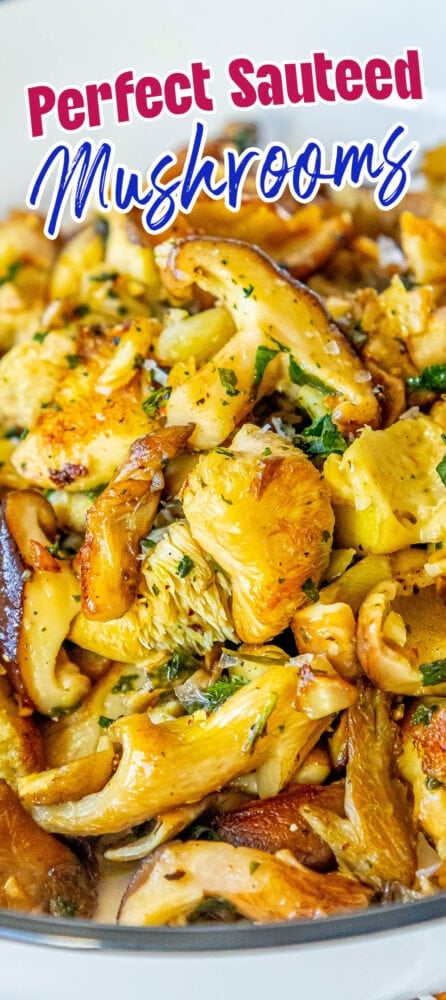 CONNECT WITH SWEET C'S!
Be sure to follow me on social media, so you never miss a post!
Only have 30 minutes to get dinner on the table? Sign up for my 30 minute dinner plans direct to your inbox!
Find and shop my favorite products in my Amazon storefront here!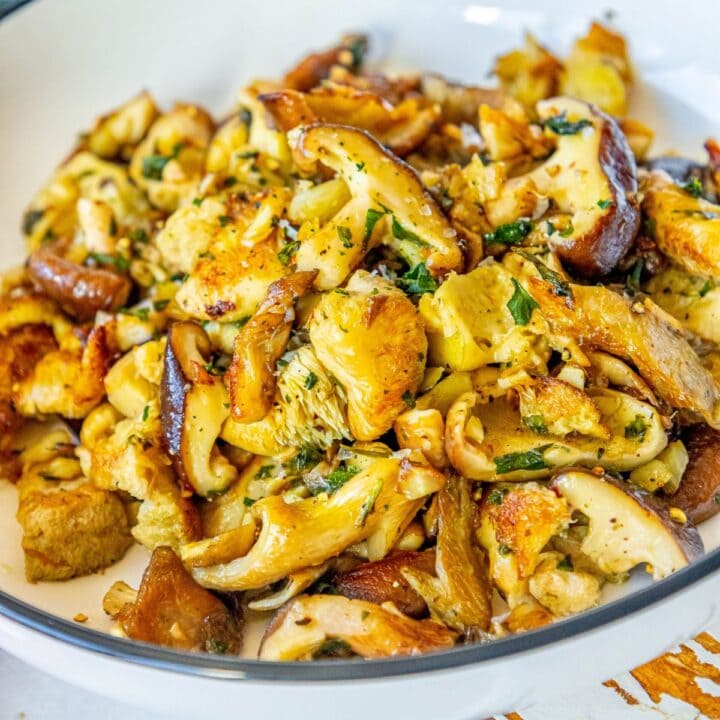 Perfect Sauteed Mushrooms
Quick and easy- these perfect sautéed mushrooms are a fabulous side dish you won't be able to get enough of!
Ingredients
2 tbsp butter, set 1 tbsp aside
1 tbsp olive, canola or other oil
1 1/2 pound Gourmet Mushrooms, cinamon cap, oyster, king oyster and shiitake, fill out your 1/2 pound with cremini if you can't source some of the mushrooms but try as many exotics as you can
5 cloves garlic, diced
1/4 cup white wine, use half grape juice and diluted white wine vinegar OR 1/4 cup stock if you don't cook with wine, though wine will taste best
1 tsp sea salt (+ more to taste if desired)
1 tsp black pepper, to taste
Instructions
Heat a heavy pan or cast iron skillet.
Add oil and 1/2 butter.
When almost smoking, add mushrooms.
Stir and let mushrooms brown slightly season with salt and pepper.
Add remaining 1/2 butter and garlic.
Stir quickly to heat garlic, but be careful not to let it burn.
Add white wine (caution- it will release a LOT of steam when it hits the pan).
Let wine cook down.
When liquid is fully absorbed about 15 minutes, taste.
Add any additional salt to taste (dont add before, the butter may make your mushrooms saltier than you realize when cooked down).
Serve warm!
Recommended Products
As an Amazon Associate and member of other affiliate programs, I earn from qualifying purchases at no extra expense to you.
Nutrition Information
Yield

4
Serving Size

1
Amount Per Serving
Calories

266
Total Fat

9g
Saturated Fat

2g
Trans Fat

0g
Unsaturated Fat

5g
Cholesterol

21mg
Sodium

677mg
Carbohydrates

26g
Fiber

7g
Sugar

12g
Protein

10g
Nutrition is automatically calculated by Nutritionix - please verify all nutrition information independently and consult with a doctor or nutritionist for any and all medical and diet advice.