One of our favorite restaurants, of anywhere we have traveled, is Chimney Park Restaurant and Bar in the town next to ours, of all places- in Windsor Colorado. They have fabulous, innovative dishes that focus on fresh, local ingredients. It's a gorgeous little space, a friendly staff, and a relaxed atmosphere. And oh, the side dishes. I know I should focus on one of their other amazingly delicious (and surprisingly affordable- this is Northern Colorado, afterall) main dishes, but my favorite is their simple Mushroom side order. This recipe for Perfect Sauteed Mushrooms is my humble attempt to recreate a bit of Chimney Park's magic at home- and dare I say it, is just as delicious.
One of the secrets to Chimney Park's mushrooms is where they buy them. In Northern Colorado, we are exceptionally lucky to have Hazel Dell Mushrooms in our own backyard. You can find them at farmers markets or from their location in Fort Collins on weekdays. I have never, never been disappointed with anything I've bought from them- their mushrooms are delicious, stay fresh longer, and are more flavorful than mushrooms I've picked up from the grocery store.
If you don't live in Northern Colorado, don't fret, your local grocer probably has a great mix of mushrooms. But if you do… they are totally worth hunting out! Quality mushrooms are the key here. Make sure they are fresh, and dont look like they are wilting. Slice them thin, and keep smaller mushrooms whole. I try to keep the mushrooms roughly the same size so they can cook at the same rate, but this is meant to be a rustic side dish and not one you need to fuss over much.
I am including an alternative to white wine in this recipe who don't cook with alcohol. The mushrooms really are best with a touch of white wine, but I respect my friends who chose not to cook with or consume alcohol, so there is an alternative! If you do cook with wine, but don't always have white wine on hand, keep a bottle of vermouth around for recipes like this. I love adding vermouth to risotto and mushrooms- the flavor it brings is a perfect balance to rich or creamy dishes that rely on butter. You could also add some scotch for a smokier flavor.
And as for Chimney Park, if you're ever in the area, you need to get there fast. We recently did their chef's tasting menu for our 4th Anniversary, and it was fantastic. They actually presented my husband and I different dishes so we got to share them all and truly experience a wide variety of flavors coming from the kitchen. The wine pairing was perfection, too!
This ricotta gnudi was divine… I need to find a good recipe for this at home soon because I think my son would flip for it.
Lamb Ragut…. out of this world!
And this Peanut Butter and Jelly Creme Brulee might be my favorite dessert ever. I was skeptical at first, but the jelly sorbet was not too sweet, and with peanuts on top, it was like a throwback to being a kid… but much more fun and delicious than the PB&Js I remember.
Ok… onto the recipe! I hope you love this versatile dish as much as I do! And watch for it to show up in a Thanksgiving Staple soon… it is the PERFECT addition to gourmet stuffing!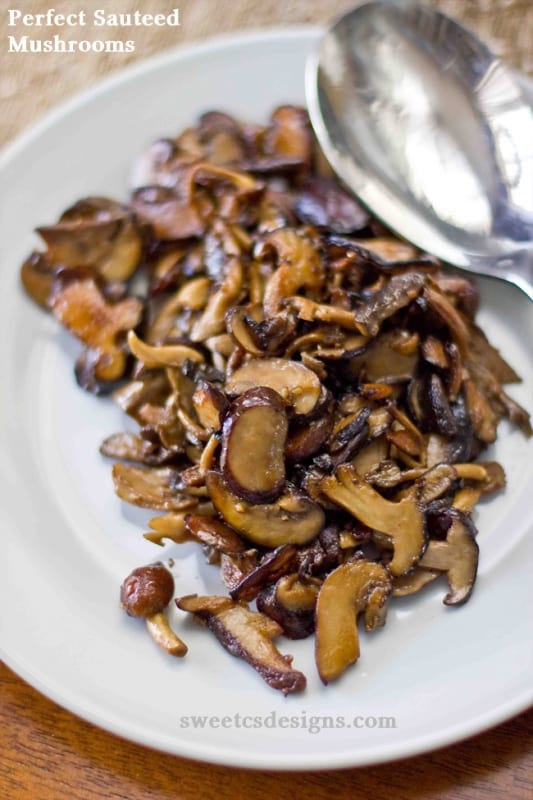 Perfect Sauteed Mushrooms
Quick and easy- these perfect sautéed mushrooms are a fabulous side dish you won't be able to get enough of!
Ingredients
2

tbsp

butter

set 1 tbsp aside

1

tbsp

olive

canola or other oil

1 1/2

pound

Gourmet Mushrooms

cinamon cap, oyster, king oyster and shiitake, fill out your 1/2 pound with cremini if you can't source some of the mushrooms but try as many exotics as you can

5

cloves

garlic

diced

1/4

cup

white wine

use half grape juice and diluted white wine vinegar OR 1/4 cup stock if you don't cook with wine, though wine will taste best

salt

to taste
Instructions
Heat a heavy pan or cast iron skillet.

Add oil and 1/2 butter.

When almost smoking, add mushrooms.

Stir and let mushrooms brown slightly.

Add remaining 1/2 butter and garlic.

Stir quickly to heat garlic, but be careful not to let it burn.

Add white wine (caution- it will release a LOT of steam when it hits the pan).

Let wine cook down.

When liquid is fully absorbed, taste.

Add salt to taste (dont add before, the butter may make your mushrooms saltier than you realize when cooked down).

Serve warm!
Want more veggie ideas? Check out these easy and quick recipes!
Try some perfectly paleo Zucchini Chips:
Or some meyer lemon broccolini:
Or a delicious black bean salad:
Or any of these delicious veggie noodle based paleo pastas!