Easy Whole Roasted Montreal Chicken
Easy Whole Roasted Montreal Chicken – a foolproof way to make delicious smoky and spicy chicken with crispy skin that won't dry out! 
This Montreal Whole Roasted Chicken recipe is really one of the easiest ways to make a beautiful, tasty, never-dry chicken – with crispy skin!
And when I say this whole roasted chicken recipe is easy, I mean it! There is no basting, tying, etc – just dump the ingredients and bake.
Cooking a whole roasted chicken in an dutch oven is one of my all-time favorite weeknight meals – there is almost no work, just dump in ingredients and go.
And whole roasted chicken makes for fabulous leftover chicken for meal prep to take to work – simply add some salad, rice, or veggies along the side and add to a lunchbox for a great meal on the go!
Healthy Roasted Chicken Recipe Diet Modifications:
If you are a little sensitive to salt, you should opt for the low sodium Montreal seasoning – it is one seasoning blend that can get very, very salty – though it really will only impact the skin of the chicken.
Alternatively, you can kick this recipe up a bit and use the spicy Montreal seasoning blend – it is one of my all time favorites!
Just look at how crispy the skin gets – while the meat is still tender and full of juicy flavor!
This chicken has subtle hints of garlic and lemon, and is great on numerous healthy eating plans – it is whole 30 and paleo compliant, and works in keto diets as well!
If you're following a low fat or low calorie diet, simply remove the skin for a healthier choice.
Tips to Perfect Whole Roasted Chicken With Crispy Skin:
The #1 problem when making whole roasted chickens is not letting the skin crisp up – and the second is not checking the temperature as it cooks.
For the first, you really need to let the lid off for the last 20 minutes and pop it under the broiler for just a few minutes to get perfectly crispy skin.
For the second, start measuring the temperature of your chicken at 30 minutes – it should reach 165 degrees internal temperature at the deepest part of the breast and leg (without touching bone) before it is done. This will help you to know when to get the lid off to crisp up the skin – usually around 40 minutes – but cooking time can vary WILDLY when roasting a whole chicken depending on the bird's size, whether or not the meat was injected with salt water, your oven or dutch oven, etc. etc.
Checking the temperature every 5-10 minutes (after the first 30) isn't much of a hassle, and it will save you a ton of frustration!
Finally, make sure to let your chicken fully rest for 5-10 minutes after removing from the oven before carving. This helps to lock in the chicken's natural juices and prevent a dry bird!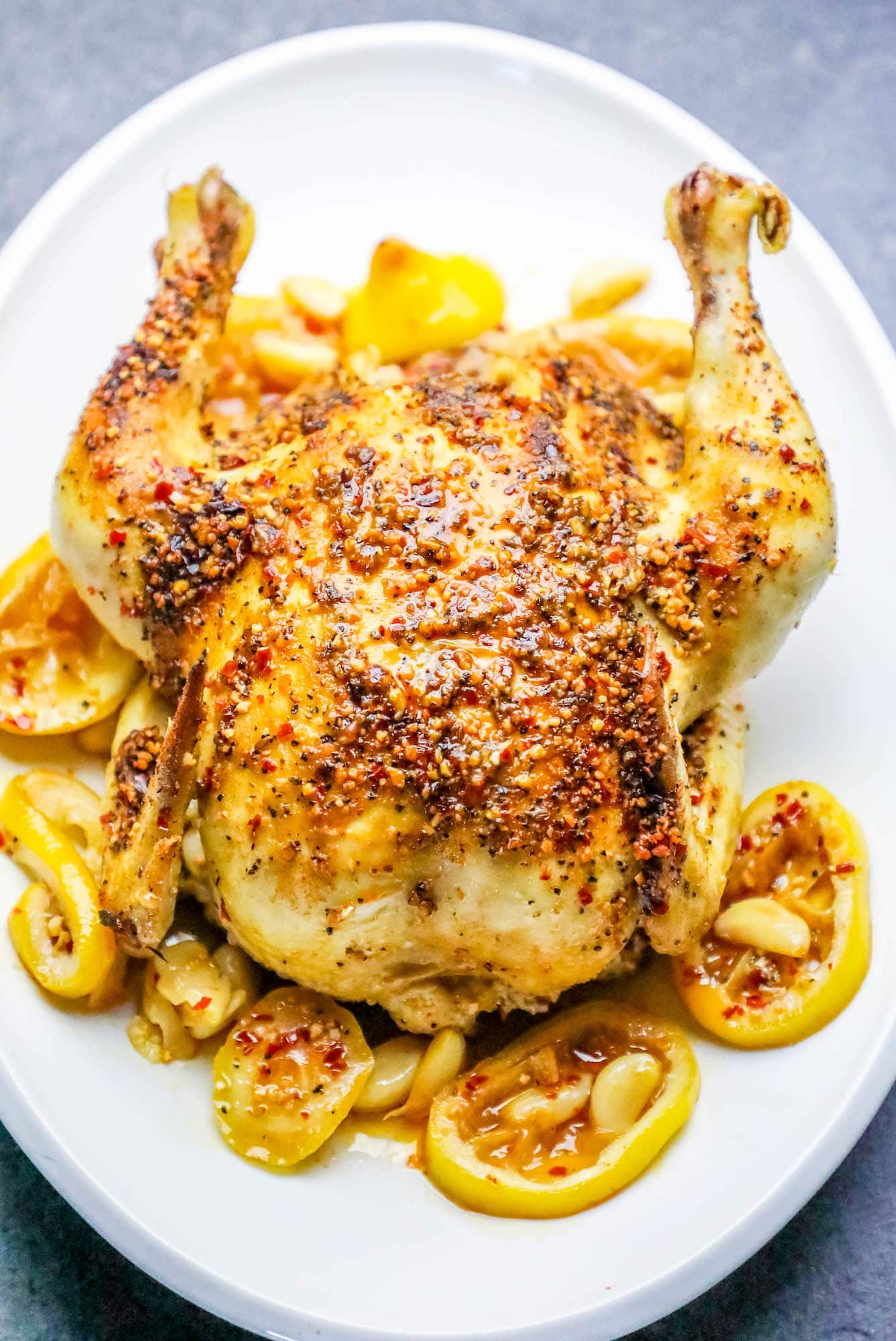 Other Easy Chicken Dinners You'll Love:
Crispy Baked BBQ Chicken Drumsticks
Roasted Greek Chicken Drumsticks
Spicy Tequila Lime Chicken Fettuccine

Easy Whole Roasted Montreal Chicken Recipe
Click to watch me make the recipe in the video below!
Easy Whole Roasted Montreal Chicken
Easy Whole Roasted Montreal Chicken - a foolproof way to make delicious smoky and spicy chicken with crispy skin that won't dry out!
Ingredients
2

lbs

Chicken

Whole Chicken, giblets removed (I prefer under 3 1/2 pounds)

1

tbsp

celtic sea salt

1

tbsp

onion powder

2

tbsp

Montreal steak or chicken seasoning

low sodium or spicy Montreal seasoning ok too!

1

lemon

sliced into thin rounds
Instructions
Preheat oven to 350 degrees.

Pat chicken dry with paper towels - make sure there is no extra moisture on skin, especially on the top.

Salt chicken.

Add chicken to dutch oven or any large, heavy pot with a lid.

Sprinkle onion powder and montreal seasoning over chicken.

Add lemons around the chicken.

Add pot, lid on, into oven and cook 20 minutes per each pound of chicken, allowing the last 20 minutes to cook without a lid.

Check chicken's temperature at 30 minutes - if close to 165, remove lid and let bake until it reached 160 uncovered.

When your chicken is at temperature, slide it under the broiler for just a moment or two to give the skin a little extra crunch (watch carefully, it can burn quickly!)

Remove from oven and let sit 5-10 minutes before carving.

Serve and enjoy!
Nutrition Facts
Easy Whole Roasted Montreal Chicken
Amount Per Serving
Calories 250
Calories from Fat 153
% Daily Value*
Total Fat 17g 26%
Cholesterol 85mg 28%
Sodium 80mg 3%
Potassium 241mg 7%
Total Carbohydrates 1g 0%
Protein 21g 42%
* Percent Daily Values are based on a 2000 calorie diet.