Grilled tuna steaks marinated and topped with a sesame ginger sauce that is easy to make from scratch and loaded with sweet and savory flavor!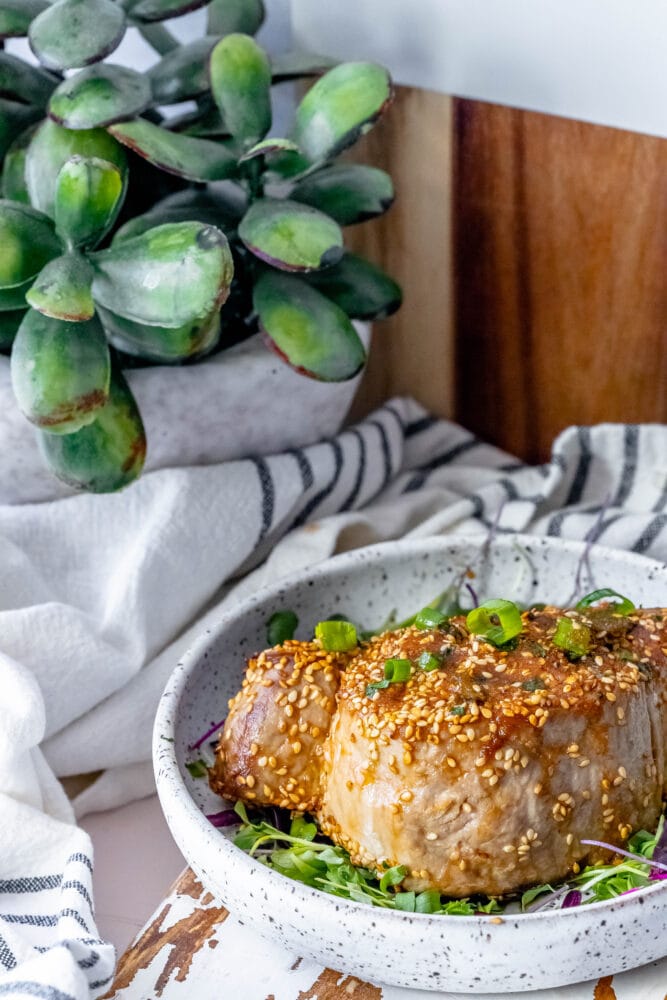 Don't want all the extras in a recipe post? We provide a skip to recipe button in the top left corner, as well as a clickable table of contents, just below, to help make this page easier to navigate.
Grilled Tuna with Sesame Ginger Marinade
If you love seafood, then you'll definitely enjoy these sesame ginger grilled tuna steaks!
The tuna is marinated in a delicious sesame ginger sauce, which adds a sweet and savory flavor to the fish that is delicious, rich, and out of this world. Tuna is a great steak to grill, since it is thicker than a lot of seafood, so it won't fall apart on the grill. Tuna's fattier meat is also easier for beginner cooks to try grilling, since it is forgiving and less fussy - it doesn't dry out as easily if slightly overcooked.
Plus, grilling the tuna steaks is quick and easy, making this dish perfect for a weeknight meal.
Serve with rice and veggies for a complete meal. We hope you enjoy this easy seafood dinner as much as we do!
How to Grill Sesame Ginger Tuna Steaks
Grilling tuna steaks is super simple - but starts with high quality ingredients.
To make this recipe, you'll need:
Tuna steaks - ask for a full loin tuna, or tuna steaks, for a thick cut of tuna that is perfect to grill. While you don't need to purchase sushi-grade tuna steaks, they will be the highest quality.
Sesame oil - sesame oil has a rich, earthy flavor that ups the addictive quality of this recipe, and pulls out a hearty, meatier flavor of the tuna steak.
Ginger - ginger provides a spicy kick to our dish, as well as a lightly sweet note that cuts through the salty soy sauce flavor.
Soy sauce - soy sauce is a rich, earthy, salty sauce that is loaded with classic umami flavors - it helps enhance tuna steak's meaty flavor, and gives a dark, caramel appearance in a sauce.
Garlic - garlic adds a pungent, earthy flavor to our sauce that adds a rich,
Rice vinegar - rice vinegar is light, slightly sweet, and a bit tart - helping to cut through the rich, salty soy sauce and fatty tuna flavor.
Green onion - green onion provides a bright green color, light vegetal flavor, and is more subtle than onion - with a lightly earthy flavor.
Sesame seeds - sesame seeds add crunch, help provide a crust for the tuna steaks to not stick to the grill grates, and get a delicious, earthy flavor that is almost peanut-like.
First, combine the tuna, sesame oil, ginger, soy sauce, garlic, and green onion in a large zip-top bag. Marinate for 30 minutes to 1 hour, turning the bag occasionally.
Preheat a grill or grill pan over medium-high heat. Spray with cooking spray.
Remove the tuna from the marinade and discard the marinade. Grill the tuna for 3 to 4 minutes per side, or until slightly pink in the center.
Sprinkle with sesame seeds and serve with rice and veggies. Enjoy!
Tips and Tricks to Perfect Sesame Ginger Grilled Tuna Steaks
Don't overcook. Tuna is a forgiving fish that is fatty, so it can accept some overcooking and still taste great - but tuna steaks can be cooked rare to medium-rare (sear the outside, with a red middle) and be delicious.
How long to cook tuna steak. If you're going for a specific temperature, use our grilled tuna steak temperature guide below, to use with a digital meat thermometer:
Rare: 120 – 130 degrees F.
Medium Rare: 130 – 140 degrees F.
Medium: 140 – 150 degrees F.
Well: over 150F.
Don't flip too often. Flipping fish often can lead it to flake and fall apart - even fattier, thicker fish like tuna steaks. Flip only after each side has browned to reduce chances of tuna steaks breaking apart.
Marinate. Tuna steaks, even though they are thick and fattier than many types of fish, do best after marinating when grilled. Marinating locks in juices and adds flavor, and is an easy step that only requires 20 minutes before cooking - marinate as your grill heats if you forget to marinate earlier! Even a few minutes helps immensely.
Swap sesame as needed. If you are allergic to sesame oil, please skip it and swap for olive oil. You can replace the sesame seeds with crushed sliced almonds or pecans, or leave the tuna steaks without any kind of crust.
Make it keto. Swap soy sauce for coconut aminos to make this recipe keto diet approved.
FAQs
When is grilled tuna done cooking?
The FDA recommends cooking tuna steaks to 145 degrees F.
For rare, cook to 120-130; medium-rare 130-140 degrees F.
How long can I store this recipe?
Leftover tuna steaks can be stored in an airtight container and kept in the refrigerator for up to two days.
How long can I keep tuna steaks?
Raw tuna steaks should be cooked one day after purchasing for the best flavor and freshness. Keep refrigerated until marinating, and let marinate in the refrigerator.
Can I eat tuna steak that is red in the middle?
The FDA recommends eating tuna steaks cooked to 145 degrees throughout. I personally prefer a rare to medium-rare tuna steak, cooked to 125-135 degrees (seared on the outside, red/pink in the middle).
What to Serve With Grilled Tuna Steaks
Tuna steaks are hearty and delicious, and are fantastic alongside our sesame ginger grilled bok choy - the sauces are incredibly similar and make a perfect pairing on the grill. We also love serving this fish with Garlic Chinese Style Green Beans, Easy Rice Pilaf, Air Fryer Frech Fries, and delicious and easy Grilled Potatoes.
If you're looking for some of the best easy side dishes, see some of our new favorites below:
Sesame Ginger Grilled Tuna Steaks
If you love this easy recipe please click the stars below to give it a five star rating and leave a comment! Please also help me share on facebook and pinterest!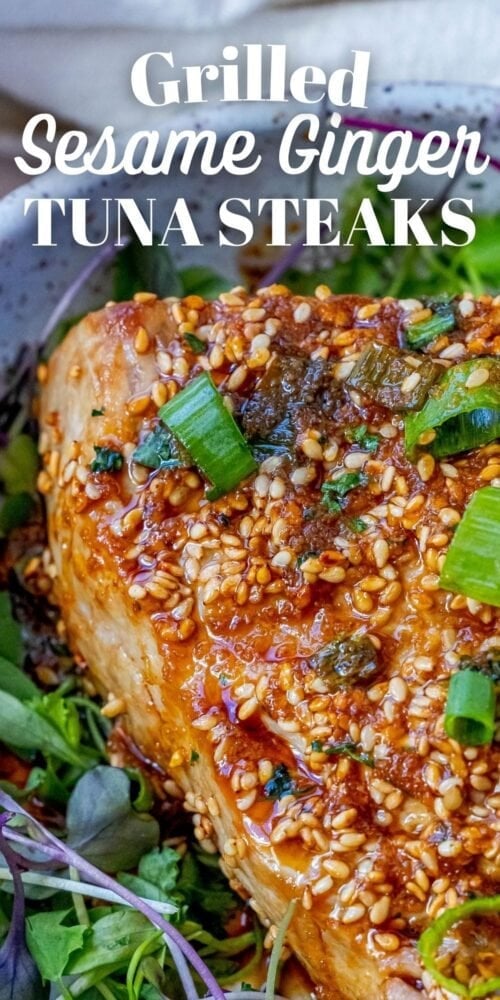 CONNECT WITH SWEET C'S!
Be sure to follow me on social media, so you never miss a post!
Facebook | Twitter | Youtube | Pinterest | Instagram
Only have 30 minutes to get dinner on the table? Sign up for my 30 minute dinner plans direct to your inbox!
Find and shop my favorite products in my Amazon storefront here!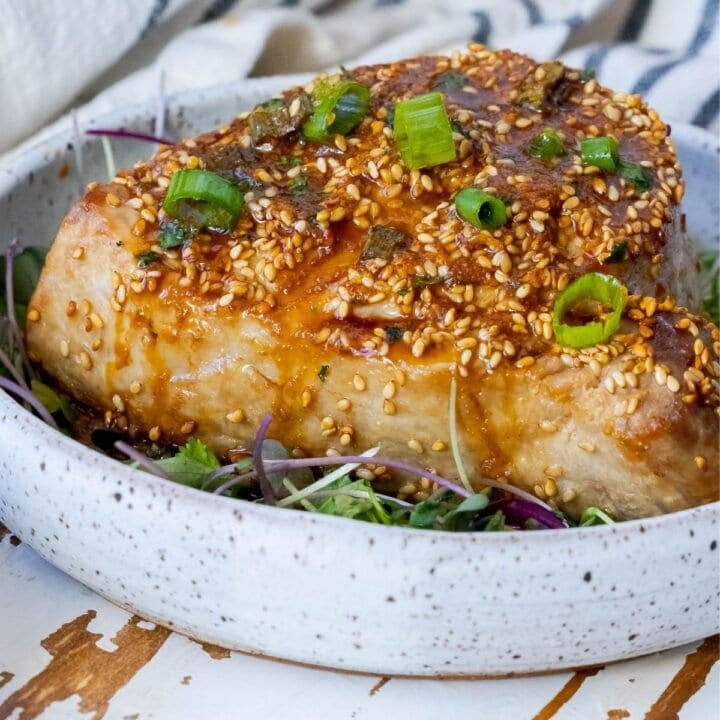 Yield:

2 steaks
Sesame Ginger Grilled Tuna Steaks
Delicious, rich, hearty tuna steaks grilled to perfection in a homemade sesame ginger marinade.
Ingredients
2 tuna steaks
2 tablespoons olive oil
1 teaspoon sesame oil
1 teaspoon ginger, ground
1 tablespoon soy sauce
1 tablespoon garlic powder
1 tablespoon rice vinegar
2 tablespoons sesame seeds, divided
Green onion, sliced, to garnish
Instructions
Preheat grill to medium-high (350 degrees F)
In a small bowl, mix olive oil, sesame oil, ginger, soy sauce, garlic powder, rice vinegar, and half sesame seeds.
Pour half sauce over tuna steaks, and reserve half for finishing tuna.
Let fish marinate, refrigerated, for at least 20 minutes (as grill comes to temperature) up to overnight.
When grill is scorching hot, remove tuna steaks from the marinade and discard excess the mariande fish was sitting in.
Cover fish with 1 tablespoon of sesame seeds to make a "crust" before grilling. Add more than 1 tablespoon if needed.
Place steaks on grill.
Grill 2-3 minutes per side, drizzling a bit of reserved sauce on top of fish as it cooks, until fish is charred on each side.
For medium-rare tuna steaks, cook to 135 degrees F. The FDA recommends 145 degrees F.
Remove tuna from grill, and top with reserved sauce, green onions, and additional sesame seeds.
Enjoy!
Recommended Products
As an Amazon Associate and member of other affiliate programs, I earn from qualifying purchases at no extra expense to you.
Nutrition Information
Yield
2
Serving Size
1
Amount Per Serving
Calories

395
Total Fat

21g
Saturated Fat

3g
Trans Fat

0g
Unsaturated Fat

17g
Cholesterol

67mg
Sodium

520mg
Carbohydrates

7g
Fiber

2g
Sugar

0g
Protein

44g
Nutrition is automatically calculated by Nutritionix - please verify all nutrition information independently and consult with a doctor or nutritionist for any and all medical and diet advice.