While enjoying our time at my family's new home just outside Seaside Florida in Santa Rosa Beach, my mom and I wanted to eat as much local, delicious Florida Gulf seafood as possible. Florida's panhandle is full of shops selling all sorts of fresh caught fish- and one day we grabbed some shrimp to throw in this Quick and Easy Shrimp Boil!
If you follow me on Instagram, you may have already seen the video I made showing just how easy this shrimp boil is, but today I am sharing the recipe in an easy to print way! This makes for a tasty peel and eat meal, and is perfect for summer lounging. You can use full shrimp like we did (boiling them with the heads on adds lots of delicious flavor- simply peel it off when you eat)- or you can use heads off, or fully shelled shrimp. It's totally up to you!
While you can just toss in the sausage, I like to lightly brown it first for extra flavor. You can also toss in garlic or onions (remove skins and give a rough chop- it's just for flavor), or different types of potatoes. It is a very versatile recipe!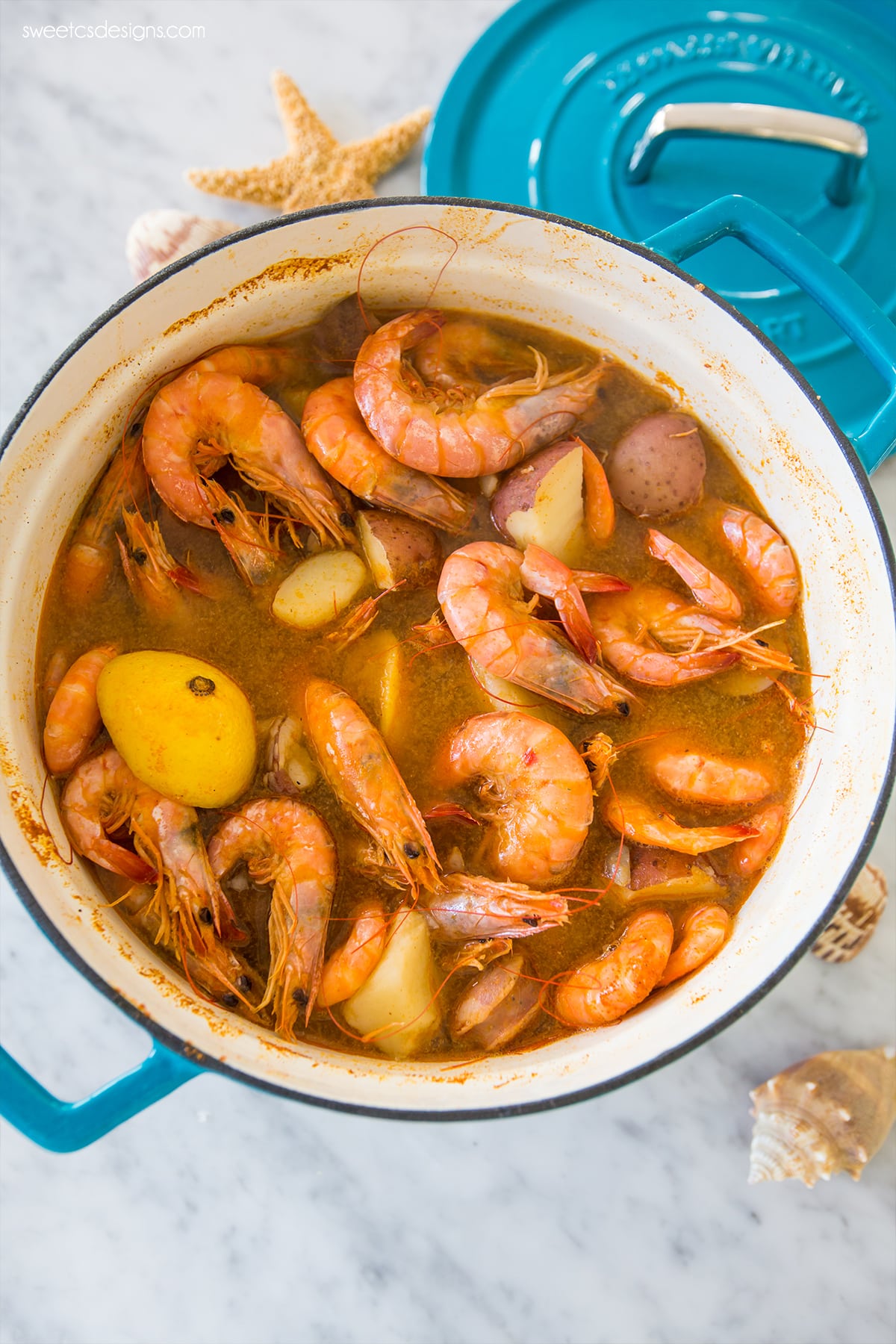 Yield:

4 servings
Quick and Easy Shrimp Boil
Total Time:
1 hour
5 minutes
Ingredients
5 cups water
1 lb potatoes
2 andouille sausage links, pre-browned and cut into 1" thick rounds
2 ears of corn, cut into 3" rounds
1 1/2 lbs shrimp, heads and tails on or off
1 package shrimp boil seasoning.
Instructions
Boil water.
Add potatoes and cook until soft.
Add andoille sausage and corn, optional.
Add shrimp, lemons, and 1 package shrimp boil seasoning.
Cover and remove from heat.
Let shrimp sit up to two hours (more time in the water =spicier, more flavor).
Enjoy!!!