Chorizo, cheesy eggs, fresh tortillas, and lightly tangy crema make these delicious spicy egg and chorizo breakfast tacos a hearty, flavorful meal your family will love!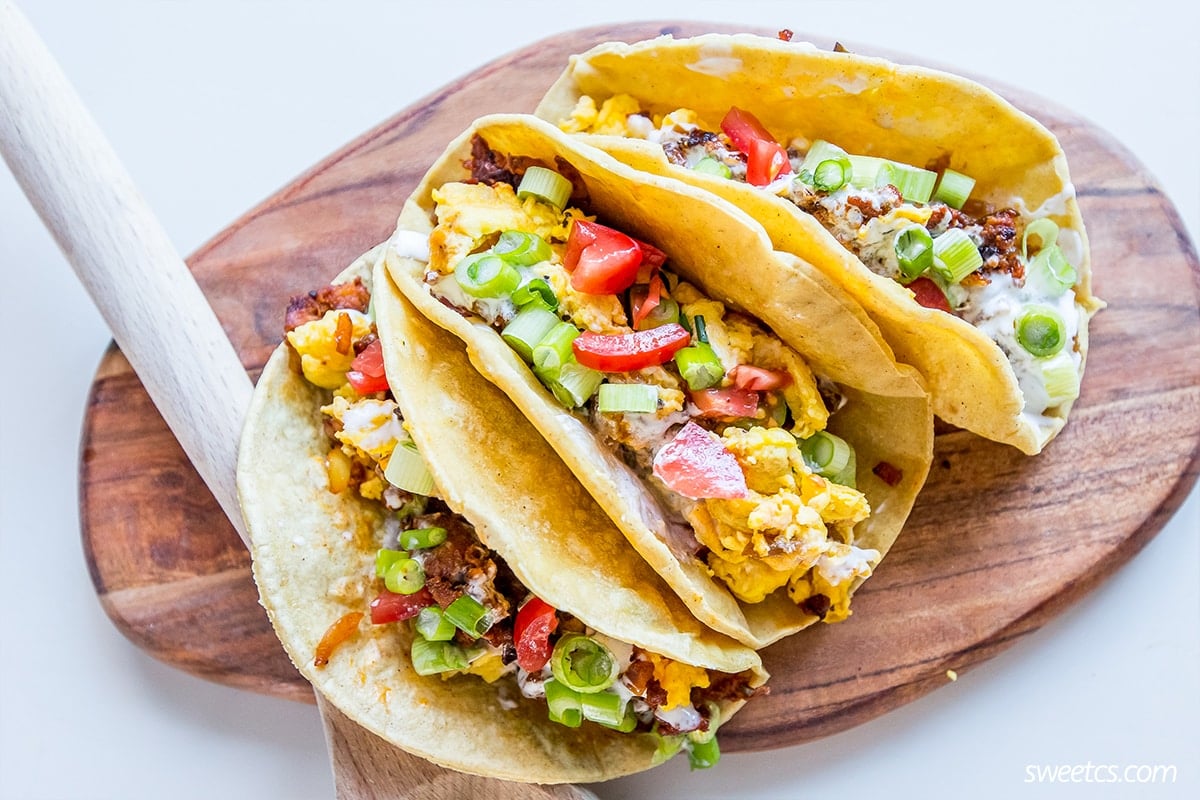 There is nothing that wakes me up better on a rough morning than a delicious, comforting, hearty– and spicy– meal.
I love chilaquiles, chorizo burritos, and skillets full of spicy sausage- but I don't often make breakfast tacos.
Until now.
I don't know if I was living under a rock, but I hand't come across uncooked tortillas in the grocery store before. Sure, I've made my own tortillas from scratch- and they were delicious- but let's face it – when you're nursing a wicked hangover or dealing with early morning grumpiness, making your own tortillas fresh just isn't going to happen.
So when I stumbled across some at Walmart (this post isn't sponsored, I promise — I am just giddy about finding pre-made, preservative free stuff) I was super stoked to try out a delicious, smaller take on a local burrito joint's delicious cheesy, egg-y, chorizo packed tacos.
My husband and I couldn't believe the difference freshly cooked tortillas made. I've always loved corn tortillas, but let's face it- they get super dry. It was so easy to toss the uncooked tortillas on a cast iron skillet pan, let them heat (and get puffy!!!), flip them, and then serve up a bunch of delicious food into them. They are most definitely worth the extra steps- and they help cut down on the amount of preservatives you're taking in!
I found TortillaLand uncooked corn tortillas at Walmart in the Hispanic foods refrigerated section (with the chorizo and Crema Mexicana in this recipe as well- no searching all over!)
Spicy Egg and Chorizo Breakfast Tacos
[amd-yrecipe-recipe:11]