So quick and easy – and a perfect summer side dish – The Best Easy Baked Scalloped Corn Recipe has tons of creamy crunchy scalloped corn flavor the whole family loves!
Scalloped corn is one of my favorite side dishes because it is so easy to make and has so much corn flavor – and kids love the crunch from cornflakes!
Crunchy, creamy, buttery scalloped corn was always a favorite as a kid – but this version with cornflakes instead of crackers is my absolute favorite.
Kids love this baked corn casserole – and its awesome alongside smoked ribs, grilled flank steak, pork tenderloin, or brisket!
I have a lot of readers on Sweet C's who aren't as comfortable yet in the kitchen, so I try to provide a lot of information for my readers.
If you would like to skip that, please click the "skip to recipe" button in the top left corner of the post, or scroll to the bottom of the page.
A lot of scalloped corn recipes involve crackers – but this recipe is pairing unsweetened corn flakes for an extra crispy crunch – and even more corn flavor!
This scalloped corn is really more of a creamy and crunchy baked corn casserole, and the flavor the cornflakes brings is is unreal.
Tips to Crunchy Cornflake Corn Casserole
I love having a lot of crunch in my scalloped corn – so it's important to not mix the cornflakes in with the corn, and use it as a topping instead, to keep your cornflakes crispy and crunchy, not soggy.
I also like to sprinkle some extra cheese over the top of the corn in the last 15 minutes of baking – the cornflakes will be nice and crunchy, and a little melted cheese takes the flavor over the top!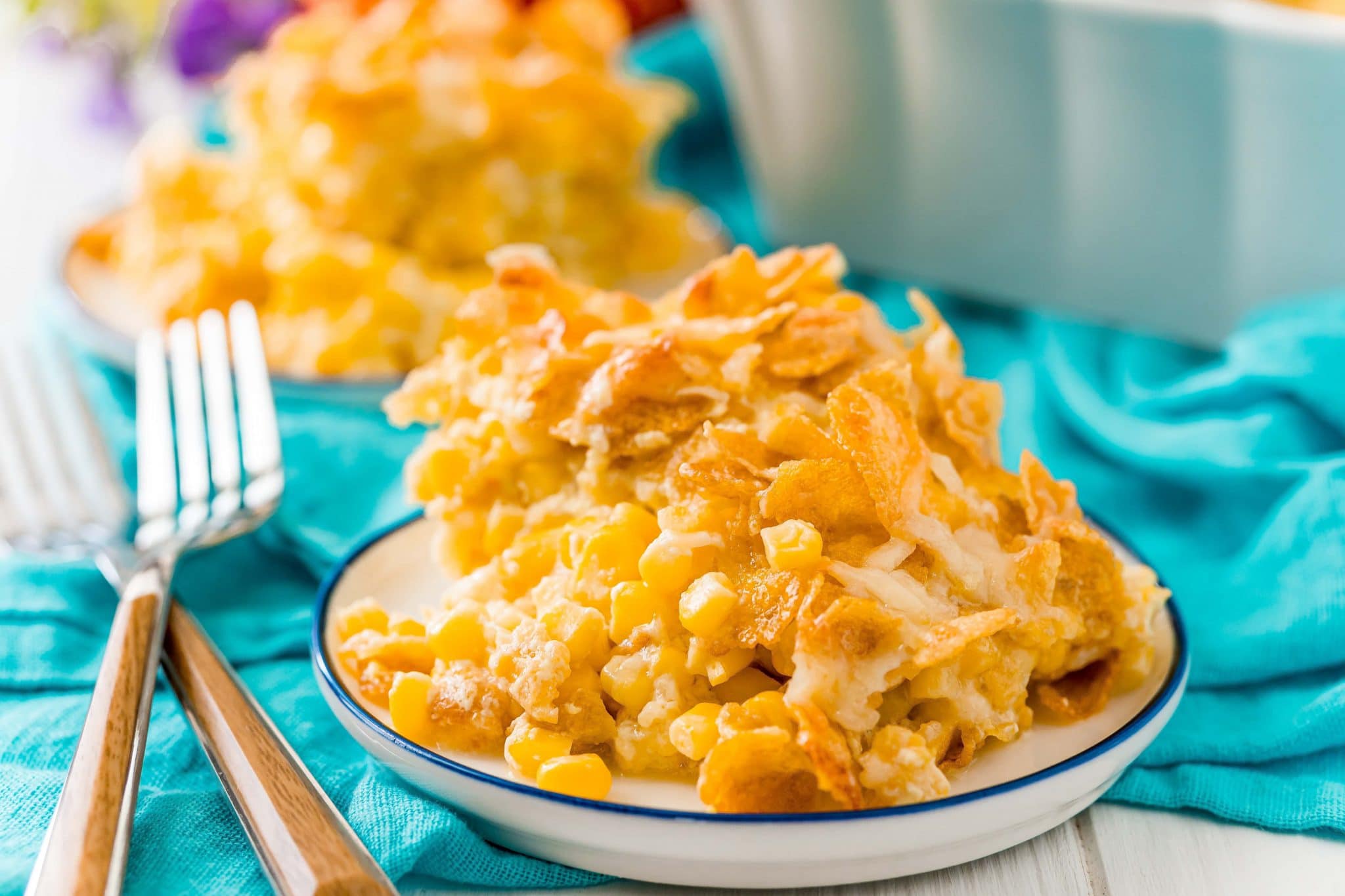 Slow Cooker Scalloped Corn
If you'd like to make this scalloped corn in the slow cooker, please use the following modifications:
Mix ingredients and place in a well greased crockpot.
Top with cornflakes.
Cover and cook on high for 2 1/2 hours, or until a knife inserted in the center comes out clean.
Be sure to check the temperature of the casserole with a food thermometer and ensure it is at least 165 F in the center before serving.
How to Make Scalloped Corn Ahead of Time
You can prep this dish entirely ahead of time to save prep during a party or cookout, without sacrificing any flavor!
If you're going to eat your scalloped corn within 1 day, you can assemble all ingredients together and mix (except cornflakes) and either keep in a plastic bag or in the prepped baking sheet, covered with plastic wrap, until ready to bake.
When you're ready to bake, preheat oven to 325 degrees.
Top corn with cornflakes and bake.
How To Freeze Prepped Scalloped Corn
If you'd like to make a big batch of this baked corn casserole and freeze it for later, use the same method above (making sure to leave off corn flakes), and then freeze.
To bake, let thaw in refrigerator overnight.
Place in prepped baking dish and top with cornflakes, and bake following recipe below.
How to Store and Reheat Scalloped Corn
If you have leftovers, no worries!
Immediately store leftovers in an airtight container or plastic bag and refrigerate, for up to four days.
This casserole reheats well – simply pop it in the oven in a baking dish and bake at 325, covered, until piping hot.
If cornflakes get soggy, top with up to 1/4 cup extra cornflakes for more crunch.
Scalloped Corn Recipe Ideas
If you'd like to kick the flavor up a bit, or reduce sugar, I am listing some great ideas to modify this baked corn dish to your preference!
Crushed crackers, French fried onions, or bread crumbs may be used instead of corn flakes.
Chopped onions and peppers can also be added to the mix to replace 1 cup of corn.
Canned cream corn may be used for up to half of the corn.
Sugar may be omitted, if desired.
Add ½ cup of crumbled bacon for additional flavor.
How to Make Scalloped Corn
This recipe couldn't be more easy – just four simple steps!
To Make This Recipe You'll Need:
-Large bowl
-Whisk
-9×13 baking dish (I prefer enameled baking dishes, they are always much easier to clean up.)
For best results, be sure to thoroughly mix egg and milk, whisking well to combine and prevent any "clumps" of egg after baking.
Mix in ingredients except for cornflakes.
At this point, you can store or freeze recipe to top with cornflakes and bake later.
Add to Greased Pan & Top With Cornflakes
After ingredients are mixed, add to a 9×13 pan that has been well prepared with shortening, butter, or cooking spray.
Bake 45 minutes until crispy brown.
Serve immediately.
Other Corn Dishes You'll Love
If you love corn and can't get enough, check out some of our other favorite corn dishes that are easy and full of flavor your family will love!
The Best Easy Baked Scalloped Corn Recipe
If you love this easy baked scalloped corn recipe, be sure to give it a five star rating and help me share on facebook and pinterest!
Yield:

8
The Best Easy Baked Scalloped Corn Recipe
Additional Time:
8 minutes
Total Time:
1 hour
13 minutes
Ingredients
3 large eggs
1 cup whole milk
3 tablespoons salted butter, melted
2 tablespoons granulated sugar
4 cups sweet corn, fresh, frozen, or canned (drained)
1 cup shredded cheddar cheese, divided
½ teaspoon salt
½ teaspoon black ground pepper
½ teaspoon onion powder
¾ cup corn flakes
Instructions
Preheat the oven to 325 degrees F and grease a 9x13-inch baking dish with non-stick spray.
In a large bowl, beat together the eggs and milk.
Add in the butter, sugar, corn, ¾ cup cheese, salt, pepper, and onion powder and stir to combine.
Transfer the mixture to the prepared baking dish and top with corn flakes and the remaining cheese.
Bake for 45 to 55 minutes until a toothpick inserted into the center comes out clean. Enjoy warm.
Nutrition Information
Yield
8
Serving Size
1
Amount Per Serving
Calories

235
Total Fat

13g
Saturated Fat

7g
Trans Fat

0g
Unsaturated Fat

5g
Cholesterol

98mg
Sodium

318mg
Carbohydrates

23g
Fiber

2g
Sugar

8g
Protein

9g
Nutrition is automatically calculated by Nutritionix - please verify all nutrition information independently and consult with a doctor or nutritionist for any and all medical and diet advice.
Sweet C's Favorite Recipes
If you love this easy recipe, be sure to check out our reader favorites!
These recipes are simple and delicious and loaded with family friendly flavor!
Sweet C's Favorite Recipes
Favorite recipes from Sweet Cs Designs