The Best Air Fryer Steaks
The Best Air Fryer Steaks recipe – delicious tender steaks with a crunchy crust and tender, perfectly cooked middle.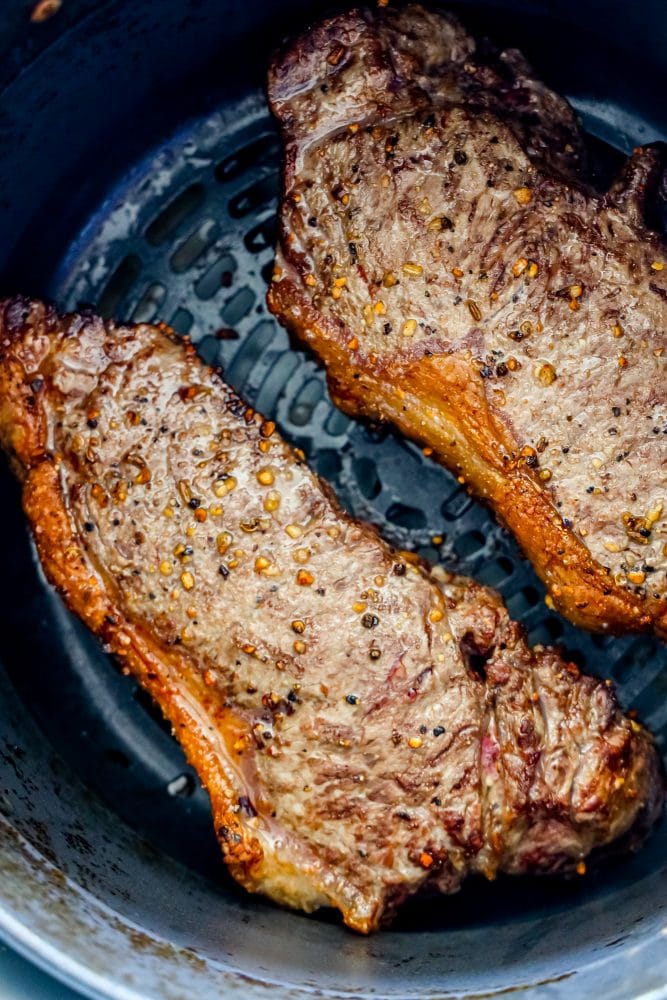 Don't want all the extras in a recipe post? We provide a skip to recipe button in the top left corner, as well as a clickable table of contents, just below, to help make this page easier to navigate.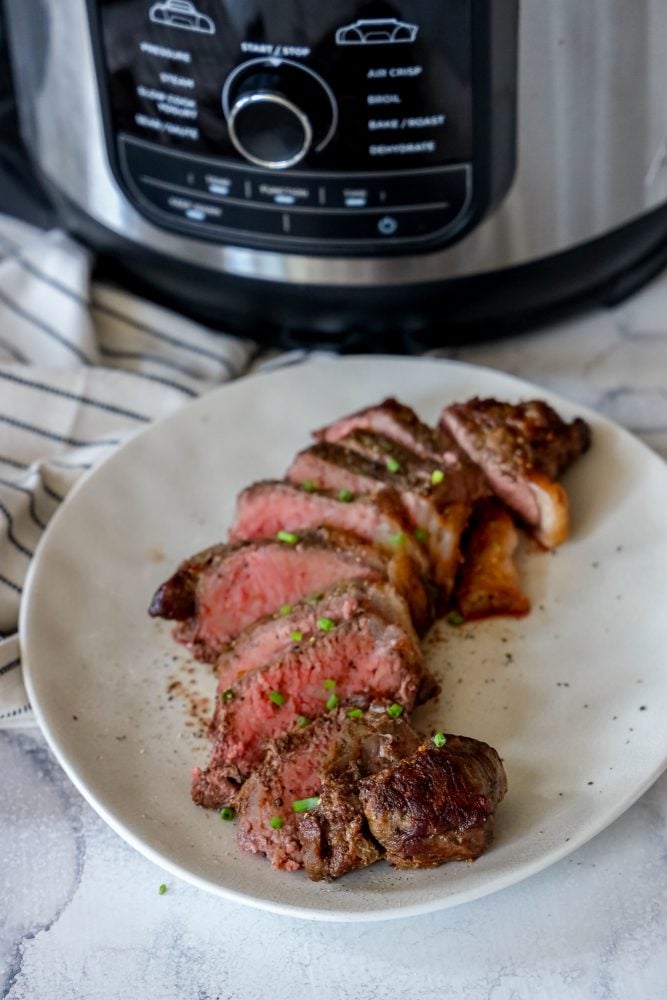 Air Fryer New York Strip Steak
Making delicious, tender steak at home can be a pain – it gets smoky in the pan or under an oven broiler, and loads the house with the smell – but this easy recipe makes it super simple if you have an air fryer or pressure cooker with crisping/broiler lid.
While I love pan frying steaks and finishing under the broiler in my oven, my broiler can be inconsistent, and it gets so darn smoky in my house – using an air fryer or pressure cooker's air fry function is capable of high temperatures, and cuts down on smoke and strong smells.
This recipe works with any air fryer – and was designed to work with pressure cooker broiler combos like the Instant Pot Duo and the Ninja Foodi.
For an oven friendly method, please visit my oven broiled ribeye steaks and mushrooms recipe.
And for a to die for delicious sauce to top this steak, check out my Easy Green Chile Sauce recipe!
To see our web story for this recipe, click here.

This recipe can work with a few types of steaks in your air fryer.
Chose steaks that have a similar size and weight for even cooking – or give smaller, thinner cuts to those who would like less pink.
New York Strip, Ribeye Steak, Porterhouse, T-bone (though they take up more room), Filet Mignon, and Sirloin Steaks are all good choices for this method.
How to Air Fry Steak
Steak seasoning or rub
Air Fryer, Instant Pot with Broiler lid, or Ninja Foodi
Long handled tongs
Once you gather the necessary ingredients, we will follow this method: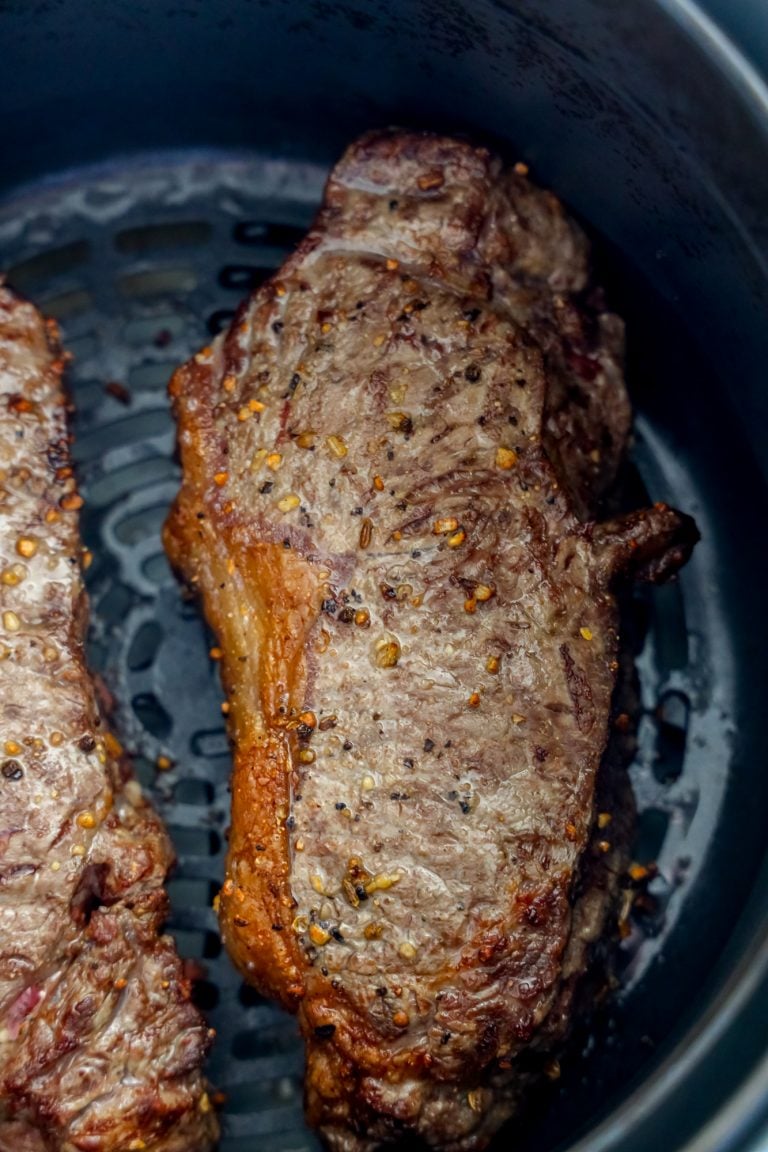 Tips and Tricks to Perfect Air Fryer Steaks & FAQs
This recipe is incredibly easy to get perfect steak with a crunchy crust and juicy, tender center – but there are a few things you can do to make sure your steaks are a knockout every time.
Cook hot and fast. For the crunchy crust and rich meaty flavor you get from a steakhouse, you want to cook steak as hot and fast as possible, so use the highest heat you can in your air fryer.
Let come to room temperature. Steaks that have come to room temperature before cooking can crisp on the outside faster, and allows the fat to render more. Simply let steaks rest on the counter for 20-30 minutes before cooking while you prep the rest of your meal.
Pat steaks dry. Steaks with excess moisture or water will not crisp and risk boiling instead of broiling – giving you tougher, chewier, gray meat. Simply pat dry with a paper towel to make sure your steaks are completely dry before rubbing with oil.
Add oil. Before air frying, we will be adding a little oil to help seasoning stick and crisp the outside of the steak aa bit more when air frying. Think of this as just a drizzle for your steaks – they should just glisten from the oil, they don't need to be soaked in oil.
Season well. Before air frying, be sure to season steak well. Use your favorite steak seasoning, herbs de provence, Montreal steak seasoning, or rub.
Don't crowd the basket. It is absolutely essential to have lots of airflow for your air fryer to properly cook steaks – don't cram into the basket and don't let steaks crowd the basket or touch.
Let it stay in the air fryer to rest for steak past rare. If you remove your steaks from the air fryer/broiler basket right when the machine's timer shuts off, your steaks will be crispy outside, but very much raw in the middle. The broiler/air fry function is great for crisping the outside of the steaks, but a good deal of the cooking is done after your air fryer fan shuts off and the steaks cook in the heat of the machine. Keep machine closed (you can quickly pop in a digital thermometer to monitor doneness) for at least 5 minutes for medium rare, and up to 10 minutes for medium well to well done.
Let steak rest. All steaks need to rest for 5 minutes after cooking before serving and slicing (after removed from machine) to let juices set and prevent steak from drying out.)
Use a Ninja Foodi. To cook in a Ninja Foodi, you will need the air fryer basket and broiler lid. Set Ninja to broil (450 degrees) for 10 minutes. To buy a ninja foodi, click here.
Use an Instant Pot. This recipe can be cooked in an Instant Pot with broiler lid and air fryer basket, though I reccomend the Ninja Foodi for steaks since the broiler is a bit bigger and cooks at a higher temperature. Set Instant Pot at 400 degrees to broil (unfortunately Instant Pot doesn't go to 450 which we prefer, but it still works great) and increase broil time by 2 minutes for medium rare, 4 for medium well done. If you want an Instant Pot with broil features, click here. If you need the broiler lid for your Instant Pot, click here.
Recipe FAQ's
What type of steak should I air fry?
For this recipe we used New York Strips, but this method can work for ribeye steaks, filet mignon, sirloin steaks.
What model air fryer should I use?
This recipe was designed to work with any air fryer model or pressure cooker (Ninja Foodi or Instant Pot) with broiler lid and basket.
How hot should I air fry steaks?
Air fryer/pressure cookers with broiler functions should be set at 450 degrees.
How long to air fry steaks?
For medium rare, broil for 12 minutes and let steak sit in machine for another 5 minutes to carryover cook until steak is 130-135 degrees Fahrenheit.
What temperature should I cook steak to?
Rare – 120 degrees
Medium Rare – 130 degrees
Medium – 140 degrees
Medium Well – 150 degrees
Well – 160+ degrees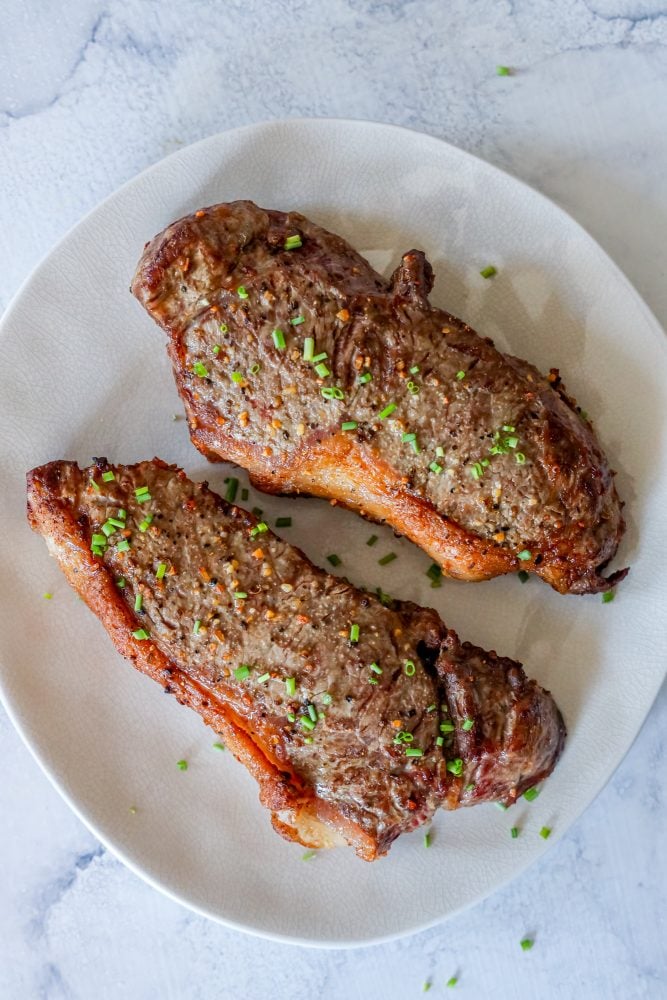 What To Serve With Air Fried Steaks
Be sure to check out viral favorites like our air fryer chicken drumsticks, french fries, and brussels sprouts – are some of our top Air Fryer recipes you just have to taste to believe!
This steak recipe is delicious with a great pear and goat cheese salad, roasted acorn squash rings, a broiled lobster tail for surf n turf – or some air fried broccoli! It's also great with The Best Air Fried Mushrooms served on top, or a classic French Onion Soup served beforehand!
For more of our easy side dish recipes, click below:
The Best Air Fryer Steaks Recipe
If you love this delicious recipe please give it a five star rating (simply click the stars in the recipe below and fill out a quick review!) and help me share on facebook and pinterest.
CONNECT WITH SWEET C'S!
Be sure to follow me on social media, so you never miss a post!
Only have 30 minutes to get dinner on the table? Sign up for my 30 minute dinner plans direct to your inbox!
Find and shop my favorite products in my Amazon storefront here!
The Best Air Fryer Steaks Recipe
Perfect tender, delicious meaty steaks with a crispy, crunchy crust right from your air fryer or pressure cooker with broiler settings!
Ingredients
2 new york strip, filet mignon, ribeye, or similar steaks
2 tbsp avocado or other oil with high smokepoint
1 tbsp steak rub or seasoning
Instructions
Let steaks come to room temperature.
Pat steaks completely dry with paper towel.
Drizzle steaks with oil.
Season well.
Run air fryer at maximum temp for 5-10 minutes before adding steaks to air fryer to make sure machine is piping hot.
Set air fryer timer to 12 minutes at top temp for medium rare (450 for a Ninja, 400 for Instant Pot). If going for medium to well done steaks, set timer for 15+ minutes.
Add steaks and cook 6 minutes. Flip steaks and cook additional 6 minutes.
Let carryover cook in machine without opening for 5 minutes.
Check steak temperature - remove and let rest if done, if you'd like it to gain a little more, leave in air fryer longer.
Let steaks rest on a plate for five minutes after removing from air fryer before slicing or serving.
Recommended Products
As an Amazon Associate and member of other affiliate programs, I earn from qualifying purchases at no extra expense to you.
Nutrition Information
Yield

4
Serving Size

1
Amount Per Serving
Calories

449
Total Fat

32g
Saturated Fat

12g
Trans Fat

0g
Unsaturated Fat

17g
Cholesterol

128mg
Sodium

177mg
Carbohydrates

1g
Fiber

0g
Sugar

0g
Protein

37g
Nutrition is automatically calculated by Nutritionix - please verify all nutrition information independently and consult with a doctor or nutritionist for any and all medical and diet advice.