Delicious, easy no-bake 2 Ingredient Cake Batter Truffles– taste just like cake batter and take under 5 minutes to make!
I love quick, easy, and fun desserts. There isn't really a time when fun, bright treats aren't appropriate- my family loves delicious treats, especially when they are easy enough for the kids to get in the action and help make them.
My kids love learning about cooking, and love to help create in the kitchen. These delicious cake batter truffles are a really great dessert to make with kids- especially if they love sprinkles! They are easy to roll, are eaten raw, and have bright fun colors. Plus with just two ingredients, they taste great!
My daughter likes to call sprinkles "sparkles" and there can NEVER be too many "sparkles". So if your kids are like mine, don't do shy on the sprinkles! They aren't part of the 2 ingredient count as they aren't really necessary… but I will use any excuse i can to use as many sprinkles as possible!
If your cake mix doesn't have enough liquid in it, you can add a dash (we're talking a splash at max) of milk to loosen it (or water, but I prefer milk). Some cake mixes hold moisture differently and require a bit more, but it is hard to tell until you're making the truffles.
The only note I do want to stress is that you get a delicious, high quality cake mix. Cake mixes are not created equal- you need one that is delicious right out of the box, since we're just adding butter to the mix. I have made these with some cheap generic boxes of cake mix and they tasted a bit off- almost bitter. If you taste your cake mix before adding the butter, and it tastes a bit bitter, cut the butter in half and add a quarter cup of milk.
I actually like these more a bit cold- I like to pop them in the fridge for a raw cookie-dough taste and temperature. It is so good! And of course, not healthy at all. But sometimes you just need a hit of sprinkled goodness!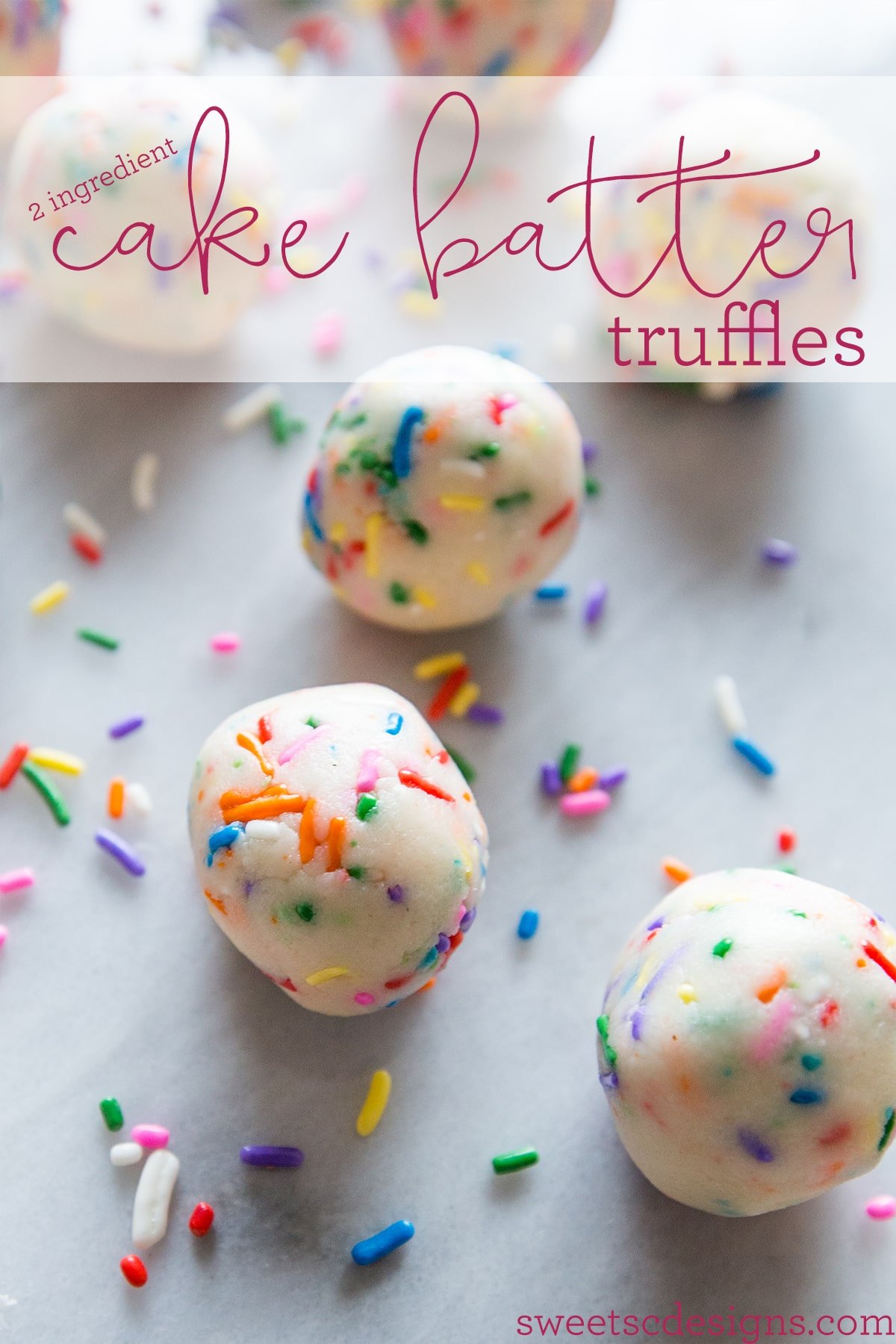 Yield:

16
2 Ingredient Cake Batter Truffles
Delicious, easy no-bake cake batter truffles- taste just like cake batter and take under 5 minutes to make!
Ingredients
1 package yellow or white cake mix
1 stick butter, melted
sprinkles* optional
Instructions
Melt butter and add into a large bowl.
Add in cake mix, stir well.
If adding sprinkles, add and mix to make sure they are evenly spread throughout the mix.
Roll into 1" balls.
Serve and enjoy!
Notes
Refrigerate leftovers and eat within one week.
Nutrition Information
Yield
8
Amount Per Serving
Calories

385
Saturated Fat

8g
Cholesterol

32mg
Sodium

432mg
Carbohydrates

51g
Fiber

1g
Protein

3g