These quick and easy 3 ingredient fried peanut butter jelly bombs are delicious, fluffy, and so simple! Perfect for breakfast or dessert!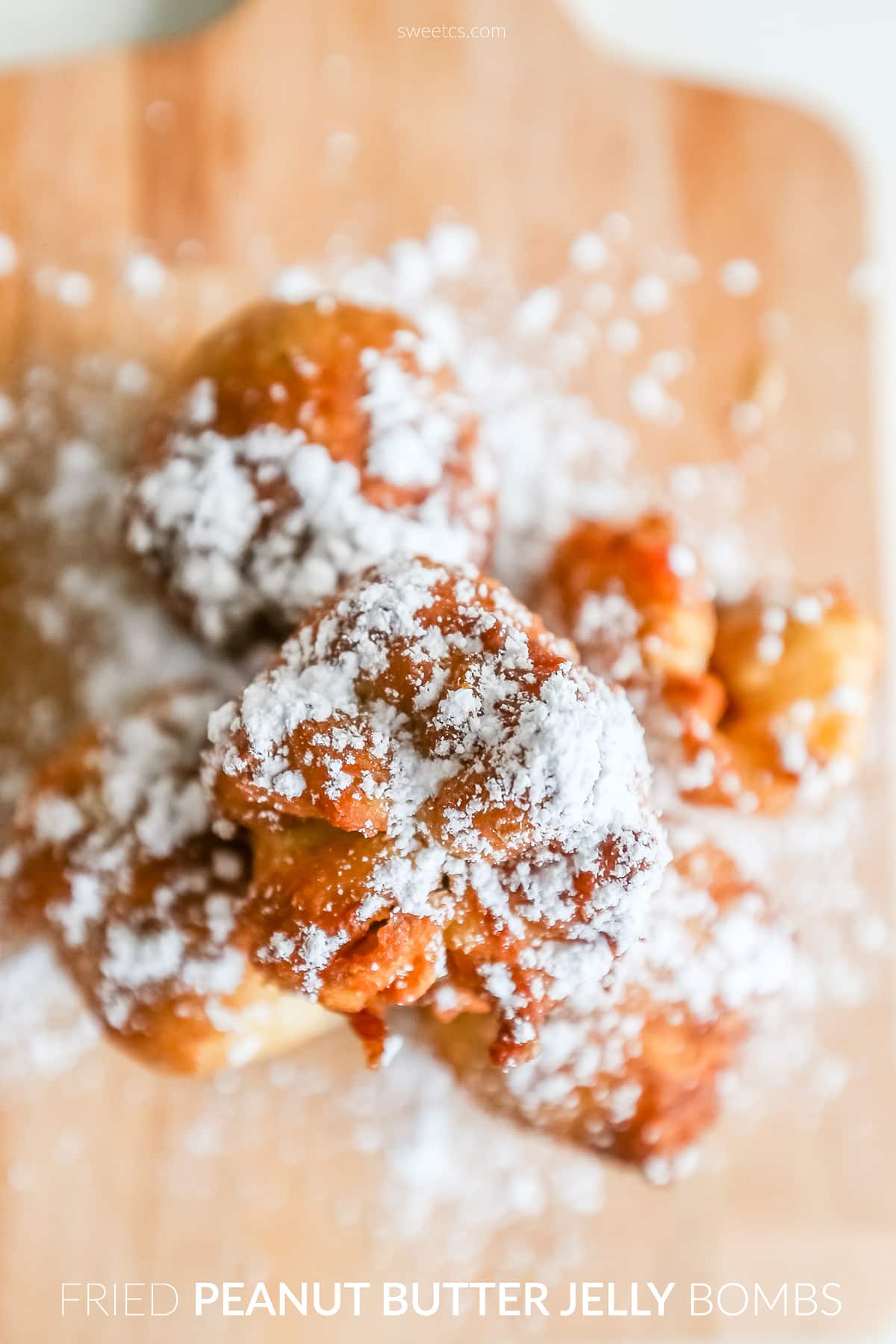 So, I sit down to write this post, and I can't.
This is literally one of the easiest and tastiest desserts ever, and I have made them a few times and still have yet to share them.
They are delicious, and quick, and so simple-- literally anybody can make them.
Except I can't write about them.
Everytime I sit down to write this recipe, I think one thing:
Yea. It's terrible.
After the dancing banana (and a couple hundred rounds of Peanut Butter Jelly, Baseball Bat!), I move on to more eccentric images- this time complete with neon felines and fancy patterns:
Galantis: Peanut Butter Jelly Visualizer Video from Michael C. Mendelsohn on Vimeo.
(may I just say.... despite what my mom thought after a month in Australia last summer when this was essentially the only song on the radio, this is not such a cute song to play around kids- the thought of them singing "spread it like peanut butter jelly, do it like I owe you some money" was a bit too much for me after the whole "uptown funk you up" phase of 2015-- thanks, freaking Kids Bop for making THAT phase even worse...)
But, you know, I digress. This isn't a blog about random crap I do (well, it is, but I disguise it pretty well underneath the pretty pictures and tasty recipes), but I just can't help but break out into random, somewhat inappropriate song after another when making basically anything with peanut butter and jelly.
In other words... my three and five year old are essentially more mature than me.
But trust me, these delicious, fluffy, and decadent little balls are so worth the earworms that you'll be stuck with all day. So grab the speakers, get some Galantis queued up, and let's make these bad boys!
I mean- they are basically little tiny peanut butter jelly doughnuts, with just three ingredients! So simple you can't go wrong.
Yield:

20
3 Ingredient Fried Peanut Butter Jelly Bombs
These quick and easy 3 ingredient fried peanut butter jelly bombs are delicious, fluffy, and so simple! Perfect for breakfast or dessert!
Ingredients
1 French Bread, package Pillsbury
1/2 cup peanut butter
1/2 cup jelly
optional- powdered sugar, to garnish
Instructions
Heat 3-4 cups corn, canola, vegetable, or other high-heat oil to 350 degrees in a tall pot (I like to use my spaghetti pot).
Unroll french bread dough and separate into 20 small pieces (using a pizza slicer is the easiest way to do this quickly, but you can tear off bits as well).
Spread a little peanut butter and jelly in the middle of each piece.
Roll pieces into a ball shape, keeping peanut butter and jelly in the middle.
Add in groups of 4-5 to the oil and heat until crispy golden brown, about 5 minutes (if it takes longer, your oil is not hot enough- if it goes faster, your oil is too hot.)
Remove and place on paper towel to shake off excess oil.
Sprinkle with powdered sugar if desired.
Enjoy!
Nutrition Information
Amount Per Serving
Calories

61
Sodium

32mg
Carbohydrates

7g
Sugar

4g
Protein

1g
Nutrition is automatically calculated by Nutritionix - please verify all nutrition information independently and consult with a doctor or nutritionist for any and all medical and diet advice.