Best Easy Irish Brown Soda Bread
Feb 14, 2019, Updated Aug 15, 2023
This Is the Best Easy Irish Brown Soda Bread Recipe – delicious easy brown soda bread with simple ingredients, a light and moist crumb, and goes great with creamy butter and jam for a great quick Irish bread recipe! 
Don't want all the extras in a recipe post? We provide a skip to recipe button in the top left corner, as well as a clickable table of contents, just below, to help make this page easier to navigate.
This post is sponsored by Princess Cruises. All opinions are 100% my own. I love to partner with companies I personally use and trust – and think my readers would too.
Best Easy Irish Brown Soda Bread
I was recently lucky enough to take the trip of a lifetime – cruising around the British Isles for a magical two weeks full of amazing sights, tons of laughs, and the best food you could imagine.
One of the reasons I love cruising with Princess Cruises is truly the food – (I know many people might be wondering "Is Food on a Cruise Ship Good??") but I can honestly say everything I had on board was out of the park delicious – though my absolute favorite thing I ate the entire trip came from a gorgeous little cottage in County Down, about forty minutes drive from Belfast.
While at the home of Tracey (who hosts amazing, personal food tours that help connect visitors to Ireland's rich culinary history in a fun and delicious hands-on afternoon), we learned to make two different Irish quick breads – a basic soda bread and a potato bread.
While both breads we got to make were amazing (recipes coming soon!) – one of the stars for me was a brown soda bread that Tracey served that reminded me of my family's Brown Soda Bread Recipe I am sharing here today!
Traditional Irish Bread Making Belfast Shore Excursion
We started off the excursion with a short tour of Belfast, including a visit to the Peace Wall and some of the murals along Falls Road and Shankhill Road.
I had already visited the wall before as a part of a trip to Belfast in 2016 – but as the murals and the wall graffiti change often, it was an entirely new experience even just two years out.
After a quick city tour, we drove past some of the most gorgeous scenery ever through rolling hills, sprawling blue lochs, and cute country cottages until we reached Tracey's gorgeous thatched roof cottage.
Tracey greeted us with a huge smile and welcomed us into her home, where we were greeted with an amazing spread set up for tea with a bunch of warm traditional Irish breads, butter, homemade jams and preserves, Irish seaweed, and of course plenty of coffee and tea.
The seaweed might sound odd with bread – but the salty snack was heavenly over warm bread with butter for a salty kick!
We immediately swooned over the house, the surroundings, and all of the food – Tracey is a fabulous host.
After an amazing tea and tons of breads and butters, we headed into Tracey's kitchen to learn all about traditional Irish breads from her and her chef!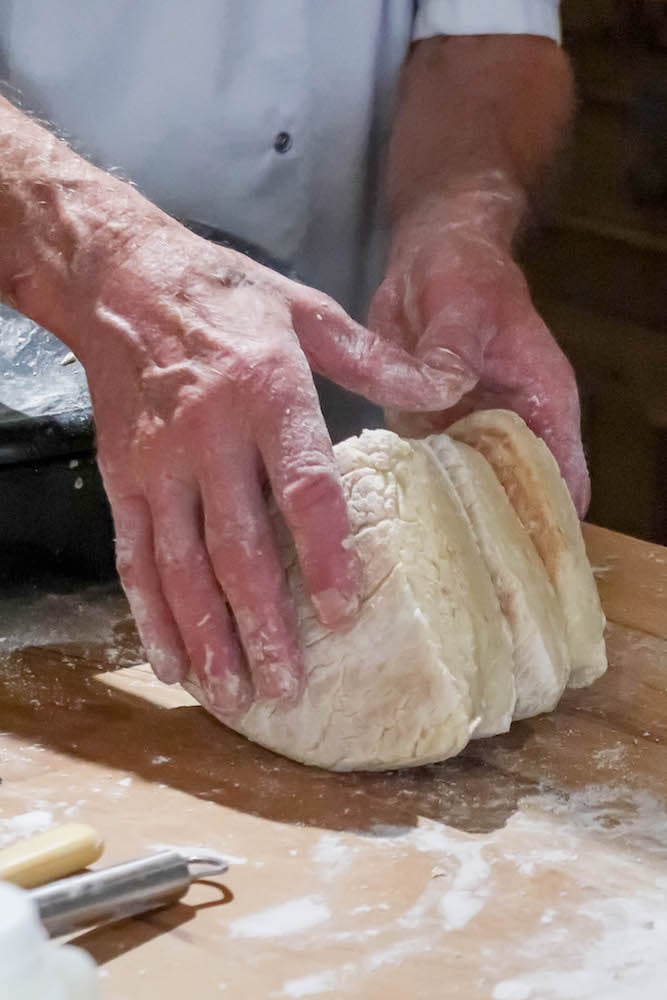 They made two varieties, and then had us try our hand at some.
It was so easy and fun to make our own breads (everyone had a skillet to cook on, and everyone got to try either potato bread or soda bread – such a fun and hands on way to connect with one of Ireland's most loved and treasured foods!)
When we were done, we got to sample out Irish Potato Bread that we made and even got to bring a bunch back to the ship with us!
Tracey even had us sample some of her homemade goods like an outstanding fruit infused Gin, butters, and fruit from her yard!
It was honestly one of the best shore excursions I've ever done – and if you're on a Princess Cruise to the British Isles (which I HIGHLY recommend), a can't miss Belfast excursion for me!
What is Irish Soda Bread
One of the best parts of the shore excursion was learning about Irish Soda Bread and why it's so important in Ireland – as well as what soda bread is!
Soda bread can sound a little funny- but it's just bread from self rising flour (or flour with baking soda already added.)
There are a couple of other ingredients you can add to make the bread your own or to make it have different flavors and textures.
More Delicious Bread Recipes
These delicious breads are some of my favorites, try them next:
Click here to see all our bread recipes!
The Best Irish Brown Soda Bread Recipe
If you love The Best Irish Brown Soda Bread Recipe as much as I do, please write a five star review, and be sure to help me share on facebook and pinterest!
CONNECT WITH SWEET C'S!
Be sure to follow me on social media, so you never miss a post!
Only have 30 minutes to get dinner on the table? Sign up for my 30 minute dinner plans direct to your inbox!
Find and shop my favorite products in my Amazon storefront here!
Best Easy Irish Brown Soda Bread
This Is The Best Easy Irish Brown Soda Bread Recipe - delicious easy brown soda bread with simple ingredients, a light and moist crumb, and goes great with creamy butter and jam for a great quick Irish bread recipe! 
Ingredients
4 cups King Arthur Irish-style wholemeal flour, or substitute whole wheat flour
3 tbsp sugar
2 tsp salt
1 tsp baking soda
1 1/2 cups buttermilk
2 tbsp butter, melted
Instructions
Preheat oven to 400 degrees F.
Mix dry ingredients in a large bowl, stirring to combine well.
Make a well in the center and pour in the buttermilk and melted butter.
Bring the dough together with a fork until it is damp and some flour remains in the bottom of the bowl.
Dump the dough and excess flour onto a clean counter and knead together, about 5 to 10 times, until it's a solid mass and holds its shape (It's OK if some flour remains on the counter).
Transfer the dough to a greased sheet tray and cut a cross shape into the dough with your knife.
Place in a 400 degree F oven and bake for 10 minutes.
Rotate pan and turn the oven down to 375 degrees F and continue baking for 30 minutes, or until the outside is nicely browned, it sounds hallow when you tap it, and a cake tester comes out clean.
Let cool on a wire rack for 5 minutes, then slice and serve with rich Irish butter and jam.
This bread is best right out of the oven and will only stay fresh for 2-3 days, perfect for a weekend.
To enjoy the next day, reheat in the oven until warmed through. Or, you can freeze the bread wrapped tightly in plastic then wrapped in foil for up to 3 weeks.
Recommended Products
As an Amazon Associate and member of other affiliate programs, I earn from qualifying purchases at no extra expense to you.
Nutrition Information
Yield

8
Serving Size

1
Amount Per Serving
Calories

317
Total Fat

5g
Saturated Fat

2g
Trans Fat

0g
Unsaturated Fat

2g
Cholesterol

9mg
Sodium

850mg
Carbohydrates

61g
Fiber

8g
Sugar

7g
Protein

11g