Easy Lemon Garlic Baked Cod Recipe
Apr 05, 2022, Updated Jun 01, 2023
Easy Lemon Garlic Baked Cod Recipe – deliciously easy-baked cod filets with just a few simple ingredients that help this light, flaky, and mild fish go over the top with melt in your mouth flavor.
Don't want all the extras in a recipe post? We provide a skip to recipe button in the top left corner, as well as a clickable table of contents, just below, to help make this page easier to navigate.
Easy Baked Lemon Cod
One of my favorite easy healthy dinners will always be baked fish – it is light, full of flavor, and so easy.
Baked cod is especially easy and delicious – cod is a lighter fish with less fat than some fishes, it flakes beautifully, and it has a mild non-fishy flavor.
Most people know cod from fish and chips – but it is fabulous baked in the oven because of it's fast cooking and flaky texture.
If you are worried about fishy flavor, cod is a great fish to choose because it has a light, buttery flavor and is generally not a "fishy" fish.
Cod's flavor is so light, it is the go-to choice for fish and chips, fish frys, and is fabulous baked.
How To Bake Lemon Garlic Cod
I love to bake cod because it is fast and easy – with proper cooking temperatures and times. If you cook fish for too long, or at a wrong temperature, it can quickly overcook, resulting in a dry, flavorless fish.
These steps will help you find the right temperature to cook your fish at, every time.
Preheat your oven to 450 degrees for a thicker cod fillet, or 350 degrees for a dressed fish.
Rinse cod and pat dry with a paper towel. Make sure there is no extra liquid on the fish to help ensure it cooks properly.
Place your fish in a single layer in a well prepared pan or baking dish. I like to use olive oil or coconut oil cooking spray to prevent the fish from sticking – or a little bit of garlic butter!
Brush fish with some kind of fat or sauce (butter, olive oil, or a sauce like the tomato and caper sauce I use in my Tuscan Baked Fish) to help keep fish moist and flavorful.
Season with herbs, spices, and aromatics.
For these baked cod filets, weigh your filets and plan to bake fish at 350 degrees for 6-9 minutes for every out ounces.
Watch fish very carefully as it cooks to check for opaqueness to be sure fish doesn't overcook.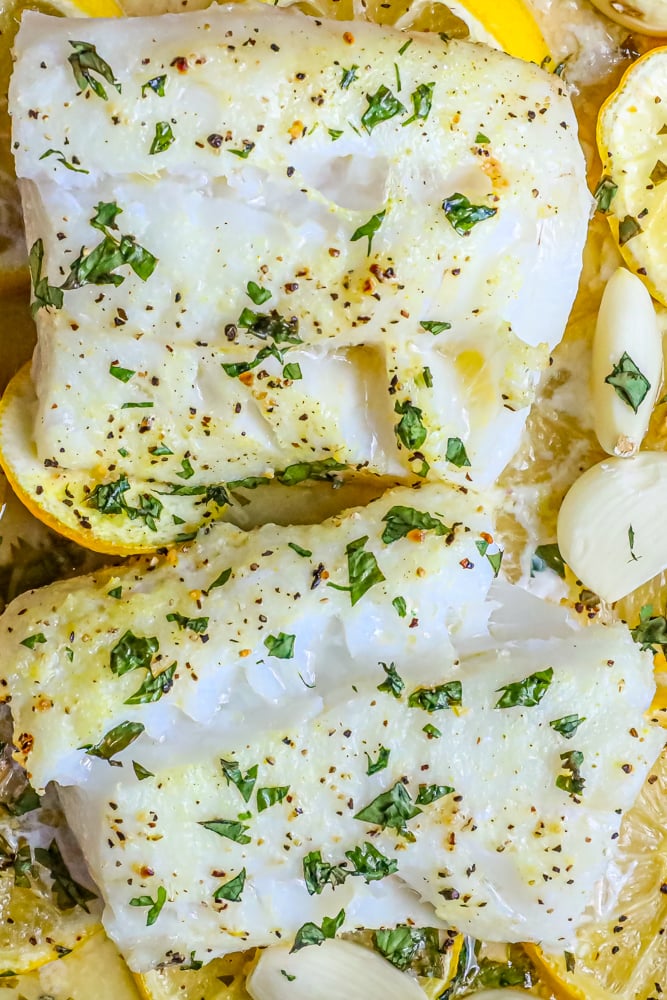 Tips and Tricks to Perfect Lemon Garlic Baked Cod & FAQs
Since cod is a widely available fish, you can find fresh or fresh frozen fish at almost every grocery store or fishmonger – it is one of the most popular fish in America and abroad, so it is easy to find.
How to reduce fishy smells. If you've had fishy cod, and are trying to get the best flavor, please consider some of my tips below to cut down on fishy smell and flavor:
Rinse fish with cold water. Fish can collect bacteria and get a fishy smell in your refrigerator – if your fish has a slightly fishy smell, you can rinse it with COLD water to help rinse away the smell. Pat fish dry before cooking. Do not rinse fish with hot water, as it will start to cook the fish.
Soak fish in milk. It sounds totally weird, but soaking fish in milk for 20 minutes takes away any fishy smell. Pat dry before cooking.
Use acid. Lemon juice is one of the most flavorful and fragrant ways to take away any fishy smell. We're using lemon in this recipe to pull out the light, sweet flavor of baked cod – and reducing the fishy smells.
Know when cod is cooked. Cod is cooked at 145 degrees – but thankfully it is an is an easy fish to tell when it is done by sight and an easy method called the flake test without a thermometer.
Do the flake test. To do the flake test, simply poke your fork into the thickest part of your fish at a 45 degree angle. Gently twist your fork and pull up some fish. To tell by the look of the fish, look for how translucent or opaque the fish looks.
Tell if it's done by the look. Fish that is not done cooking will still look a little translucent, and won't flake with with light twisting. Fish that is fully cooked will be bright white and fully opaque. These methods work to tell when cod is done using any method – grilling, baking, frying, or poaching.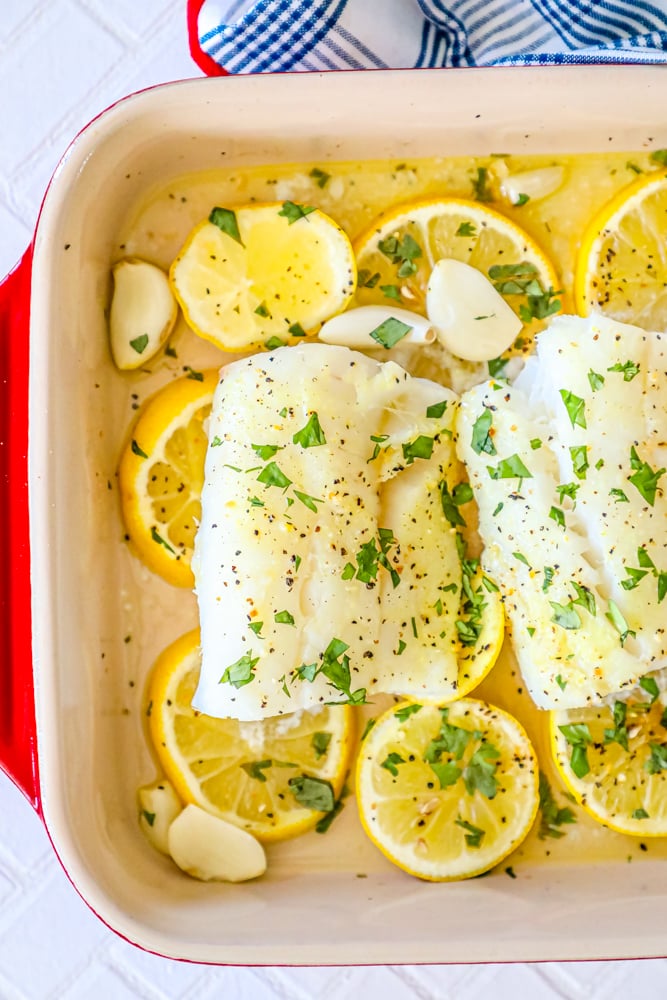 Recipe FAQs
When is cod cooked?
Cod is fully cooked at 140-145 degrees Fahrenheit.
What does cod look like when it is done cooking?
To tell if your fish is done, poke the thickest part of the fish with the tines of your fork. Fully cooked fish will flake easily when it's done and it will lose its translucent or raw appearance – it will become white/red or opaque.
How long does cod take to bake?
A typical cod filet will take 15-20 minutes to bake to be fully cooked at 350 degrees Fahrenheit.
What temperature should I bake cod at?
Cod can bake at 350-375 degrees Fahrenheit so it cooks quickly without drying out.
How can I store this recipe?
Store any leftover cod in an airtight container in the refrigerator for up to three days, or frozen for up to four months.
My cod smells a bit fishy, how can I reduce the smell?
If your fish is fresh, but you're very sensitive to fishy smells, try soaking your cod filets in milk before cooking. Remove from milk and pat dry, then cook as directed.
What to Serve With Baked Cod
If you're looking for the best side dishes to serve with baked cod, I have my favorites lined up – classics like the best rice pilaf or easy roasted asparagus, as well as low card sides like cauliflower rice and pan fried broccolini.
Easy Lemon Garlic Baked Cod Recipe
If you love this lemon baked cod recipe as much as I do, please give it a five star review (simply click the stars in the recipe below!) and help me share on Facebook and Pinterest.
CONNECT WITH SWEET C'S!
Be sure to follow me on social media, so you never miss a post!
Only have 30 minutes to get dinner on the table? Sign up for my 30 minute dinner plans direct to your inbox!
Find and shop my favorite products in my Amazon storefront here!
Easy Lemon Garlic Baked Cod Recipe
Easy Lemon Garlic Baked Cod Recipe - a keto low carb baked cod fish with tons of lemon garlic butter flavor in just 20 minutes and one dish!
Ingredients
2 cod fillets (around 8 oz each)
1 lemon, sliced into thin circles + any juice that is left from slicing lemons.
2 tbsp butter
6 cloves garlic
1 tsp Italian seasoning
1/2 tsp kosher sea salt
1/2 tsp pepper
Instructions
Preheat oven to 450 degrees so oven is hot when fish is placed in (cooking temperature will be 350 degrees).
Pat fish dry and season with herbs.
Prepare baking dish by spraying with coconut oil or cooking spray.
Layer lemon slices along bottom of dish.
Arrange fish in baking dish on top of sliced lemons.
Add garlic to dish.
Reduce temperature to 350 and bake at 350 degrees for 10-12 minutes, or until fully cooked.
When fish is 140 degrees internal temperature, or looks fully opaque and flakes when a fork is inserted and lightly twisted, fish is fully cooked.
Remove from pan and serve.
Recommended Products
As an Amazon Associate and member of other affiliate programs, I earn from qualifying purchases at no extra expense to you.
Nutrition Information
Yield

4
Serving Size

1
Amount Per Serving
Calories

198
Total Fat

7g
Saturated Fat

4g
Trans Fat

0g
Unsaturated Fat

2g
Cholesterol

65mg
Sodium

444mg
Carbohydrates

14g
Net Carbohydrates

0g
Fiber

1g
Sugar

8g
Sugar Alcohols

0g
Protein

21g
Nutrition is automatically calculated by Nutritionix - please verify all nutrition information independently and consult with a doctor or nutritionist for any and all medical and diet advice.