These falls of the bone BBQ smoked tender pork ribs are incredibly rich and will keep you coming back for more. These are our favorite for picnics and cookouts!
Don't want all the extras in a recipe post? We provide a skip to recipe button in the top left corner, as well as a clickable table of contents, just below, to help make this page easier to navigate.
The Best BBQ Smoked Pork Ribs Ever
Today Luke is sharing his method for the best smoked pork ribs ever – delicious, smoky, slightly sweet and a touch spicy rib that are fall-off-the-bone good, and full of flavor.
The secret here is the method – slow and low – and your attention to detail. Also be sure to trim off the silver skin underbelly from the ribs to get the best texture and flavor- and really be sure to not overcook, so the meat doesn't dry up. You want to render the fat, but not completely cook it off!
How to make BBQ Smoked Pork Ribs
To make this recipe, you'll need:
Pork ribs – pork is high in fat and flavor so make sure you trim any extra fat.
Charcoal and wood for smoking – I like to smoke with oak, pecan, fruit wood, or mesquite, use lump charcoal.
Rub seasonings – for this I use garlic powder, onion powder, season salt, ground pepper, paprika, chili powder, cumin, celery salt, cinnamon, cardamom. You can add or omit spices as you choose. 
Beer – I like to use a hoppy beer but use whatever you like. 
Apple cider vinegar – vinegar adds an acidic bite that helps tenderize the meat and add a nice bite to the sauce.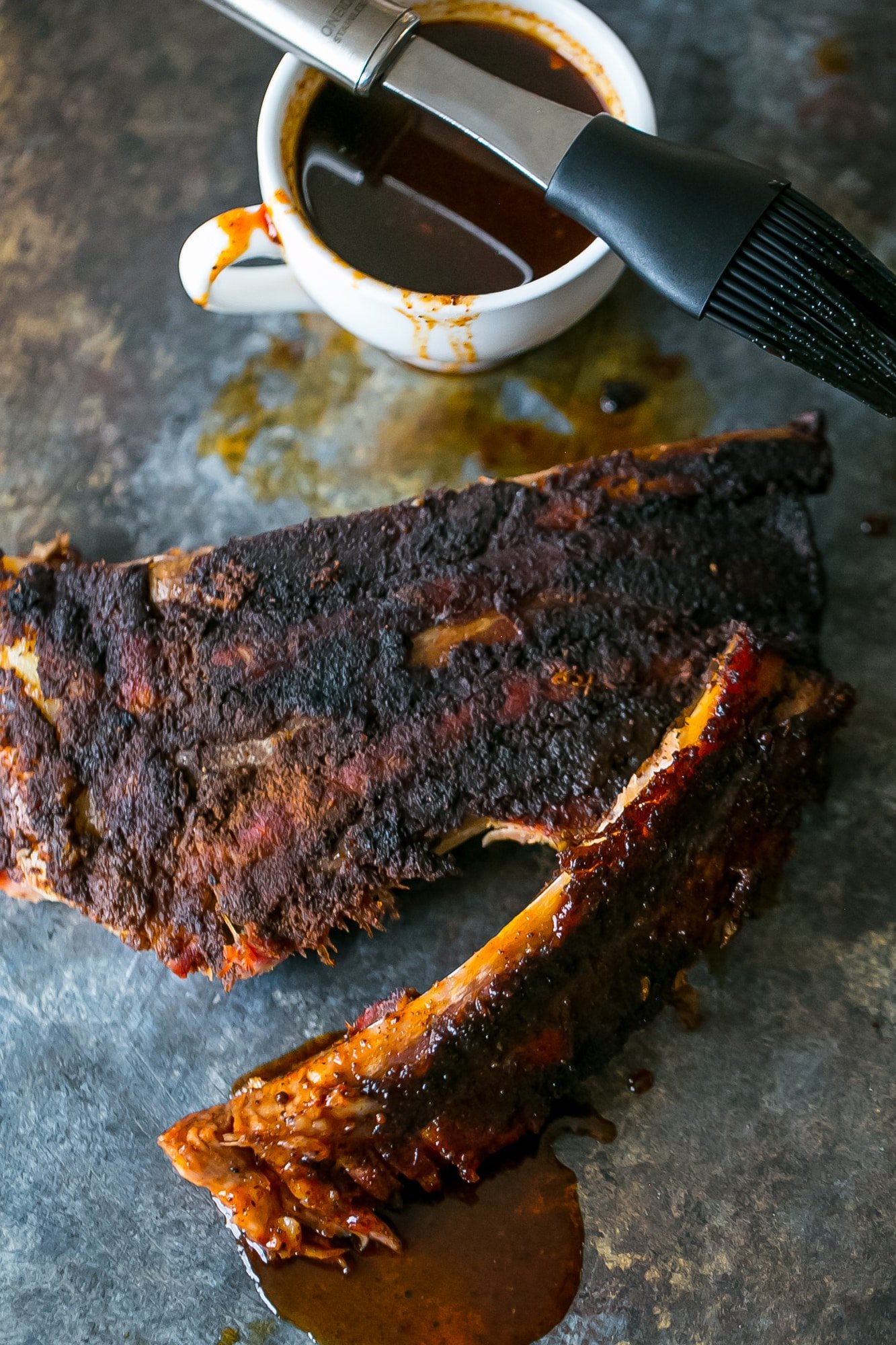 Once you have assembled the ingredients, we will use the following method
Prep the meat. Remove the pork from packaging, rinse and pat dry with paper towels. Mix the spices for the rub. Apply 3/4 of the rub to the pork ribs and refrigerate overnight. Set the other rub aside for the mop sauce.
Prep for smoking. Remove the ribs from the refrigerator and let come to room temperature. Prep the smoker to about 250 degrees. Mix the remaining dry run with the beer and apple cider vinegar for the mop sauce.
Smoke. Set the ribs on the smoker and mop with the mop sauce using a silicone brush every 40 minutes or so. Rotate the meat every hour to ensure they get heated evenly. It should take about 4 to 5 hours for the meat to come to 195 degrees.
Let meat rest. Remove the rubs from the oven and let rest for about 30 minutes to let the juice settle. Enjoy!
Tips and Tricks to perfect BBQ Smoked Pork Ribs
Don't use lighter fluid or compressed charcoal briquettes.  I find that they leave a petroleum taste on the meat. 
I like to use a silicone basting brush for mopping. The inexpensive fiber brushes that are commonly sold at big-box stores begin to come apart quickly and, in my experience, often shed bristles on the meat. 
FAQs
Should I pre-boil my ribs?
Some people love to boil ribs and I am a fan sometimes. It is nice if you want fall of the bone ribs but don't smoke them very long since they will already be cooked.
Can I use different meat?
Yes, you can use beef ribs for this recipe with very similar results.
What to serve with BBQ Smoked Pork Ribs
Check out some of our favorite BBQ sides here:
Try our other amazing BBQ recipes here!
The Best Dry Smoked Pork Ribs Ever Recipe
If you love this easy recipe please click the stars below to give it a five star rating and leave a comment! Please also help me share on facebook and pinterest!
CONNECT WITH SWEET C'S!
Be sure to follow me on social media, so you never miss a post!
Facebook | Twitter | Youtube | Pinterest | Instagram
Only have 30 minutes to get dinner on the table? Sign up for my 30 minute dinner plans direct to your inbox!
Find and shop my favorite products in my Amazon storefront here!
Yield:

12
The Best BBQ Smoked Pork Ribs
Total Time:
1 day
5 hours
15 minutes
Ingredients
8 lb pork ribs
lump charcoal
wood for smoking, oak, pecan, fruit wood, or mesquite
2 TBSP garlic powder
2 TBSP onion powder
2 TBSP season salt
2 TBSP ground pepper
3 TBSP paprika
3 TBSP chili powder
2 TBSP cumin
2 TBSP celery salt
2 TBSP cinnamon
2 TBSP cardamom
8oz beer
2 cups apple cider vinegar
Instructions
Mix the salt and spices together in a bowl.
Remove pork from packaging, rinse and pat dry with paper towels.
Trim off excess fat and score skin at this point. You do want to keep about 1/4" of fat on the top called the fat cap. As your meat slowly cooks, this will melt and keep the meat moist.
Apply 3/4 of the rub massaging the meat slightly, refrigerate overnight. Put the other 1/4 of the rub aside. Soak wood chips or blocks overnight in water.
Next morning remove meat from refrigerator and let come to room temperature for about an hour.
Prepare lump charcoal in smoker using newspaper and charcoal chimney.
While the coals come to temperature (you are aiming for 250F), combine any remaining rub with the apple cider vinegar and beer to create the mop sauce.
When coals are glowing and grey, add the ribs to the smoker. Keep the meat as far from the fire as possible. If you have a barrel smoker with a fire box, keep on the opposite side of the grill surface from the fire box. If you have a conventional smoker or Weber-style kettle grill, build small fire on one side of kettle and keep meat on the other side.
Add handful of wet wood chips/block to fire. Cover and let cook approximately 4 or 5 hours.
You'll need to check the meat every 40 minutes and mop the meat with the mop sauce.
Rotate your meat every hour to ensure that all sides get even exposure to the heat and smoke. This is particularly important if you're using a conventional kettle grill for your smoking.
Use an outdoor temperature probe to track the internal temperature of your meat. After several hours, your meat may "stall" around 150F. I usually keep smoking mine. You can wrap it in foil with a cup of mop to finish. It should take 4 to 5 hours to cook.
You're shooting for your meat to get to 195F. Remove from the grill, wrap in foil and let rest about 30 minutes.
Recommended Products
As an Amazon Associate and member of other affiliate programs, I earn from qualifying purchases at no extra expense to you.
Nutrition Information
Yield
12
Serving Size
1
Amount Per Serving
Calories

850
Total Fat

94g
Saturated Fat

28g
Trans Fat

1g
Unsaturated Fat

42g
Cholesterol

318mg
Sodium

2117mg
Carbohydrates

10g
Fiber

3g
Sugar

2g
Protein

65g
Nutrition is automatically calculated by Nutritionix - please verify all nutrition information independently and consult with a doctor or nutritionist for any and all medical and diet advice.
Sweet C's Favorites
If you love this recipe, please check out some of our top posts!
These tried and true reader favorites are well loved for their family friendly flavor that everyone loves!
Sweet C's Favorite Recipes
Favorite recipes from Sweet Cs Designs