The Best Easy Sautéed Squash and Zucchini Recipe - delicious keto sautéed squash and zucchini - perfect alongside any dinner.
Don't want all the extras in a recipe post? We provide a skip to recipe button in the top left corner, as well as a clickable table of contents, just below, to help make this page easier to navigate.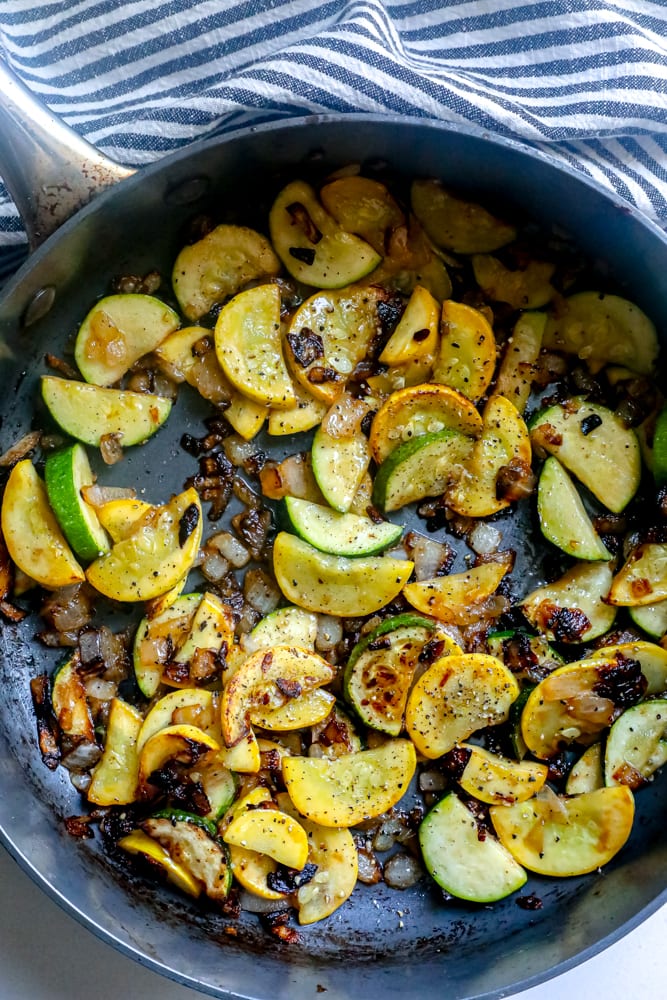 Pan Fried Zucchini and Summer Squash
If you have tons and tons of zucchini from your garden every year, you're probably wondering what you can do with all the extra vegetables.
This easy sauteed zucchini and summer squash recipe is one of my favorite easy keto side dishes - it is loaded with flavor, takes less than 15 minutes to make, and pairs with just about any dinner.
You can make it completely vegan (I do like to use butter, but you can easily swap for olive oil - we do often), you can add different herbs or spices that you like, and you can add it into salads, tacos, burritos, pastas, sandwiches, pasta salads, soups, and more!
These are seriously the most delicious sautéed vegetables and so quick - you'll crave this side every night! And don't forget to check out one of my oldest and most loved recipes on Sweet C's - my easy grilled zucchini and yellow squash recipe.
This dish is perfect for summer dinners alongside ribs, brisket, and even pork tenderloin!
I love to serve squash sauté with fruit and chicken salads, rice pilaf, and pan fried broccolini to fill out healthy dishes for meals.
Check out my web story about this simple dish!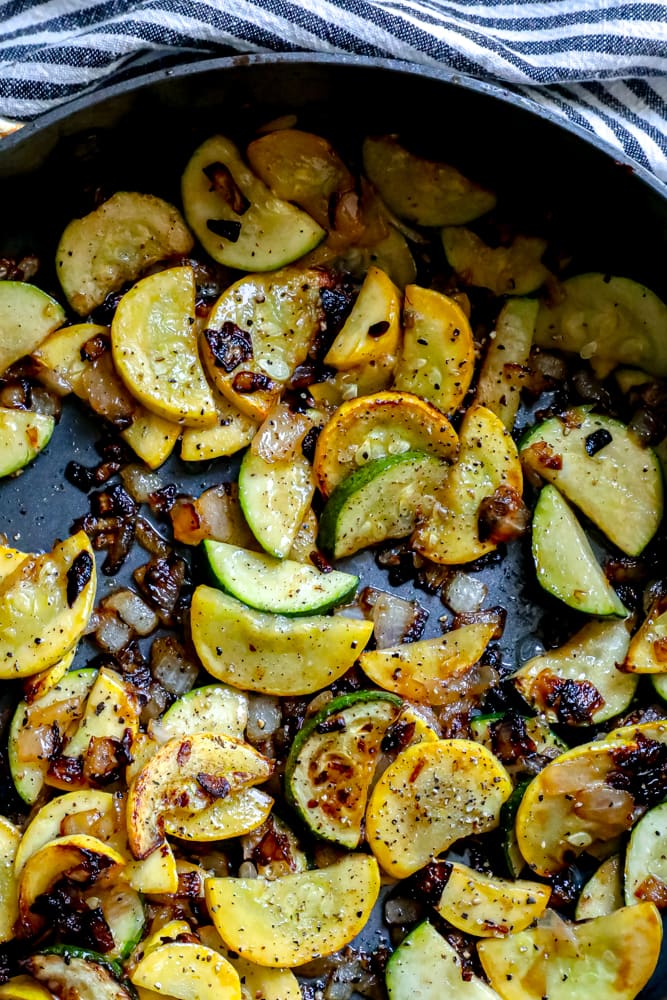 How to Make Sautéed Zucchini and Squash
To make this recipe, you will need:
3 tablespoon Salted Butter (or 3 tablespoon Olive or Avocado Oil for Vegan):

Butter adds a rich, creamy flavor to the dish, but you can use olive or avocado oil for a vegan version. The fat in the butter or oil helps cook and flavor the vegetables, and it provides a nice base for sautéing.

½ White or Yellow Onion, Diced:

Onions contribute a sweet and savory flavor to the dish. They also add a pleasant aroma and a bit of texture to the sautéed vegetables.

4 Cloves Garlic, Diced:

Garlic provides a strong, aromatic flavor that complements the mild sweetness of the zucchini and squash. It's a key seasoning ingredient in many dishes.

1 Summer Squash, Halved and Cut into Half Moons:

Summer squash adds a tender, mild flavor to the dish. It contributes to the overall texture and color variety. Yellow or green summer squash can be used.

1 Zucchini Squash, Halved and Cut into Half Moons:

Zucchini has a slightly different flavor and texture compared to summer squash but complements it well. It adds a delicate, slightly nutty taste and contributes to the visual appeal of the dish.

1 teaspoon Celtic Sea Salt:

Salt is essential for enhancing the natural flavors of the vegetables. Celtic sea salt, in particular, is known for its slightly briny taste and mineral complexity.

1 teaspoon Fresh Cracked Black Pepper:

Black pepper adds a mild, spicy heat and a depth of flavor to the sautéed vegetables. Freshly cracked pepper has a more vibrant flavor than pre-ground pepper.

1 teaspoon Italian Herbs:

Italian herbs typically include a blend of herbs like basil, oregano, thyme, and rosemary. They provide an Italian-inspired flavor profile with herbal notes that complement the vegetables. It adds complexity and depth to the dish's taste.
After you gather your ingredients, we will use this method:
For this recipe, we're making zucchini half-moons.
Cutting zucchini and summer squash into half moons creates more surface area so your squash can brown all over.
Creating more browning - the maillard reaction that creates a rich flavor from caramelized sugars in vegetables that is so amazing on zucchini - brings so much flavor to this dish.
Wash zucchini and summer squash thoroughly, pat dry.
Slice tops and bottoms off.
Cut zucchini and squash in half, lengthwise.
Lay flat sides on cutting board, and slice thin half moons, about ½" thick.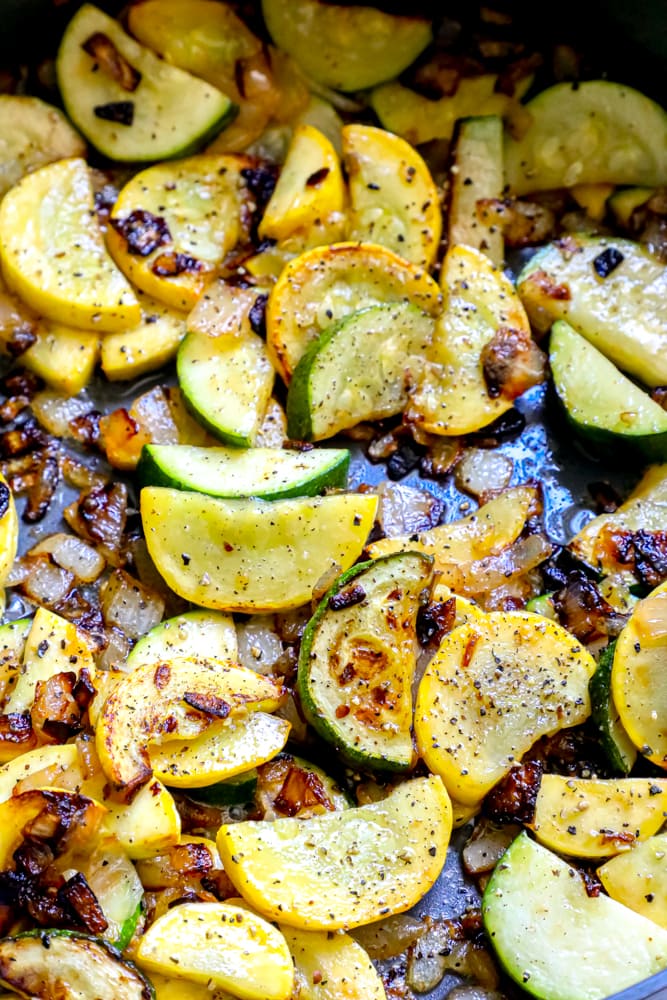 Tips and Tricks For Perfect Sautéed Zucchini and Squash & FAQs
Pick the right zucchini: If you're wondering what zucchini or summer squash to pick for a flavorful sauteed side dish, remember to opt for smaller, softer vegetables. As zucchini and summer squash grow, they take on more water and swell - losing some flavor. Too-big zucchini and squash also have many more flavorless seeds, and the skin can become tougher and too chewy.
Choose Fresh Vegetables: Select fresh, firm zucchini and summer squash with vibrant colors. Avoid ones that are overly soft or have blemishes.
Even Slicing: Ensure that you slice the zucchini and squash into uniform half moons or slices. This ensures even cooking.
Preheat the Pan: Preheat your sauté pan over medium-high heat before adding the butter or oil. A hot pan helps prevent the vegetables from becoming soggy.
Use the Right Pan: Use a wide, shallow skillet or sauté pan with plenty of surface area. This allows for even cooking and quick evaporation of moisture.
Don't Overcrowd the Pan: Avoid overcrowding the pan with too many vegetables. Cook them in batches if necessary. Overcrowding can lead to steaming instead of sautéing, resulting in soggy vegetables.
Dry the Vegetables: Pat the sliced zucchini and squash dry with paper towels before adding them to the hot pan. This helps remove excess moisture, promoting browning and preventing sogginess.
Use High Heat: Sauté the vegetables over medium-high to high heat. High heat allows for quick cooking and caramelization, which adds flavor.
Stir Occasionally: Stir the vegetables occasionally to ensure even cooking and browning. Use a spatula to flip them gently.
Season Gradually: Add the salt, pepper, and Italian herbs gradually, tasting as you go. You can always add more seasoning, but you can't take it away.
Add Garlic and Onion Carefully: Add the diced garlic and onion a minute or two before the zucchini and squash are done. Overcooking them can lead to a bitter taste.
Cook Until Golden Brown: Sauté the zucchini and squash until they turn golden brown on the edges but are still tender-crisp. Overcooking can result in mushy vegetables.
Serve Immediately: Transfer the sautéed zucchini and squash to a serving dish as soon as they're done. This prevents them from continuing to cook in the hot pan.
Garnish as Desired: Consider adding a finishing touch, such as a sprinkle of fresh herbs like basil or parsley, a squeeze of lemon juice, or a sprinkle of grated Parmesan cheese for extra flavor.
How to store and reheat: If you make a lot of this delicious pan fried zucchini and squash recipe and want to save it for later, follow the instructions to refrigerate and reheat below:
Store leftovers. To store leftovers, place in an airtight container or plastic bag and remove as much excess air as possible. Refrigerate immediately and keep for up to four days. Sautéed zucchini does not freeze very well - it can turn to mush when reheating - so I try to eat up extras from the refrigerator for best results.
Reheat Cooked Zucchini. In a hot pan with 1 tablespoon olive oil, add leftovers to pan and toss until piping hot. Great mixed with hash browns, noodles, rice, or my loaded home fries recipe!
FAQs
How do I prevent my zucchini and squash from becoming mushy when sautéing?
To avoid mushiness, make sure not to overcrowd the pan, use high heat, and don't overcook the vegetables. Sauté them until they are golden brown on the edges but still tender-crisp.
Can I prepare sautéed zucchini and squash ahead of time?
While it's best to serve them immediately for the best texture, you can prepare them a little ahead and keep them warm in a low oven. However, they may lose some of their crispiness.
How do I store leftover sautéed zucchini and squash?
Store leftovers in an airtight container in the refrigerator for up to 2-3 days. Reheat in a pan over low heat or in the microwave, but note that they may not be as crisp when reheated.
Can I freeze sautéed zucchini and squash?
Freezing is not recommended for sautéed zucchini and squash as they tend to become mushy when thawed and reheated.
Can I use different seasonings or spices for variety?
Absolutely! Feel free to experiment with different seasonings or spices to suit your taste. Try adding paprika, red pepper flakes, or even a squeeze of lemon juice for variety.
What's the best type of pan to use for sautéing zucchini and squash?
A wide, shallow skillet or sauté pan with a non-stick surface is ideal for sautéing. It allows for even cooking and browning.
Can I sauté zucchini and squash without oil or butter?
Yes, you can sauté them without oil or butter, but you may miss out on some flavor. You can use a small amount of vegetable broth or water for a lighter option.
Are there any alternative cooking methods for zucchini and squash?
Yes, you can grill, roast, or even stir-fry zucchini and squash for different flavor profiles and textures.
What are some serving suggestions for sautéed zucchini and squash?
They make a great side dish for various proteins like chicken, fish, or tofu. You can also toss them with pasta or serve them on top of a salad.
Can I use frozen zucchini and squash for sautéing?
It's best to use fresh zucchini and squash for sautéing, as frozen ones may release more moisture when cooked, affecting the texture.
What to Serve With Sautéed Zucchini and Squash
If you love this easy sautéed zucchini and squash recipe, be sure to check out my other favorite recipes with summer squash and zucchini! Favorites like zucchini chips and zucchini pizzas are always a big hit even with picky eaters!
We love to serve zucchini alongside rich, hearty main dishes like hot and fast smoked brisket, grilled flanken ribs, ribeye roast, pork tenderloin, and spaghetti pie - since zucchini is light, it makes a great healthy side to just about any meaty main dish!
The Best Easy Sautéed Squash and Zucchini Recipe
If you love this recipe as much as we do, please give it a five star review and help me share on facebook and pinterest.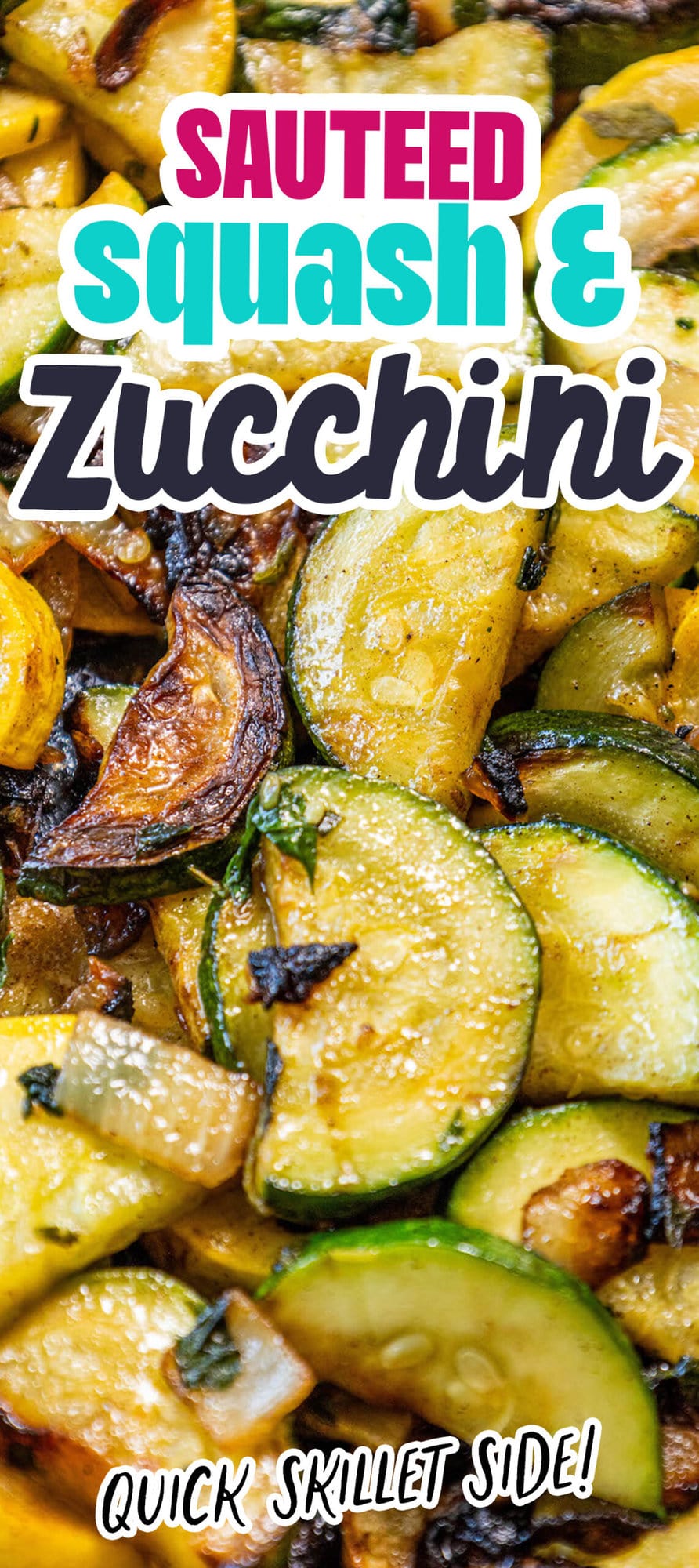 CONNECT WITH SWEET C'S!
Be sure to follow me on social media, so you never miss a post!
Facebook | Twitter | Youtube | Pinterest | Instagram
Only have 30 minutes to get dinner on the table? Sign up for my 30 minute dinner plans direct to your inbox!
Find and shop my favorite products in my Amazon storefront here!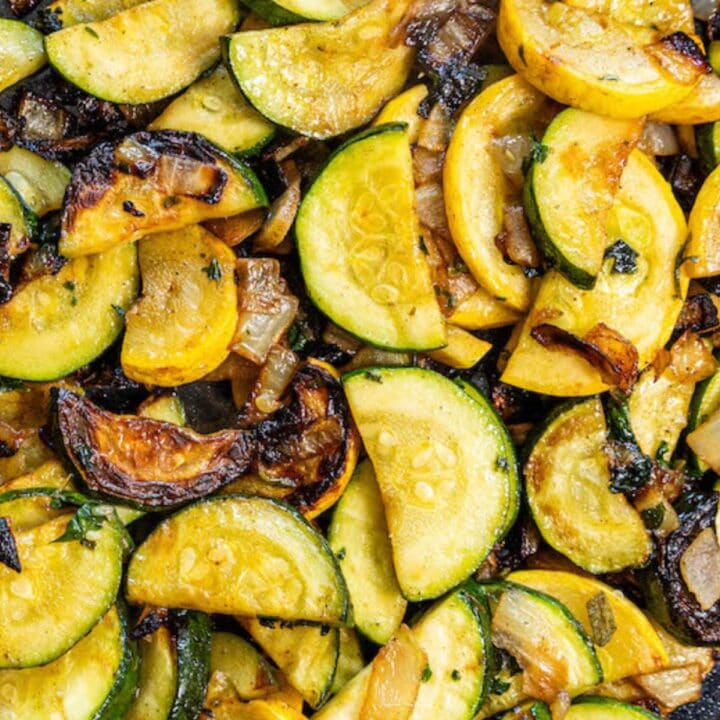 Yield:

4
Easy Sauteed Zucchini and Squash Recipe
Easy Sautéed Squash and Zucchini Recipe with onions and butter for a rich and delicious keto side dish the whole family loves.
Ingredients
3 tablespoon salted butter (for vegan, swap for 3 tablespoon olive or avocado oil)
½ white or yellow onion, diced
4 cloves garlic, diced
1 summer squash, halved and cut into half moons
1 zucchini squash, halved and cut into half moons
1 teaspoon celtic sea salt
1 teaspoon fresh cracked black pepper
1 teaspoon italian herbs
Instructions
Add butter (or olive oil) to heavy nonstick pan and heat over medium high heat until melted and foamy.
Add onion and garlic to pan and cook 5 minutes, stirring occasionally to prevent burning.
When onion is slightly browned and fragrant, add zucchini to pan and season well with salt, pepper, and herbs.
Sauteé until softened and browned, another 8-10 minutes.
Serve immediately.
Nutrition Information
Yield
4
Serving Size
¼ cup
Amount Per Serving
Calories

113
Total Fat

9g
Saturated Fat

6g
Trans Fat

0g
Unsaturated Fat

3g
Cholesterol

23mg
Sodium

654mg
Carbohydrates

8g
Fiber

2g
Sugar

4g
Protein

2g
Nutrition is automatically calculated by Nutritionix - please verify all nutrition information independently and consult with a doctor or nutritionist for any and all medical and diet advice.