The Best Easy Sautéed Squash and Zucchini Recipe - delicious keto sautéed squash and zucchini - perfect alongside any dinner.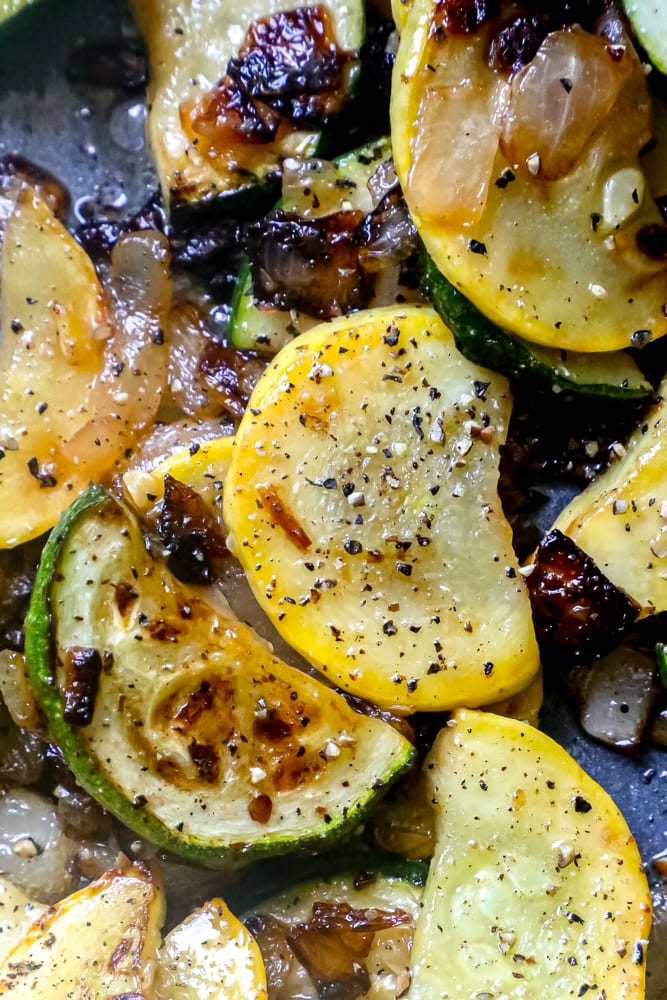 If you have tons and tons of zucchini from your garden every year, you're probably wondering what you can do with all the extra vegetables.
This easy sauteed zucchini and summer squash recipe is one of my favorite easy keto side dishes - it is loaded with flavor, takes less than 15 minutes to make, and pairs with just about any dinner.
You can make it completely vegan (I do like to use butter, but you can easily swap for olive oil - we do often), you can add different herbs or spices that you like, and you can add it into salads, tacos, burritos, pastas, sandwiches, pasta salads, soups, and more!
These are seriously the most delicious sautéed vegetables and so quick - you'll crave this side every night!
And don't forget to check out one of my oldest and most loved recipes on Sweet C's - my easy grilled yellow squash recipe.
This dish is perfect for summer dinners alongside ribs, brisket, and even pork tenderloin!
I love to serve squash sauté with fruit and chicken salads, rice pilaf, and pan fried broccolini to fill out healthy dishes for meals.
Check out my web story about this simple dish!
Here at Sweet C's, we have lots of types of readers - those who like to get straight to the recipe, and those who would like more information, including tips and tricks to feeling more comfortable in the kitchen.
We provide a skip to recipe button in the top left corner, as well as a clickable table of contents, just below, to help make this page easier to navigate.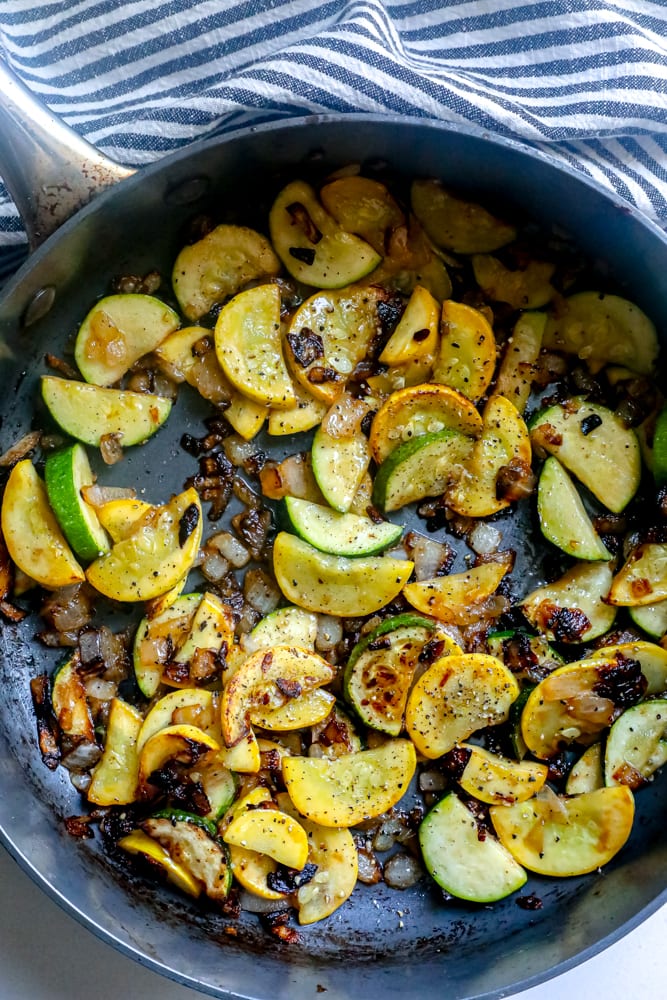 If you're wondering what zucchini or summer squash to pick for a flavorful sauteed side dish, remember to opt for smaller, softer vegetables.
As zucchini and summer squash grow, they take on more water and swell - losing some flavor.
Too-big zucchini and squash also have many more flavorless seeds, and the skin can become tougher and too chewy.
For this recipe, we're making zucchini half-moons.
Cutting zucchini and summer squash into half moons creates more surface area so your squash can brown all over.
Creating more browning - the maillard reaction that creates a rich flavor from caramelized sugars in vegetables that is so amazing on zucchini - brings so much flavor to this dish.
How to Cut Zucchini Half Moons
Wash zucchini and summer squash thoroughly, pat dry.
Slice tops and bottoms off.
Cut zucchini and squash in half, lengthwise.
Lay flat sides on cutting board, and slice thin half moons, about ½" thick.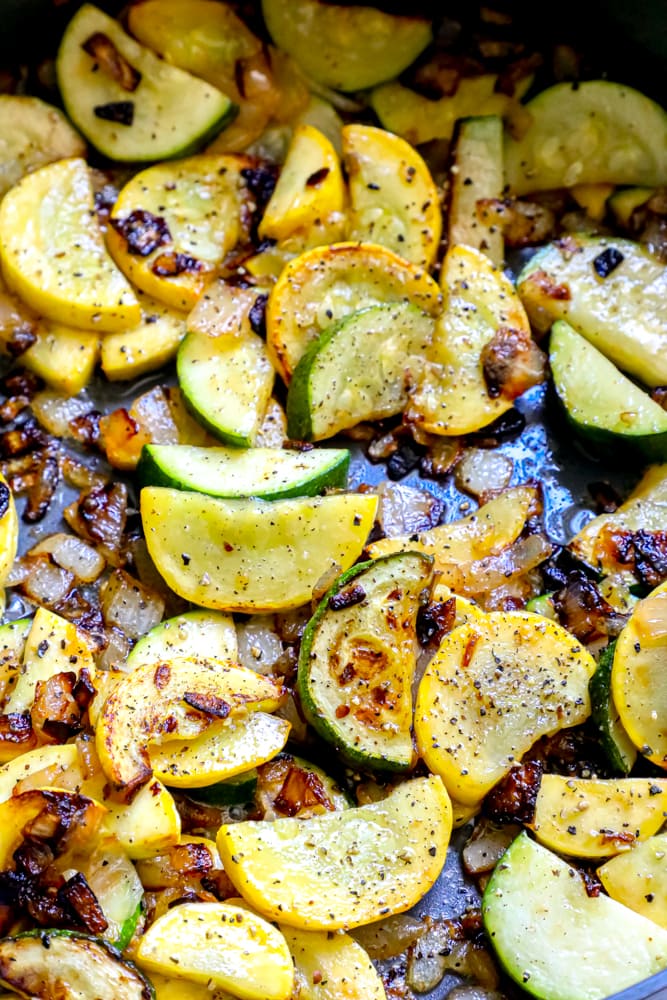 Zucchini and Squash Dishes You'll Love
If you love this easy sauteed zucchini and squash recipe, be sure to check out my other favorite recipes with summer squash and zucchini!
Favorites like zucchini chips and zucchini pizzas are always a big hit even with picky eaters!
Zucchini and Squash Recipes
How To Store and Reheat Cooked Zucchini and Squash
If you make a lot of this delicious pan fried zucchini and squash recipe and want to save it for later, follow the instructions to refrigerate and reheat below:
To store leftovers, place in an airtight container or plastic bag and remove as much excess air as possible.
Refrigerate immediately and keep for up to four days.
Sautéed zucchini does not freeze very well - it can turn to much when reheating - so I try to eat up extras from the refrigerator for best results.
In a hot pan with 1 tbsp olive oil, add leftovers to pan and toss until piping hot.
Great mixed with hash browns, noodles, rice, or my loaded home fries recipe!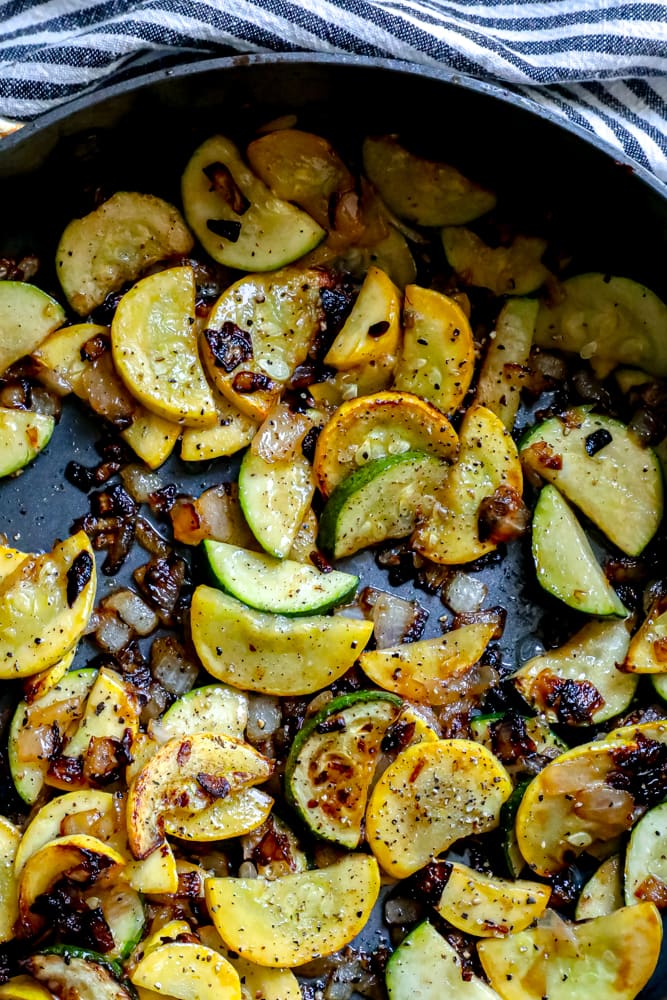 The Best Easy Sautéed Squash and Zucchini Recipe
If you love this recipe as much as we do, please give it a five star review and help me share on facebook and pinterest.
CONNECT WITH SWEET C'S!
Be sure to follow me on social media, so you never miss a post!
Facebook | Twitter | Youtube | Pinterest | Instagram
Only have 30 minutes to get dinner on the table? Sign up for my 30 minute dinner plans direct to your inbox!
Find and shop my favorite products in my Amazon storefront here!
Yield:

4
Easy Sauteed Zucchini and Squash Recipe
Easy Sautéed Squash and Zucchini Recipe with onions and butter for a rich and delicious keto side dish the whole family loves.
Ingredients
3 tbsp salted butter (for vegan, swap for 3 tbsp olive or avocado oil)
½ white or yellow onion, diced
4 cloves garlic, diced
1 summer squash, halved and cut into half moons
1 zucchini squash, halved and cut into half moons
1 tsp celtic sea salt
1 tsp fresh cracked black pepper
1 tsp italian herbs
Instructions
Add butter (or olive oil) to heavy nonstick pan and heat over medium high heat until melted and foamy.
Add onion and garlic to pan and cook 5 minutes, stirring occasionally to prevent burning.
When onion is slightly browned and fragrant, add zucchini to pan and season well with salt, pepper, and herbs.
Sauteé until softened and browned, another 8-10 minutes.
Serve immediately.
Nutrition Information
Yield
4
Serving Size
¼ cup
Amount Per Serving
Calories

113
Total Fat

9g
Saturated Fat

6g
Trans Fat

0g
Unsaturated Fat

3g
Cholesterol

23mg
Sodium

654mg
Carbohydrates

8g
Fiber

2g
Sugar

4g
Protein

2g
Nutrition is automatically calculated by Nutritionix - please verify all nutrition information independently and consult with a doctor or nutritionist for any and all medical and diet advice.
Sweet C's Favorite Recipes
If you love this easy zucchini and summer squash recipe, be sure to check out our other viral reader favorites!
Many are low carb and keto compliant, all are loaded with easy flavor the whole family will love!
Sweet C's Favorite Recipes
Favorite recipes from Sweet Cs Designs