Blackened Chicken Thighs with Garlic Butter Sauce
Blackened Chicken Thighs with Garlic Butter Sauce are easy, decadent, and so delicious - in one pot under 20 minutes!
Chicken thighs are one of the easiest, quickest, and most delicious chicken dinner options - and they are so budget-friendly, they are in often rotation in our house.
I love delicious butter-fried chicken thighs (I've been sticking to a super low carb diet, and they are so versatile and delicious, it is easy to stay on the diet with gorgeously rich food like this blackened chicken with garlic recipe) - and I LOVE anything with blackening spices.
The smoky, spicy, and salty blackening spices really pull out the rich and buttery flavor of chicken thighs for a decadent but incredibly easy one pot chicken dinner that is awesome alongside your favorite roasted vegetable, chopped up over salads, in sandwiches, or even in a spicy pasta (there's plenty of blackened butter sauce in this recipe to dump over noodles!)
Tips to Perfect Garlic Butter Sauce:
Since we're using blackening spices, and reducing the sauce, do NOT add extra salt. The sauce will be quite salty on it's own - do try to use unsalted butter and low-sodium chicken stock, as most blackening spices are quite salty on their own!
Toasting the blackening spices in the hot butter helps to bring out a deeper, richer, more buttery flavor - you don't want it to burn, but letting it develop in hot butter before adding stock gives the spices a lovely flavor you won't get if just dumping in after stock and boiling.
If you over-reduce your sauce, don't worry too much. Add a little water to thin it, or grab a heavy cream and whisk it in!

Tips to Perfect Blackened Chicken Thighs:
When cooking your chicken thighs, there are two steps - the browning, and the cooking to temperature.
These steps are equally important (well, ok, the cooking to temp is slightly more important because nobody wants salmonella...) - and shouldn't be rushed!
Browning the chicken before adding any of the ingredients for a sauce is critical for a lovely, buttery crunch to your chicken - and removing it while setting up the sauce gives the chicken a chance to rest and lock in juices before cooking the rest of the way in the sauce.
If you just make the sauce with the chicken in the pan, you'll end up just boiling it the rest of the way - which can result in a gummy, soggy texture.
Let your chicken get a quick timeout before sending it to the blackened garlic butter hot tub party 🙂 !
Blackened Chicken Thighs with Garlic Butter Sauce Recipe
Yield:

6
Blackened Chicken Thighs with Garlic Butter Sauce
Blackened Chicken Thighs with Garlic Butter Sauce are easy, decadent, and so delicious - in one pot under 20 minutes!
Ingredients
4 tablespoon butter, divided
4-6 Boneless, Skinless Chicken Thighs
8 cloves garlic, diced
1 ½ tablespoon blackening seasoning
½ cup cilantro, diced
½ cup low sodium chicken stock
Instructions
Heat heavy skillet or pan on medium high heat.
Add ½ butter, let melt (but NOT brown)
Add chicken thighs, let brown to a deep golden brown on each side, flipping after about 3 minutes.
Remove chicken thighs from pan when browned on each side (not fully cooked through), set aside.
Add other ½ butter and garlic to pan.
Let garlic brown, about 3 minutes.
Add cilantro, blackening seasonings, stir and heat 1 minute.
Add stock, let boil and reduce slightly - about 2 minutes.
Add chicken back to pan and let cook rest of the way to 165 internal temp while sauce reduces, about 6-8 minutes, stirring occasionally to prevent burning.
Nutrition Information
Yield
6
Serving Size
1
Amount Per Serving
Calories

261
Total Fat

16g
Saturated Fat

8g
Trans Fat

0g
Unsaturated Fat

8g
Cholesterol

157mg
Sodium

1446mg
Carbohydrates

2g
Net Carbohydrates

0g
Fiber

0g
Sugar

0g
Sugar Alcohols

0g
Protein

28g
Nutrition is automatically calculated by Nutritionix - please verify all nutrition information independently and consult with a doctor or nutritionist for any and all medical and diet advice.
Other Easy One Pot Chicken Dinners You'll Love:
If you love simple, easy chicken dishes, I have so many I'd love to share with you!
Be sure to click the videos to preview each dish, and then click the links or the pictures to find the printable recipe for each!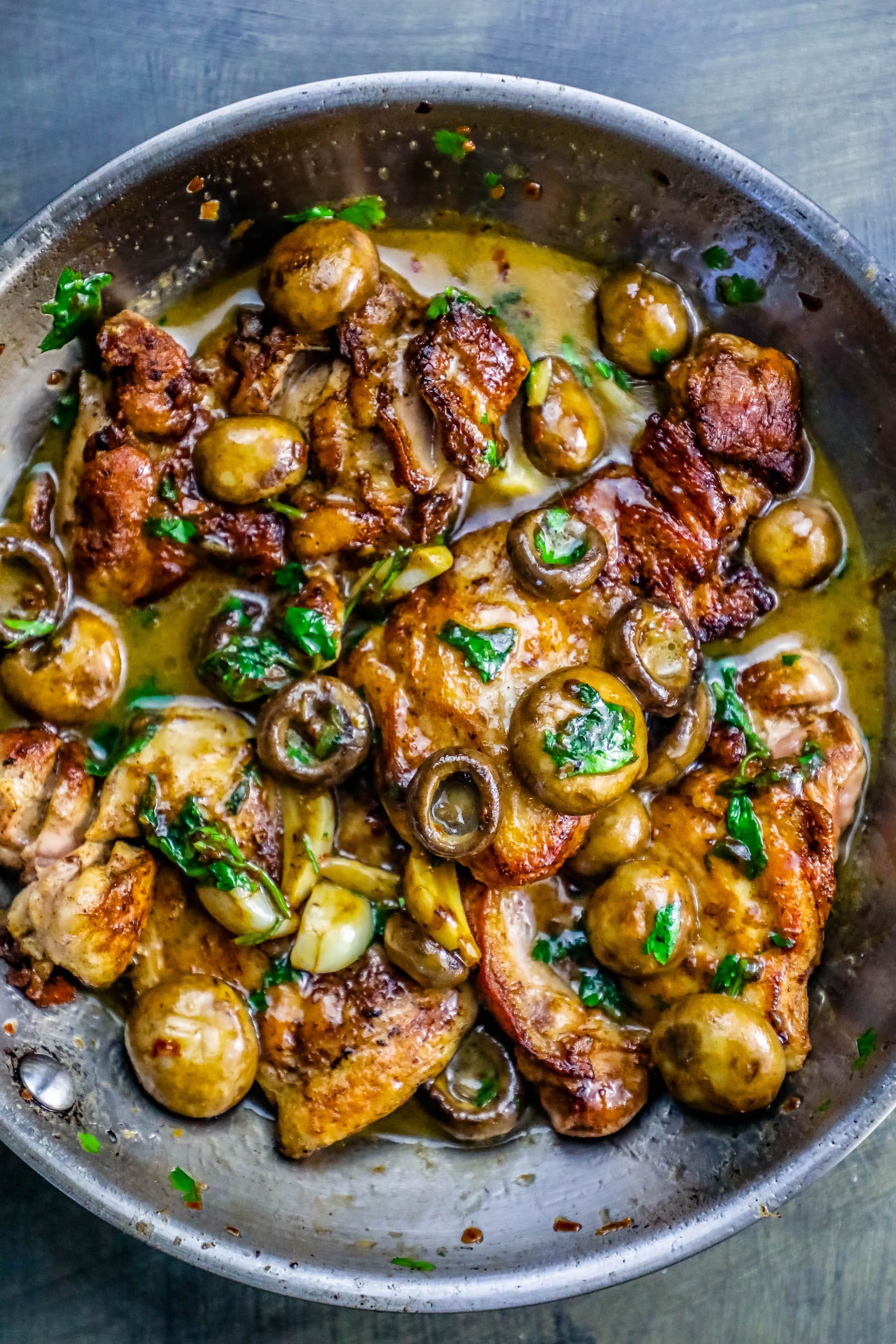 Whole Roasted Montreal Chicken
Spicy Lemon and Garlic Pan Fried Chicken Strips
One Pot Tuscan Chicken Pesto