Crunchy Air Fried BBQ Chicken Drumsticks Recipe
Jun 30, 2021, Updated Aug 12, 2021
Crunchy Air Fried BBQ Chicken Drumsticks Recipe – delicious, tender, juicy BBQ chicken drumsticks with a crisp, crunchy air fried crust!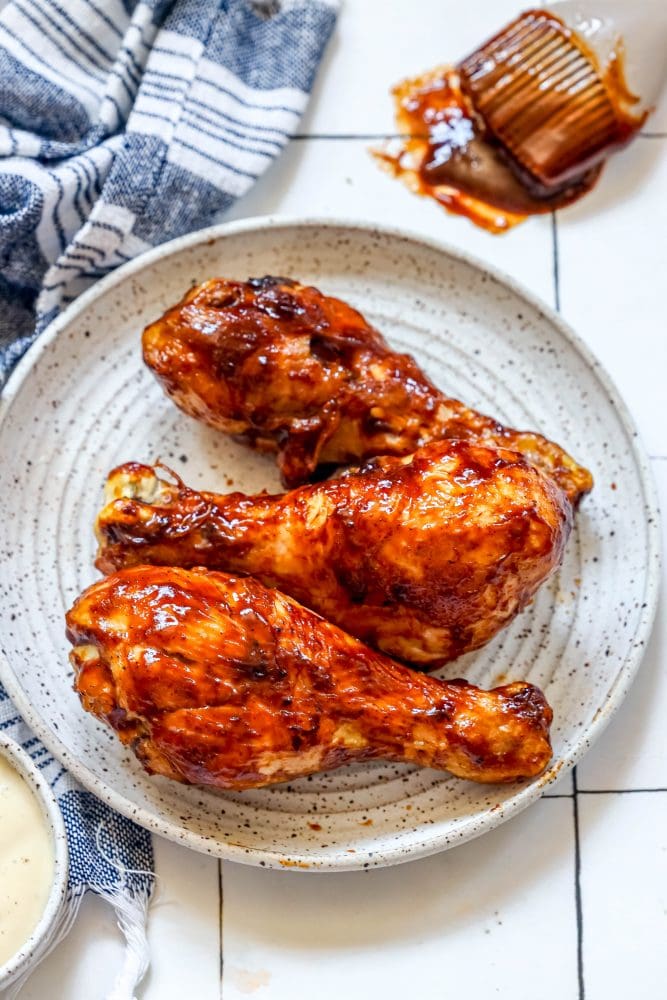 If you love our delicious baked BBQ chicken drumsticks, but want a faster, easier way to make them in a fraction of the time, this recipe is for you!
We're using an air fryer to crisp and crunch chicken drumsticks, layer BBQ sauce flavor, and make the most insanely delicious chicken drumsticks you'll crave all the time.
These chicken drumsticks are easy to whip up, don't involve any previous cooking experience, and make a great hearty low carb meal.
For a great easy recipe to make from-frozen BBQ chicken drumsticks, check out out The Best Instant Pot BBQ Chicken Legs.
We hope you love this recipe as much as we do!
Don't want all the extras in a recipe post? We provide a skip to recipe button in the top left corner, as well as a clickable table of contents, just below, to help make this page easier to navigate.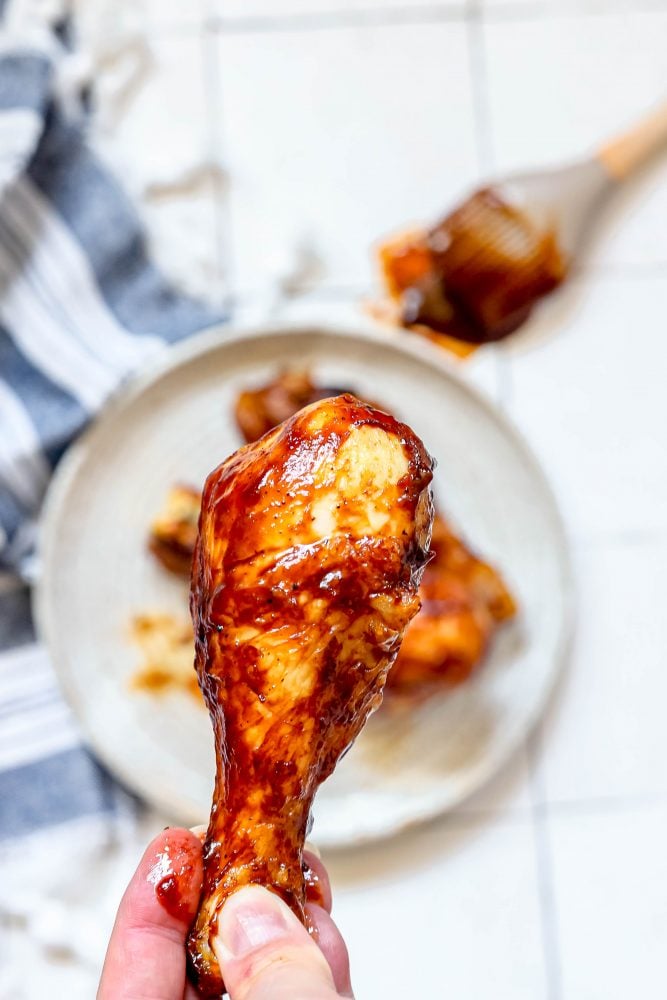 How To Cook Chicken Drumsticks In The Air Fryer
Cooking drumsticks in an air fryer is a delicious, easy way to get crunchy, juicy, deep-fried chicken flavor without all the extra oil or carb-y breading.
If you love crunchy chicken drumsticks, be sure to check my top tips for perfect air fried chicken drusticks below:
Run your air fryer for a few minutes before adding the food so it is hot and ready to go when you go to air fry your chicken drumsticks.
This is optional, but I feel it helps the skin to puff up and get a crispy "fried" texture.
This recipe uses a method to layer the sauce on to get a crunchy "crust" throughout the cooking, similar to my baked BBQ Chicken drumsticks.
We will first let chicken fat render and let skin crisp as we build a bark to the chicken with BBQ sauce without drowning it in sauce – so it stays crispy, crunchy, and delicious.
At the end, we will hit it with a bit of extra sauce for the classic BBQ messy texture and flavor!
Since air fryers are completely sealed off, it's hard to judge your chicken's doneness by the look of it.
Don't open your air fryer constantly, letting heat escape – trust in the timing of the recipe, and a handy rapid-read digital meat thermometer.
Check the temperature of the chicken when you're already opening the air fryer to flip them – don't open it just to check the temperature or too much heat will escape.
Use a Digital Thermometer
When your timer is done, immediately test the temperature of the chicken pieces with a digital thermometer inserted into the middle of the thickest part of the chicken drumstick without touching bone.
Chicken should be cooked to 165 degrees internally.
If chicken has not met 165 degrees internally, add another 2-5 minutes to cook time.
Air fryers help get hot air to circulate around the chicken drumstick to get a heat so high it makes meat taste fried – and to do that, it helps to not crowd the pan.
Put the chicken in your air fryer pan in a way they aren't crowding each other – it makes a huge difference.
The Best Chicken Drumsticks Recipes
If you love chicken drumsticks, be sure to check out our favorite recipes:
You can find the rest of our chicken drumstick recipes here.
The Best Air Fryer Recipes
If you're looking for more delicious recipes to use with your air fryer, check out some of our favorites below:
You can find our entire air fryer recipe index here.
Instant Pot Air Fried Chicken Drumsticks
If you have a crisping lid for your Instant pot, or an Instant Pot Duo crisp, you can also use your Instant Pot to air fry chicken!
If you need an air fryer crisplid for your Instant Pot, click here.
If you'd like to buy an Instant Pot with pressure cook and air fry functions, click here.
Use the method below to make these chicken drumsticks in your Instant Pot:
Instant Pot Air Fried Chicken Legs
Prep chicken legs as called for in recipe below.
Place the chicken drumsticks in the CrispLid basket.
Place the trivet and the basket inside the inner steel pot.
Place the Crisplid on the Instant Pot.
Set to 425°F and follow instructions in recipe below.
When are chicken drumsticks done cooking?
Chicken drumsticks are done when they reach 165 internal temperature at the thickest part of the drumstick.
Take care to not get the thermometer probe too close to the bone when gauging temperature or your temperature will be inaccurate.
How long do chicken drumsticks last?
Air fried chicken drumsticks can last in an airtight container in the refrigerator for up to four days.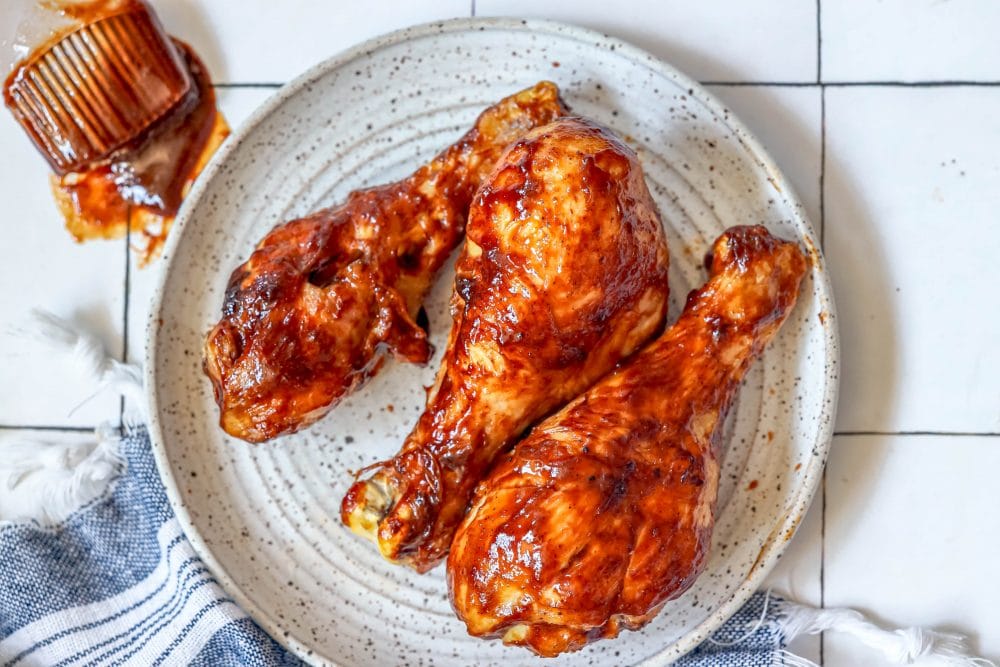 Crunchy Air Fried BBQ Chicken Drumsticks Recipe
If you love this easy recipe please click the stars below to give it a five star rating and leave a comment! Pease also help me share on facebook and pinterest!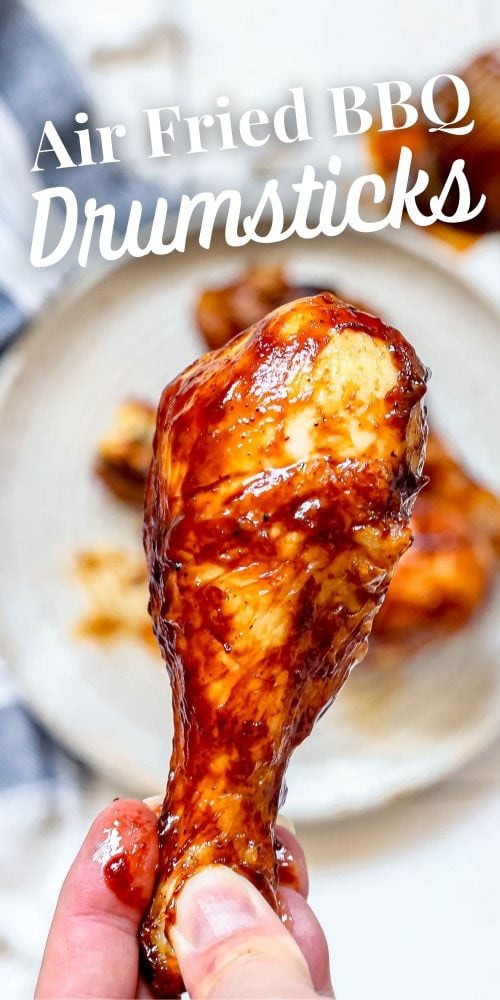 CONNECT WITH SWEET C'S!
Be sure to follow me on social media, so you never miss a post!
Only have 30 minutes to get dinner on the table? Sign up for my 30 minute dinner plans direct to your inbox!
Find and shop my favorite products in my Amazon storefront here!
Crunchy Air Fried BBQ Chicken Drumsticks Recipe
Crunchy Air Fried BBQ Chicken Drumsticks Recipe - delicious, tender, juicy BBQ chicken drumsticks with a crisp, crunchy air fried crust!
Ingredients
8 chicken drumsticks
2 tbsp olive oil
1 tsp celtic sea salt
1 tsp fresh cracked pepper
1 tsp garlic powder
1 tsp paprika
1/2 tsp cumin
1 cup BBQ sauce (for keto, watch sugar content and pick a keto sauce)
Instructions
In a small bowl, combine herbs and spices.
Set aside.
Place drumsticks in a bowl or a plastic bag and drizzle with olive oil.
Toss to coat.
Sprinkle herbs and spices all over drumsticks to coat them.
Preheat air fryer at 400 for 2-10 minutes.
Place drumsticks in air fryer basket and cook for 10 minutes on 400.
Remove basket and flip chicken drumsticks.
After five minutes, lightly brush drumsticks with a layer of sauce. Do not double-dip sauce to prevent cross contamination with undercooked chicken (pour a little bit of sauce, about 1/4 cup, into a dish instead of the whole cup since that is all you will use in this step.)
Cook at 400 for another 5 minutes.
Flip chicken and brush again with more sauce until crunchy and chicken is 165 internal temperature.
Time can vary based on drumstick size, so check the temperature with a digital thermometer after cooking to prevent over or under cooking.
When chicken has reached 165 degrees internally, serve immediately and toss in additional BBQ sauce.
Notes
Carbohydrate count is assuming non-keto BBQ sauce. If using keto sauce, assume 5-6 carbs per chicken leg.
Nutrition Information
Yield

8
Serving Size

1
Amount Per Serving
Calories

261
Total Fat

12g
Saturated Fat

3g
Trans Fat

0g
Unsaturated Fat

8g
Cholesterol

116mg
Sodium

743mg
Carbohydrates

15g
Fiber

1g
Sugar

12g
Protein

22g
Nutrition is automatically calculated by Nutritionix - please verify all nutrition information independently and consult with a doctor or nutritionist for any and all medical and diet advice.
Sweet C's Favorite Recipes
If you love this easy recipe, be sure to check out our other easy reader favorites!
Sweet C's Favorite Recipes
Favorite recipes from Sweet Cs Designs