Easy Baked Ranch Pork Chops Recipe
Jun 22, 2020, Updated Aug 12, 2021
The best easy baked ranch pork chops – perfect tender skillet baked pork with a tangy zippy ranch flavor the whole family will love – with just five ingredients!
This baked pork chops recipe is naturally low carb, and works in a keto or paleo diet. Be sure to check your ranch seasoning if sticking to a keto diet, or if you are avoiding gluten.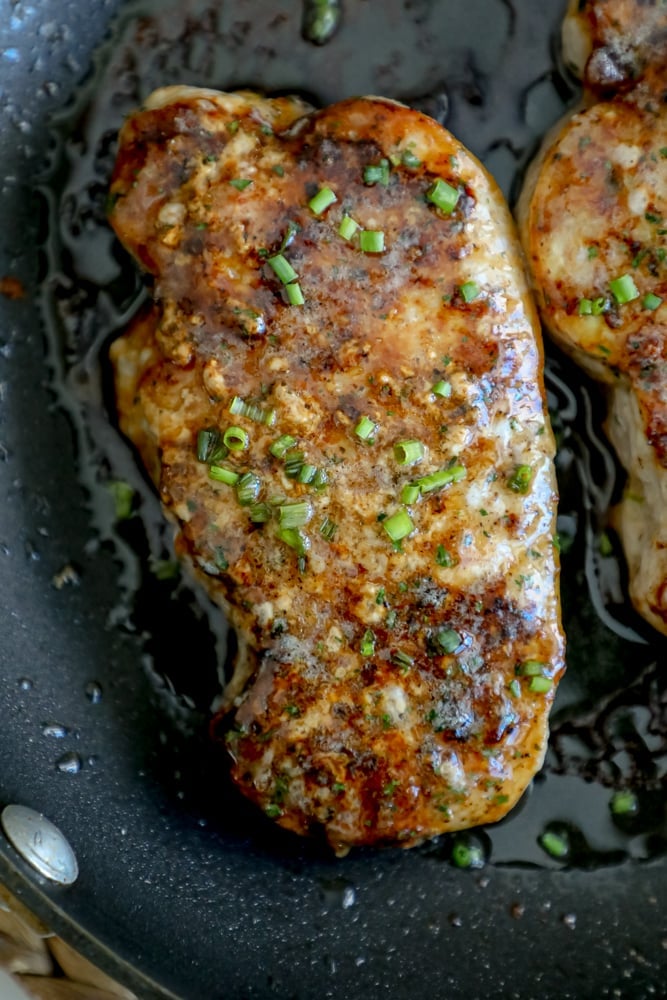 This post is sponsored by the Iowa Pork Producers Association. All opinions are my own.
These easy baked ranch pork chops are loaded with flavor – and use just five ingredients!
If you love delicious tender, juicy pork and tons of ranch flavor, this recipe is going to be a huge hit!
We're using simple techniques and equipment – no advanced skills or cooking experience needed.
Fresh, American raised Iowa pork is a healthy addition to our family's dinner table – I hope you enjoy this recipe as much as we do.
About Iowa Pork Producers
When you're buying pork in the United States, chances are you're eating fresh pork from local Iowa hogs!
Choosing pork is a great way to choose to feed your family a safe, American raised product that also helps employ thousands of American families.
If you're curious about some of the commitments America's pork farmers have taken to preserve animal, economical, and environmental wellbeing, please read about the We Care Initiative here.
I was able to tour a pork farm in Iowa last fall and learn more about Iowa Pork's dedication to safety and health for consumers and animals and I was really impressed – to hear more about my trip, please check out this post featuring Iowa Pork and Iowa Corn Growers – I learned so much about their impact on America's economy and dinner tables.
How To Bake Ranch Pork Chops
This recipe is so easy, even beginner cooks can master a delicious pork chop dinner!
To Bake Pork Chops You'll Need
-Heavy Pan or Skillet
-Oven
-Quick Read Digital Thermometer
-Ranch Seasoning Packet (or 2 tbsp homemade ranch seasoning)
-Lemon juice
-Olive oil
-Pepper
-Thin cut boneless pork chops
Pick The Perfect Pork Chop
For this recipe, I am recommending 1/2-1" thick pork chops – too thick chops need to cook longer to be sure the middle has reached a high enough temperature in the middle.
When removing pork chops from packaging, I always pat dry with a paper towel.
Removing any excess moisture from the pork chop helps to cook evenly and allows the pork to crisp in the pan – since we're not breading the pork chop, we really want to be sure to get a lovely sear on the chops for the best flavor and texture.
Make The Marinade and Sauce
Mix ranch packet with oil and lemon juice to create a marinade/sauce.
Add pork chops to a plastic bag and add half of the marinade. Reserve other half in a bag or small jar until cook time.
Marinate at least 30 minutes, up to overnight.
Preheat oven to 400 degrees, with a heavy ovenproof skillet or cast iron pan in the oven to preheat.
Preheating the pan will help you sear your pork chop while it bakes, so it gets a lovely browned crunch on the outside.
While you can pre-sear in a pan before baking, I prefer to sear this way to prevent the pork from overcooking and drying when baking since it is so thin.
This way you sear and bake all in one step – making this recipe extra easy!
Normally, I pre-sear pork chops on the stove before baking.
Pork is a very tender, delicious meat – but can dry out easily when overcooked.
By browning while baking, we're letting the pork bake to a safe temperature while getting that delicious sear on the pork chops, so that we can keep pork from drying out.

This means less work for you, too!
Remove pork from marinade (if refrigerated overnight, let pork come to room temperature for about 20 minutes before cooking as the oven preheats) and add to scorching hot pan when ready to cook.
Flip pork and continue baking until middle of pork chop has reached 145 degrees internal temp, about 8 minutes – four on each side.
After the first four minutes, flip pork. Carefully spoon reserved ranch sauce on top of pork chops.
Continue to cook for another four minutes. Check the internal temperature of your pork chops after 8 minutes – if your chops are very thin, they should be done – but as ovens and pork thickness can vary wildly, it is best to cook using a thermometer than by watching the clock.
How To Tell When Pork Chops Are Done
Rely on thermometer – NOT time – to tell when pork has been cooked fully.

If you don't have a quick-read digital meat thermometer, it is one of the best investments you can make for perfectly cooked pork, every time.
I cook pork to the FDA guidelines, which does include a bit of pink in the middle.
This is NOT underdone if you're going by temperature – pork is safe to eat at 145 degrees, and trust me, it is the best flavor and texture!
Tender, juicy, and flavorful pork is best when not overcooked – so watch your thermometer!
For more information on cooking pork chops, please visit my guide to pork chops, or visit the Iowa Pork site.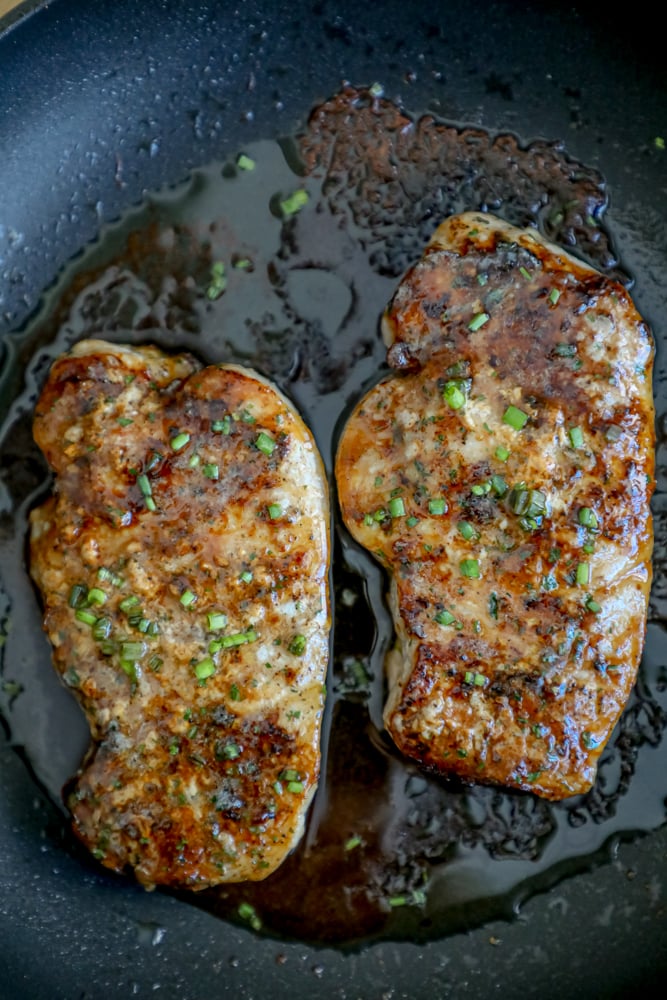 What To Serve With Pork Chops
Looking for a quick and easy side dish to perfectly pair with these ranch pork chops? Try one of my favorites below:
What to Serve With Ranch Pork Chops
Other Pork Recipes You'll Love
Pork is one of our top categories on Sweet C's – we love eating pork in our house, and are so glad you do too!
If you're looking for some knockout pork recipes, start with our insanely popular garlic baked pork tenderloin. It's been reviewed five stars by hundreds of readers, and is always a huge hit!
For a deliciously easy pork chop that isn't ranch flavored, be sure to try my Easy Baked Pork Chops recipe – and be sure to save my slow cooker pork steaks recipe for a knockout set and forget meal that always gets rave reviews from even the pickiest eaters.
The Best Baked Ranch Pork Chops Recipe
If you love this recipe, be sure to give it a five star review below and help me share on facebook and pinterest!
CONNECT WITH SWEET C'S!
Be sure to follow me on social media, so you never miss a post!
Only have 30 minutes to get dinner on the table? Sign up for my 30 minute dinner plans direct to your inbox!
Find and shop my favorite products in my Amazon storefront here!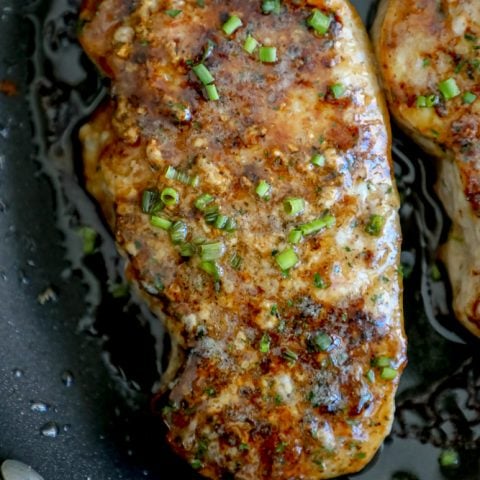 Easy Baked Ranch Pork Chops Recipe
The best easy baked ranch pork chops - perfect tender skillet baked pork with a tangy zippy ranch flavor the whole family will love - with just five ingredients! 
Ingredients
2 tbsp olive oil
2 tbsp lemon juice
1 packet ranch seasoning (I use Hidden Valley ranch packets, you can use 2 tbsp homemade ranch seasoning, too!)
1 tsp fresh cracked pepper
4 1-2" thick pork chops, bone-out
2 tbsp diced chives, optional, to garnish
Instructions
Remove pork from packaging and pat dry.
Add to bag or bowl.
In a small bowl, combine ranch seasoning, lemon juice, olive oil, and pepper, mix.
Cover pork chops in 1/2 marinade mix. Set 1/2 aside for cooking.
Marinate at least 30 minutes, up to overnight. Refrigerate in airtight container if marinating longer than 30 minutes.
Preheat oven to 400 degrees.
Add heavy, ovenproof skillet to oven. I use cast iron - be sure pan is specifically designed to be safe in oven and that you have a good thick potholder.
If refrigerated overnight, remove pork from fridge and let come to room temperature while oven and pan preheat.
When oven has reached 400 degrees and pan is scorching hot, carefully add pork chops to skillet. I use long handled tongs to reduce risk of burning my hands or arms in the super hot pan and oven!
Bake for four minutes.
Flip pork chops and spoon the reserved ranch sauce on both sides of pork chops.
Bake another four minutes.
Check your pork's internal temperature. When pork reaches 145 (about 8 minutes, but remember, pork cooking times can vary wildly based on oven, thickness of pork, altitude, etc.) it is ready to come out of oven.
Rest pork for at least 3 minutes after baking before cutting and serving.
Garnish with fresh diced chives if desired.
Enjoy!
Nutrition Information
Yield

4
Serving Size

1
Amount Per Serving
Calories

247
Total Fat

16g
Saturated Fat

4g
Trans Fat

0g
Unsaturated Fat

10g
Cholesterol

66mg
Sodium

602mg
Carbohydrates

5g
Fiber

1g
Sugar

1g
Protein

22g
Nutrition is automatically calculated by Nutritionix - please verify all nutrition information independently and consult with a doctor or nutritionist for any and all medical and diet advice.
If you loved this recipe, please be sure to check out more of our favorites here on Sweet C's!
Most are low carb, all are easy, quick, and loaded with flavor your family will love!
Sweet C's Favorite Recipes
Favorite recipes from Sweet Cs Designs