Easy Baked Pork Chops Recipe - the best easy baked pork chops ever in under 20 minutes with simple ingredients - your family will beg for these pork chops all the time!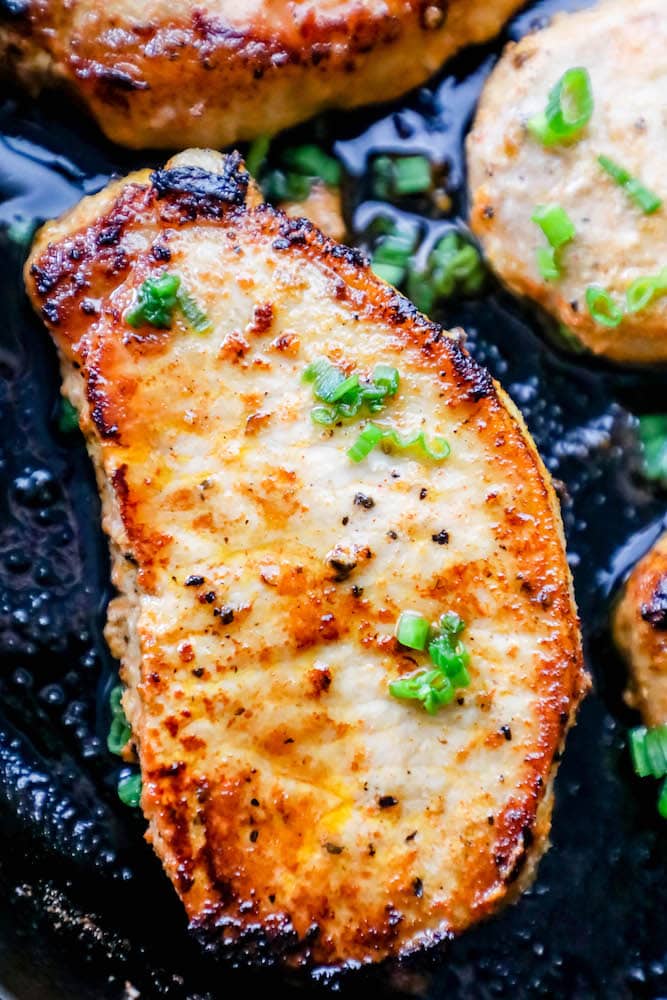 This Easy Baked Pork Chops Recipe is simple, delicious, and SO easy.
Seriously... just marinate, heat a pan in the oven, add the pork chops - and you're done!
If you've ever wondered how to make perfect, juicy, never dry and always tender baked pork chops, this easy baked pork chops recipe is for you!
Be sure to check out my baked ranch pork chops recipe for and extra delicious ranch flavor packed spin off this recipe!
Just Take Me To The Best Easy Pork Chops Recipe Already
I get a lot of questions from my regular readers about recipes - I have people from all levels of skill and comfort in the kitchen reading my recipes, and I've made a commitment to them to provide the information they need to feel comfortable cooking.
If you'd like to get straight to it, please click the "skip to recipe" button in the top left corner above.
Do You Have To Marinate Pork Chops
Pork chops come from a lean cut of pork - so they don't have much fat to keep the meat tender and moist.
To soften the meat and keep the juices locked in, a pork chop marinade helps a ton!
Marinating your pork chops a day before baking them will keep them tender and perfect - with no extra work.
While you don't have to marinade pork chops before cooking, I feel it helps to infuse so much flavor and locks in the juices of the chops so much, I always try to marinate my pork chops for at the very least 30 minutes before cooking them.
While I am giving a recipe for my favorite pork chop marinade, you can marinate pork chops in oil based salad dressings, olive oil with lemon or vinegar, wine, or anything with a little fat and something mildly acidic that you love the flavor of!
There are so many flavor combinations for a pork chop marinade - mix and match some of the ingredients below for a great marinade!
Oil/Fat/Liquid - pick one:
- Salad Dressing
- Greek Yogurt
- Walnut Oil
- Canola oil
- Chicken stock
- Soy Sauce
- Balsamic Vinegar
- Lemon juice
- Lemon zest
- Lime juice
- Lime Zest
-Orange Juice
Herbs - pick any combo you'd like:
- Salt and Pepper
- Black Pepper
- Garlic powder
- Dijon Mustard
- Ranch Dressing Seasoning Packet
- Brown Sugar
- Chili Paste
- Green Chili Sauce
- Paprika
- Turmeric
- Italian Herbs
When you have your pork chop marinade ingredients together, put them and chops in a large ziploc bag or bowl and refrigerate to marinate for 30 minutes to preferably 24 hours.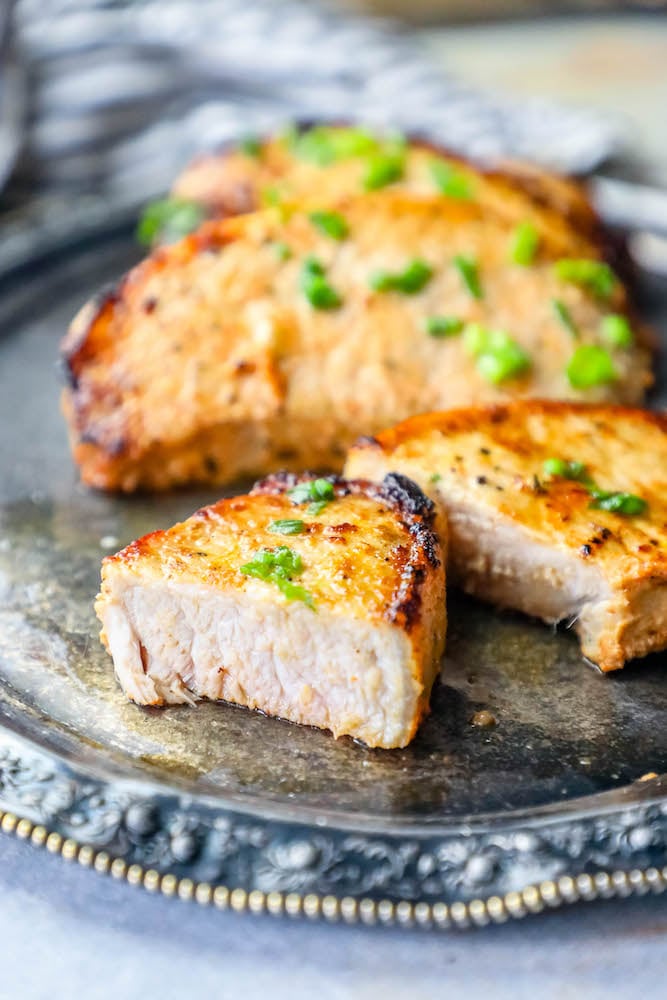 First off, it's important to know the temperature to cook pork to since pork chop shapes and sizes can vary so much - but this method is great for ANY kind of pork chop - thin, thick, bone-in, and bone-removed!
As with any dish, having a preheated oven helps get the best flavor and texture from your pork, so it can cook hot and fast from the get-go.
You will need to watch the cooktime of your own easy baked pork chops for best results - you'll want to check your meat thermometer so you know when your pork chops reach an internal temperature of 145 degrees.
Just make sure you don't insert the thermometer too far and take the temperature of the baking dish your easy baked pork chops are in!
How long to cook your pork chops can vary from 6-8 minutes for a very thin boneless chops (like inch thick chops) - to 30 minutes for a large chop... so it is important to monitor your pork and know when it's cooked through to an internal temperature of 145 degrees.
The more you cook pork chops, the more you'll learn to notice the signs of pork chops being done - well browned on the outside, not pink (or only faintly pink) in the middle, firm to the touch, and 145 degrees internal temperature.
What Temperature To Cook Pork To
Pork is one meat that can be tricky if not done right - so I try to go off temperature way more than time or looks.
Pork can be fully cooked and look slightly pink - and can go from pink to dry in no time - so going off the temperature is the best, no-fail way to get the best, juiciest, and most tender pork chops from the oven.
The new guidelines suggest cooking pork to 145 degrees internal temperature.
At 145 degrees internal temperature, your pork chop might look faintly pink.
Don't worry about a slight pink tint - if your pork is 145 degrees throughout (take care to be sure your thermometer is in the middle of the meat and not touching the pan), it is safe to eat.
Next, you'll need to figure out what kind of pork chop you're cooking and adjust cook-time based off the type of pork chop you're using.
How To Cook Bone-in Pork Chops
Bone-in pork chops take more time to cook, so count on extra time with the bones still in the chop.
Be sure to take the temperature in the middle of the pork chop, as well as near (but not touching) the bone.
If your pork chops start to curl around the bone, you can weight it with a cooking iron to cook more evenly.
How To Cook Boneless Pork Chops
Boneless pork chops cook more quickly and evenly - but also dry out more quickly.
If you're cooking boneless pork chops, pay close attention to the temperature so they don't overcook - and try to marinate if possible!
If you're looking for more easy baked pork chop recipes, as well as tons of info to make you a pork chop cooking master, be sure to check out my ultimate guide to cooking pork chops here.
What To Serve With Pork Chops
If you love these easy baked pork chops, try some of my favorite side dishes to serve with them!
Bacon Parmesan Roasted Cauliflower and Broccoli Recipe
Roasted Cauliflower with Cilantro Cashew Pesto
Garlic Chinese Style Green Beans
Pan Fried Brussels Sprouts with Ghee
One Pot Knockoff Nandos Spicy Peri Peri Rice
Other Easy Pork Recipes You'll Love
These perfect pork recipes are loaded with family friendly flavor - I hope you love them as much as I do!
Easy Baked Ranch Pork Tenderloin and Gravy Recipe
The Best Baked Garlic Pork Chops Recipe
The Best Smoked Pork Ribs Recipe Ever
The Best Blackened Pork Tenderloin and Vegetables Recipe
The Best Baked Garlic Pork Tenderloin
Easy Baked Pork Chops Recipe
If you love this easy baked pork chops recipe as much as I do, please give it a five star review and help me share on facebook and pinterest!
CONNECT WITH SWEET C'S!
Be sure to follow me on social media, so you never miss a post!
Facebook | Twitter | Youtube | Pinterest | Instagram
Only have 30 minutes to get dinner on the table? Sign up for my 30 minute dinner plans direct to your inbox!
Find and shop my favorite products in my Amazon storefront here!
Yield:

4 people
Easy Baked Pork Chops Recipe
Additional Time:
5 minutes
Easy Baked Pork Chops Recipe - the best easy baked pork chops ever in under 20 minutes with simple ingredients! Your family will beg for these pork chops all the time!
Ingredients
Easy Pork Chop Marinade:
1 tbsp garlic powder, minced
2 tbsp olive oil
1 tsp paprika
½ tsp salt
½ tsp pepper
2 tbsp lemon juice
Easy Baked Pork Chops:
2 tbsp olive oil
1 tsp celtic sea salt
1 tsp fresh cracked pepper
4 pork chops, ½" thick boneless chops - NOT extra thick or super thin
Instructions
Add lemon juice, 2 tbsp olive oil, paprika, garlic powder, pork chops, salt, and pepper to a ziploc bag and marinate for at least 3 hours, and up to overnight.
Preheat oven to 375 degrees F and place cast iron pan (or other heavy oven safe pan) in oven.
When oven is 375 degrees and pan is scorching hot (but not smoking), carefully swirl olive oil in pan and heat until shimmery.
Season pork chops with salt and pepper.
Add in pork chops, without crowding the pan.
Close oven and cook to browned on one side - about 6 minutes.
Flip pork chops and place back in oven.
After 6 minutes, check pork's temperature. If pork chops are thinner, they cook much faster - pork chops are done when they are 145 degrees internally.
If pork chops are not done, keep cooking until they are (cooking time will vary widely based on the thickness of your pork chop, whether or not there is a bone, etc. - so I find it's best to go from temperature instead of time.)
When pork is 145 degrees internally, remove from oven and let rest 5 minutes before serving.
Nutrition Information
Yield
4
Serving Size
1
Amount Per Serving
Calories

479
Total Fat

29g
Saturated Fat

8g
Trans Fat

0g
Unsaturated Fat

17g
Cholesterol

163mg
Sodium

695mg
Carbohydrates

0g
Net Carbohydrates

0g
Fiber

0g
Sugar

0g
Sugar Alcohols

0g
Protein

50g
Nutrition is automatically calculated by Nutritionix - please verify all nutrition information independently and consult with a doctor or nutritionist for any and all medical and diet advice.
Sweet C's Favorite Recipes
If you love these easy baked pork chops, please check out some of my other favorite easy and delicious recipes - many of them keto or low carb and all are easy and delicious!
Sweet C's Favorite Recipes
Favorite recipes from Sweet Cs Designs