This easy cheesy BBQ little smokies casserole is a delicious 4 ingredient bake that is so simple anybody can make it! Always a huge hit with our family!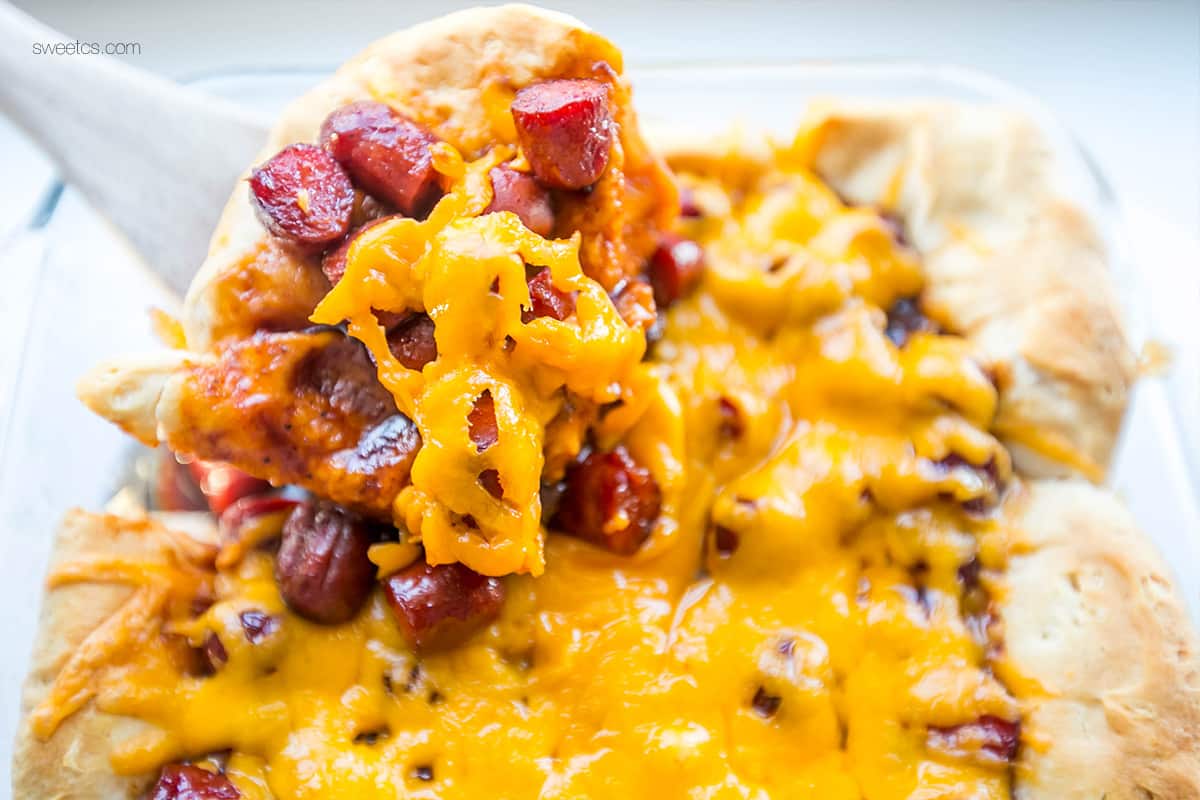 When you tell people you're a food blogger (or just someone really, really into food), they tend to expect certain things.
Yes, I drink expensive snooty coffee, order up weird foods most people would bristle at, and try out my fair share of gourmet meals.
But… there's a huge part of me that, after all the locally sourced/artisan/imported/five star food I've had, I sometimes just want a processed heaping pile of 'murica on a plate.
And that would be this biscuit bake.
Filled with little smokies.
Doused with BBQ sauce.
And smothered in cheese.
Can't you just hear Lee Greenwood singing now?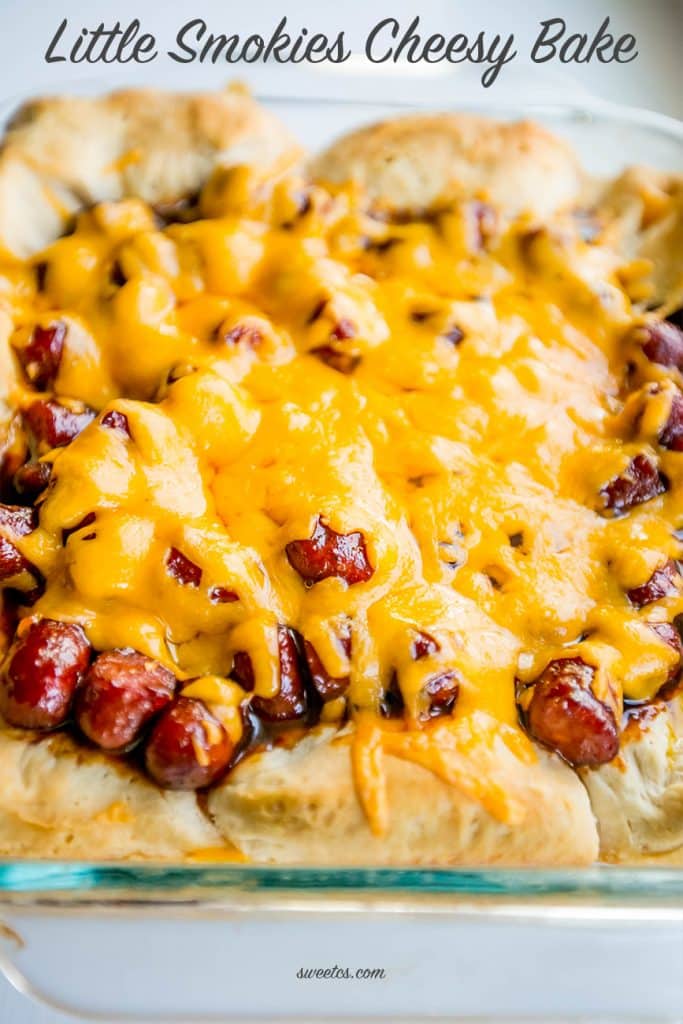 For me, BBQ Biscuit bakes are sort of like cheetos or velveeta shells and cheese- you just can't shake them!
Sidenote- despite living in Colorado, I'm not totally baked writing this (or even at all). I feel like I should add that disclaimer since, let's face it, this food is pretty much a stoner's dream meal. 
This recipe is a pretty simplistic take off one of my favorite all time (and oh-so-unhealthy and un-gourmet) dishes- my Cheesy BBQ Beef and Biscuit Bake.
But, you know, with little smokies.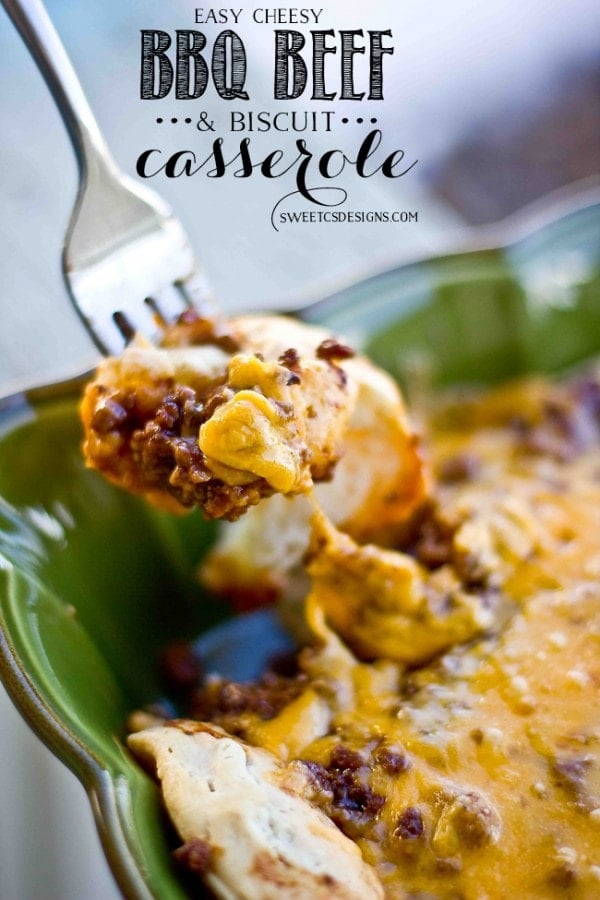 Because there is absolutely nothing little smokies shouldn't be in.
I mean, maybe not vegan, kosher, or gourmet food… but this recipe isn't about any of those.
This is about a simple, quick, and delicious dish full of comfort.
And man, it delivers!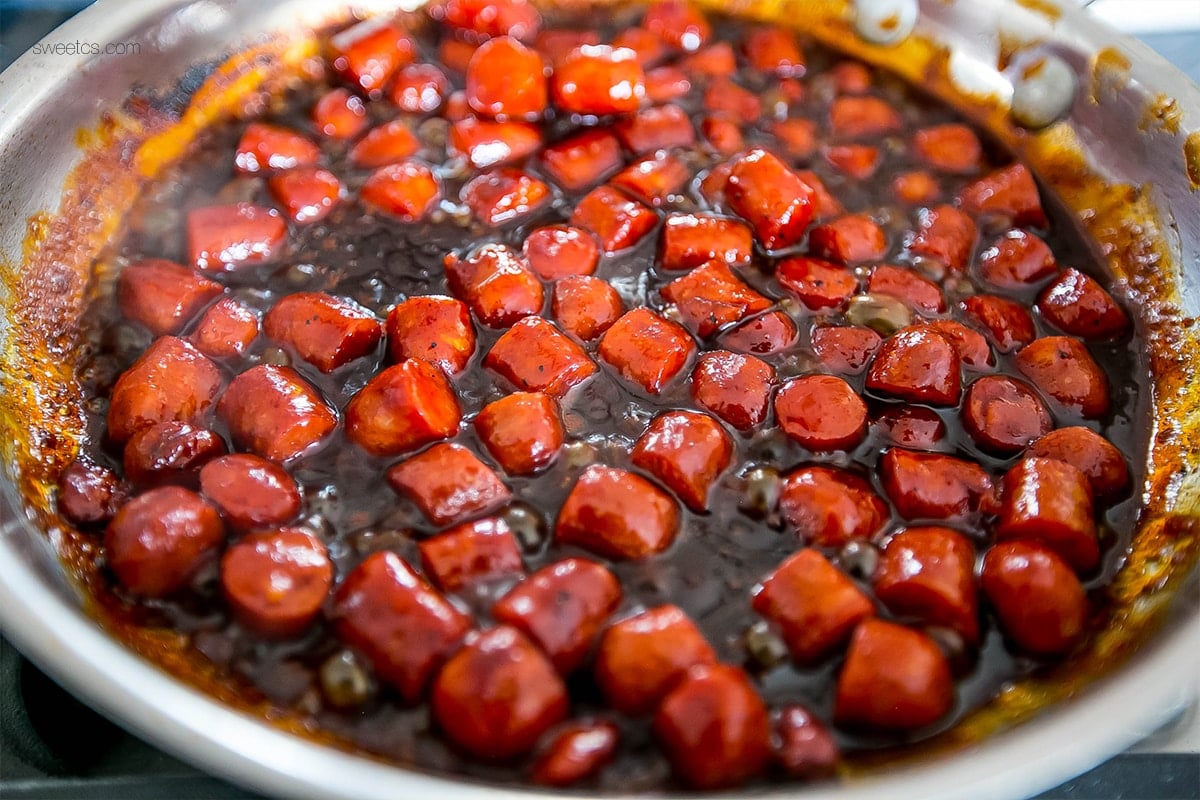 mmmmmmmm.
Happy little smokies bubbling in a bbq bath….
Sorry, yep, that's drool I'm wiping up now.
But really… is there anything better than BBQ little smokies?
Oh yes. Yes there is.
Topping those happy little porcine morsels of bbq goodness with cheese.
And laying them on top of a fluffy bed of baked biscuits.
Diet food this isn't— but man, is it GOOD!
Want to see just how easy this is?
Check out this quick video (and be sure to check out my YouTube page for more quick recipe videos!)
Yield:

6
Easy Cheesy BBQ Little Smokies Casserole
Delicious bbq little smokies cheesy bake is a simple, delicious dish with just 4 ingredients!
Ingredients
1 package little smokies
1/4 cup bbq sauce
1 1/2 cups cheddar cheese, shredded
1 grands biscuits, package
Instructions
Preheat oven to 350 degrees.
Grease a casserole dish well.
Add grands biscuits to dish and press to fill in.
Bake for 10 minutes until biscuits are puffy but not browned.
While biscuits are cooking, slice little smokies and add to a pan with bbq sauce.
Sautee over medium high heat until biscuits are ready.
Remove biscuits from oven when they are about halfway cooked, top with little smokies and bbq sauce.
Top with shredded cheddar cheese.
Bake for 15 minutes, until cheese is bubbly and biscuits brown.
Serve immediately.
Nutrition Information
Amount Per Serving
Calories

360
Saturated Fat

13g
Cholesterol

77mg
Sodium

1064mg
Carbohydrates

6g
Sugar

5g
Protein

16g