Easy Cheesy BBQ Little Smokies Casserole
Mar 08, 2016, Updated Jan 11, 2023
This easy cheesy BBQ little smokies casserole is a delicious 4 ingredient bake that is so simple anybody can make it! Always a huge hit with our family!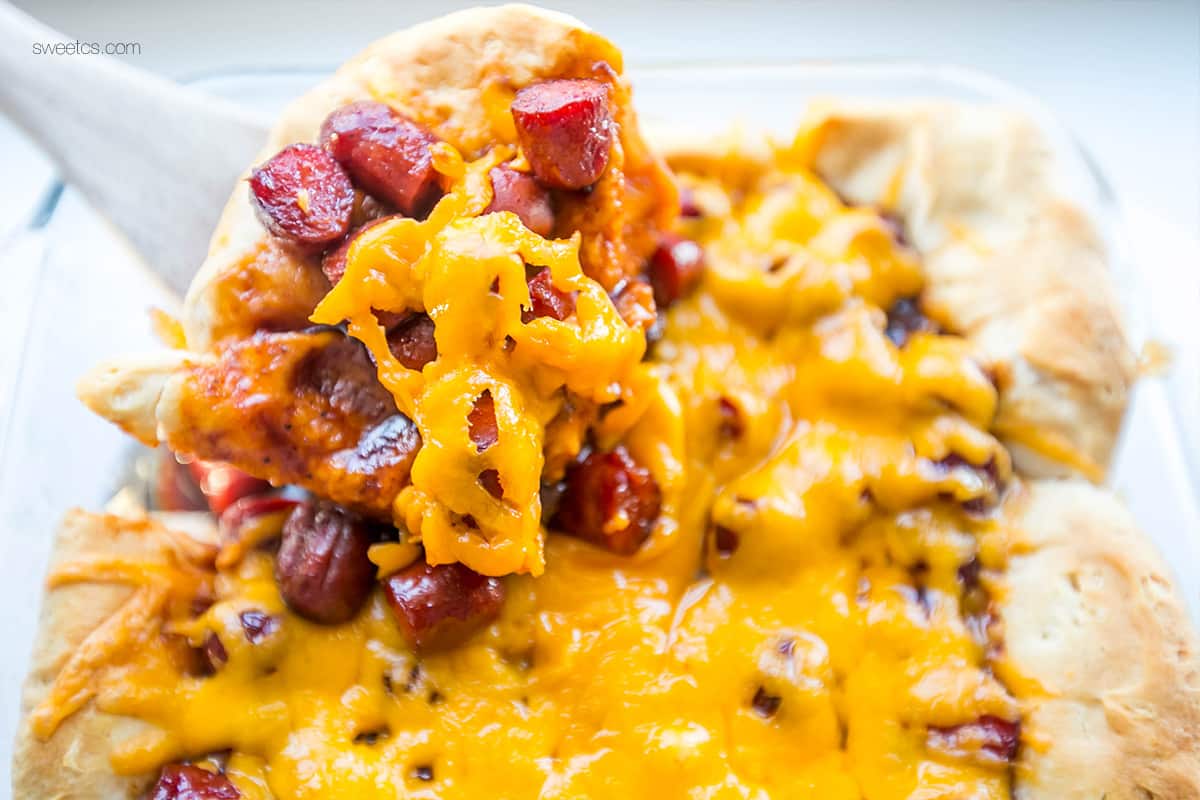 Don't want all the extras in a recipe post? We provide a skip to recipe button in the top left corner, as well as a clickable table of contents, just below, to help make this page easier to navigate.
Easy Cheesy BBQ Little Smokies Casserole
When you tell people you're a food blogger (or just someone really, really into food), they tend to expect certain things. Yes, I drink expensive snooty coffee, order up weird foods most people would bristle at, and try out my fair share of gourmet meals.
But… there's a huge part of me that, after all the locally sourced/artisan/imported/five star food I've had, I sometimes just want a processed heaping pile of 'murica on a plate. And that would be this biscuit bake – Filled with little smokies- Doused with BBQ sauce – And smothered in cheese.
Can't you just hear Lee Greenwood singing now?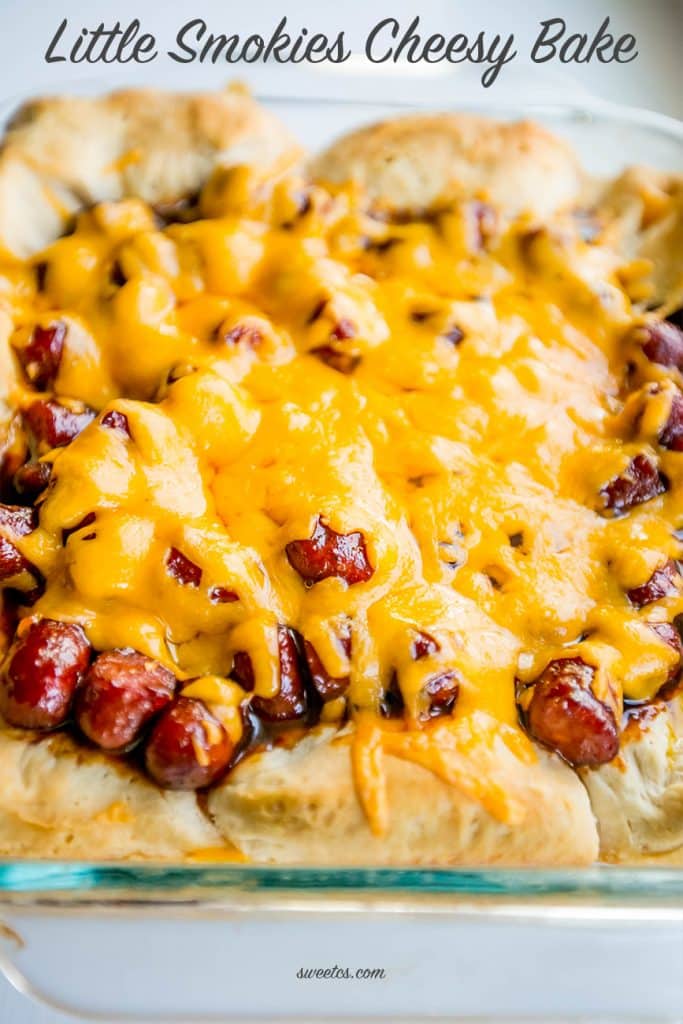 How to make Cheesy BBQ Little Smokies Casserole
First you will need to assemble these ingredients:
Little Smokies – little smokies are basically just mini-hot dogs and are a great filling for this casserole. You don't have to buy the little smokies brand, you can use any mini-hot dogs.
BBQ Sauce – the BBQ sauce is the strongest flavor in this casserole so pick whatever kind of BBQ sauce you like. I personally like a slightly spicy BBQ sauce.
Cheddar cheese – shredded cheddar cheese will make this casserole cheesy and delicious
Grand Biscuits – these pre-made biscuits save you a lot of time and come in a roll of 8. Don't be afraid to push them and pull them, they will still puff up well!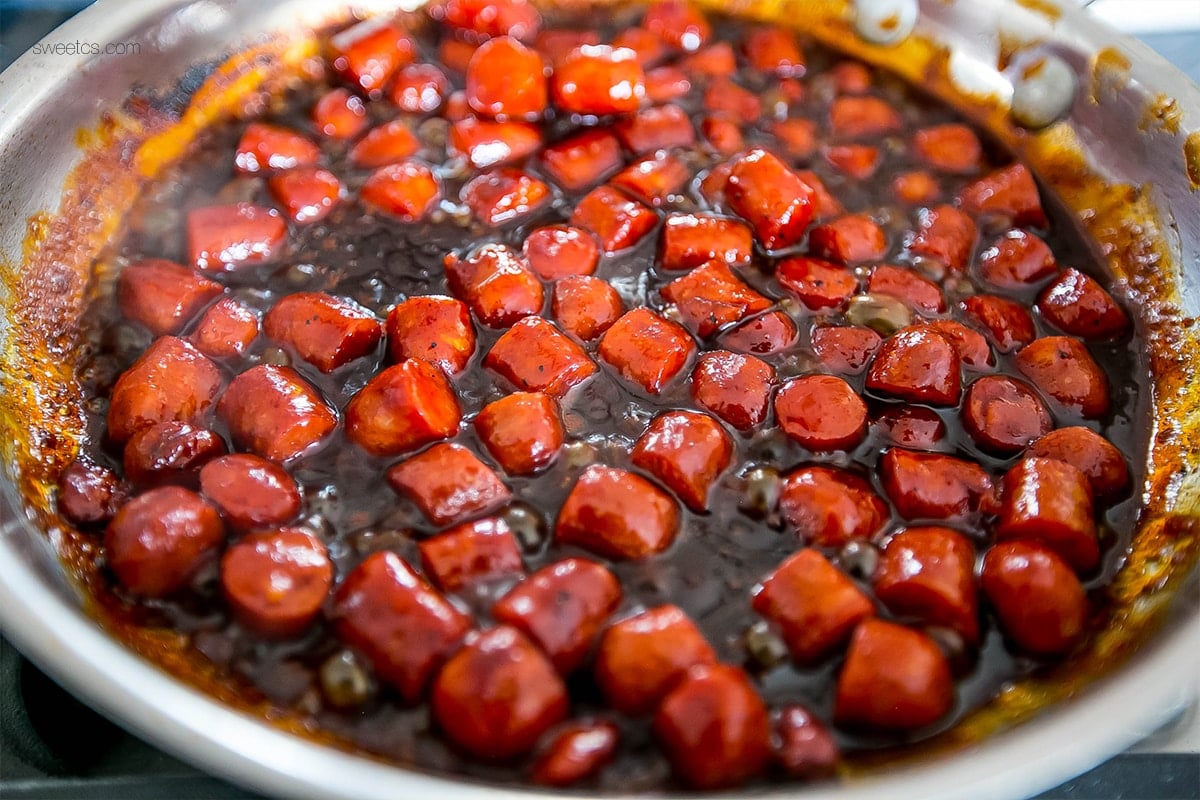 Once you have assembled the ingredients use the following method
Build the base. Grease a square casserole dish well and add the biscuits to the dish, pressing them to fill it well, try not to leave any gaps between them. Bake the biscuits in the oven at 350 degrees for 10 minutes. They should be puffy but not brown.
Prep the sauce. Slice the little smokies in half and add them to a pan on the stovetop with the BBQ sauce. Let them cook in the sauce for about 10 minutes.
Assemble. Remove the biscuits from the oven and top with the little smokies and BBQ sauce. Top with the shredded cheddar cheese.
Bake and enjoy. Bake for an additional 15 minutes or until the cheese is bubbly and the biscuits are brown. Enjoy while hot!
Tips and Tricks for Perfect Cheesy BBQ Little Smokies Casserole
Add a bit of spice. Aren't sure what BBQ sauce to use I would go with Sweet Baby Ray's honey BBQ sauce and add a few squirts of sriracha. It won't make the sauce spicy but will help balance out the sweetness.
Use a glass dish. While you can use any type of square casserole dish for this, I recommend you use a glass one so you can see how the biscuits on the bottom of the dish are baking. You don't want to remove the casserole from the dish from the oven when the biscuits on the bottom are raw.
Spice it up. To turn the heat up on the BBQ casserole you can add a pinch of red pepper flakes to the BBQ sauce when you are simmering the little smokies.
FAQs
How do I store leftovers?
Leftover casserole can be covered or placed in an airtight container in the refrigerator for 3-4 days. Warm in the oven or microwave.
Can I use a different type of cheese?
Yes, I use cheddar because it melts well so be sure you pick a cheese that will melt in the oven. Gouda, Pepper Jack or Colby Jack cheese would all work well.
Try more amazing BBQ Inspired Recipes
Click here to see all our BBQ Recipe or BBQ Sides
Easy Cheesy BBQ Lil Smokies Cheesy Bake Recipe
If you love this easy recipe please click the stars below to give it a five star rating and leave a comment! Pease also help me share on facebook and pinterest!
CONNECT WITH SWEET C'S!
Be sure to follow me on social media, so you never miss a post!
Only have 30 minutes to get dinner on the table? Sign up for my 30 minute dinner plans direct to your inbox!
Find and shop my favorite products in my Amazon storefront here!
Easy Cheesy BBQ Little Smokies Casserole
Delicious bbq little smokies cheesy bake is a simple, delicious dish with just 4 ingredients!
Ingredients
14 oz package little smokies
1/4 cup bbq sauce, your favorite
1 1/2 cups cheddar cheese, shredded
1 grands biscuit, package containing 8 biscuits
Instructions
Preheat oven to 350 degrees.
Grease a 8.5" x 8.5" casserole dish well.
Add grands biscuits to dish and press to fill in.
Bake for 10 minutes until biscuits are puffy but not browned.
While biscuits are cooking, slice little smokies in half and add to a pan on the stovetop with BBQ sauce.
Sautee over medium high heat until biscuits are ready.
Remove biscuits from oven when they are about halfway cooked, top with little smokies and BBQ sauce.
Top with shredded cheddar cheese.
Bake for 15 minutes, until cheese is bubbly and biscuits brown.
Serve immediately.
Recommended Products
As an Amazon Associate and member of other affiliate programs, I earn from qualifying purchases at no extra expense to you.
FLAIROSOL OLIVIA. The Original, Advanced Oil Sprayer for Cooking, Salad Dressings and More, Continuous Spray with Portion Control, Trusted by Professional Chefs. Patented Design and Technology. (Glass Bottle, White Print) 130ml/4.4 oz

Bachan's - (2 pack) Original Japanese Barbecue Sauce, 17 Ounces. Small Batch, Non GMO, No Preservatives, Vegan and BPA free. Condiment for Wings, Chicken, Beef, Pork, Seafood, Noodle Recipes, and More.…
Nutrition Information
Yield

6
Serving Size

1
Amount Per Serving
Calories

659
Total Fat

43g
Saturated Fat

17g
Trans Fat

1g
Unsaturated Fat

22g
Cholesterol

69mg
Sodium

1427mg
Carbohydrates

48g
Fiber

1g
Sugar

7g
Protein

21g
Nutrition is automatically calculated by Nutritionix - please verify all nutrition information independently and consult with a doctor or nutritionist for any and all medical and diet advice.