Easy Green Chile Sauce Recipe - delicious easy Colorado style green chile sauce, great for enchiladas, tacos, and more!
This post is sponsored by Visit Colorado. All opinions are my own.
Green chile is something you just HAVE to have in Colorado - here we put it on just about everything, and every fall when our Pueblo chilies are in season, you can find people roasting chilis all over Colorado and simmering big batches of their own special sauce.
If you've never had Pueblo green chilies, you need to try them - they are similar to Hatch chili but can be much spicier (they range from 5,000 - 20,000 scoville units) and are meatier than hatch chilies - I also love them so much more. The Pueblo Mirasol chilies face upward as they grow, and definitely pack more punch.
While you can use other chilies in this recipe, I strongly reccomend roasted Pueblo chilies, the flavor will blow you away!
Green chile is a menu staple across Colorado - but delicious Colorado style green chile sauce is really easy to make at home, too!
Green chile is great as a dip, as a sauce, as a topping - and even as a stew when cooked with pork or chicken.
It can be thin or thick, spicy or mild, and can even be made keto since this dish is naturally gluten free when using a keto thickener!
I hope you love this green chile recipe as much as I do - I love it so much, I'm even known to drink it straight from the jar!
To see more about the Southern Colorado road trip through Colorado Springs, Canyon City, and Pueblo that inspired this recipe, please visit my 3 Day Vacation Itinerary and start planning your own safe trip to the Pikes Peak region!
Just Take Me to the Recipe Already!
I have a lot of readers on Sweet C's who have asked for more information with their recipes, so that they feel more comfortable in the kitchen.
If you would rather skip past that, please click the "scroll to recipe" button in the top left corner.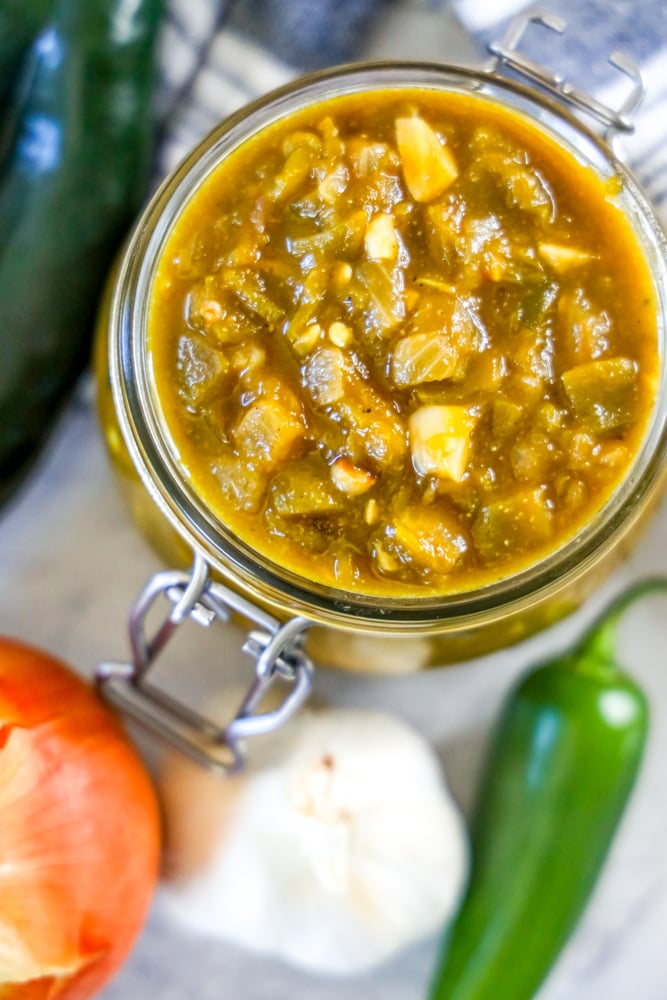 Colorado Style Green Chile Sauce
Colorado's Pikes Peak, Canyon City, and Pueblo regions are known for knockout southwest style green chile - in part thanks to Pueblo's well known chile farms.
Our family recently partnered with Visit Colorado to spotlight how Colorado's tourism industry is keeping visitors healthy and safe post-pandemic, and this recipe was inspired heavily by our trip.
While I've been making this recipe for years, I've never shared it here - and I hope you love seeing more from my home state that I love so much, and consider taking your own safe, distanced trip to come see Colorado for yourself!
Colorado green chile (NOT spelled chili) is legendary - we put it over burgers, fries, salads, wraps, tacos, burritos, nachos, enchiladas.... or just slowly simmer pork or chicken in it as it cooks and eat it as a meal.
You can't come to Colorado, especially southern Colorado, and NOT try green chile - but I hope you enjoy this little taste of Colorado at home and enjoy this recipe, anytime!
Please check out our 3 day Colorado Springs, Canyon City, and Pueblo Itinerary here.
How To Thicken Green Chile Sauce
Sometimes I want thinner green chile - when I'm making it as a sort of tangier salsa to dip chips, or as a stew with pork shoulder - but sometimes it's better thicker as a sauce for enchiladas, tacos, or on top of burgers.
To thicken green chile sauce, you can either use a keto thickener or flour.
Thickening green chile sauce with flour is the traditional way to make green chile thicker than many sauces.
I personally just stir in a tablespoon of Wondra quick-mixing flour, since you don't need to make a slurry and mix it in - it can be added directly to soups, sauces, and chile without clumping.
If you don't have a quick mixing flour, mix 1 tablespoon flour with 1 tablespoon cold water, mix well to make a slurry, and then stir into your green chile to thicken as desired.
Use ¼ teaspoon Xantham Gum to 1 tablespoon cold water and mix well to create a slurry.
Add slurry into soup and let cook down for 5 minutes to thicken, just like you would a flour slurry.
Be very careful to not add too much xantham gum - it thickens FAST and just a little bit does the trick!
How To Store Green Chile Sauce
Store green chile sauce in the refrigerator in an airtight container for up to five days.
I personally love storing green chile in these jars (as pictured).
Green chile sauce can be frozen (simply pop in the fridge overnight to thaw naturally) for up to four months in a freezer bag.
What to Serve With Green Chile Sauce
This green chile is amazing in all sorts of dishes - its great as a sauce, a dip like salsa, or more!
If you want to try a spicy spaghetti squash take with this sauce, check out my green chile spaghetti squash recipe.
Ladle it over meat, vegetables, fish, tacos, enchiladas, burgers and more - the ssky is the limit!
We're rounding up our favorite foods to pair with green chile below:
What To Serve With Green Chile
Easy Green Chile Sauce Recipe
If you love this delicious recipe, please give it a five star rating (click the stars in the recipe below) and help me share on facebook and pinterest!
CONNECT WITH SWEET C'S!
Be sure to follow me on social media, so you never miss a post!
Facebook | Twitter | Youtube | Pinterest | Instagram
Only have 30 minutes to get dinner on the table? Sign up for my 30 minute dinner plans direct to your inbox!
Find and shop my favorite products in my Amazon storefront here!
Yield:

3 cups sauce
Easy Green Chile Sauce Recipe
Easy Colorado style green chile sauce that is delicious over tacos and burritos, nachos, burgers, and more! Can be made thick as a sauce, or thinner as a dip - and as spicy or mild as you like it!
Ingredients
2 tablespoons olive or avocado oil
1 large finely chopped white onion
6-8 garlic cloves, finely minced
24 oz chopped roasted green chilies (mild, medium, or hot, according to your preferences - I prefer roasted Pueblo Chilies)
½ teaspoon cumin
½ teaspoon black pepper
1 teaspoon dried Mexican oregano
1 ½ cups chicken stock or bone broth
1 teaspoon celtic sea salt
1 teaspoon cayenne pepper (optional)
1 medium jalapeno, finely diced (optional)
1-2 tablespoons quick-mixing flour, optional
Instructions
In a large pot or dutch oven, heat olive oil until shimmery.
Add onion and garlic to pot, and soften until fragrant, making sure to stir often to prevent burning. Cook about 4-6 minutes to softened and very lightly browned.
Stir in chiles and let cook to fragrant, stirring well to mix, another 5 minutes. If adding jalapeno for heat, add to dish with green chilies.
Season well with cumin, oregano, and black pepper.
Stir in broth and raise heat to high, bring to a boil, then reduce heat to medium.
Let reduce and thicken, simmering for 10 minutes.
Season with cayenne and salt, tasting before adding to be sure you add just enough for your tastes.
If thickening, add 1 tablespoon quick mixing flour or keto xantham slurry, whisk/stir vigorously to mix, and let cook another 5 minutes until thick.
Remove from heat and serve or store for future dishes.
Nutrition Information
Yield
24
Serving Size
2 tbsp
Amount Per Serving
Calories

21
Total Fat

1g
Saturated Fat

0g
Trans Fat

0g
Unsaturated Fat

1g
Cholesterol

1mg
Sodium

136mg
Carbohydrates

2g
Fiber

0g
Sugar

1g
Protein

1g
Nutrition is automatically calculated by Nutritionix - please verify all nutrition information independently and consult with a doctor or nutritionist for any and all medical and diet advice.
If you love this recipe, be sure to check out our reader favorites - these tried and true viral hits are popular with Sweet C's readers and have hundreds of five star reviews!
Sweet C's Favorite Recipes
Favorite recipes from Sweet Cs Designs