Easy Lofthouse Cookies Copycat Recipe
Jul 23, 2019, Updated Nov 12, 2023
Easy Lofthouse Cookies Copycat Recipe – delicious soft, sweet cookies that taste just like Lofthouse cookies from your grocery store, but a million times better!
If you love the puffy, soft, delicious frosted sugar cookies in your grocery store, you're going to love this copycat recipe.
Lofthouse cookies are a major addiction at our house – and this copycat lofthouse recipe is so simple to make, it's sure to become your favorite new sugar cookie recipe.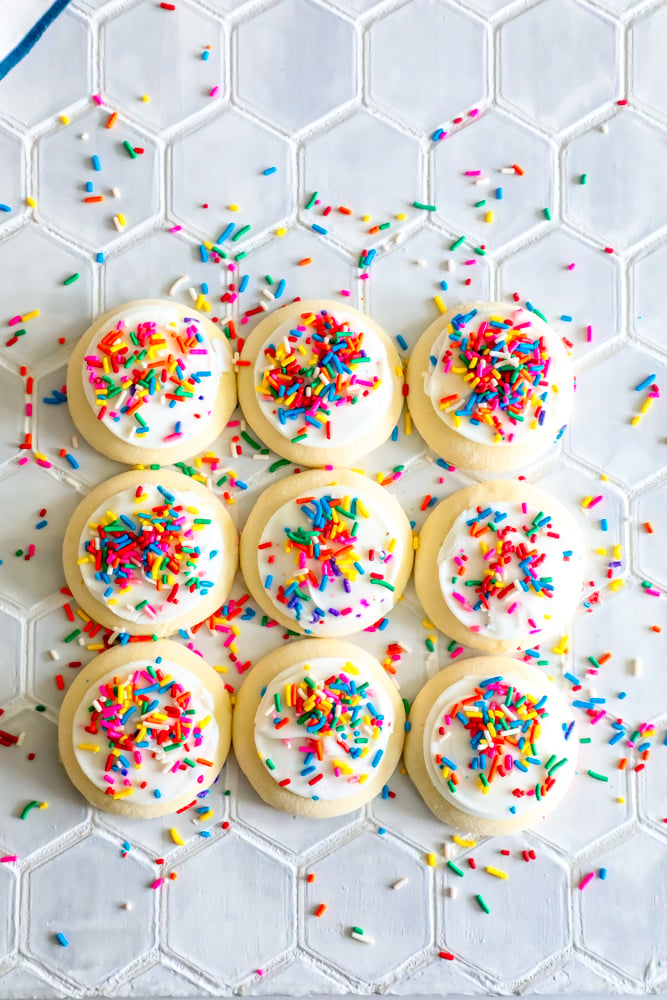 Lofthouse sugar cookies are known for the light and fluffy consistency, with a rich not too sweet buttercream frosting icing and tons of sprinkles – they taste fabulous chilled, and are one of thee most popular soft sugar cookies around.
I hope you love this delicious recipe as much as my family!

Just Take Me To The Lofthouse Cookies Copycat Recipe Already!
I get a lot of comments and questions on my recipe posts since I have readers of all sorts of skill level and experience in the kitchen.
I provide lots of tips and tricks in my post to make sure you get the best results every time – if you'd prefer to skip this, please scroll to the bottom of the post, just before comments, where you will find the easy printable recipe.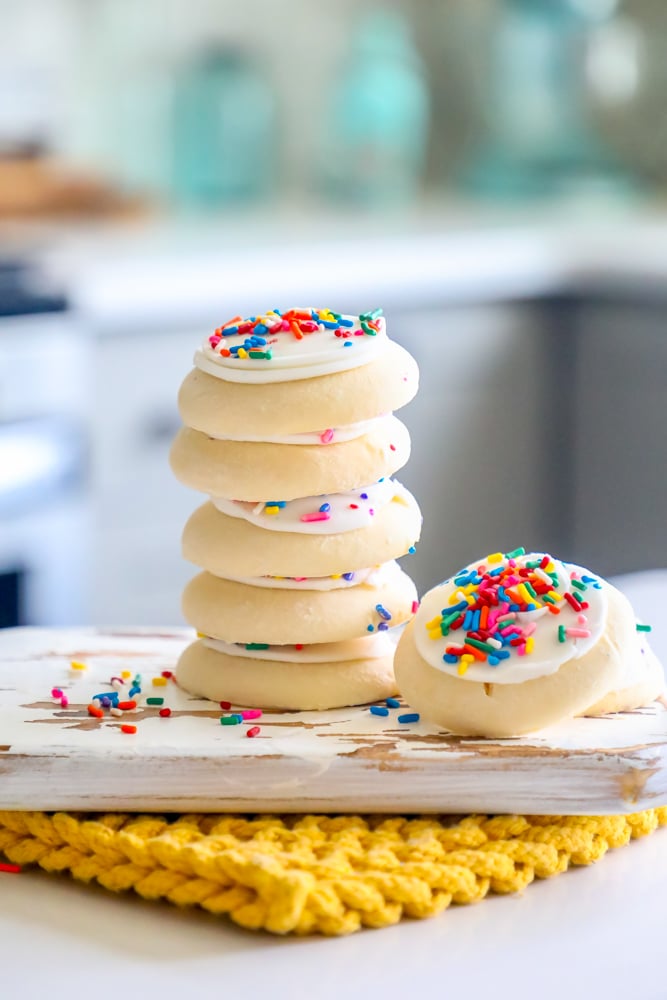 To Make These Easy Lofthouse Style Cookies, You'll Need:
These Lofthouse-style frosted sugar cookies are so delicious, and don't require a ton of ingredients you aren't likely to have on hand.
If you bake often, you probably have everything you need to make these right away!
For The Cookies, You'll Need:
Cake Flour (2 3/4 cups): Cake flour is used in this recipe to give the cookies a tender and delicate texture. It has a lower protein content than all-purpose flour, which results in a softer crumb.
Baking Powder (2 tsp): Baking powder is a leavening agent that helps the cookies rise and become light and fluffy.
Salt (1/4 tsp): Salt enhances the flavor of the cookies and balances the sweetness of the other ingredients.
Unsalted Butter (1/2 cup, softened): Butter adds rich flavor and moisture to the cookies. Softened butter is easier to cream with sugar, creating a smooth cookie dough.
Vegetable Shortening (1/3 cup): Vegetable shortening contributes to the tenderness and texture of the cookies. It also helps prevent them from spreading too much during baking.
Granulated Sugar (1 1/4 cups): Sugar sweetens the cookies and also aids in creating a tender texture. It can provide some crispness on the cookie's outer edges.
Large Egg (1) and Large Egg White (1): Eggs act as binders and add structure to the cookies. The yolk adds richness, while the egg white contributes moisture.
Vanilla Extract (2 tsp): Vanilla extract imparts a pleasant vanilla flavor to the cookies, enhancing their overall taste.
Almond Extract (1/2 tsp): Almond extract provides a subtle almond flavor that complements the vanilla. It adds a unique and delightful twist to the cookies' flavor.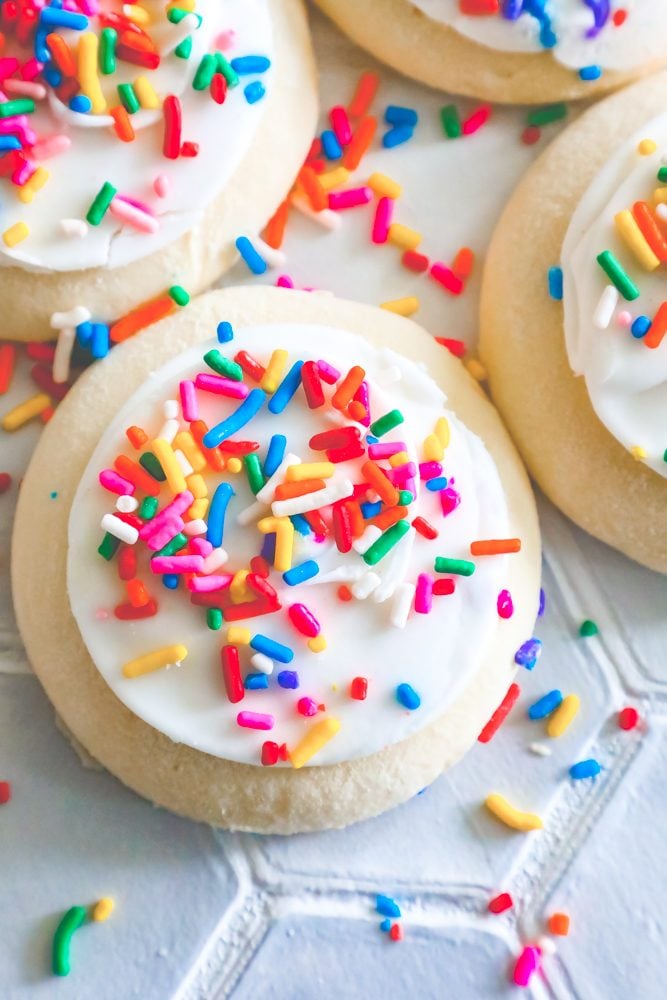 For the Frosting, You'll Need:
Unsalted Butter (1/3 cup, softened): Butter adds a rich and creamy flavor to the frosting. Softened butter is easier to mix and creates a smooth texture.
Vegetable Shortening (1/3 cup): Vegetable shortening contributes to the frosting's stability and texture. It helps the frosting hold its shape and prevents it from becoming too soft at room temperature.
Vanilla Extract (1 tsp): Vanilla extract enhances the flavor of the frosting, giving it a pleasant vanilla taste.
Salt (1/4 tsp): Salt balances the sweetness of the frosting, enhancing its overall flavor without making it overly sweet.
Powdered Sugar (3-3.5 cups): Powdered sugar, also known as confectioners' sugar, is the primary sweetener and thickener in the frosting. It creates a smooth and sweet consistency.
Milk or Cream (3-4 tbsp): Milk or cream is used to adjust the consistency of the frosting. It thins out the frosting and makes it easier to spread or pipe onto the cookies.
Food Coloring: Food coloring is optional but adds vibrant and fun colors to the frosting. You can customize the frosting's color to match your preferences or the occasion.
Sprinkles: Sprinkles are decorative elements that add a pop of color and texture to the cookies. They are often used to make the cookies visually appealing and festive.
To see some of my favorite baking essentials, please visit my Amazon baking picks list!
How To Make Lofthouse Style Cookies
While these sugar cookies are easy to make – just mix, make the frosting, and bake – there are a couple of steps to make sure you get the pillowy, soft, and melt in your mouth delicious texture that makes Lofthouse style cookies so perfect.
The most essential step of these sugar cookies is to chill them for at least 3 hours to overnight – you want the dough to be completely chilled throughout to make sure the dough performs how you'd like, and doesn't spread out.
Other Delicious Desserts You'll Love:
If you love these easy soft frosted sugar cookies, be sure to check out my other favorite delicious desserts – cookies, cupcakes, and more!
I am not a baker by nature, so I try to focus on easy, never-fail recipes that are tried and true – your family will love some of these!
Easy Lofthouse Cookies Copycat Recipe
If you love these easy lofthouse cookies as much as I do, please give them a five star review and help me share on facebook and pinterest!
CONNECT WITH SWEET C'S!
Be sure to follow me on social media, so you never miss a post!
Only have 30 minutes to get dinner on the table? Sign up for my 30 minute dinner plans direct to your inbox!
Find and shop my favorite products in my Amazon storefront here!
Easy Lofthouse Cookies Recipe
Total Time:
4 hours
50 minutes
Easy Lofthouse Cookies Copycat Recipe - delicious soft, sweet cookies that taste just like Lofthouse cookies from your grocery store, but a million times better!
Ingredients
For the Cookies:
2 3/4 cup cake flour
2 tsp baking powder
1/4 tsp salt
1/2 cup unsalted butter, softened
1/3 cup vegetable shortening
1 1/4 cup granulated sugar
1 large egg
1 large egg white
2 tsp vanilla extract
1/2 tsp almond extract
For the Frosting:
1/3 cup unsalted butter, softened
1/3 cup vegetable shortening
1 tsp vanilla extract
1/4 tsp salt
3-3.5 cups powdered sugar
3-4 tbsp milk or cream
food coloring
sprinkles
Instructions
For the Cookies:
In a large bowl, sift together the cake flour, baking powder and salt. Use a sifter, so you have light fluffy flour that wont clump.

In a separate medium sized bowl or the bowl of a stand mixer, beat together the butter, shortening and sugar. Mixture should be very pale yellow and fluffy.

Vigorously beat in the egg, egg white, vanilla extract and almond extract using a wooden spoon or a paddle attachment of a stand mixer.

With the stand mixer on low, beat in the flour mixture about 1/2 at a time.

Cover the bowl with plastic wrap and refrigerate for at least 3 hours or overnight.

After completely chilling the cookie dough, preheat the oven to 350F degrees.

Prep cookie sheets by lining with parchment paper, nonstick foil, or silicone baking mats. I prefer parchment paper.

Roll the dough into ping pong sized balls and place 2 inches apart on a baking sheet.

I try to flatten the dough in my hands, to make a thin disc shape, or will use a silicone rolling pin or even the bottom of a cup. Just toss a little flour on your hands or whatever you're using so it doesn't stick!

Bake for 9-11 minutes, or until the tops are set.

Do not over cook, as these cookies are best when not browned around the edges like a chocolate chip cookie.
For the frosting:
In a large bowl or stand mixer (I like to use bowls with a rubber base so it won't slide), cream together shortening and butter.
Add vanilla and salt, mix well.
Using a spoon in the powdered sugar about 1 cup at a time, then beat in the milk/cream about 1 tablespoon at a time, adding a little more powdered sugar as necessary.
Then mix in the food coloring (I used about 5-6 drops of red).
Frost cooled cookies with a flat knife and decorate with sprinkles.
Recommended Products
As an Amazon Associate and member of other affiliate programs, I earn from qualifying purchases at no extra expense to you.
Nutrition Information
Yield

32
Serving Size

1
Amount Per Serving
Calories

253
Total Fat

10g
Saturated Fat

5g
Trans Fat

0g
Unsaturated Fat

4g
Cholesterol

28mg
Sodium

76mg
Carbohydrates

40g
Fiber

0g
Sugar

30g
Protein

2g
Nutrition is automatically calculated by Nutritionix - please verify all nutrition information independently and consult with a doctor or nutritionist for any and all medical and diet advice.