Easy Sirloin Skillet With Vegetables Recipe
May 08, 2020, Updated Apr 29, 2023
Easy Sirloin Skillet with Vegetables Recipe is a hearty, delicious, low carb and keto pan fried top sirloin steak dinner with mushrooms, zucchini, and onions for a cheese-free way to use up cheesesteak style thin sliced top sirloin!
If you're looking for Keto Cheesesteak Ideas, this easy sirloin skillet recipe is for you!
Easy Sirloin Skillet with Vegetables is a hearty dinner that is packed with juicy steak flavor, takes under 15 minutes from fridge to table, and is a family-pleasing meal that is packed with vegetables and naturally low carb.

This delicious sirloin skillet recipe is great with rice, cauliflower rice, or in sandwiches (melt some cheese over it for a tasty take on a veggie-packed cheesesteak) – and also is delicious over lettuce as a rich and meaty salad!
This sirloin skillet with vegetables recipe is one of my favorite easy pan fried steak dinners, and I know it will be one of yours, too!
Check out my web story on this amazingly simple but delicious skillet!
Top sirloin is a deliciously easy cut of steak – if you know how to cook it properly. Cooking steak too fast or too slow can result in tough, chewy, or flabby meat – but properly cooked thin cut sirloin should be buttery, tender, and have a nice caramelization that is easy to chew and melts in your mouth.
For the best sirloin skillet, it's important to keep these tips on how to cook thin sliced sirloin in mind:
Use very thin sliced top sirloin. Top sirloin cooks best in this recipe when it has been sliced very thin – the meat cooks faster and connective fibers are shorter, making them less likely to get tough when cooked quickly. 
Use a large, heavy pan. Your pan is a major part of this recipe – use a large, heavy pan like a cast iron skillet, a wok, or large frying pan that gets hot and heats evenly. Your pan should not be too small because you don't want to overcrowd it and make the steak boil instead of pan-fry. 
Stir only enough to prevent burning. Stirring sirloin too often prevents it from searing and getting a lovely browned outside – which is critical for meat that isn't soft and flabby. Let your steak brown before stirring to get the best flavor.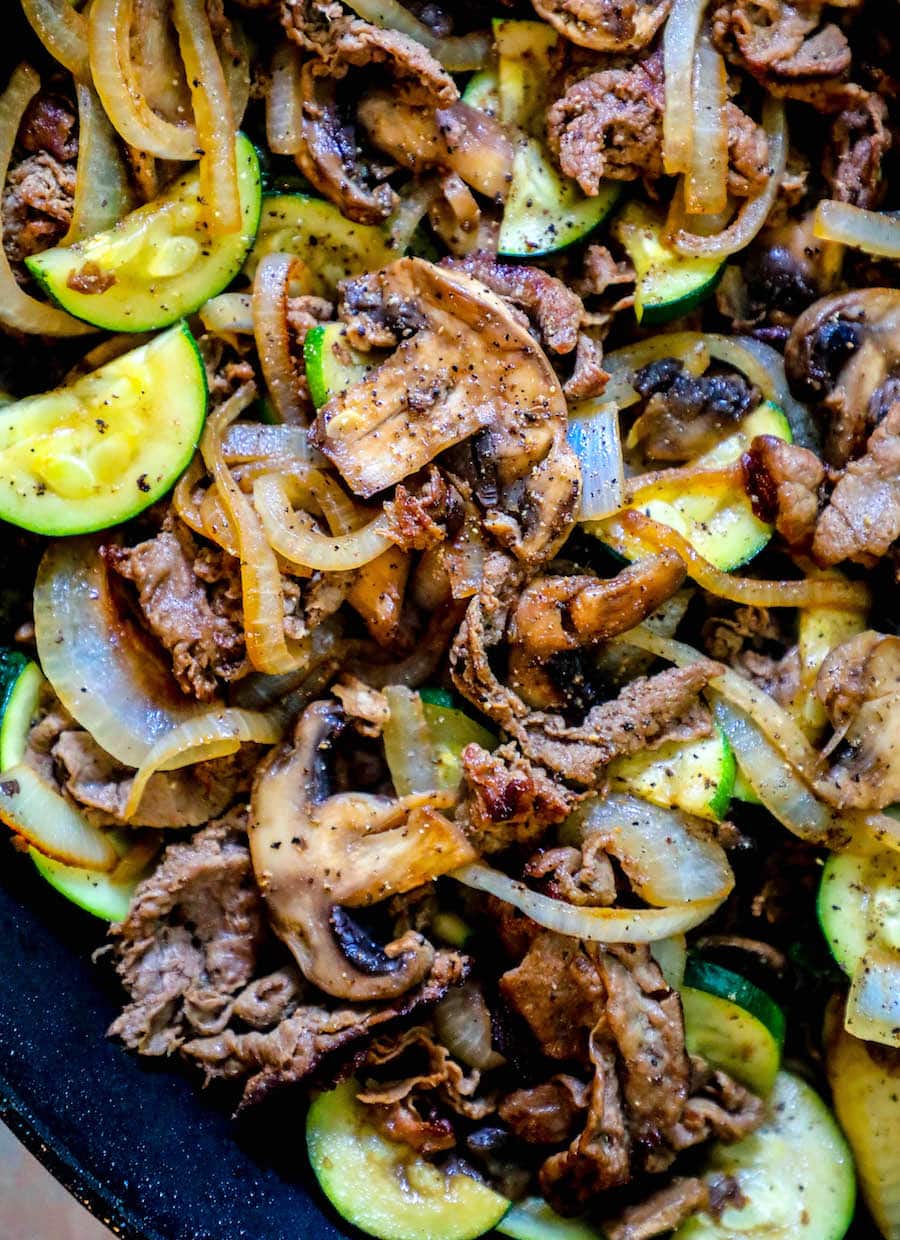 Top Sirloin is the perfect steak to make cheesesteak with, the best steak to pan-fry, and for stir frys.
For the best pan fried or stir fried top sirloin though, it is important to be sliced thin so it can cook hot and fast, making the meat tender and easy to chew.
Slicing meat very thin can be quite difficult at home if you cant find thin sliced meat in the store – but with these easy tips you'll know how to thin slice a steak in no time!
Place meat in a freezer bag or wrap in cling wrap and remove any air bubbles.
Place on metal baking tray.
Freeze for 1.5-2 hours – so it is frozen outside but not rock-solid.
Remove meat from freezer and try to cut into the side – if knife meets a little pressure but cuts through, it is ready to be sliced. If it is tough to slice and not firm, it needs to be frozen longer. If there is too much resistance, it might be too frozen – let it thaw for a few minutes.
Using a sharp knife, slice against the grain using a gentle sawing motion. When you look at the beef, you will see the fibers of the meat are going in one direction. You need to cut across in the other direction to ensure the tenderness.
When meat is sliced thin, you're ready to cook!
What to Serve With Sirloin and Vegetables Skillet
If you love this delicious and easy sirloin and vegetables skillet and you're looking for quick keto and low carb side dishes to serve alongside it, please check out some of my favorites:
The Best Ever Cauliflower Rice
4 Ingredient Keto Jalapeno Cheese Bread
Caprese Burgers
Easy Sirloin Skillet with Vegetables Recipe
If you love this Easy  Sirloin Skillet With Vegetables Recipe as much as I do, please write a five star review, and be sure to help me share on facebook and pinterest!
CONNECT WITH SWEET C'S!
Be sure to follow me on social media, so you never miss a post!
Only have 30 minutes to get dinner on the table? Sign up for my 30 minute dinner plans direct to your inbox!
Find and shop my favorite products in my Amazon storefront here!
Easy Sirloin Skillet with Vegetables Recipe
Easy Sirloin Skillet with Vegetables is a hearty, delicious, low carb and keto  pan fried top sirloin steak dinner with mushrooms, zucchini, and onions for a cheese-free way to use up cheesesteak style thin sliced top sirloin!
Ingredients
2 tbsp olive oil
1 1/2 lb top sirloin, thinly sliced
1 white onion, skin removed, halved, and sliced into thin strips
1 zucchini, sliced into thin half rounds
8 oz cremini mushrooms, cleaned and sliced thin
2 tsp pepper, freshly cracked
1 tbsp montreal steak seasoning
Instructions
Heat large pan or skillet on high until hot to the touch.
Add olive oil to pan and swirl until thin and shimmery, about 30 seconds.
Add sliced sirloin to pan, making sure to not stack on top of itself or in big clumps - don't crowd together.
Let sliced sirloin brown, then stir to flip and brown on other side - about 1-2 minutes per side.
Add onions to pan, let cook until softened, another 3 minutes.
Add zucchini, mushrooms, and seasonings and continue to cook until vegetables are softened and lightly browned, about 3-4 minutes.
When vegetables are lightly browned, remove from heat and serve immediately in a sandwich, over rice or cauliflower rice, with vegetables, or on a plate and enjoy!
Nutrition Information
Yield

6
Serving Size

1
Amount Per Serving
Calories

340
Total Fat

21g
Saturated Fat

7g
Trans Fat

0g
Unsaturated Fat

11g
Cholesterol

104mg
Sodium

308mg
Carbohydrates

5g
Fiber

1g
Sugar

2g
Protein

32g