Delicious easy hot Italian sliders are loaded with your favorite Italian deli meats and cheese and spicy pepperoncini peppers, they are perfect for gameday, dinner, or lunch with a kick!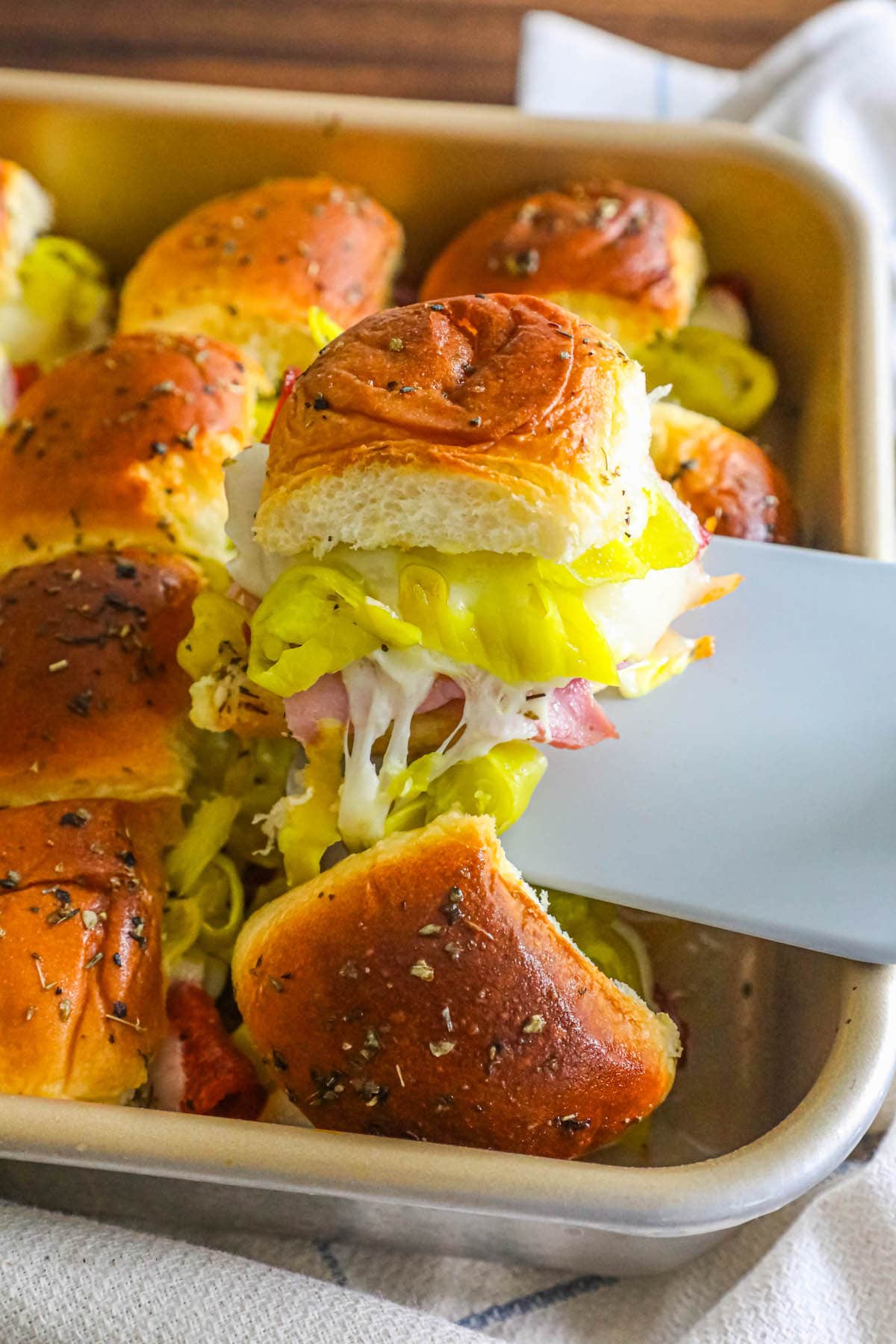 Don't want all the extras in a recipe post? We provide a skip to recipe button in the top left corner, as well as a clickable table of contents, just below, to help make this page easier to navigate.
Baked Cheese and Ham Pepperoncini Sliders
These baked sliders are the perfect combination of layered Italian deli meats, cheese, and some zesty spicy pepperoncini peppers. The meats and peppers make these sliders irresistible with a spicy flare.
I love pepperoncini's and always am looking for ways to add them to my recipes. These sliders combine the Mediterranean meats and flavors with sweet Hawaiian rolls. The balance is perfect so these aren't super spicy, my kids love them and will eat them without taking out the peppers. Each bite is an explosion of flavor and leaves you craving more.
These Italian sliders are a gameday and Super Bowl family favorite but are also great for a quick lunch or fun dinner. I have also brought these to potlucks and parties and the tray of sliders is always the first thing gone, even people who don't like spicy food love these. They are the ultimate tasty treat for any occasion.
How To Make Hot Italian Sliders
To make this recipe, we will need the following ingredients:
Packed Rolls - I like to use Kings Hawaiian rolls since they are slightly sweet and nice and soft.
Ham - I like to use thin sliced plain uncured ham so that you get that salty rich ham flavor without it being overpowering.
Salami - Fresh sliced salami will add a smoky, peppery, salt, and savory flavor to these sliders.
Pepperoni - Fiery, smoky, tangy pepperoni pairs very well with salami and ham for a perfect Italian meat trio.
Provolone - this semi-hard cheese is known for its creamy, delicate, buttery flavor. It gives the sliders a stringy cheesy element without taking away from the pungent meats and spice.
Pepperoncini - these spicy Italian peppers add the heat. Be sure to drain them and pat them dry before adding them to the sliders. Add less pepperoncini if you want less heat.
Butter - butter will help the Italian seasoning stick to the top of the sliders and help get nice soft lightly browned sliders.
Italian Seasoning - a little Italian seasoning on the top of these sliders gives it some aromatic spice and a nice finish.
To make this recipe, we will use the following process:
Assemble. Place the bottom half of the rolls on a baking sheet or in a pan. Layer on slices of ham, salami, and top with pepperoni. Add a layer of provolone over the meats then add a layer of the sliced pepperoncini peppers. You can adjust the level of heat based on how much pepperoncini you put on. Top with the top bun(s) and set aside.
Topping. In a small bowl melt the butter in the microwave and add the Italian seasoning. Mix and then brush over the top of the sliders. Loosely cover the sliders with foil.
Bake. Bake the sliders in the oven, covered for 25 minutes at 350 degrees F. Remove the foil and bake the last 5 minutes uncovered or until lightly browned and very lightly toasted. Remove, slice, and enjoy!
Tips and Tricks for Perfect Hot Italian Sliders
Choose Quality Ingredients: Start with high-quality ingredients. Look for fresh slider buns, good-quality ham, flavorful cheese (such as provolone or mozzarella), and tangy pepperoncinis. Using fresh and flavorful components will greatly enhance the taste of your sliders.
Proper Assembly: Assemble your sliders with care. Place a slice of ham and cheese on each bun, making sure they cover the surface evenly. This helps the cheese melt evenly and bind the ingredients together.
Melt the Cheese: To achieve gooey, melted cheese, you can melt it slightly on the ham before assembling the sliders. You can use a microwave for a few seconds or place the ham and cheese under the broiler briefly.
Add Pepperoncinis for Flavor: Pepperoncinis provide a tangy and slightly spicy kick to your sliders. Make sure to drain them well before placing them on the sliders. You can adjust the amount based on your spice preference.
Flavorful Sauces: Consider adding a flavorful sauce or spread to the buns. Options like pesto, Italian dressing, or a garlic-infused butter can elevate the taste and add moisture to the sliders.
Herbs and Seasonings: Sprinkle some dried Italian herbs, red pepper flakes, or black pepper on the cheese or ham for an extra layer of flavor. Be cautious with salt, as some ingredients (like ham and cheese) are naturally salty.
Uniform Slicing: If you're making a batch of sliders, try to slice the ham and cheese uniformly. This ensures consistent flavors and textures in each bite.
Baking Method: Arrange the assembled sliders on a baking sheet lined with parchment paper or in a baking dish. Cover the sliders with aluminum foil to prevent them from drying out, and bake at a moderate temperature (around 350°F or 175°C) until the cheese is melted and the buns are toasted.
Final Touches: Once the sliders are out of the oven, remove the foil and let them cool slightly before serving. This helps the cheese set a bit, making it easier to handle.
Presentation: Consider serving the sliders with extra pepperoncinis on the side for those who enjoy an extra kick. You can also offer a dipping sauce, like marinara or ranch dressing, for added flavor.
Variations: Feel free to get creative with your sliders. You can add other ingredients like salami, roasted red peppers, or even caramelized onions to enhance the flavor profile.
Timing is Key: If you're serving these sliders at an event or gathering, plan to assemble and bake them just before serving to ensure they're warm and fresh.
FAQs
Can I use different types of cheese?
Absolutely! While provolone and mozzarella are popular choices, you can experiment with other cheeses like cheddar, Swiss, or even a spicy pepper jack for an added kick.
How do I prevent the sliders from becoming soggy?
To prevent sliders from becoming soggy, make sure to drain the pepperoncini's well and pat them dry with a paper towel. You can also lightly toast the inside of the buns before assembling to create a barrier against moisture.
Can I make these sliders ahead of time?
While it's best to serve the sliders fresh, you can assemble them ahead of time and then bake them just before serving. This way, the buns stay crispy and the cheese melts perfectly.
Can I make a larger batch for a party?
Absolutely! Simply adjust the quantities of ingredients based on the number of sliders you want to make. You can easily double or triple the recipe to accommodate a larger crowd.
What can I use as a dipping sauce?
A marinara sauce is a classic choice for dipping these Italian sliders. You can also offer garlic aioli, pesto, ranch dressing, or even a balsamic reduction for added flavor.
How do I reheat leftover sliders?
If you have leftover sliders, you can reheat them in a preheated oven at around 350°F (175°C) for a few minutes until the cheese is melted and the buns are warmed through.
Can I use deli-sliced ham for the sliders?
Yes, deli-sliced ham works well for these sliders. Choose a high-quality ham with good flavor. You can also use leftover cooked ham, such as from a holiday roast.
Can I customize the ingredients?
Absolutely! You can get creative with the ingredients. Try adding different deli meats, using different types of pickled peppers, or incorporating other Italian-inspired ingredients like sun-dried tomatoes or olives.
What type of buns should I use?
Soft slider buns or mini Hawaiian rolls work great for this recipe. They're slightly sweet and complement the savory fillings well.
Can I make a vegetarian version?
Yes, you can definitely make a vegetarian version of these sliders. Replace the ham with grilled or roasted vegetables like zucchini, bell peppers, and eggplant. You can also use a variety of cheeses and add some sautéed mushrooms for extra flavor.
Can I use fresh peppers instead of pepperoncinis?
Pepperoncinis provide a specific tangy flavor, but if you prefer fresh peppers, you can use thinly sliced banana peppers or mild chili peppers for a similar effect.
Are these sliders spicy?
The level of spiciness largely depends on the pepperoncinis you use. They are generally mild, but if you're sensitive to spice, you can reduce the amount or opt for milder pepper varieties.
What to Serve With Hot Italian Sliders
Side Salad: A fresh and crisp side salad is a great option to balance the richness of the sliders. Choose a salad with mixed greens, cherry tomatoes, cucumbers, red onions, and a tangy Italian vinaigrette.
Potato Salad: A creamy or tangy potato salad can provide a satisfying contrast to the hot sliders. Look for recipes with a mix of potatoes, herbs, and a flavorful dressing.
Pasta Salad: Opt for a light and refreshing pasta salad with colorful veggies and a zesty Italian dressing. It's a great way to incorporate more Italian flavors into the meal.
Fries or Potato Wedges: Crispy French fries or seasoned potato wedges are a classic pairing with sliders. They're a crowd-pleaser and provide a nice texture contrast.
Coleslaw: Creamy coleslaw with a touch of acidity can complement the sliders' flavors while adding a cool and crunchy element.
Caprese Skewers: Serve mini Caprese skewers with cherry tomatoes, fresh mozzarella, and basil leaves drizzled with balsamic glaze. It's a simple yet flavorful appetizer-style side.
Roasted Vegetables: Roasted vegetables like zucchini, bell peppers, and eggplant can be a tasty and healthy side. The roasted flavors and textures add depth to the meal.
Antipasto Platter: Create a colorful antipasto platter with a variety of Italian cold cuts, cheeses, olives, roasted red peppers, and marinated artichokes.
Bruschetta: Serve classic tomato and basil bruschetta as an appetizer-style side. The fresh flavors of the tomatoes and herbs complement the sliders nicely.
Garlic Bread: Soft and garlicky bread can be a fantastic side to mop up any delicious sauce or juices from the sliders.
Mixed Roasted Nuts: If you're looking for a quick and easy side, a bowl of mixed roasted nuts can provide a satisfying crunch and savory contrast.
Minestrone Soup: A light and flavorful minestrone soup can be a great starter or side dish, especially if you're serving sliders during colder months.
Italian-Style Quinoa Salad: Prepare a quinoa salad with chopped veggies, herbs, and a light lemon-herb dressing for a healthy and refreshing side.
Hot Italian Sliders Recipe
If you love this easy recipe please click the stars below to give it a five star rating and leave a comment! Please also help me share on facebook and pinterest!
Click here to view the web story for this recipe!
CONNECT WITH SWEET C'S!
Be sure to follow me on social media, so you never miss a post!
Facebook | Twitter | Youtube | Pinterest | Instagram
Only have 30 minutes to get dinner on the table? Sign up for my 30 minute dinner plans direct to your inbox!
Find and shop my favorite products in my Amazon storefront here!
Yield:

12 sliders
Hot Italian Sliders
These delicious hot Italian Sliders are packed with deli meats, cheese, and spicy pepperoncini peppers!
Ingredients
12 pack rolls, halved lengthwise I recommend Kings Hawaiian rolls
6 oz package of ham, thinly sliced
5 oz package of salami, thinly sliced
5 oz package of pepperoni, thinly sliced
9 slices provolone cheese
⅓ cup pepperoncini, sliced
¼ cup salted butter, melted
1 ½ teaspoon Italian seasoning
(Optional) Marinara sauce to serve
Instructions
Preheat the oven to 350 degrees F.
Lay the bottom half of the rolls on a baking sheet or pan. Layer on slices of ham, then top with salami, a layer of pepperoni and a layer of provolone. Then layer on sliced pepperoncini. Replace the top bun and set aside.
In a small bowl combine melted butter with Italian seasoning. Mix to combine. Then brush the seasoned butter mixture over the top of the sliders.
Cover the sliders with foil then bake about 25 minutes. Remove the foil and bake another 5 minute or until golden brown and top is lightly toasted.
Remove from the oven, slice and enjoy!
Recommended Products
As an Amazon Associate and member of other affiliate programs, I earn from qualifying purchases at no extra expense to you.
Nutrition Information
Yield
6
Serving Size
2 sliders
Amount Per Serving
Calories

503
Total Fat

40g
Saturated Fat

19g
Trans Fat

1g
Unsaturated Fat

17g
Cholesterol

119mg
Sodium

1708mg
Carbohydrates

9g
Fiber

1g
Sugar

3g
Protein

28g
Nutrition is automatically calculated by Nutritionix - please verify all nutrition information independently and consult with a doctor or nutritionist for any and all medical and diet advice.