Chicken Shawarma Pitas are a delightful and flavorful Middle Eastern dish. They're made with chicken marinated in a mix of fragrant spices like turmeric, cumin, and paprika, then grilled or roasted to perfection.
The chicken is then thinly sliced or chopped and served in a soft pita bread with fresh vegetables, tangy pickles, and a drizzle of creamy garlic tahini sauce or yogurt. It's a well-balanced meal that's packed with protein and fresh ingredients, making it both nourishing and satisfying.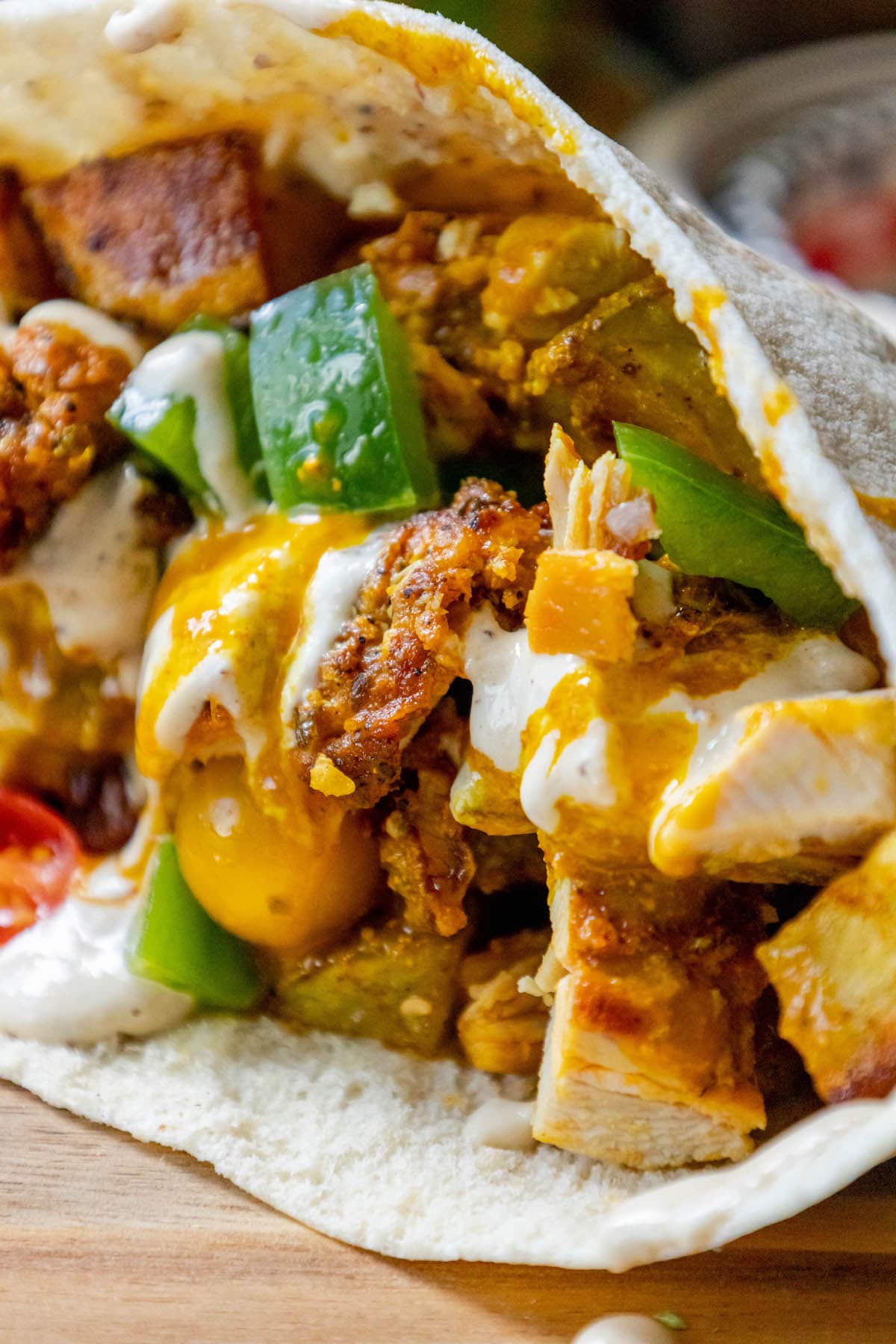 Don't want all the extras in a recipe post? We provide a skip to recipe button in the top left corner, as well as a clickable table of contents, just below, to help make this page easier to navigate.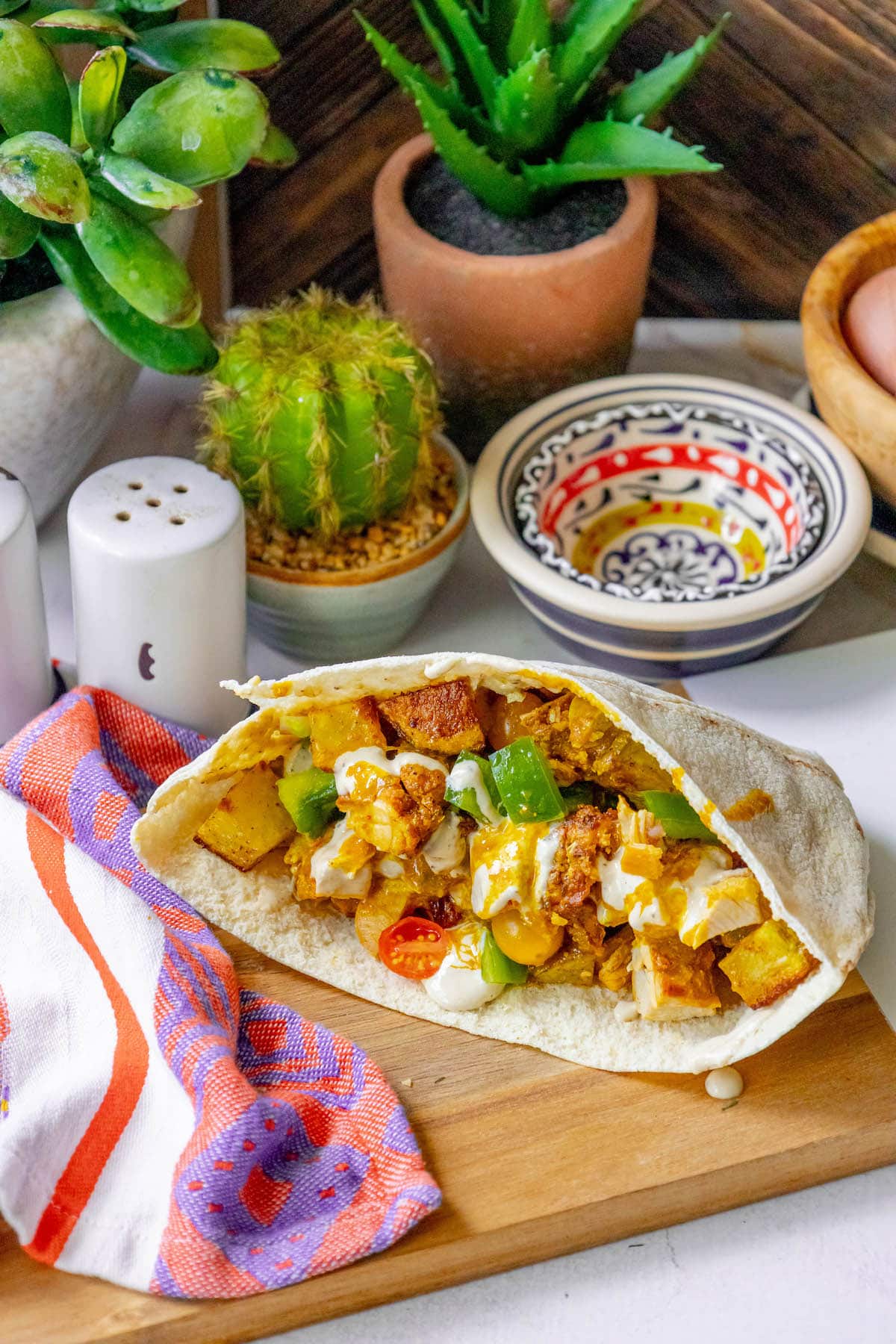 Baked Chicken Thigh Shawarma Pita Sandwiches
Baked Chicken Thigh Shawarma Pita Sandwiches bring a taste of the Middle East right into your kitchen. These sandwiches are a culinary celebration, combining various textures and flavors to create a meal that is both comforting and exotic.
At the heart of the dish are the chicken thighs, which are a perfect choice for shawarma due to their rich flavor and juicy texture. These are marinated in an array of spices typical of shawarma, including garlic, cumin, coriander, turmeric, and paprika, giving the chicken an aromatic and vibrant flavor profile. Baking the thighs allows the marinade to penetrate deeply, creating a wonderfully fragrant and tender meat.
The magic of these sandwiches really comes alive when the baked chicken is thinly sliced and piled onto fluffy, warm pita bread. The pita serves as a soft and chewy canvas, ready to be loaded with the spiced chicken and an array of fresh and vibrant accompaniments. Commonly, these may include fresh lettuce, tomatoes, cucumbers, and pickles for a refreshing crunch.
But no Chicken Shawarma Pita Sandwich is complete without a drizzle of sauce. A creamy tahini sauce or a tangy tzatziki sauce is often used, adding a cooling element that perfectly balances the spices from the chicken. Another popular option is Zhoug (Skhug) Sauce, with its unique spicy, earthy flavor that complements the savory chicken – or amba sauce – a bright, tangy sauce that is spicy and tart!
Baked Chicken Thigh Shawarma Pita Sandwiches are more than just a meal; they're a culinary adventure. They're an opportunity to explore Middle Eastern flavors in a delicious, handheld format. Whether served for a casual weeknight dinner or a gathering with friends, these sandwiches are sure to bring joy to your table.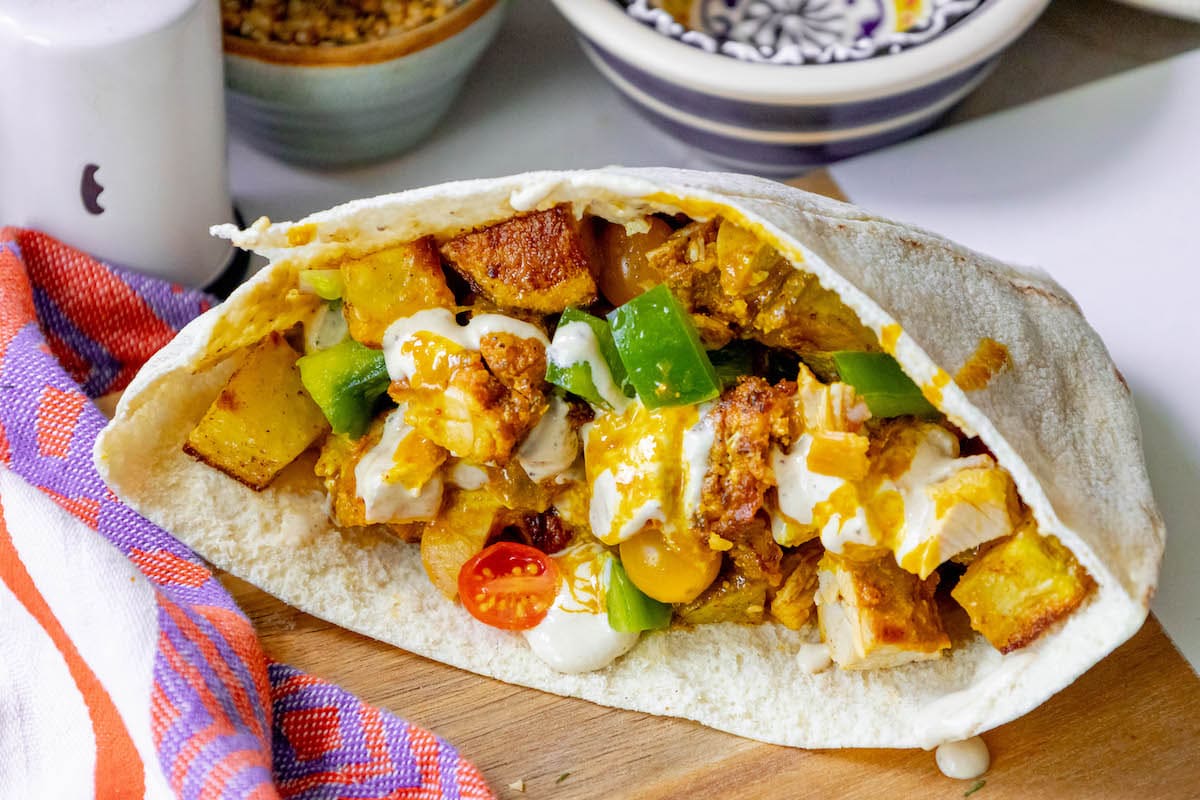 How To Make Chicken Shawarma Pitas
For the Shawarma Marinade:
2 cloves garlic, minced
Juice of 1 lemon
2 tablespoons olive oil
1 teaspoon ground cumin
1 teaspoon ground coriander
1/2 teaspoon ground turmeric
1/2 teaspoon paprika
1/4 teaspoon cayenne pepper (optional)
In a bowl, mix together the ingredients for the shawarma marinade.
Add the chicken thighs to the marinade, making sure they are fully coated. Cover the bowl and refrigerate for at least 2 hours, or overnight if possible.
Preheat your oven to 400 degrees F (200 degrees C) and line a baking sheet with parchment paper.
Arrange the marinated chicken thighs on the baking sheet and season with a little more salt and pepper.
Bake in the preheated oven for about 20-25 minutes, or until the chicken is fully cooked and slightly golden. Let the chicken rest for a few minutes, then slice into thin strips.
Warm the pita bread in the oven for a couple of minutes, then fill each pita with lettuce, sliced chicken, diced cucumber, tomato, and thinly sliced onion.
Top with a dollop of Greek yogurt, fold the pita over, and enjoy your homemade Chicken Thigh Shawarma Pitas!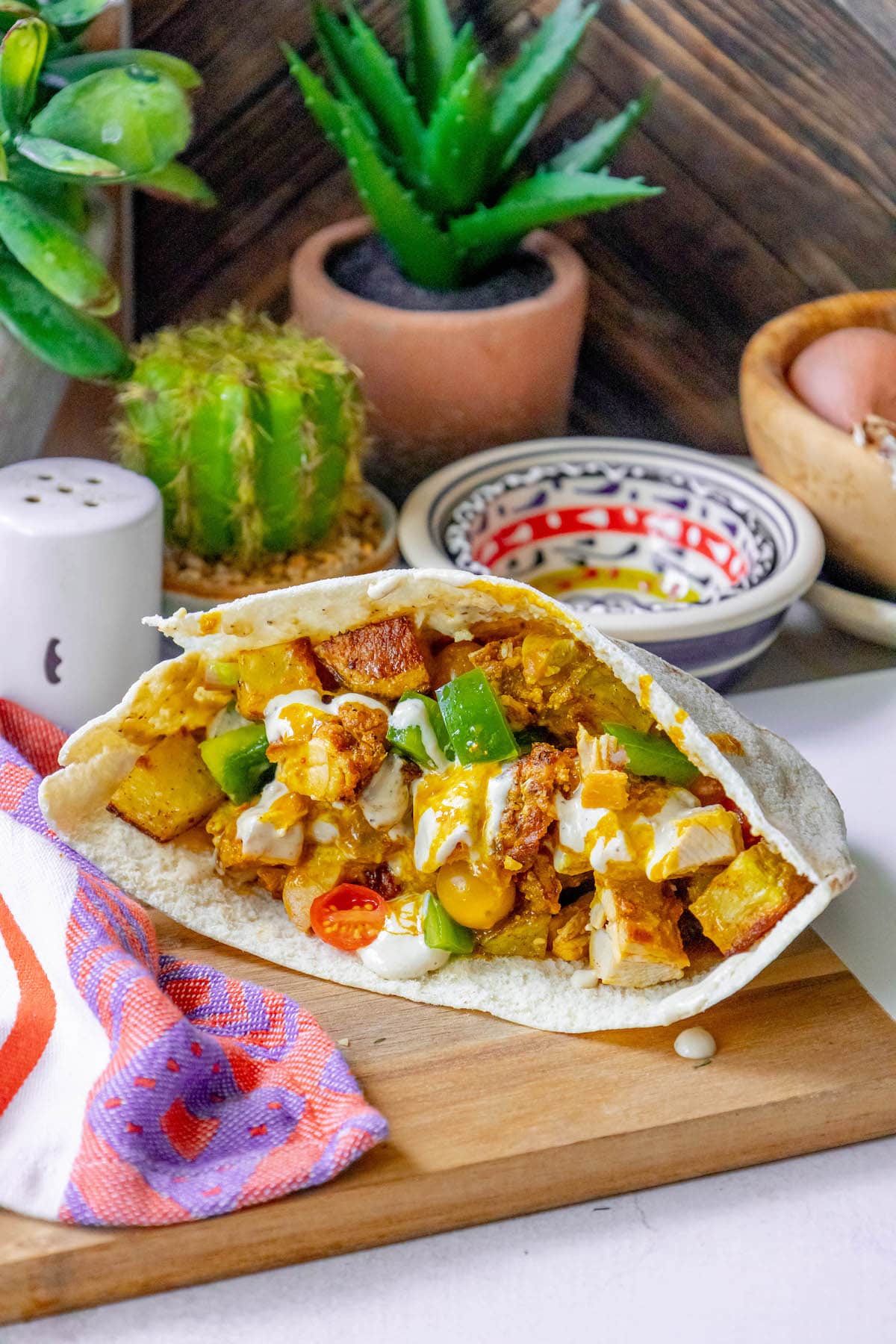 Tips and Tricks For Chicken Shawarma Pitas
Marinate Longer for More Flavor: For maximum flavor, marinate the chicken thighs in the shawarma spices overnight. This allows the spices to deeply penetrate the meat. If you're short on time, even a couple of hours of marinating can make a big difference.
Boneless, Skinless Thighs Work Best: Boneless, skinless chicken thighs are ideal for this recipe. They're easier to slice into thin strips for the pita, and they absorb the marinade well. Plus, they stay juicy and tender when baked.
Use High-Quality Spices: The flavor of the chicken relies heavily on the spices used in the marinade. Using high-quality, fresh spices can greatly enhance the taste of your shawarma.
Thinly Slice Your Chicken: After baking, be sure to slice your chicken thighs very thinly. This not only makes the sandwich easier to eat, but it also allows you to get a bit of chicken in every bite.
Warm Your Pitas: Before assembling your sandwiches, warm your pitas briefly in the oven or on a griddle. This makes them more pliable and enhances their flavor.
Balance Your Fillings: When assembling your pitas, balance your ingredients. You want a good ratio of chicken, veggies, and sauce in every bite. Too much of one component can overpower the others.
Customize Your Toppings: Chicken shawarma pitas are versatile. Feel free to customize your toppings based on what you like or have on hand. Traditional toppings include lettuce, tomatoes, cucumbers, and pickles, but you could also add red onion, olives, or feta cheese.
Make Ahead: The chicken can be marinated and baked ahead of time, making this a great recipe for meal prep. Just reheat the chicken when you're ready to serve.
FAQs
Can I use chicken breast instead of thighs?
However, keep in mind that chicken thighs tend to be juicier and more flavorful. If using breast, be careful not to overcook it as it can become dry.
Can I grill the chicken instead of baking it?
Absolutely! Grilling can add a lovely smoky flavor that complements the shawarma spices. Just be sure to adjust your cooking times accordingly.
I can't find shawarma spice mix in my local supermarket. What can I do?
You can make your own mix at home using common spices like cumin, coriander, turmeric, paprika, and garlic powder. There are many recipes available online.
Can I make this dish ahead of time?
Yes, the marinated and cooked chicken can be stored in the fridge for a few days. You can reheat it when you're ready to serve.
What can I use as a substitute for pita bread?
If you can't find pita bread, flatbreads or tortilla wraps can be used as alternatives.
What else can I serve with my chicken shawarma pitas?
Shawarma pitas go well with a variety of sides, such as hummus, tabbouleh, pickled vegetables, or a simple green salad.
Can I make this recipe gluten-free?
Yes, you can use gluten-free pita bread or wrap the shawarma filling in lettuce leaves for a low-carb, gluten-free option.
What's the best way to reheat the chicken if I've made it ahead of time?
You can reheat the chicken slices in a skillet over medium heat, or in the microwave. Be sure not to overheat as this can dry out the chicken.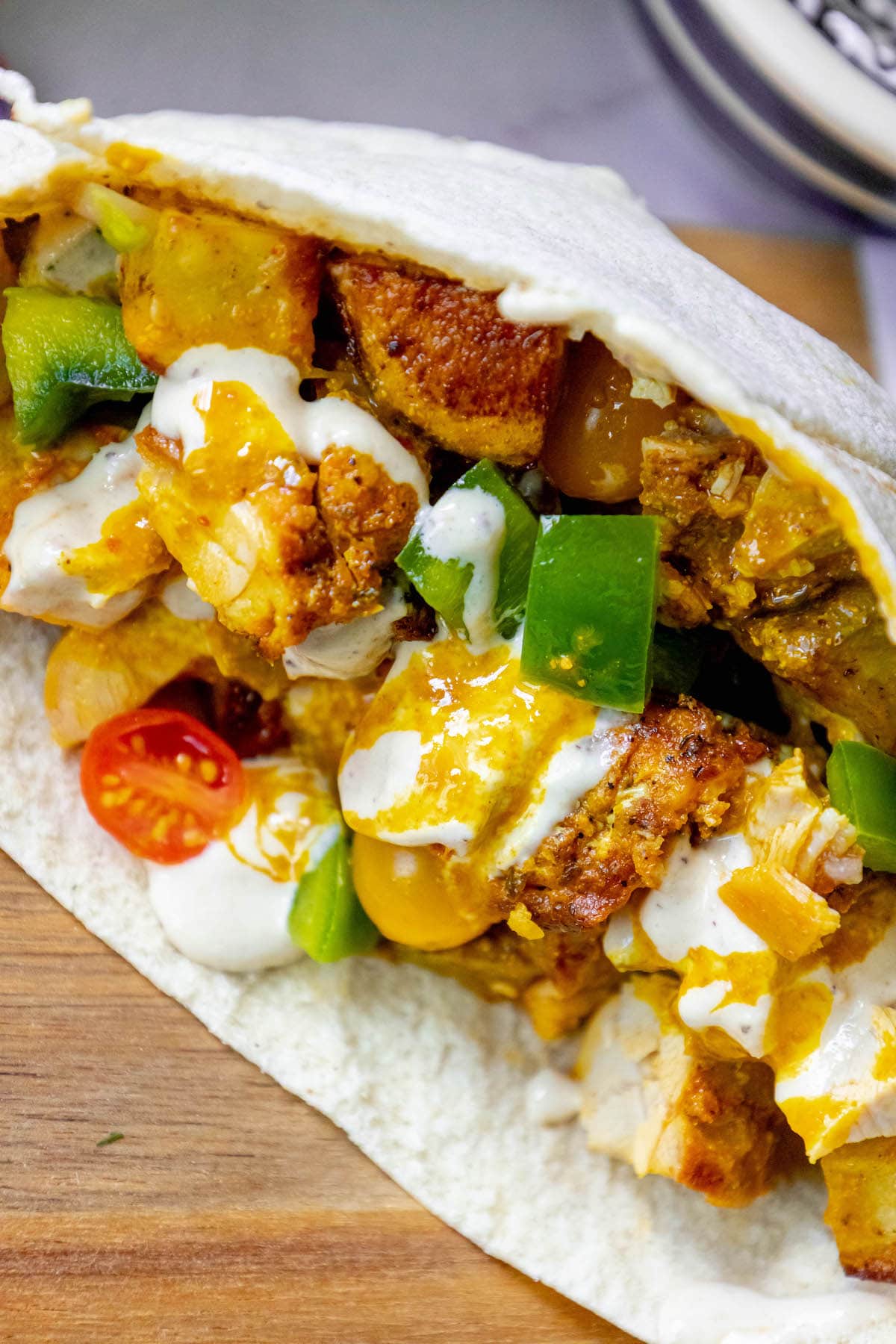 What to Serve With Chicken Shawarma Pitas
Middle Eastern Salads: Try serving your pitas with a traditional Middle Eastern salad, like a tabbouleh (a refreshing salad made from bulgur wheat, fresh parsley, mint, tomatoes, and lemon juice) or a fattoush salad (a Lebanese salad that includes mixed greens, fresh herbs, and crispy pieces of pita bread).
Hummus: This creamy chickpea spread is a classic Middle Eastern side dish that pairs perfectly with Chicken Shawarma Pitas. You can serve it with some extra pita bread or fresh vegetables for dipping.
Baba Ganoush: This smoky, creamy eggplant dip is another great choice, and it's also served with pita bread.
Pickled Vegetables: Middle Eastern pickles, including pickled cucumbers, turnips, or beets, can add a tangy, refreshing contrast to the flavorful shawarma.
Rice: A side of spiced rice or a pilaf can complement the shawarma well. Try a turmeric or saffron rice for extra flavor.
Roasted or Grilled Vegetables: Simple roasted or grilled vegetables can be a great lighter side, especially if you've used a lot of spices in your shawarma.
Yogurt Sauce: While often used as a topping, a tangy yogurt sauce (like tzatziki) can also be served on the side for extra dipping.
For more foods inspired by our travels to Israel, visit here: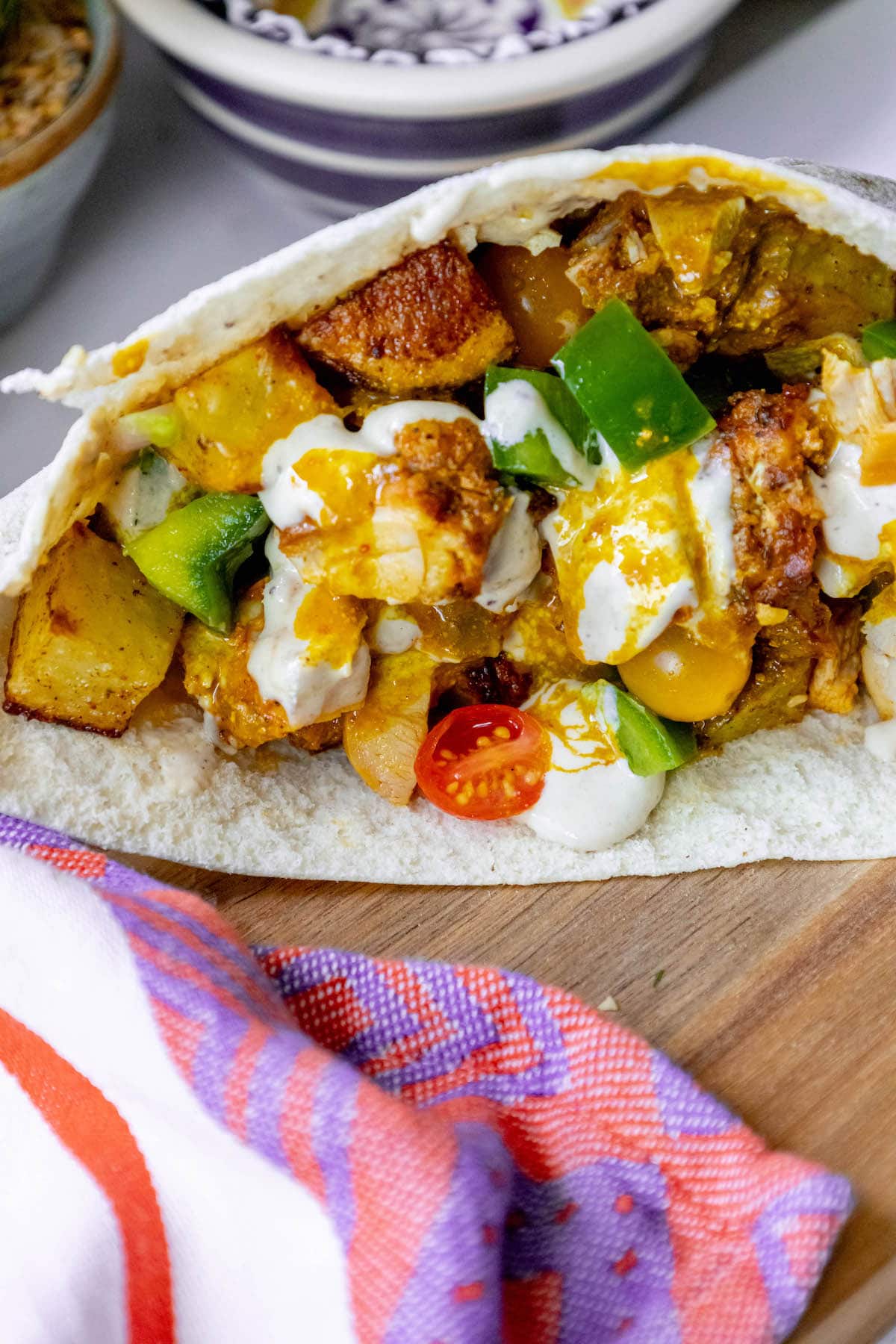 Chicken Thigh Shawarma Pitas Recipe
If you love this easy recipe please click the stars below to give it a five star rating and leave a comment! Please also help me share on facebook and pinterest!
Click here to view the web story for this recipe!
CONNECT WITH SWEET C'S!
Be sure to follow me on social media, so you never miss a post!
Facebook | Twitter | Youtube | Pinterest | Instagram
Only have 30 minutes to get dinner on the table? Sign up for my 30 minute dinner plans direct to your inbox!
Find and shop my favorite products in my Amazon storefront here!
Yield:

8 pitas
Chicken Shwarma Pitas
Hearty chicken and veggie packed pitas drizzled with creamy tahini sauce for a perfect lunch or dinner.
Ingredients
4 boneless, skinless chicken thighs (or Trader Joes shwarma chicken thighs)
4 pita bread rounds
1/2 cup amba sauce
Salt and pepper to taste
For the shwarma marinade:
2 cloves garlic, minced
Juice of 1 lemon
2 tablespoons olive oil
1 teaspoon ground cumin
1 teaspoon ground coriander
1/2 teaspoon ground turmeric
1/2 teaspoon paprika
1/4 teaspoon cayenne pepper (optional)
Instructions
1. Prepare the Chicken:
If you're using unseasoned chicken thighs, season them with salt, pepper, and your choice of shawarma spices (typically a mix of cumin, coriander, turmeric, garlic powder, and paprika). If you're using Trader Joe's shawarma chicken thighs, you can skip this step.
In a pan over medium heat, add a bit of oil and cook the chicken thighs for about 7-8 minutes per side, or until fully cooked through (internal temperature should be at least 165°F). Once cooked, let the chicken rest for a few minutes before slicing into strips.
2. Prepare the Potatoes:
Preheat your oven to 400°F (200°C). Cut the Yukon gold potatoes into bite-sized pieces and toss them in a bowl with olive oil, salt, and pepper. Spread them out on a baking sheet and roast in the preheated oven for about 25-30 minutes, or until crispy and golden.
3. Assemble the Pitas:
Warm your pita bread rounds (you can do this in the oven for a few minutes or on a hot pan). Spread a generous amount of tahini sauce on each pita. Add a layer of Israeli salad, followed by the sliced shawarma chicken. Drizzle with the amba sauce. Add the roasted potatoes on the side or inside the pita.
Enjoy your homemade Chicken Shawarma Pitas with a side of crispy roasted potatoes!
Remember, this recipe is quite flexible. Feel free to adjust the quantities of tahini sauce, amba sauce, and Israeli salad to suit your personal taste.
Recommended Products
As an Amazon Associate and member of other affiliate programs, I earn from qualifying purchases at no extra expense to you.
Nutrition Information
Yield
8
Serving Size
1
Amount Per Serving
Calories

487
Total Fat

25g
Saturated Fat

4g
Trans Fat

0g
Unsaturated Fat

20g
Cholesterol

69mg
Sodium

556mg
Carbohydrates

46g
Fiber

5g
Sugar

4g
Protein

24g
Nutrition is automatically calculated by Nutritionix - please verify all nutrition information independently and consult with a doctor or nutritionist for any and all medical and diet advice.