Easy Air Fryer Lemon Garlic Salmon Recipe – delicious crispy and flavorful keto air fried salmon packed with tons of lemon and garlic flavor in under 12 minutes!
Here at Sweet C's, we have lots of types of readers – those who like to get straight to the recipe, and those who would like more information, including tips and tricks to feeling more comfortable in the kitchen.
We provide a skip to recipe button in the top left corner, as well as a clickable table of contents, just below, to help make this page easier to navigate.
Air Fryer Salmon With Lemon and Garlic
This lemon garlic salmon has the most amazing flavor – and you'll be shocked just how easy it is to get.
If you can season salmon filets and pop them in an air fryer – you can master perfect, tender, and juicy salmon that isn't tough or dry – and is BURSTING with lemon garlic flavor! This easy lemon garlic salmon can't get any simpler when you want a healthy, beautiful dinner in no time – with almost no work.
Even if you don't have an air fryer you can make this salmon in a snap – I'm providing a super easy foil pack oven option below as well! I hope you love this delicious, naturally low carb and keto salmon recipe as much as I do. It's a perfect elegant dinner you can make any day of the week, and fits in most diets!
To buy an air fryer lid for your Instant Pot to be able to make this in your instant pot, please buy one with my affiliate code here – Instant Pot Air Fryer Lid.
Check out my web story on this garlic lemon salmon!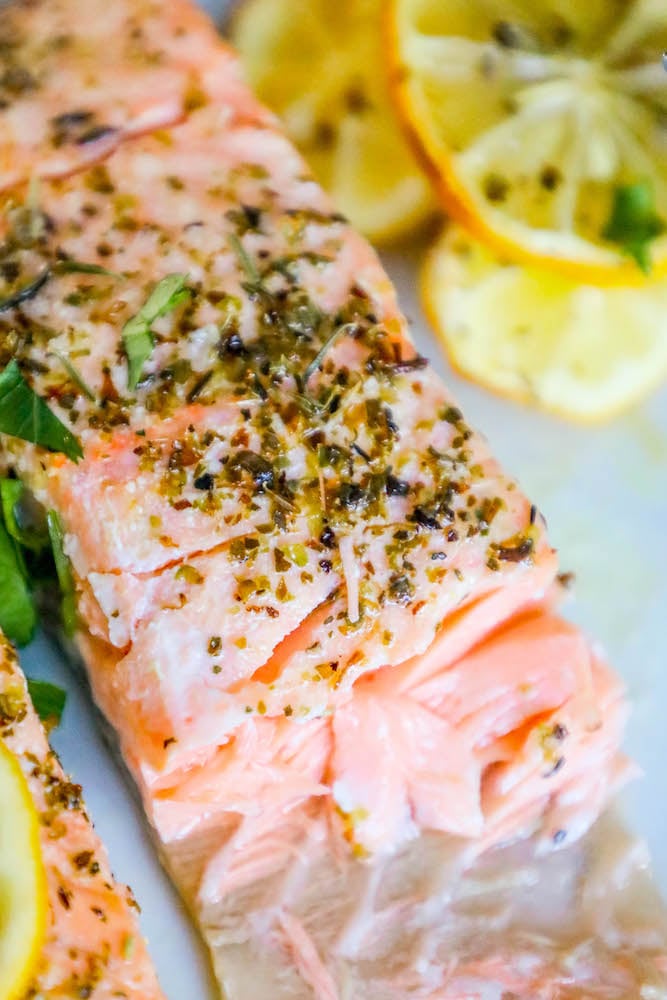 How To Air Fry Salmon
To make this salmon, we will use the following process:
Salmon filets – salmon is perfect for the air fryer, since the high heat hits the
Olive oil – olive oil adds fat to the salmon and allows it to crisp in the air fryer, so it has a delicious, crunchy outside and tender, juicy center.
Garlic powder – garlic is a classic addition to salmon, as the pungent flavor enhances the mild, buttery flavor of salmon.
Celtic sea salt – use a high quality sea salt – I personally love using maldon flakes, for the extra crunch.
Cracked pepper – use fresh cracked pepper, as the strong, hot, earthy flavor fades quickly as pepper is stored.
Lemon – lemon juice and slices of lemon help add sweet, bright, acidic flavor to salmon, cutting through the oily meat and fattier texture of the fish.
Italian herbs – Italian herb seasoning is a blend of marjoram, thyme, basil, sage, and oregano
Once you've gathered your ingredients, we will use the following method:
Prep. Drizzle olive oil over salmon and season generously. Slice 1/2 lemon into thin rounds, and juice the rest. Drizzle juice over salmon and season generously. Optional: marinate for up to 24 hours.
Air Fry. Air fry using the table below based on your desired doneness.
Serve.
Tips and Tricks To Perfect Air Fried Salmon & FAQs
To air fry salmon, I recommend following the tips below:
Don't skip olive oil. This will help give your salmon a lightly fried texture and allow the oil to crisp on the salmon. Don't skip the oil!
Arrange lemons to touch salmon while cooking. Lemons break down quickly, dousing your salmon in lemon juice that is sweet and tart, not bitter.
Salmon cook times. For salmon filets (no thicker than 3-4″ across), follow these times for desired doneness when air frying at 400 degrees:
-10 Minutes for salmon filets that have just a little bit of red in the very center (medium).
-12 Minutes for salmon with no red in the middle, but still soft.
-14 Minutes for well done salmon filets.
Make it in the oven. If you think this recipe looks great – but you dont have an air fryer – no worries! You can easily make this recipe in the oven, too. Simply wrap the salmon and lemon in foil, and bake at 375 for 15 minutes, until top is speckled white but albumin (white fat) has not released.
What to Serve With Air Fried Salmon
This salmon is so easy and delicious – it goes with all sorts of side dishes.
We love serving a simple Crunchy Lemon Parmesan Salad, a Salade de Chèvre Chaud, delicious and super easy Baked Goat Cheese Balls, Roasted Acorn Squash, a Pineapple Strawberry Salsa for a bit of a tangy zip, or even some Easy Black Bean and Corn Salsa for a southwestern flair.
Easy Air Fryer Lemon Garlic Salmon Recipe
If you love this easy air fryer lemon garlic salmon recipe as much as I do, please give it five stars and help me share on facebook and pinterest!
CONNECT WITH SWEET C'S!
Be sure to follow me on social media, so you never miss a post!
Facebook | Twitter | Youtube | Pinterest | Instagram
Only have 30 minutes to get dinner on the table? Sign up for my 30 minute dinner plans direct to your inbox!
Find and shop my favorite products in my Amazon storefront here!
Yield:

4
Easy Air Fryer Lemon Garlic Salmon Recipe
Easy Air Fryer Lemon Garlic Salmon Recipe - delicious crispy and flavorful air fried salmon packed with tons of lemon and garlic flavor in under 12 minutes! 
Ingredients
4 6 oz salmon filets
2 tbsp olive oil
2 tsp garlic powder
1 tsp celtic sea salt
1 tsp fresh cracked pepper
1 lemon, sliced into thin rounds
1 tsp lemon juice (I put a flexible cutting board down when slicing my lemon, as I'll usually just use the juice that comes from cutting it.)
2 tsp Italian herbs
Instructions
In a large bowl, drizzle lemon juice and olive oil over salmon and rub to make sure the salmon filets are evenly coated.
Season generously with salt, pepper, and Italian herbs.
Arrange salmon filets in air fryer basket, making sure they dont touch too much (don"t over crowd the basket, so air can move around salmon easily).
Arrange lemon slices on and around salmon in air fryer basket.
Set air fryer to 400 degrees and cook for 10 minutes for salmon with a little bit of red in the middle.
Cook for 12 minutes for salmon with no red in the middle, 14 for well done salmon or thicker salmon filets.
Serve and enjoy!
Recommended Products
As an Amazon Associate and member of other affiliate programs, I earn from qualifying purchases at no extra expense to you.
Nutrition Information
Yield
4
Serving Size
1 salmon filet
Amount Per Serving
Calories

462
Total Fat

28g
Saturated Fat

5g
Trans Fat

0g
Unsaturated Fat

21g
Cholesterol

107mg
Sodium

724mg
Carbohydrates

13g
Fiber

2g
Sugar

8g
Protein

39g