An easy, delicious and quick Indian lentil curry soup with ingredients that are easily available in your pantry!
I'm sure for most of you as soon as you hear Indian food, you start imagining a long list of ingredients and a trip to the Asian grocery store. But Indian food can be really simple too like this Indian Lentil Curry Soup which is quick, easy and absolutely delicious!
Everytime I'm in a hurry I turn to this lentil soup which is ready in under half an hour, especially if you have a pressure cooker which most Indian kitchens do. My favorite accompaniments? A really thick, luscious Butter Chicken or Paneer Butter Masala which always does the job of making me feel satisfied! In fact the Butter Chicken Masala recipe on my blog is one of my favorites and the family goes completely mad everytime I make it! It's perfect with this Indian Lentil Curry or dal.
This lentil curry is exactly how we make it in India. There are no veggies in it, but in spite of that it's buttery and full of flavour. And all that flavor comes from the tempering or tadka that we add right towards the end to dishes. The method of tempering keeps flavours intact, and rounds up the flavours.
You can follow this method for any lentils you like. I used french lentils in this recipe because those are really my favorites.
You can also make this in the crock pot because it's so very simple. All you need to do is add broth or water and cook till the lentils are soft and can be smashed between your fingers. They automatically become soupy and thick while cooking. Right in the end, you take a little ghee, butter or oil (use the fat of your choice), add some cumin and once they start spluttering, add coriander powder and chili powder and pour it all over the soup. Finish with chopped cilantro and you are done!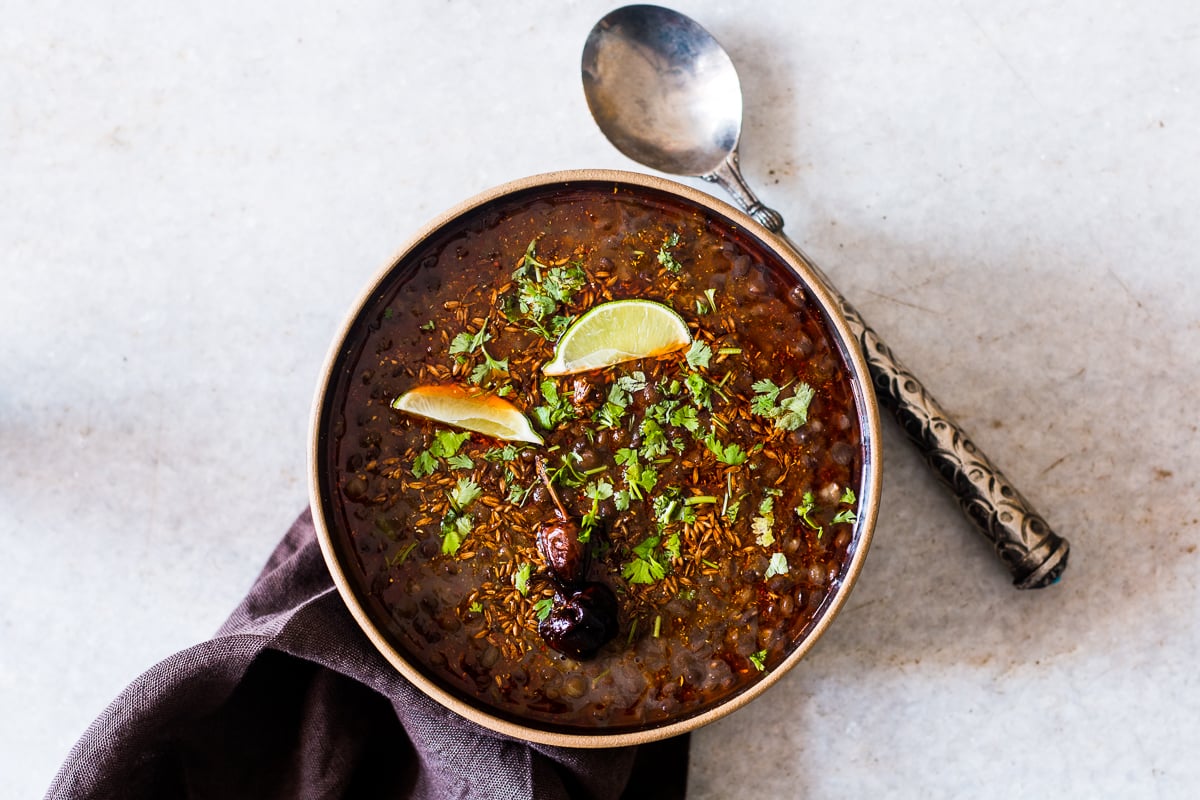 If you want a complete Indian inspired menu and have some time on your hands, try the Butter Chicken, Bombay Potatoes and my Instant Naan recipe along with these lentils. Your guests will be raving for weeks!
Yield:

4 Servings
Indian Lentil Curry Soup
Easy, quick Indian Lentil Curry Soup with ingredients easily available in your pantry!
Ingredients
2 cups Lentils, uncooked
4 cups Broth
1 tablespoon Ghee/Butter/Oil
1 teaspoon Cumin Seeds
½ teaspoon Paprika
1 teaspoon Coriander Powder
Salt to taste
Chopped Cilantro for topping
Instructions
Add lentils, broth and salt to a pressure cooker. Cook till the lentils are cooked through and can be mashed easily between two fingers. Alternatively, you can also boil the lentils in broth if you don't have a pressure cooker.
In a small saucepan or skillet, heat ghee/butter/oil. Add cumin seeds and once they start spluttering, switch off the flame. Add coriander powder and paprika and swirl once or twice. Pour this over the lentil curry soup and top with chopped cilantro. Serve hot.
Nutrition Information
Amount Per Serving
Calories

353
Sodium

946mg
Carbohydrates

61g
Fiber

29g
Sugar

3g
Protein

24g