Easy 10 Minute Broccolini Recipe - the easiest way to cook broccolini or baby broccoli in just 10 minutes with tons of garlic butter flavor!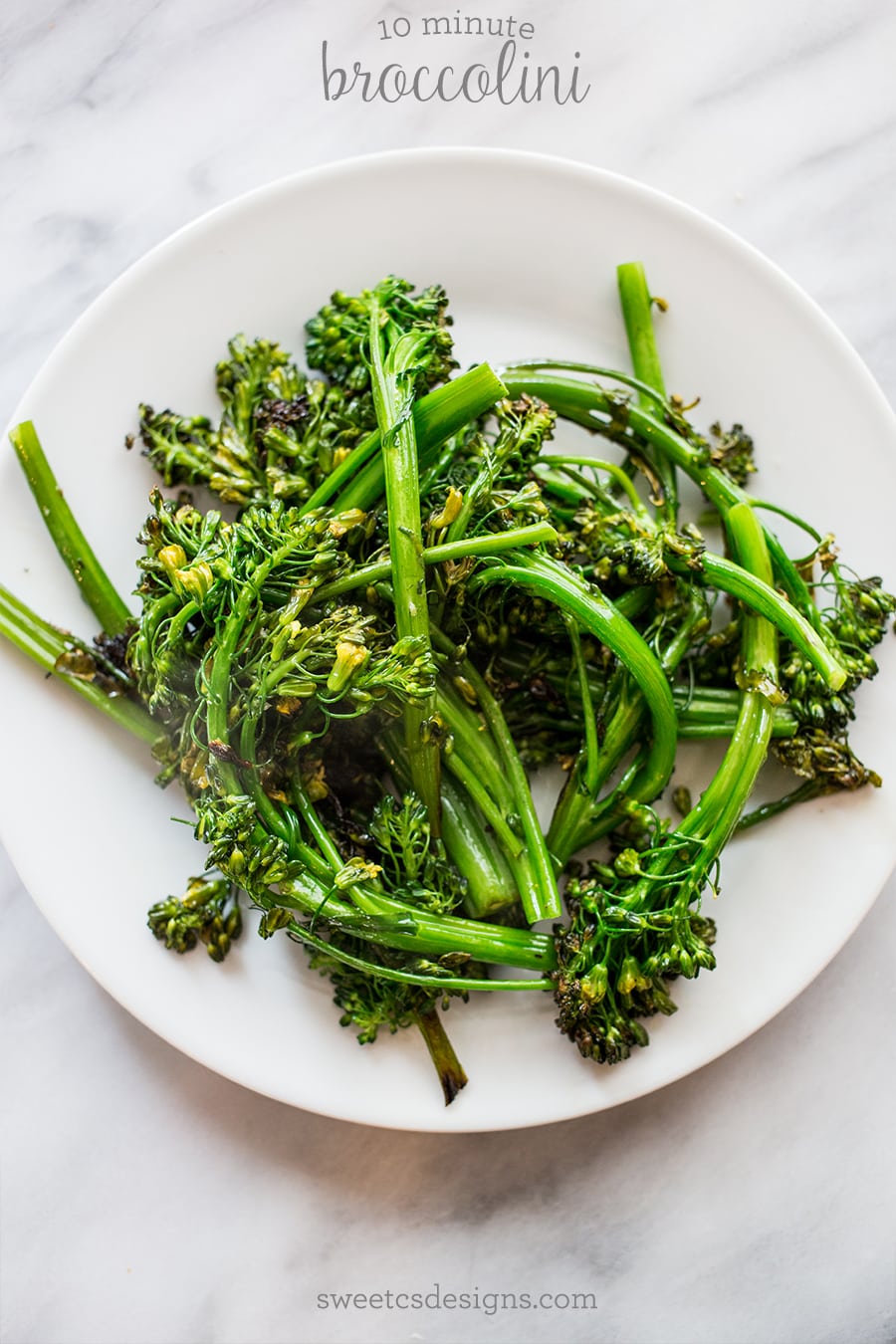 Don't want all the extras in a recipe post? We provide a skip to recipe button in the top left corner, as well as a clickable table of contents, just below, to help make this page easier to navigate.
Pan Fried Baby Broccoli
One of my favorite vegetables has always been broccoli.
I don't know why- but something about the texture, the slight bitterness, the bright green color- I love to add broccoli in just about any recipe, or just eat it steamed or sautéed.
A few years ago I tried broccolini for the first time- and it was everything I loved about my beloved broccoli, but less bitter- longer, thinner stalks that have a deep, almost asparagus-like flavor, and a deep buttery taste when cooked right.
It quickly became my favorite thing to order out- but I could never master it at home. I recently made some in a hurry, and I found a new way to make broccolini that is now my absolute favorite- all by a happy accident- and we've made this delicious side dish five nights in a row since!
We can't get enough of this 10 Minute Broccolini- it's buttery, earthy, slightly salty, rich, and full of flavor- and it is SO quick and easy. It also works perfectly in a keto, paleo, low carb, or Weight Watchers diet - and is great alongside basically any dinner you make!
How to Make 10 Minute Broccolini
To make this easy recipe, you'll need:
Clarified butter. Clarified butter is a great way to help crisp and caramelize vegetables and meats - it has a higher smoke point than butter, but the same rich, delicious creamy flavor - so it's perfect for getting a nice perfect sear and crunch on vegetables and meats. If you want to make this recipe vegan, you can skip the clarified butter and use avocado oil or olive oil.
Olive oil. Olive oil adds with clarified butter to make a perfect fat medium to pan fry broccolini in, so it gets caramelized and tender with tons of irresistible flavor.
Broccolini. Broccolini, or baby broccoli, is a cross between broccoli and gai lan, a leafy plant from China similar to broccoli. This results in a long and lean broccoli that is tender, with a light, vegetal taste that is less bitter.
Celtic sea salt. I love using a high quality salt that has a salty flavor, without as high sodium as table salt.
Once you've gathered your ingredients, we will use this method:
Prep. Trim woody ends off broccolini, drizzle with olive oil, salt, pepper. Melt clarified butter in a pan and heat until shimmery.
Cook. Add broccolini to pan and caramelize until it has browned and is lightly tender. Add water to pan and cook down until it has become as tender as you'd like.
Enjoy!
Tips to Perfect Pan Fried Broccolini & FAQs
The secret to broccolini that I stumbled upon is pretty simple- we're going to sauté it and let it caramelize, and then flash boil it to make it perfectly tender. By doing this all at a pretty high temperature, we're cutting the cook time dramatically- which ups the flavor for this delicious side dish.
Let it brown. When letting your broccolini sauté, it's important to let it brown. Browning=flavor!!
Charred bits are ok. Since the broccolini will be a deep, vibrant green, it might almost take on a burnt appearance. Unless you smell burnt bits it isn't burnt- you've just given some caramelization to the florets. You want a brown color, not black.
Stir occasionally. Be sure to toss the broccolini around once a minute (its only sautéing five minutes) so it doesn't burn. Don't worry- you got this. Once it's had a good chance to develop flavor, we just need to add some water to soften the stems a bit.
Add water after browning to soften. Since we're not adding much water, it won't take long and will cook off quickly. If you're in a really dry climate, or your pan is too hot, you might need to add a little extra water. No big deal- just cook it till the water has cooked off, and your broccolini is soft. Don't flood it, and don't worry- this is a pretty hard dish to mess up! You can do it!
Trim woody ends. One note- I do like to trim the bottom ½" off of broccolini. I find its a bit woody, like asparagus stems- but this isn't a hard and fast rule. You might experiment to find what you like the most.
FAQs
How can this recipe be stored?
Leftovers can be stored in a container in the refrigerator for up to five days.
Is broccolini just young broccoli?
Broccolini is a different plant, but part broccoli - baby broccoli is a green vegetable similar to broccoli but with smaller florets and longer, thin stalks. It is a hybrid of broccoli and gai lan, a Chinese leafy plant similar to broccoli.
What to Serve With Broccolini
Broccolini is delicious with all kinds of main dishes, from our top rated baked pork tenderloin, roast chicken, or easy sloppy joes - to easy homemade schnitzel, or a comforting and delicious porcupine meatball recipe!
We also love serving broccolini with Spinach Parmesan Garlic Butter Spaghetti, or Easy Sheet Pan Oven Roasted Chicken and Leeks!
10 Minute Broccolini Side Dish Recipe
If you love this easy recipe please click the stars below to give it a five star rating and leave a comment! Please also help me share on facebook and pinterest!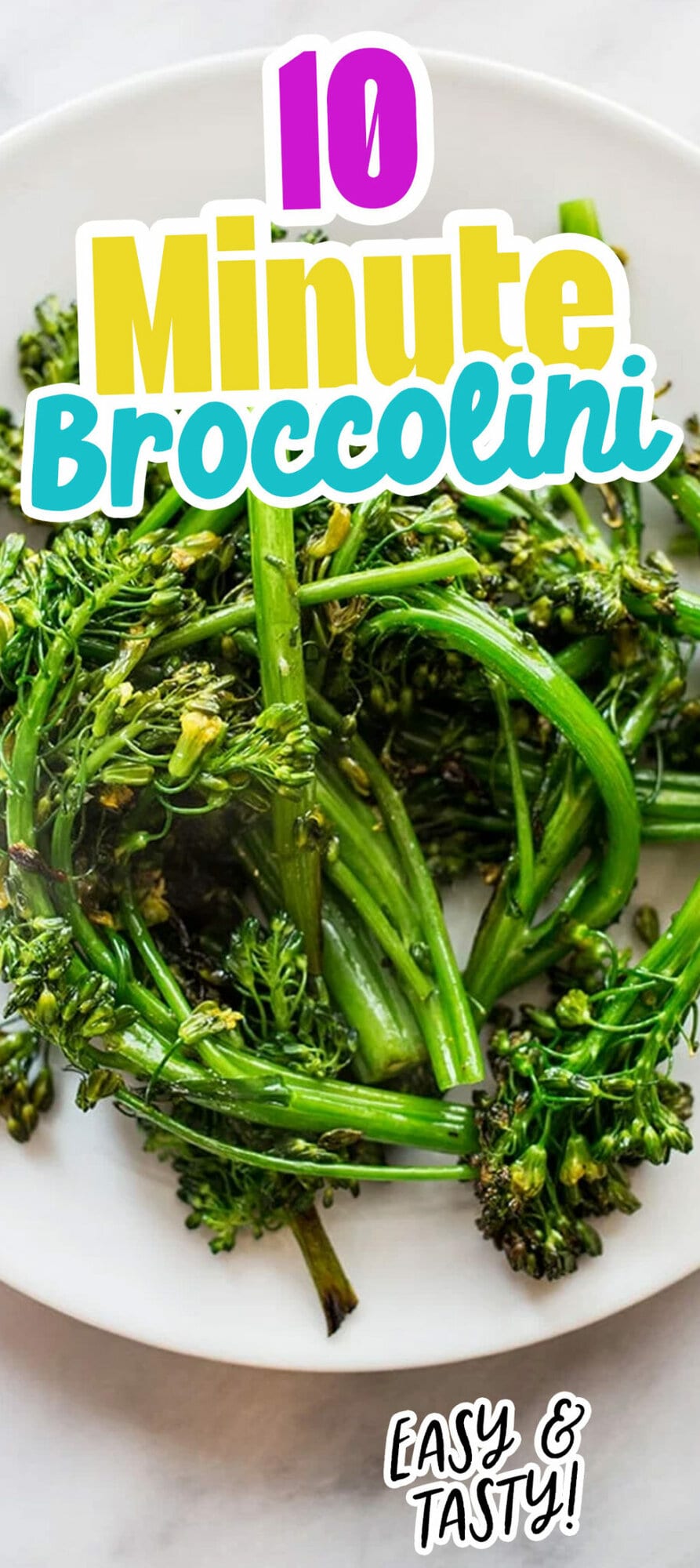 CONNECT WITH SWEET C'S!
Be sure to follow me on social media, so you never miss a post!
Facebook | Twitter | Youtube | Pinterest | Instagram
Only have 30 minutes to get dinner on the table? Sign up for my 30 minute dinner plans direct to your inbox!
Find and shop my favorite products in my Amazon storefront here!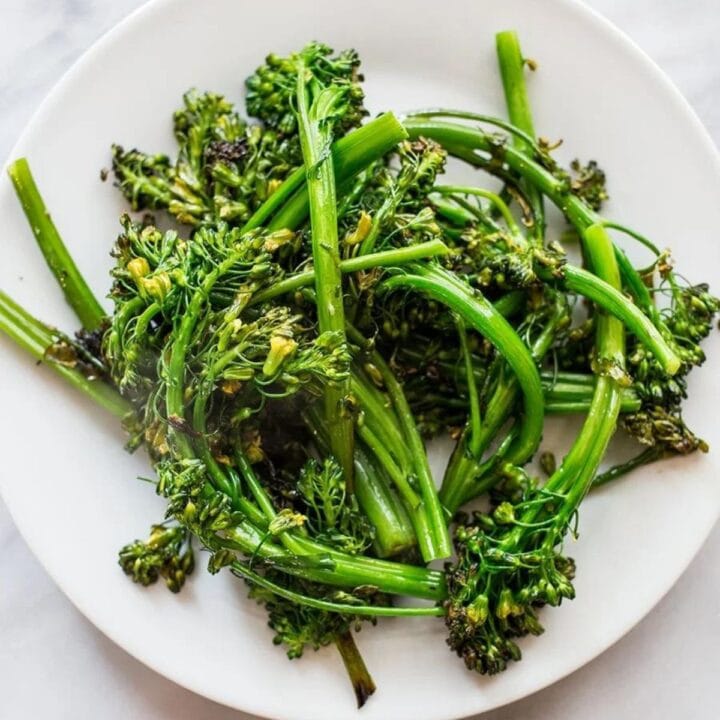 Yield:

3 servings
10 Minute Broccolini
This easy 10 minute broccolini recipe is pan-fried and bursting with flavor - this is the best way to make delicious pan fried baby broccoli, ever! Never bitter and full of rich, buttery flavor. 
Ingredients
1 tablespoon clarified butter
1 tablespoon olive oil
1 package broccolini
celtic sea salt, ½ tsp
¼ cup water
Instructions
In a large pan, heat butter until it is melted on medium high.
Add olive oil.
Add broccolini, toss frequently until browned and bright green, about 5 minutes.
Add salt, toss over broccolini.
Add water, cook until water is evaporated and broccolini is soft, another 5 minutes.
Serve hot.
Recommended Products
As an Amazon Associate and member of other affiliate programs, I earn from qualifying purchases at no extra expense to you.
Nutrition Information
Yield
2
Serving Size
1
Amount Per Serving
Calories

134
Total Fat

13g
Saturated Fat

5g
Trans Fat

0g
Unsaturated Fat

8g
Cholesterol

16mg
Sodium

600mg
Carbohydrates

4g
Fiber

2g
Sugar

1g
Protein

1g
Nutrition is automatically calculated by Nutritionix - please verify all nutrition information independently and consult with a doctor or nutritionist for any and all medical and diet advice.