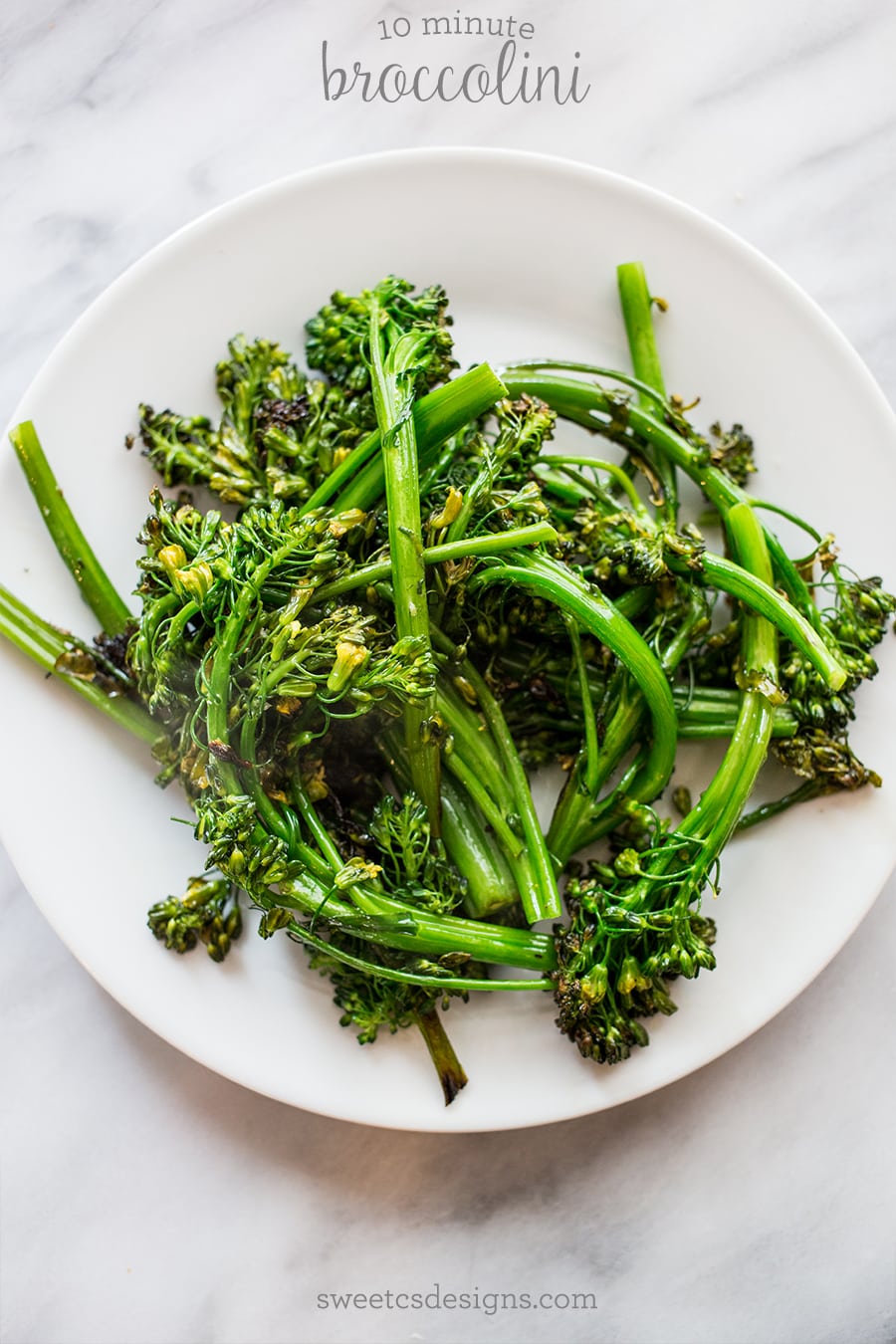 One of my favorite vegetables has always been broccoli. I don't know why- but something about the texture, the slight bitterness, the bright green color- I love to add broccoli in just about any recipe, or just eat it steamed or sautéed. A few years ago I tried broccolini for the first time- and it was everything I loved about my beloved broccoli, but less bitter- longer, thinner stalks that have a deep, almost asparagus-like flavor, and a deep buttery taste when cooked right. It quickly became my favorite thing to order out- but I could never master it at home. I recently made some in a hurry, and I found a new way to make broccolini that is now my absolute favorite- all by a happy accident- and we've made this delicious side dish five nights in a row since! We can't get enough of this 10 Minute Broccolini– it's buttery, earthy, slightly salty, rich, and full of flavor- and it is SO quick and easy.
The secret to broccolini that I stumbled upon is pretty simple- we're going to sauté it and let it caramelize, and then flash boil it to make it perfectly tender. By doing this all at a pretty high temperature, we're cutting the cook time dramatically- which ups the flavor for this delicious side dish.
When letting your broccolini sauté, it's important to let it brown. Browning=flavor!! Since the broccolini will be a deep, vibrant green, it might almost take on a burnt appearance. Unless you smell burnt bits it isn't burnt- you've just given some caramelization to the florets. You want a brown color, not black. Be sure to toss the broccolini around once a minute (its only sautéing five minutes) so it doesn't burn. Don't worry- you got this. Once it's had a good chance to develop flavor, we just need to add some water to soften the stems a bit. Since we're not adding much water, it won't take long and will cook off quickly. If you're in a really dry climate, or your pan is too hot, you might need to add a little extra water. No big deal- just cook it till the water has cooked off, and your broccolini is soft. Don't flood it, and don't worry- this is a pretty hard dish to mess up! You can do it!
One note- I do like to trim the bottom 1/2″ off of broccolini. I find its a bit woody, like asparagus stems- but this isn't a hard and fast rule. You might experiment to find what you like the most.
If you are having a hard time finding broccolini in your grocery store, I can almost always find it (and for a fabulous price- perfectly portioned for a dinner for four) at Trader Joe's.

10 Minute Broccolini
Quick and easy broccolini makes a perfect side dish! This is the best way to cook broccolini for a rich, non-bitter flavor everytime.
Ingredients
1 tbsp clarified butter
1 tbsp olive oil
1 package broccolini
celtic sea salt, ½ tsp
¼ cup water
Instructions
In a large pan, heat butter until it is melted on medium high.
Add olive oil.
Add broccolini, toss frequently until browned and bright green, about 5 minutes.
Add salt, toss over broccolini.
Add water, cook until water is evaporated and broccolini is soft, another 5 minutes.
Serve hot.