The Best Easy Oven Roasted Asparagus Recipe - delicious, buttery, salty and rich oven roasted asparagus that takes under 3 minutes of prep and just 15 minutes to make the most delicious easy low carb asparagus side dish ever!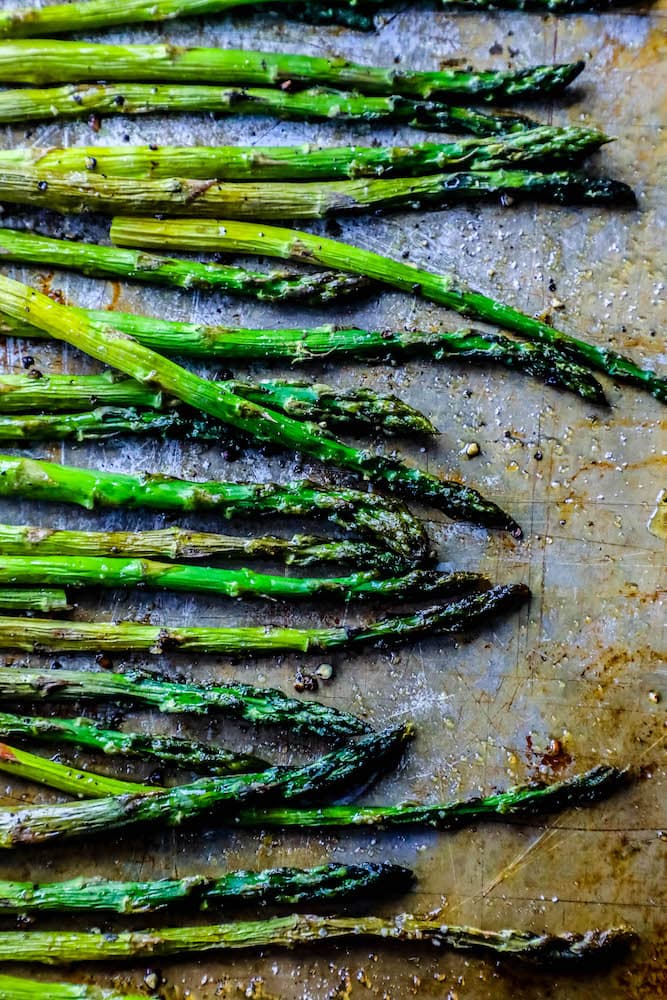 This asparagus is great for low carb and keto diets, and is a great delicious side dish for weeknight dinners, Sunday suppers, and even fancy dinner parties!
I love how simple and fresh this asparagus recipe tastes - it is always one of the first side dishes gone off our table.
Fresh roasted asparagus is fabulous as a low carb side dish - but it is also delicious chopped in sandwiches, omelettes, frittatas, salads, pastas, and rice casseroles.
Since this roasted asparagus recipe is so simple, it works in all sorts of dishes, making it the perfect easy side dish that is crazy versatile!
I will often make a double batch when roasting asparagus - and serve half right away, with half chopped and saved in the refrigerator overnight to make in frittatas the next morning, or in stir frys for lunch!
This is our family's go-to recipe for the most delicious asparagus - I know your family will love it as much as ours does too.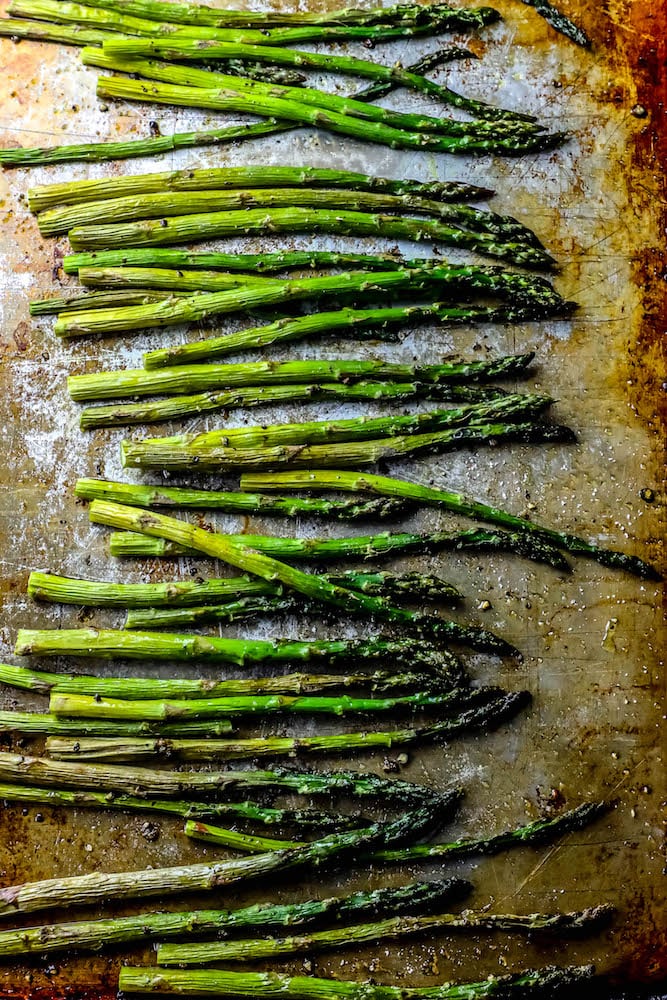 Just Take Me To The The Best Easy Oven Roasted Asparagus Recipe Ever Already!
I get a lot of comments and questions on my recipes asking for tips and tricks and more information to make each recipe perfect every time.
I include a lot of information in my posts for my readers - but if you'd rather skip it over and get straight to the recipe, please scroll to the bottom of the page where you will find my favorite easy asparagus in the oven recipe.
Tips to Perfect Oven Roasted Asparagus
These tips and tricks will help you get perfect oven baked asparagus every time - and is a wonderful base recipe you can use to add your favorite flavors to!
-Preheat oven to 425 degrees, and turn down to 400 degrees when placing asparagus in oven to cook.
This will help the asparagus to cook quickly so it can crisp up without going soggy.
-Cook on a rimmed baking sheet, to reduce risk of hot oil sliding off when pulling out of oven.
Asparagus roll often when moving in the oven - as does the oil - so a rimmed baking sheet helps to keep you safe and your oven clean!
-Liberally season with garlic salt and pepper.
If using garlic salt, don't add extra sea salt.
-Lay asparagus in a single layer to cook faster and more evenly.
Asparagus should at the very least be all laying flat on your baking sheet - preferably with a tiny bit of space in between each spear. Don't worry too much about spacing your asparagus evenly - but try to not have them all on top of each other when roasting for the best texture.
-Use a high quality of olive oil since this recipe is so simple - you will taste the oil you use more than many recipes.
-Top with parmesan cheese and lemon juice for even more delicious low carb asparagus flavor!
-This recipe is best in asparagus season in spring - but is delicious year round.
While out of season asparagus is likely imported or grown in a greenhouse, my favorite tip to tell if it is fresh is to sniff the spears in the store.
Fresh asparagus should have no smell - but asparagus starting to go off will smell slightly like fish.
-Trim woody ends off asparagus.
Whether you snap the asparagus to tell where to cut, or cut off a couple inches, be sure to trim the woody ends from asparagus since they are bitter, tough, and very hard to chew.
If you love how simple and delicious this easy roasted asparagus recipe is, please be sure to check out my other favorite easy side dish recipes.
Click each link to head to the easy printable recipes: 
Easy Fogo De Chao Brazilian Cheese Bread Copycat Recipe
The Best Easy Garlic Knots Recipe
Brown Sugar Bacon Wrapped Scallops Recipe
Perfect Creamy Mashed Potatoes Recipe
Other Keto Side Dishes You'll Love:
If you love this easy keto asparagus recipe, be sure to check out my other favorite easy keto side dishes:
Easy Keto Ham and Cheese Rolls Recipe
Easy Keto Everything Bagels Recipe
Low Carb Keto Garlic Butter Parmesan Tuscan Mushrooms
10 Minute Lemon Garlic Butter Broiled Lobster Tails
The Best Oven Roasted Garlic Parmesan Asparagus Recipe
Easy Pan Fried Halloumi Greek Cheese
Pan Fried Brussels Sprouts with Ghee
The Best Easy Oven Roasted Asparagus Recipe Ever
If you love the best easy Oven Roasted Asparagus Recipe ever as much as I do, please give it a five star review and help me share on facebook and pinterest!
CONNECT WITH SWEET C'S!
Be sure to follow me on social media, so you never miss a post!
Facebook | Twitter | Youtube | Pinterest | Instagram
Only have 30 minutes to get dinner on the table? Sign up for my 30 minute dinner plans direct to your inbox!
Find and shop my favorite products in my Amazon storefront here!
Yield:

4 people
The Best Oven Roasted Asparagus Recipe
The Best Easy Oven Roasted Asparagus Recipe - delicious, buttery, salty and rich oven roasted asparagus that takes under 3 minutes of prep and just 15 minutes to make the most delicious easy low carb asparagus side dish ever! 
Ingredients
1 bunch asparagus, woody ends trimmed off
2 tbsp olive oil, extra virgin
2 tsp garlic salt or garlic powder
2 tbsp lemon juice
1 tsp sea salt, celtic (skip if using garlic salt)
1 tsp pepper, fresh cracked
Instructions
Preheat oven to 425 degrees.
Trim asparagus to remove tough, woody ends - discard ends.
On a baking sheet (line with aluminum foil or parchment paper for easy cleanup), lay down asparagus.
Drizzle asparagus with olive oil and lemon juice, mix around with hands to coat evenly.
Generously season with salt and pepper.
Turn oven to 400 degrees.
Place asparagus in oven and roast at 400 for 15 minutes - checking at around 10 minutes to see if tips have started to brown slightly and asparagus has softened a bit.
Cook until asparagus is soft and has crunchy browned bits, about 15 minutes total (this is very dependent on your oven and the thickness of the asparagus stalks - watch it to be sure it doesn't overcook.)
When asparagus is done, serve immediately.
Nutrition Information
Yield
6
Serving Size
1
Amount Per Serving
Calories

46
Total Fat

5g
Saturated Fat

1g
Trans Fat

0g
Unsaturated Fat

4g
Cholesterol

0mg
Sodium

918mg
Carbohydrates

2g
Fiber

0g
Sugar

0g
Protein

0g
Sweet C's Favorite Recipes
If you love this delicious roasted asparagus, please check out more of my favorite recipes!
Many are low carb - all are easy, delicious, and full of flavor!
Sweet C's Favorite Recipes
Favorite recipes from Sweet Cs Designs