Instant Pot Sweet and Sour Chicken Meal Prep Bowls are a delicious, easy, one pot meal the whole family loves! Make an entire week's worth of meals in just one pot!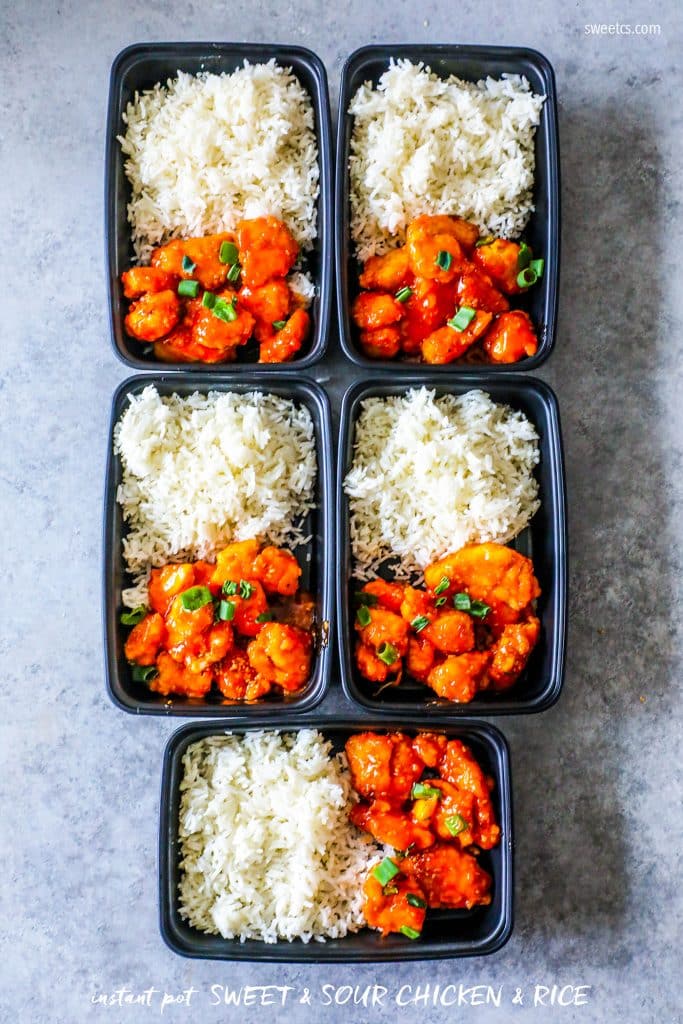 One of my favorite Chinese food indulgences is sweet and sour chicken. There's something about the tangy zip of the sauce, a lightly breaded chicken, and a side of fluffy rice from a local joint that just can't be beat.
Until now!
This Instant Pot Sweet and Sour Chicken Meal Prep Bowls are so incredibly delicious, easy, and simple – and you can make an entire week's worth of this meal in under 30 minutes!
This meal is truly a family-pleasing lifesaver – and one I know you're going to love. It's made us even bigger fans of our Instant Pot!
Making lunch ahead of time is such a weakness for me – but the Instant Pot has been a total lifesaver.
With my instant pot, I've been able to quickly make meals ahead of time – without waiting around forever. It's a huge timesaver to make large amounts of food in just a few minutes, with perfect results – and this Sweet and Sour Chicken is a perfect easy way to plan out your week – especially since the rice cooks in the same pot as the chicken!
I've recently found the absolute best meal prep bowls, which make a huge difference.
They are sturdy, safe, and don't give off weird flavors – perfect for taking lunch on the go!
You can grab a set of 7 for less than $11 here.
To be able to make this meal in truly just one pot, we do need a handy insert for the instant pot – but don't worry – it's less than $30 and CRAZY versatile.
Get you stacking pan inserts here. 
I love being able to cook rice and a meal in just one pot – talk about simple and easy!
There is a little bit of a trick to making pan-in-pan rice work – you should put the rice pan right under a lid, and DO NOT uncover it when you remove it from your instant pot when the chicken is done cooking. I simply take the chicken out, let it rest, and place the rice (with the pan lid still in place) and sit for about 10 minutes.
This will help it carryover cook and get nice and soft. If you find your rice is a bit too firm, simply pop it back in the Instant Pot for another 3 minutes and force release. It will be perfect!
Of course, if you haven't hopped on the Instant Pot Bandwagon, you need to!
This thing is amazing. Full roasts done in under and hour, soups in 10 minutes, it can even cook whole chickens!
If you're looking to grab any of the items I featured in the video, please use this handy buying guide (I get a small commission from each sale, which helps me bring you totally free recipes!!)
Sweet and Sour Chicken Meal Prep Bowls
Instant Pot Sweet and Sour Chicken Meal Prep Bowls are a delicious, easy, one pot meal the whole family loves! Make an entire week's worth of meals in just one pot!
Ingredients
1 lb chicken, cut into small 1" cubes
1 cup corn starch
2 extra large eggs
1 cup flour
2 tbsp grapeseed or sunflower oil
8 oz sweet and sour sauce (I prefer Far East)
1 cup rice (I use basmati)
2 cups water, for rice
2 cups water, for pot
sesame seeds, green onions to garnish
Instructions
Turn instant pot on to sautee- let fully heat before adding any food for it to be truly nonstick.
Add cornstarch, flour, and eggs to small individual bowls.
Whisk eggs thoroughly.
Dredge chicken in cornstarch, followed by eggs, and then flour.
Add oil to instant pot when hot.
Add dredged chicken, let brown on each side about 5 minutes, until golden brown and slightly puffy.
Remove chicken from instant pot pan, and place in pan insert, top with sweet and sour sauce.
Deglaze instant pot with water, make sure there are no bits stuck to bottom.
Add trivet to pan.
Add chicken pan into instant pot.
Add rice and 2 cups water to second pot insert.
Add lid on top of rice.
Close and seal instant pot.
Set on high for 3 minutes, let naturally release for 10 minutes.
Remove chicken pan from instant pot, but leave rice in the instant pot with the lid firmly on (it needs to carryover cook for about 5-10 minutes to be fluffy.)
Garnish with sesame seeds and green onions, if desired.
Plate and enjoy!