Langoustine Étouffée
Mar 13, 2015, Updated Dec 28, 2022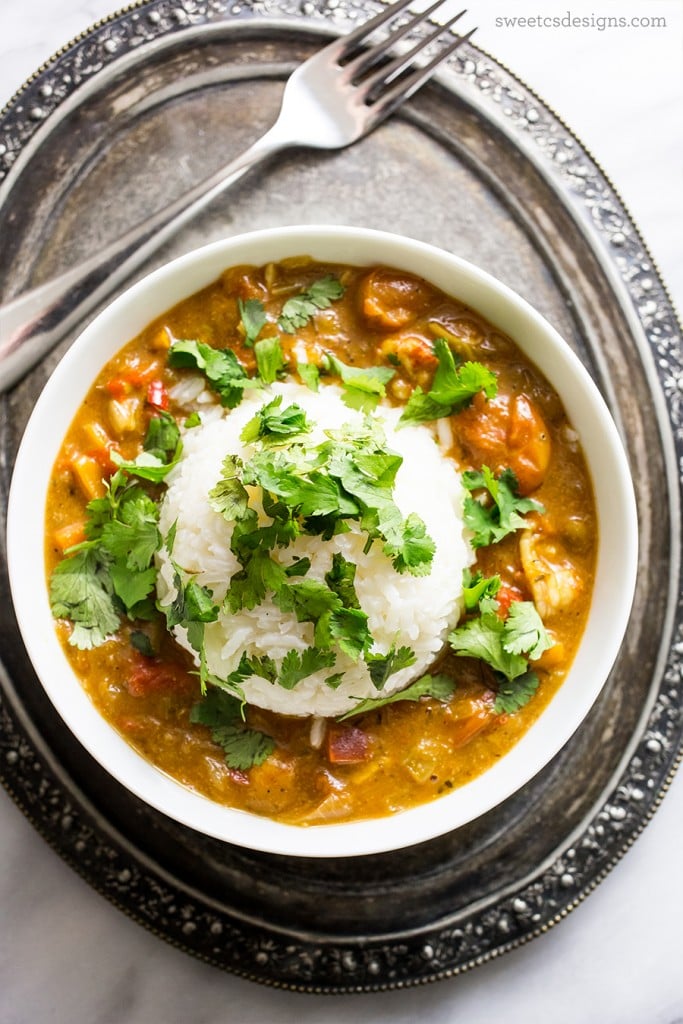 When I was in my 20's and worked in the Senate, I had some friends move to Louisiana to work some local political races. I was thrilled- New Orleans had always been towards the top of my travel bucket list and a place I was dying to visit. I wasn't particularly drawn to Mardi Gras- but I definitely wanted to experience the French Quarter, Bourbon Street, drink hurricanes (which I found out I am unfortunately allergic to- which is a long story in and of itself)- and eat my weight in gumbo, boudin, po' boys, crawfish, beignets, and gallons of étouffée. There is no doubt that I love food in general- but I really, really love creole food. It's spicy, bursting with flavor, full of peppers and onions- and often loaded with crawfish and other seafood. I was in heaven!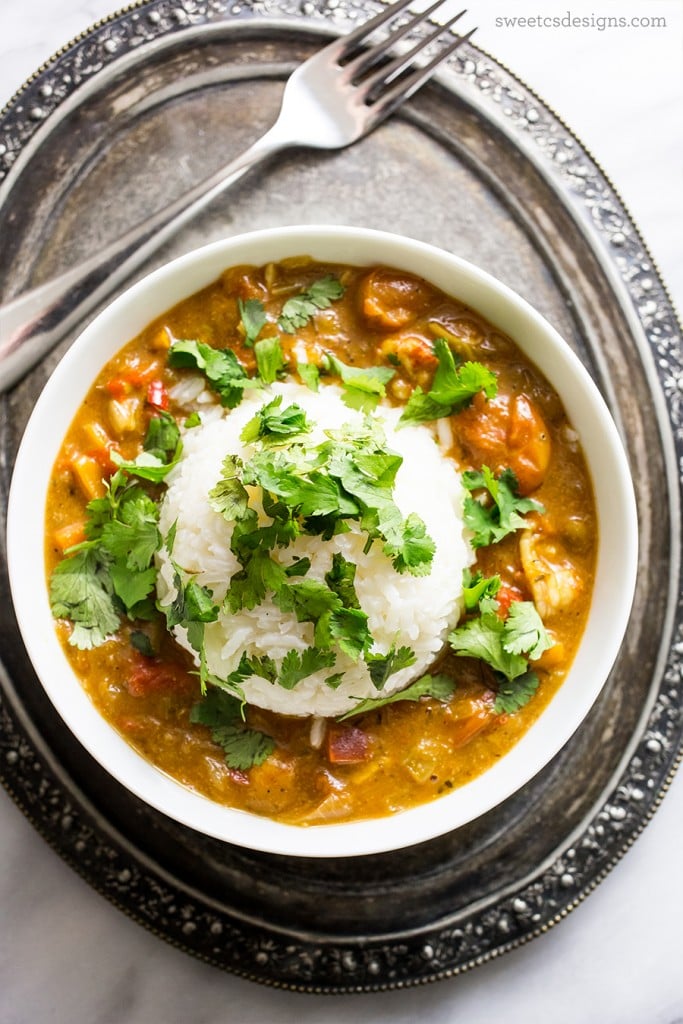 After finding an absolute steal on langoustine- a European crustacean kind of like a cross between a lobster and a crawfish- I wanted to come up with a delicious étouffée like the ones I sampled in New Orleans. This Langoustine Étouffée is an amazingly rich, complex, slightly sweet and spicy dish- and it is incredibly easy to make at home!
Langoustine are a really easy ingredient to work with- but being in Northern Colorado, they aren't something I come across often. Since Trader Joe's just opened in Fort Collins, however, I rediscovered my love for them! I usually shirk from buying pre-cooked seafood, but I've never had any fishy flavor with their langoustines, and at $7.99, it is a total steal and a relatively inexpensive addition to make this dish budget friendly for a dinner party (compared to other seafood options).
A big part of the flavor of this dish comes from layering lots of sautéed peppers and onions, as well as making a roux to thicken the tomato based sauce. This adds a little time to the cooking- but don't rush it. All you need to do is stir occasionally to be sure they don't burn- but give them time to brown and break down. This won't take more than 30 minutes- pour yourself a cold beer, and give it time!
You can also make the étouffée a little before serving- just add a little more stock to make it a bit thinner so you can keep it heated on the stove until you're ready to go- and leave the langoustines off until the end. This will prevent the dish from drying out or the fish from getting too gummy.
Since I'm using pre-cooked langoustine from Trader Joe's, you really just want them to heat up – you do NOT want to overcook them. If you're using fresh langoustine (lucky you!!) or crawfish, add them in with about 5-8 minutes on high to cook until they are opaque and pink- like shrimp.
Stirring your mixture is a really important part of this dish. It's not going to look all that delicious in the beginning- it will look a bit pale. But give it time to cook down, and rich delicious flavor will build on itself as your étouffée color begins to get deeper and darker.
CONNECT WITH SWEET C'S!
Be sure to follow me on social media, so you never miss a post!
Only have 30 minutes to get dinner on the table? Sign up for my 30 minute dinner plans direct to your inbox!
Find and shop my favorite products in my Amazon storefront here!
Langoustine Étouffée
Ingredients
2 tbsp olive oil
2 bell peppers, diced
2 onions, diced
8 cloves of garlic, diced
2 tbsp flour
1/2 cup milk or cream
1 can diced tomatoes
1 cup fish stock
2 tsp emeril's essence
12 oz. langoustine tails- cooked or uncooked, add 5 minutes for uncooked
1 tsp smoked paprika
1 tsp+ tabasco sauce
1 cup rice
cilantro, to garnish
Instructions
In a large, heavy pan, heat olive oil on medium until shimmery.
Add onions and peppers, stirring occasionally, until browned.
Add garlic.
In small pan, combine flour and milk and heat on medium, stirring constantly, until mixture browns slightly to create a roux.
Add roux to vegetables, let sauté and stir occasionally for two minutes.
Add stock, spices and tomatoes, cook on medium until sauce browns and reduces to a gravy consistency.
Cook rice in another pan- 1 cup of long grain white rice to two cups of water.
When rice is ready, scoop a rounded 1/2 cupful into a bowl, and top with étouffée.
Garnish with cilantro or parsley and enjoy!
Nutrition Information
Yield

6
Serving Size

1
Amount Per Serving
Calories

156
Total Fat

8g
Saturated Fat

2g
Trans Fat

0g
Unsaturated Fat

5g
Cholesterol

8mg
Sodium

139mg
Carbohydrates

20g
Fiber

3g
Sugar

5g
Protein

4g
Nutrition is automatically calculated by Nutritionix - please verify all nutrition information independently and consult with a doctor or nutritionist for any and all medical and diet advice.