Spam and Egg breakfast sandwiches are an easy, cheap, and delicious breakfast treat with a Hawaiian flare and homemade spicy mayo.
You can make these sandwiches in a cast iron pan on the stovetop, or on a blackstone griddle outside – making this recipe a great easy tailgate or camping recipe that is cheap to feed a family, easy to make an extra large batch for friends, and easy to transport!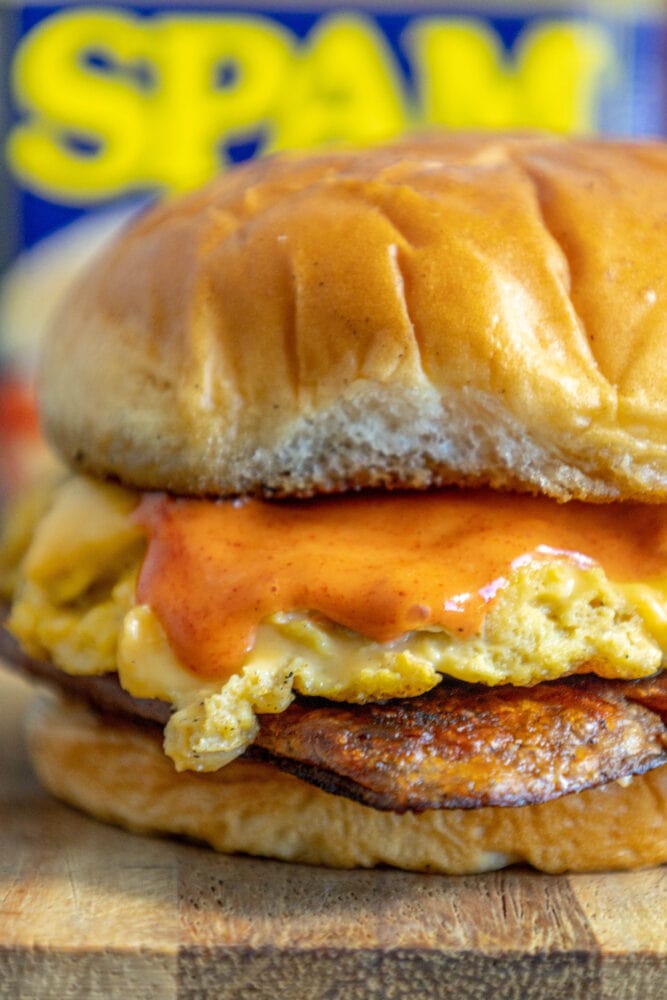 Easy Spam and Egg Breakfast Sandwich with Spicy Mayo
Spam and egg breakfast sandwiches are fast, cheap, and delicious way to start your day.
Spam is an amazing breakfast meat. Legend tells us the name comes from the Ingredients: Shoulder of Pork And Ham. Another legend says the name is a mashup of "spice" and "ham" even though Spam doesn't have spices in it.
8 billion cans have been sold since Hormel released the product in 1937. GI's returning from World War II spread a taste for Spam far and wide across the country.
Spam taste great with eggs so it's a fantastic paring for a breakfast sandwich that will be ready a just a few minutes. The spicy mayo adds a great kick of flavor to round out a wonderful breakfast treat.
How to Make Spam and Egg Breakfast Sandwiches & Spicy Mayo
To make this recipe, you'll need the following ingredients:
Spam – SPAM is made primarily of minced pork shoulder and ham, which gives it a rich, fatty, salty pork flavor. It is a great, and cheap alternative to bacon or breakfast sausage.
Eggs – You can't have a breakfast sandwich without eggs. They are a perfectly packaged clean protein with just the right amount of healthy fat that won't break the bank.
Cheese – Use Kraft Deluxe American Cheese. Don't overthink it, literally nothing melts on a burger better than American cheese. Use it.
Hawaiian Rolls – Spam sandwiches are a classic Hawaiian staple, so why not use a Hawaiian Sweet roll.
Mayo – My husband and I love Duke's Mayo, which is a southern staple, and one of the very few commercially made mayonnaise not made with mustard seeds.
Asian Hotsauce – Using Sriracha or Gojugang hot sauce will very the amount of heat in your spicy mayo. Sriracha has a brighter, and hotter flavor, while the gojugang hot sauce is earthy and fruity and less spicy.
One you've gathered your ingredients, we will use the following method:
Step 1 – Prepare your ingredients. Scramble your eggs. Take the Spam and slice thinly. Combine the mayonnaise and the hot sauce and mix thoroughly to create your spicy mayo.
Step 2 – Start cooking. Bring your griddle to temperature and toast your buns. Cook your SPAM until it is brown and crispy on both sides.
Step 3 – Cook your scrambled eggs. Cook your scrambled eggs on the griddle until nearly done. Cover with the slices of American cheese. Spray a small amount of water around the eggs, and quickly cover with a basting cover or metal bowl to trap the steam and melt the cheese. When the cheese is perfectly melted the eggs are ready
Step 2 – Build your sandwich. Spread a thin layer of spicy mayo on the bottom toasted bun. Add the griddled Spam first, then top the scrambled eggs with cheese. Top with a drizzle more of spicy mayo and the top bun.
Tips and Tricks to Perfect Spam Breakfast Sandwiches:
Spam and egg breakfast sandwiches are incredibly easy but these tips will help make it even easier.
Tip 1 – Want a meatier sandwich? Cut your Spam into thicker slices for a meatier sandwich.
FAQ:
How do I store this recipe?
Store any leftovers in an airtight container, plastic wrap, or foil wrap in the refrigerator for up to two days, or in the freezer for up to four months. Sandwiches can be made ahead and frozen if wrapped individually in foil – simply bake or microwave to piping hot from freezer to reheat!
What type of sauce should I use?
We made a spicy mayo for this sandwich, but it's also great with ranch, gravy, mayo, aioli, or ketchup – whatever you're in the mood for!
Can I add anything else to this sandwich?
Pickles or relish give a fresh, tangy kick to this sandwich that adds an unexpected layer of flavor!
What to Serve With Spam and Egg Breakfast Sandwiches
Spam and egg breakfast sandwiches are great with a fresh fruit salad like our watermelon berry fruit salad, Easy, Simple Peach Bellinis Cocktails, or even some spam fried rice, if you're going for a hearty brunch!
SPAM and Eggs Breakfast Sandwiches
If you love this easy recipe please click the stars below to give it a five star rating and leave a comment! Please also help me share on facebook and pinterest!
CONNECT WITH SWEET C'S!
Be sure to follow me on social media, so you never miss a post!
Facebook | Twitter | Youtube | Pinterest | Instagram
Only have 30 minutes to get dinner on the table? Sign up for my 30 minute dinner plans direct to your inbox!
Find and shop my favorite products in my Amazon storefront here!
Yield:

4 sandwiches
Spam Breakfast Sandwiches
Delicious, easy egg and spam sandwiches with spicy mayo on a sweet Hawaiian bun!
Ingredients
Half a can of Spam, Thinly sliced
4 eggs
4 slices of Deli Delux Kraft American Cheese
4 Hawaiian Rolls
4 tablespoons of Dukes Mayonaise
2 tablespoons of Asian Hotsauce (Gojugang hot sauce or Siracha)
Instructions
Slice your Spam in thin slices
Scramble your eggs thoroughly.
Heat your griddle (or a heavy pan on the stove) to medium-high heat.
Combine the mayonnaise and hot sauce in a bowl.
Toast your Hawaiian rolls.
Cook your Spam on the griddle until it is browned.
Cook your scrambled eggs until nearly done. Cover with slices of American cheese. Spray a small amount of water around the eggs, and quickly cover with a basting cover or metal bowl to trap the steam and melt the cheese.
Cut the eggs and cheese into four servings.
Build your sandwich, starting with the toasted bun.
Add the spicy mayo, then the griddled spam, and then the eggs.
Add a little more spicy mayo to the top.
Enjoy warm!

Recommended Products
As an Amazon Associate and member of other affiliate programs, I earn from qualifying purchases at no extra expense to you.
Nutrition Information
Yield
4
Serving Size
1
Amount Per Serving
Calories

313
Total Fat

22g
Saturated Fat

6g
Trans Fat

0g
Unsaturated Fat

15g
Cholesterol

216mg
Sodium

373mg
Carbohydrates

17g
Fiber

1g
Sugar

5g
Protein

11g
Nutrition is automatically calculated by Nutritionix - please verify all nutrition information independently and consult with a doctor or nutritionist for any and all medical and diet advice.