These warmly spiced pumpkin laced muffins are the perfect treat for a brisk autumn morning as you cozy up to enjoy your morning coffee. Preheat your oven, it's time for a simply delicious fall treat.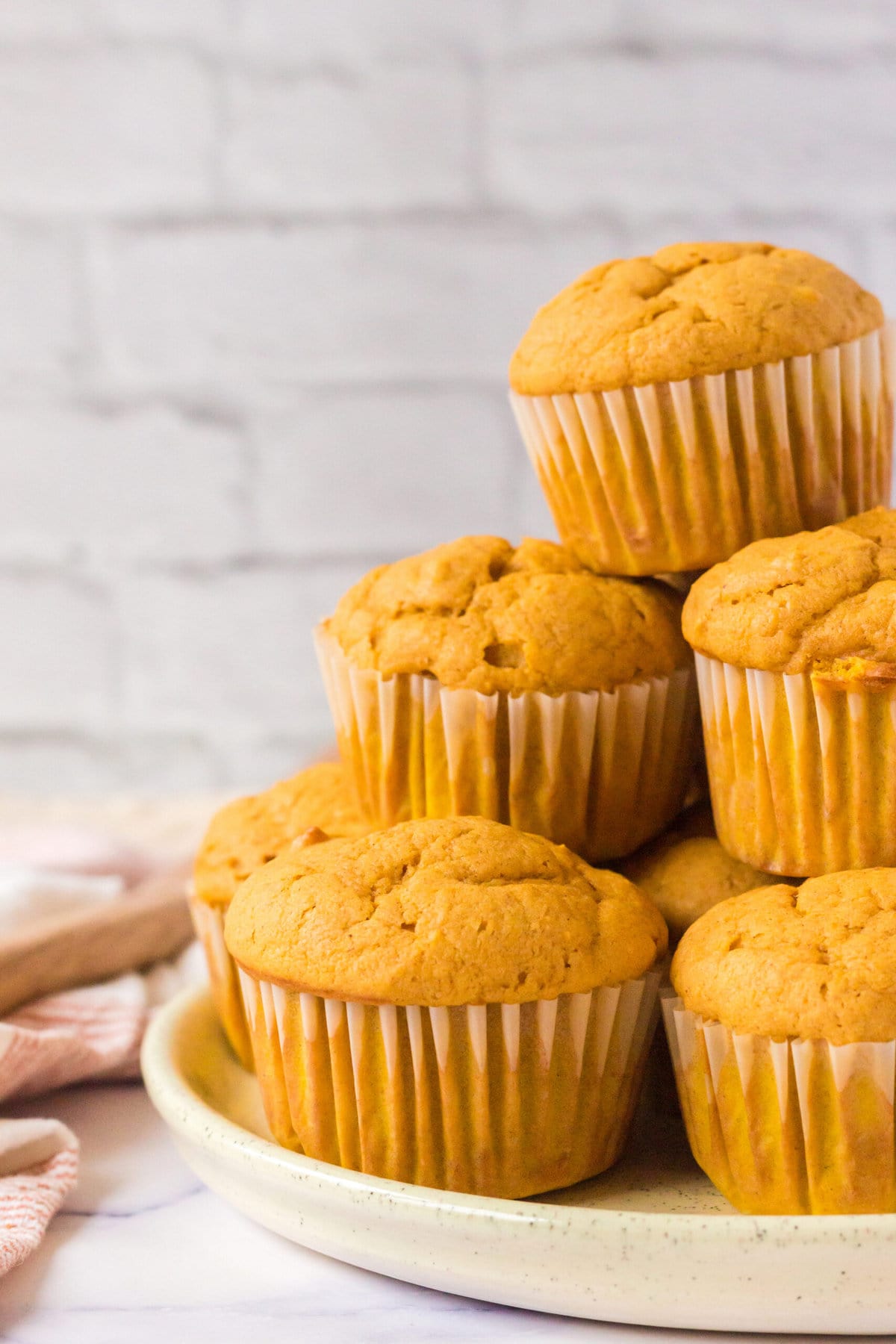 Easy Savory Pumpkin Muffins
The first sign of fall where I live is usually Starbucks carrying pumpkin spice lattes which is soon followed by cooler days and the trees showing off their colors. As much as I love pumpkin spice lattes I love these pumpkin spice muffins even more since they combine all the flavors I love into one mouth watering bite.
"Pumpkin spice" doesn't have any pumpkin flavoring; the term just refers to the spice combination that pairs well with pumpkin, particularly in pumpkin pies. Pumpkin spice is a combination of equal parts nutmeg, cinnamon, and cloves. If you don't have pumpkin spice permixed from the store on hand feel free to make your own.
How to Make Pumpkin Spice Muffins
To make this recipe, you'll need:
Salted Butter – butter adds fat which will make the muffins rich and lucious. Make sure the butter is at room temperature so it will cream well with the sugar. If you use unsalted butter add salt to the mixture or the muffins will be bland.
White Sugar – I use white sugar to add sweetness and keep the consistency lighter. If you want to substitute something use a granulated sugar alternative, not honey or maple syrup since they would throw off the wet-dry ratio.
Eggs – the high protein content of eggs gives these muffins a good structure as well as some necessary moisture. Use high quality eggs for a better tasting muffin.
Pumpkin Puree – unlike pumpkin spice lattes, we want our pumpkin muffins to taste like pumpkin so I add pumpkin puree which adds flavor and moisture to the muffins. I use canned pumpkin puree for this recipe but you can use fresh, see tip #1 below for more info.
White Flour – all purpose flour is ideal for this recipe since it has a good medium protein content that gives a good structure without being overly chewy.
Baking Powder – baking powder will give these muffins the lightness we are going for. I add 2 tsp instead of 1 to compensate for the pumpkin puree which is very heavy.
Pumpkin Spice – as I said above pumpkin spice is just a combination of equal parts nutmeg, cinnamon, and cloves, it gives these muffins that spicy bite. If you don't have any premixed pumpkin spice just make your own.
Once you've gathered your ingredients, we will use the following method:
Prep- Preheat the oven and line the muffin pan. Whisk together the butter and sugar until light and fluffy. You can do this by hand or with a hand mixer. It's important to mix for a few minutes and make sure they are fully incorporated so you have a good base for the other ingredients and the sugar is evenly distributed. Add the eggs and milk and mix until smooth. 
Mix – Gently fold the pumpkin puree into the mixture then add the dry ingredients and mix until fully incorporated. 
Bake – Pour the batter into the liners, filling them just over halfway, and bake for about 20 minutes or until a toothpick inserted into the center comes clean. 
Cool – Let them cool on a wire rack after baking then enjoy! 
See our web story for this recipe here.
Tips and Tricks For Perfect Pumpkin Spice Muffins:
Here are some tips and tricks to make mastering this bake a breeze.
Fresh vs. Canned Pumpkin. Fresh pumpkin has a different flavor (more like butternut squash) than canned pumpkin. If you want to use fresh puree you can cut a pumpkin in half, clean out the seeds, then place it on a roasting pan with the flesh down and bake it at 375 degrees until a knife inserted into the outer skin inserts easily (about an hour). Then scoop out the inside and mash it to make a puree.
Make sure all ingredients are at the same temperature. The trick to combining the wet ingredients in this recipe is to make sure they are all at the same temperature. If they are not close to the same temperature you will split the mix and it will look like a bunch of dippin dots of butter.
FAQ's:
What kind of milk should I use?
I use whole milk for this recipe but you can use 2% or 1%. 
How do I store muffins?
You can store these muffins in an airtight container for up to 5 days on the counter. To rewarm, just microwave a muffin for about 30 seconds. 
When are muffins done?
Muffins are done when they are light, airy, and have browned sides and a toothpick inserted in the middle comes out clean.
What to Serve With Pumpkin Spice Muffins
These muffins are delicious with Pumpkin Spice Lattes, Easy Sangria Mimosas, or Mulled Citrus Cider – it is perfect for a fall breakfast, or with some boozy Pumpkin Pie Punch! We love serving muffins alongside Easy Eggs Benedict, Air Fryer Bacon, and Easy Baked Oatmeal With Apples for a perfect fall breakfast!
Check out some of our favorite hot chocolate and warm drinks below:
Pumpkin Spice Muffins Recipe
If you love this easy recipe please click the stars below to give it a five star rating and leave a comment! Pease also help me share on facebook and pinterest!
CONNECT WITH SWEET C'S!
Be sure to follow me on social media, so you never miss a post!
Only have 30 minutes to get dinner on the table? Sign up for my 30 minute dinner plans direct to your inbox!
Find and shop my favorite products in my Amazon storefront here!
Pumpkin Spice Muffins
Delicious light and moist muffins that are loaded with pumpkin spice flavor!
Ingredients
½ cup salted butter, room temperature
1 cup white granulated sugar
2 large eggs at room temperature
½ cup milk at room temperature
1 cup pumpkin puree
2 cups white flour
2 tsp baking powder
2 tsp pumpkin spice
Instructions
Preheat the oven to 350 degrees Fahrenheit and fill a muffin tin with liners.
Whisk the butter and sugar together in a large mixing bowl until smooth and creamy.
Whisk in the eggs and milk until the mixture is smooth and the egg yolks are fully incorporated.
Gently fold in the pumpkin puree until it is homogenous with the batter.
Whisk in the flour, baking powder, and pumpkin spice until the dry ingredients are fully incorporated into the mix.
Pour the batter into the muffin liners and bake for 15 - 20 minutes or until a toothpick inserted into the center comes out clean.
Serve and enjoy!
Recommended Products
As an Amazon Associate and member of other affiliate programs, I earn from qualifying purchases at no extra expense to you.
Nutrition Information
Yield

12
Serving Size

1
Amount Per Serving
Calories

233
Total Fat

9g
Saturated Fat

5g
Trans Fat

0g
Unsaturated Fat

3g
Cholesterol

52mg
Sodium

161mg
Carbohydrates

35g
Fiber

1g
Sugar

18g
Protein

4g
Nutrition is automatically calculated by Nutritionix - please verify all nutrition information independently and consult with a doctor or nutritionist for any and all medical and diet advice.