The Best Blackened Pork Tenderloin and Vegetables Recipe
Sep 09, 2019, Updated Dec 28, 2022
The Best Blackened Pork Tenderloin and Vegetables Recipe – delicious juicy blackened pork tenderloin baked in a foil pouch with vegetables for a one pot foil pouch pork tenderloin dinner the entire family loves!
A complete sheet pan pork tenderloin dinner in under 45 minutes.
Don't want all the extras in a recipe post? We provide a skip to recipe button in the top left corner, as well as a clickable table of contents, just below, to help make this page easier to navigate.
This easy Blackened Pork Tenderloin and Vegetables One Pot Sheet pan dinner is a delicious, easy, and quick way to get dinner for a crowd fast – it is bursting with blackened pork tenderloin flavor, and the vegetable side dishes bake right in the same foil pouch for a ton of flavor!
This easy dinner is perfect for low carb diets, low calorie diets, or just a hearty home cooked meal that is naturally gluten free and bursting with flavor!
If you love blackened fish or chicken, but haven't tried blackening pork yet, this is THE best recipe to try out this delicious cajun inspired cooking technique for a juicy, never dry pork tenderloin and vegetables all on one sheetpan!

What is Blackening?
Blackening is a really simple technique to brings tons of cajun flavor fast – typically when blackening a dish, the food is dipped in melted butter and then dredged in a mixture of herbs and spices, usually some combination of thyme, oregano, chili pepper, peppercorns, salt, garlic powder and onion powder.
You can buy or make your own blackening spices – and use them on fish, beef, chicken – and this amazingly delicious pork tenderloin!
Since blackening spices are usually gluten free and don't contain sugar, they work in just about any diet plan (you might want to check the sodium levels if you're on a low sodium diet, as blackening spices can contain a lot of extra sodium.)
How To Keep Pork Tenderloin From Drying Out
Since pork tenderloin has little fat, it can become tough very quickly when overcooked – I'm providing my best tips and tricks to keep your blackened pork tenderloin moist below:
Marinate Pork Tenderloin
Marinating or brining blackened pork tenderloin before cooking will always help to soften the pork tenderloin and keep it from drying out.
I love using a bottle of simple Italian Dressing or a cup of olive oil with some lemon juice, salt, and pepper for an easy overnight pork tenderloin marinade.
I'm not calling for marinade in this specific recipe because we're wrapping it in foil and slathering it in butter so it cooks in its own sort of gravy (I designed this recipe to taste great even if you didn't remember to marinate) – but if you'd like to kick your pork tenderloin up a bit, marinating is always a great idea!
Sear Before Baking
Searing your pork before baking it not only helps to lock in the pork's juices – it tastes great and gives you a perfect crunchy texture. This is especially important for baked blackened pork, since the crunchy, blackened crust is a crucial part of this recipe's flavor!
Look for "Pre-Seasoned" Pork Tenderloins
Pre-seasoned pork tenderloins from your grocer are often dry-brined with salt beforehand, so it doesn't need additional marinating or brining.
Don't Overcook.
Pork tenderloin dries out very quickly when overcooked. I often pull my pork tenderloin at 140-145 degrees and tent it with foil to continue carryover cooking as it rests for about 10 minutes before serving.

Other Delicious Easy Pork Tenderloin Dishes
If you love this easy and delicious blackened pork tenderloin and vegetables one pot dinner, please check out some of my other favorite pork tenderloin recipes!
These simple sheetpan baked pork tenderloin recipes are huge family favorites and sure to please even picky eaters!
The Best Baked Garlic Pork Tenderloin
Sheet Pan Roasted Pork Tenderloin and Veggies
Easy Baked Ranch Pork Tenderloin and Gravy Recipe
And be sure to check out some of my favorite easy pork chops recipes, too!
The Ultimate Guide To Pork Chops
Easy One Pot Garlic Butter Pork Chops and Mushrooms Recipe
The Best Baked Garlic Pork Chops Recipe
One Pot Lemon Garlic Pork Chops and Asparagus Skillet
One Pan Tuscan Pork Chops
The Best Blackened Pork Tenderloin and Vegetables Recipe
If you love this Blackened Pork Tenderloin and Vegetables Recipe as much as I do, please write a five star review, and be sure to help me share on facebook and pinterest!

CONNECT WITH SWEET C'S!
Be sure to follow me on social media, so you never miss a post!
Only have 30 minutes to get dinner on the table? Sign up for my 30 minute dinner plans direct to your inbox!
Find and shop my favorite products in my Amazon storefront here!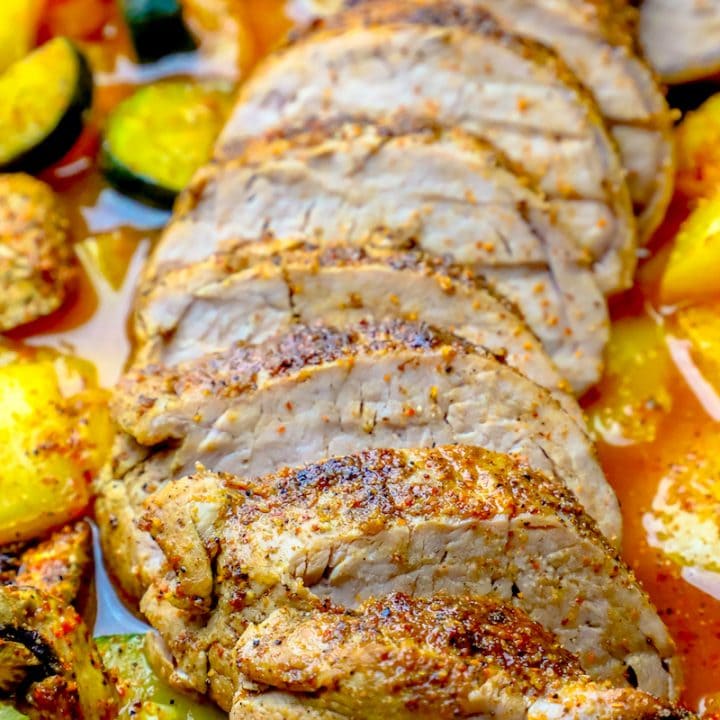 Blackened Baked Pork Tenderloin and Vegetables
Additional Time:
10 minutes
The Best Blackened Pork Tenderloin and Vegetables Recipe – delicious juicy blackened pork tenderloin baked in a foil pouch with vegetables for a one pot foil pouch pork tenderloin dinner the entire family loves!
Ingredients
1 tsp sea salt
1 tsp pepper, fresh cracked
2 tbsp olive oil
3 lb pork tenderloin
3 tbsp blackening seasonings
4 oz butter
1 lemon juice
1 bell pepper, diced
8 oz cremini mushrooms, sliced
1 zucchini, sliced into half rings
Instructions
Preheat oven to 375 degrees. If grilling, turn gas grill to high or start charcoal and heat until grill is 375 degrees.
Generously season pork tenderloin with salt and pepper. (UNLESS YOUR PORK IS PRE-BRINED OR DRY BRINED. DO NOT ADD EXTRA SALT IF IT IS.)
In a large, heavy pan, heat olive oil until it is shimmery.
Brown pork tenderloin on all sides - about 2-3 minutes per side. Set pork aside.
In the pan you browned the tenderloin in make gravy by combining melted butter, blackening seasonings, and the juice of one lemon. Stir well to combine.
Lay a sheet of foil on a baking sheet and place the mushrooms, zucchini, and bell pepper in the pouch. Add the pork tenderloin over the vegetables.
Drizzle blackened seasoning gravy over pork tenderloin.
Close foil pouch and bake for 30 minutes, checking temperature with a digital meat thermometer at about 25 minutes.
When pork has reached 145 degrees internal temperature, remove from oven.
Keep the foil pouch closed and let rest for at least 10 minutes to continue carryover cooking to the recommended 150 degrees internal temperature for pork.
Slice into thin slices and serve immediately or store in an airtight container for lunch meal prep.
Recommended Products
As an Amazon Associate and member of other affiliate programs, I earn from qualifying purchases at no extra expense to you.
Nutrition Information
Yield

6
Serving Size

1
Amount Per Serving
Calories

528
Total Fat

29g
Saturated Fat

13g
Trans Fat

1g
Unsaturated Fat

13g
Cholesterol

206mg
Sodium

642mg
Carbohydrates

4g
Fiber

1g
Sugar

2g
Protein

61g
Nutrition is automatically calculated by Nutritionix - please verify all nutrition information independently and consult with a doctor or nutritionist for any and all medical and diet advice.