The Best Easy Beer Bread Recipe - buttery, salty, beer bread is quick to make and so simple - perfect for beginners!
Don't want all the extras in a recipe post? We provide a skip to recipe button in the top left corner, as well as a clickable table of contents, just below, to help make this page easier to navigate.
Quick Homemade Beer Bread
Beer bread was the first bread I ever made growing up, because it is so simple. There is no kneading, proofing yeast, or rising period - simply mix (all in one bowl!), and bake. It's also incredibly delicious - with notes of molasses, yeast, malt, butter, and salt!
Quick and easy beer bread is the perfect fall indulgence - it is easy to make, warm and soft with a crunchy outside and moist, chewy crumb - plus it is loaded with your favorite beer flavor! If you love fresh baked bread, but don't want to go through all the hassle of complicated bread making, this recipe is for you. It's simple, quick, but loaded with flavor - and easy enough for beginner home cooks.
Slather this bread with apple butter, bacon butter, jam, or eat it hot out of the oven - this bread will be your new favorite easy treat! Beer bread is the perfect recipe for beginner bread bakers - it doesn't require any special equipment or bread-making knowledge, it comes together quickly, and it's easy to mix!
Try with a pumpkin beer for fall, an amber ale, or even a rich porter - the sky is the limit, just pick a beer you love the flavor of! Sprinkle some crunchy maldon sea salt along the top for a bit of extra flavor, it is my favorite extra special touch.
You'll Love making beer bread, because:
Just mix and bake - no proofing, rising, or kneading!
Perfect for beginners - this bread requires no advanced bread making knowledge.
Great with butter, bacon butter, jams, spreads, and more!
How to Make Beer Bread
To make beer bread, you will need the following ingredients:
All-purpose flour. Even though we often bake breads with bread flour for it's gluten profile, all-purpose flour works better in this recipe to keep the bread lighter, and less dense. Bread flour will work - but may be chewier and more dense.
Granulated sugar. Adding sugar to beer bread isn't to sweeten the bread - it is actually to create a chemical reaction, feeding the yeast, and causing the yeast in the beer to activate, without a rise period. This is a fast bread without a rise, and adding sugar helps speed up the process without adding yeast bread dough, rising, and proofing - the sugar helps the beer work it's magic!
Baking powder. Beer bread primarily relies on fast-acting baking powder for leavening, as well as the carbonation and yeast in beer, to provide lift - so our bread comes out springy, light, chewy, and delicious!
Salt. Salt enhances the rich buttery flavor and also helps your bread from rising too fast - it helps to keep bread's structure in tact.
Beer. Beer works three ways in beer bread: yeast from beer mixes with baking powder to work as a leavening agent super power - making a rapid-rising bread that doesn't need proofing, rising, or complicated kneading and punching down like many breads. Beer's carbonation also provides extra springy lift, and beer is a fabulous flavor addition to bread!
Butter. Melted butter dumped over the top of bread dough as it bakes is a heavenly, delicious addition to beer bread that will make your bread golden brown, irresistible, and totally delicious!
Once you've gathered your ingredients, we will use the following process:
Mix. Mix bread dough in a bowl, starting with dry ingredients, then wet, and add to well prepped nonstick loaf pan. I love using a cooking spray with flour to prep pans for bread-making. Top with melted butter.
Bake. Bake in an oven at 375 for about 45 minutes, until a toothpick inserted into the middle comes out clean. Let rest 10-15 minutes before slicing.
Enjoy! I love to serve with pumpkin butter, butter, or jam!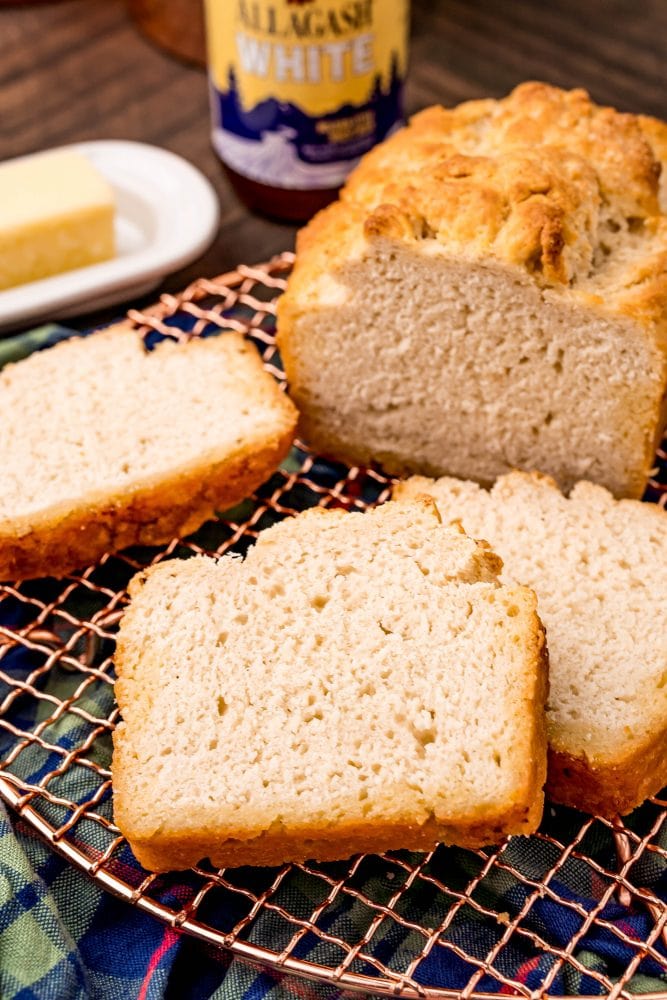 What beer to use for beer bread. Picking the type of beer you'd like to use in this bread is largely up to you - you can reach for something you love - just be sure it's a beer whose flavor you really like, since it will be prominent in your beer! More flavorful beers will result in more flavorful beer breads - lighter beers will have a lighter flavor.
I prefer Belgian ales or light ales for this recipe but have made it before with dark beers and stouts.
Flavored beers such as blueberry or pumpkin also work well, and are great for adding some seasonal touches to your beer bread!
Soda can also be used in place of beer - you can use sprite, sierra mist, or ginger ale.
Does beer bread have to rise? One of the reasons we love beer bread is just how easy it is - no proofing, rising, or kneading. The yeast in beer helps lift and rise your bread, doing all the work for you - and the rustic, homemade quick bread nature of beer bread makes this a truly mix and bake recipe.
Recipe FAQs
How long does beer bread last?
Store beer bread for up to three days, in a cool, dry place.
When is beer bread done?
Bake beer bread until golden brown on the top and sides and a toothpick probed into the center comes out clean (or an instant-read thermometer reads 200º F.)
High Altitude Beer Bread Adjustments
To make this beer bread in high altitude (like me in Denver), decrease cooking time by about 5-8 minutes.
Increase water by 2 tablespoons.
Increase flour by 1 tablespoon.
Other Easy Breads You'll Love
If you're loving this quick, easy bread, please check out some of our favorite other easy bread recipes!
You can find our entire bread recipe archives here.
The Best Easy Beer Bread Recipe
If you love this easy recipe please click the stars below to give it a five star rating and leave a comment! Please also help me share on facebook and pinterest!
CONNECT WITH SWEET C'S!
Be sure to follow me on social media, so you never miss a post!
Facebook | Twitter | Youtube | Pinterest | Instagram
Only have 30 minutes to get dinner on the table? Sign up for my 30 minute dinner plans direct to your inbox!
Find and shop my favorite products in my Amazon storefront here!
Yield:

1 loaf
The Best Easy Beer Bread Recipe
Total Time:
1 hour
5 minutes
The Best Easy Beer Bread Recipe - buttery, salty beer bread is quick and simple - perfect for beginners and loaded with delicious beer flavor!
Ingredients
3 cups all-purpose flour
¼ cup granulated sugar
3 teaspoons baking powder
1 teaspoon salt
12 ounces beer
½ cup salted butter, melted
Instructions
Preheat oven to 375 degrees F and grease a loaf pan.
In a large bowl, combine all dry ingredients.
Add beer to dry ingredients and fold together until just combined.
Pour melted butter over bread.
Bake for 50-60 minutes or until a cake tester comes out clean.
Recommended Products
As an Amazon Associate and member of other affiliate programs, I earn from qualifying purchases at no extra expense to you.
Nutrition Information
Yield
6
Serving Size
1
Amount Per Serving
Calories

422
Total Fat

16g
Saturated Fat

10g
Trans Fat

1g
Unsaturated Fat

5g
Cholesterol

41mg
Sodium

722mg
Carbohydrates

59g
Fiber

2g
Sugar

9g
Protein

7g
Nutrition is automatically calculated by Nutritionix - please verify all nutrition information independently and consult with a doctor or nutritionist for any and all medical and diet advice.