Also known as Farls, this Irish Potato Bread Recipe isn't your typical potato bread. It's a delicious potato pancake that's delicious for breakfast, but can be eaten for any meal if you choose!
I like my potato bread a little thicker, and with a little bit of extra browning on the outside, for a bit of extra crunch – it's a lovely contrast between textures and makes for a hearty breakfast or side dish.
My kids like to melt cheese over this bread or load it up with sour cream!
Check out my web story that contains some videos of making Irish Potato Bread.
Don't want all the extras in a recipe post? We provide a skip to recipe button in the top left corner, as well as a clickable table of contents, just below, to help make this page easier to navigate.
Irish Potato Farls Recipe
I learned to make this bread when touring Belfast, in a bread-making class for Traditional Irish Breads. It was gorgeous – and one of my favorite tours in Ireland!
The word farl is from the Gaelic word fardel. It means four parts. So, an Irish Potato Farl is basically a potato disc cut into four wedges.
Irish potato farls are typically served as an Irish breakfast food with fried tomatoes and eggs. However, don't feel like you have to limit these to just breakfast. They make really good snacks, appetizers, and dinner sides. The best part about making these cakes is that you can use up any leftover mashed potatoes that you have!
We like to serve this potato bread with lots of butter – but you can also serve it with marmalade. If I know I'm going to be making it savory, I will throw some diced green onions and garlic powder into the mixture for extra flavor. For sweet, I throw in some orange or lemon. You can do what works for you – this is a humble, rustic dish that is delicious any way you try it!
How To Make Skillet Irish Potato Bread
Crispy on the outside and moist and fluffy on the inside, this Irish potato bread is perfect for a tasty St. Patrick's Day breakfast. Here's what you need to get started:
Mashed potatoes– You can use leftover mashed potatoes, make them from scratch, or whip up some instant potatoes for this recipe.
Butter– Melt your butter in the microwave in 30-second increments until it's fully melted.
An egg– Eggs tend to work better at room temperature. Pull your egg out and let it sit on the counter for about 15-minutes.
Flour– You will need all purpose flour for this recipe.
Baking Soda – this is a soda farl recipe, we will be using baking soda for extra lift.
Celtic sea salt- Celtic sea salt provides a higher amount of minerals and elements with a lower amount of sodium chloride.
Garlic powder- This is totally optional, but does add a delicious flavor to your Irish cakes.
Pepper– We use fresh cracked pepper. Again, this is optional, but really adds a nice savory flavor.
The great thing about this recipe is that you probably have all the ingredients at your disposal. Get ready to make a unique breakfast!
First, you will mix the potatoes, melted butter, egg, salt, and ½ cup of flour together in a large bowl. Mix until soft and lump free.
If it is not quite a dough, keep adding small amounts of flour to the dough until it is firm and holds its shape.
Sprinkle a little flour on the table or counter. Work the dough into a large circle and shape it into a disc.
Cut the disc into four wedges.
Next, heat a nonstick skillet on the stove over medium high heat.
After the pan heats up, add the dough wedges to the skillet.
Cook the bread for about 5-minutes or until it is brown. Then, flip the discs and cook for an additional 5-minutes.
When the bread is golden brown on both sides, it's done. Serve hot with butter, sour cream, or jam.
Tips and Tricks to Perfect Irish Potato Bread and FAQs:
Don't pack the flour. You may be tempted to scoop and pack the flour with your measuring cup, but that will result in dry bread. Scoop it with a spoon into the measuring cup, and then level it off with a butter knife, so you don't use too much.
Do not overwork the dough. You want it to be firm, hold its shape, and not sticky. Once it reaches this point, do not continue to work on it.
Be careful not to add too much flour. You want to add flour until the dough is firm, but not so much that it crumbles apart. The potatoes, humidity, and air will affect how much you need. There is not a precise measurement.
Use a wooden spoon to help flip bread. I find this or a rubber spatula works best.
Cook the farls in butter.I prefer salted butter, the Irish kind of course! Oil will make your farls soggy so avoid that.
FAQs
What temperature do I cook Irish bread at?
You will cook the Irish potato bread in a skillet. Keep the temperature at medium high heat, but turn it down to medium if it is cooking the outside too quickly.
How long does this recipe take to make?
This recipe is based on the fact that you have pre-made mashed potatoes. So, you should only need about 10-minutes of prep and 10-minutes to cook it. The Irish potato bread discs should be ready in about 20-minutes tops. However, you will need to add additional time if you do not have your mashed potatoes already cooked.
How do I store leftover Irish potato bread?
If you have any leftovers, you can store them in a Ziploc bag or airtight container in the refrigerator. Leftovers are good for about 3-days.
Can I make this recipe vegan-friendly?
Absolutely! If you want this recipe to be vegan, simply swap the egg for Just Egg ( a plant based egg), and use a plant-based butter like Country Crock Plant Butter.
Is a potato scone the same thing as a farl?
Potato scones or Tattie scones come from Scotland. Potato farls or potato bread come from Ireland. However, they both use leftover mashed potatoes and are essentially the same thing.
What To Serve With Irish Potato Bread
Skillet Irish potato bread is really great for breakfast. We make them with fried eggs and tomatoes. And, if you are really hungry, you can add fried mushrooms, veggies, sausages, or soda bread. They are also delicious with my Fried Egg and Cheesy Veggie Homefries Skillet. You could also use the bread in place of an English muffin for an Easy Eggs Benedict.
These delicious cakes aren't just good for breakfast though! They make great snacks or appetizers and would pair well with Irish dinners like Grandpa's Irish Stew or Pan Fried Cabbage and Sausage.
You can find more of our Irish food recipe inspiration here, or find some of our Ireland trip reports here.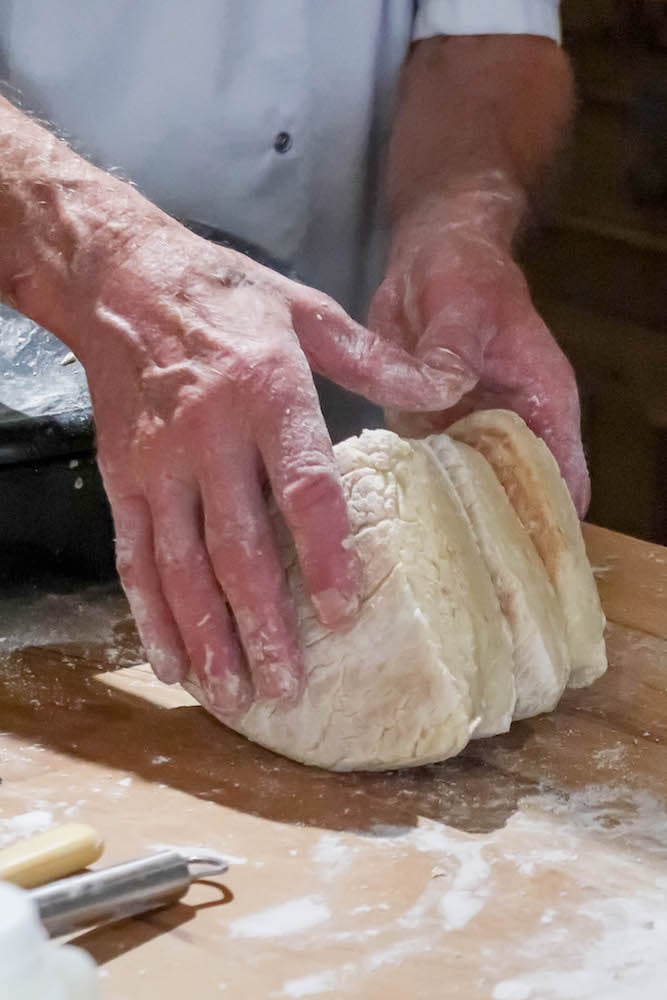 Skillet Irish Potato Bread Recipe
If you love this easy recipe please click the stars below to give it a five star rating and leave a comment! Please also help me share on facebook and pinterest!
CONNECT WITH SWEET C'S!
Be sure to follow me on social media, so you never miss a post!
Facebook | Twitter | Youtube | Pinterest | Instagram
Only have 30 minutes to get dinner on the table? Sign up for my 30 minute dinner plans direct to your inbox!
Find and shop my favorite products in my Amazon storefront here!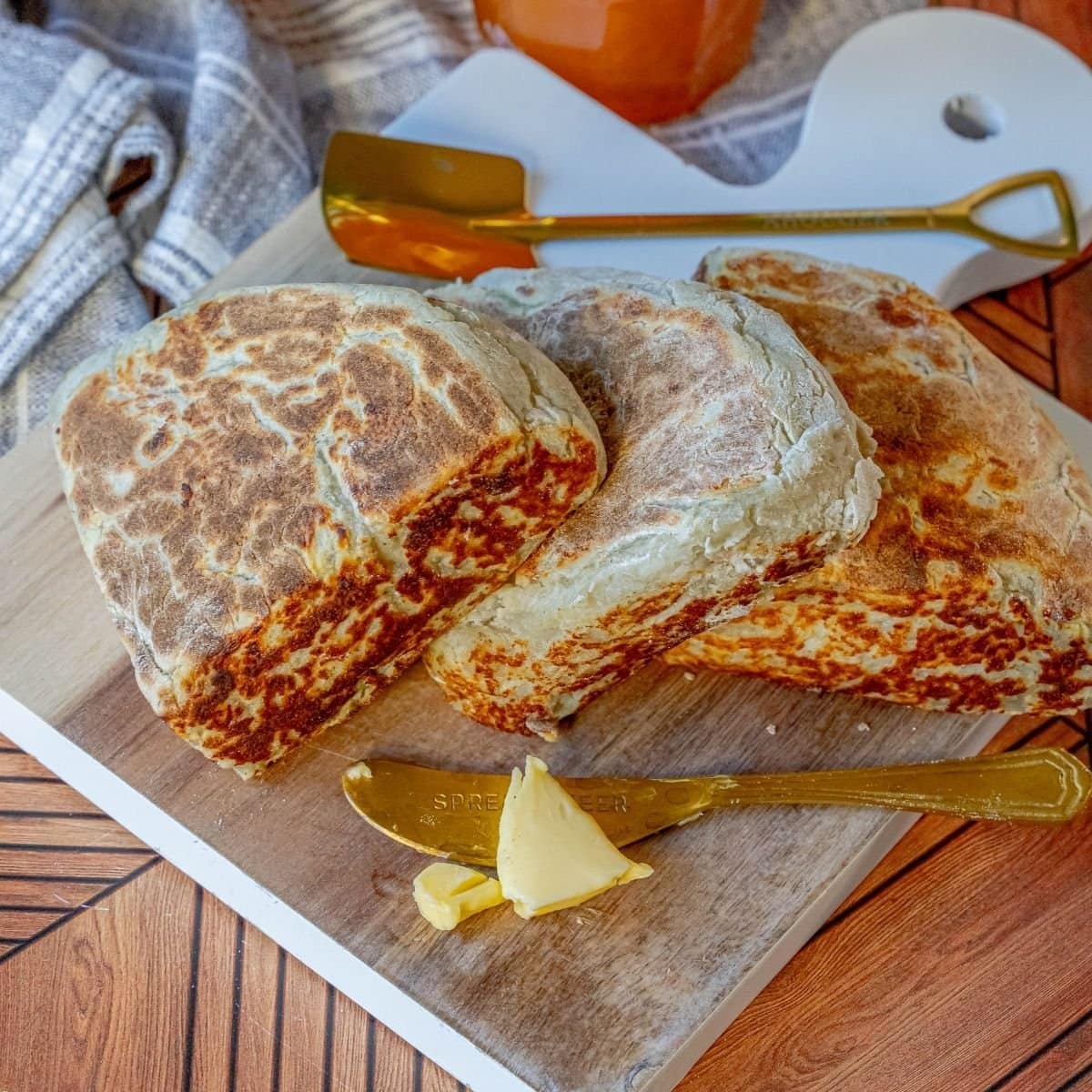 Skillet Irish Potato Bread Recipe
Give your breakfast an Irish twist this week! This Skillet Irish Potato Bread is perfect for breakfast, as a snack or anytime.
Ingredients
4 cups potatoes, mashed
3 tbsp melted butter
1 egg
1 cup to 1 1/2 cups all-purpose flour
1 teaspoon baking soda
1 tbsp salt, celtic sea
2 tbsp garlic powder - optional, if savory
1 tbsp pepper, fresh cracked - optional, if savory
Instructions
In a large bowl, mix potatoes, melted butter, egg, soda, salt, and ½ cup flour. Mix until soft and lump-free, and a dough forms, do not overwork. Keep adding more flour to dough until dough is firm and holds a shape and is not sticky to the touch - but not so much flour it crumbles apart. This will depend a lot on your potatoes, humidity in the air, etc - so you will have to add more flour and go based off feel instead of giving a precise measurement.
Sprinkle a little flour out on a table and add dough to table. Work into large circle and shape into a disc. You will have enough for two to three discs - depending on how thick you'd like them. I like them thick so they are a bit like mashed potatoes in the middle still, but it's more traditional to make them thinner.
Cut disc into four wedges.
Heat a nonstick frying pan or well seasoned cast iron skillet on the stove over medium high heat.
When the pan is hot, add dough wedges to pan.
Let bread cook and brown on each side, about 5 minutes per side. Rotate bread and flip onto each side, so it is browned on all edges. I prefer a darker browning for a bit of crunch, but a light toasting is traditional - how browned you like your bread is up to you. Use a wooden spoon to help flip bread.
When bread has browned on all sides, it is done.
Serve hot with butter, sour cream, or jam, depending on if you made it savory or sweet.
Nutrition Information
Yield
8
Serving Size
1
Amount Per Serving
Calories

262
Total Fat

10g
Saturated Fat

4g
Trans Fat

1g
Unsaturated Fat

4g
Cholesterol

36mg
Sodium

1424mg
Carbohydrates

38g
Fiber

3g
Sugar

2g
Protein

6g
Nutrition is automatically calculated by Nutritionix - please verify all nutrition information independently and consult with a doctor or nutritionist for any and all medical and diet advice.