The Best Oven Roasted Garlic Flank Steak Recipe - how to cook flank steak or skirt steak in the oven with tons of garlic butter steak flavor!
Delicious, low carb, keto approved, tender, and perfectly cooked flank steak, broiled to perfection!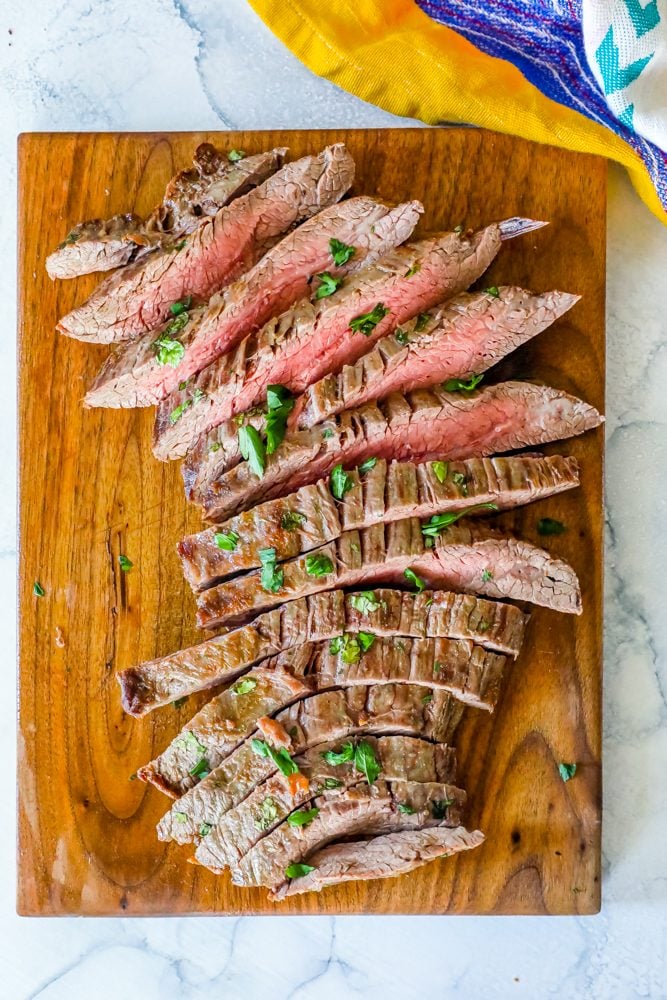 Juicy, tender, low carb sliced flank steak is one of my favorite things to make during the week - it is quick, so simple, and can marinade overnight so you're ready to pop it in the oven after you get home for work and have a hearty meal in less than 30 minutes.
This flank steak is bursting with flavor - and is great in fajitas, tacos, burritos, salads, sandwiches, wraps - even cold as leftovers!
I love to serve this simple baked steak with roasted cauliflower, cajun butter shrimp, or rice pilaf - its also great in taco salads, or in a keto steak wrap using my easy keto naan recipe!
Just Take Me To The Best Broiled Flank Steak Recipe Already!
I have readers of every level comfort and ability in the kitchen, and I get a lot of questions on recipes.
As a commitment to Sweet C's readers, I try to put as much information into my posts as possible for readers.
If you'd like to get straight to the recipe, please click "skip to recipe" above or scroll to the bottom of the page above the comments where you will find the easy printable recipe!
Flank steak is delicious for fajitas, stir fry, homemade cheesesteak, or just sliced on it's own with some fresh vegetables.
Flank steak is meaty, rich, juicy and delicious – and is a leaner cut of steak with less marbling.
Flank steak is well known as a cut that can turn tough quickly – and needs to be cut a specific way when serving (against the grain) since it is made out of long, thick muscle strands.
Flank steak gets a bit of a bad rap for being tough – which certainly can be the case if not cooked properly - flank steak needs to cook hot and fast.
If you remember nothing from this recipe, the number one tip I can give for perfect cooked flank steak that isn't tough is to cook it HOT and FAST.
Flank steak is absolutely heavenly when sent to soak in a marinade – but, unlike other tougher cuts of steak, is also quite beautiful under a broiler or on he grill - anywhere with high heat so it can cook quickly.
Is a Flank Steak the Same as a Skirt Steak
Flank steak and skirt steak are both cut near the belly of the cow, in the "short plate" area - and in this recipe, they can be used interchangeably - just plan for a little longer cooking time for the slightly fattier and larger skirt steak.
The flank steak is lower, leaner, and has less fat marbling than skirt steak.
Skirt steak is from a similar part of the cow as the flank steak, but has a little bit more fat and connective tissue in it (skirt steak is a little more marbled than flank steak), so it needs to break down a little more.
Luckily, skirt steak is great roasted in the oven, if you take just a couple extra steps!
If you're having a hard time finding flank steak and grab skirt steak instead, don't skip the skirt steak marinade (preferably overnight) and give it a quick pound with a meat tenderizer before popping it on the grill.
Since we're using tougher cuts of beef with long, lean fibers, it is critical to cut your skirt steak or flank steak properly for tender juicy steak.
If you look at your grilled flank steak or skirt steak, you will see long lines running down the steak – you will want to cut against the grains to make them short – which makes them much softer and easier to chew since you're breaking down the fibers holding the meat together.
Slice the grilled steak as thin as possible for the most tender and easy to chew flank steak – and be sure to wait for the steak to rest fully before slicing to help preserve the steak's natural juices and flavor!
If you're throwing a dinner party or feeding a crowd, flank steak is one of the best steaks you can serve on a budget, since it is a typically inexpensive and tougher cut of beef.
Typically, skirt steak and flank steak (and other steaks well-suited to carne asada recipes) run $6-$8 per pound, making them some of the most affordable cuts of beef at the market.
To really cut the cost, look for flank and skirt steak in your grocer's bulk case – you can often find bundles of flank steak for dollars less.
Buy in bulk to freeze for future dinners - or cook up a big batch, and portion out in different meals throughout the week!
How To Cook Flank Steak in the Oven
These tips will help you keep your flank or skirt steak from becoming too tough, chewy, or flavorless – and are so easy to do in your oven!
Remove silver skin.

The tough slivery skin often still on flank steak and skirt steak should be removed as much as possible – to remove it, you might need a knife point to get some of the skin loose enough to get a good grip on it and simply tear it off.
Removing silver skin from steak is very important since it becomes tough, chewy, and offers no flavor to the grilled steak.

Cook fast at very high heat.

Since flank steak has very little fat and connective tissues, it can become tough when cooked too long at low temperatures.
For perfect tender juicy flank steak you need to cook it hot and fast – broiled at high heat.
Fully preheat oven to 500-450 degrees before adding steak (go as high and hot as you can using your oven's broiler BEFORE your steak is anywhere near the oven.)

Marinate flank steak before grilling.

Again, because flank steak has little fat marbling, it really benefits from a good soak in a marinade to soften the meat and help lock in tons of juicy flavor.
Marinades are also a delicious way to add flavor to the steak – add in different herbs and spices to find a blend you love the best!
This recipe is a very very basic marinade intentionally so you can add in other herbs you love. Some great ideas to try:

Chinese Five Spice for a slightly sweet kick thanks to the cinnamon in the spice blend.
Teriyaki Sauce or soy sauce for an Asian Flank Steak twist.
Blackening spices for a cajun kick.
Montreal Steak Spices for a zesty steak (don't add salt if using Montreal Steak Herb mix since its already quite salty.)

Don't overflip.

Part of the intense flavor from grilled steak comes from the bit of char the steak gets under the broiler – which needs time to form!
Resist the urge to flip your flank steak too often, so your steak can get a delicious, crunchy sear on the outside.

If making for meal prep to be reheated later, consider cooking slightly less.

If you're making this steak with the intention of reheating it again another day, consider cooking it a level lower than your ideal doneness so you can reheat it without making it too tough or dry from overcooking.
This is especially important if you are microwaving to reheat! I personally love flank steak cold on taco salads though.
Other Delicious Steak Dinners You'll Love
If you love delicious, meaty, and EASY steak dinners, please click through my favorites below - each recipe has rave reviews from happy readers - and they are all keto compliant and low carb!
And be sure to check out my grilled flank steak, garlic grilled flank steak, and best grilled carne asada recipe ever for different takes on this delicious easy keto flank steak recipe!
The Best Easy Oven Roasted Garlic Flank Steak Recipe
If you love this oven roasted garlic butter flank steak recipe as much as I do, please give it a five star review (simply click the stars in the recipe below) and help me share on facebook and pinterest!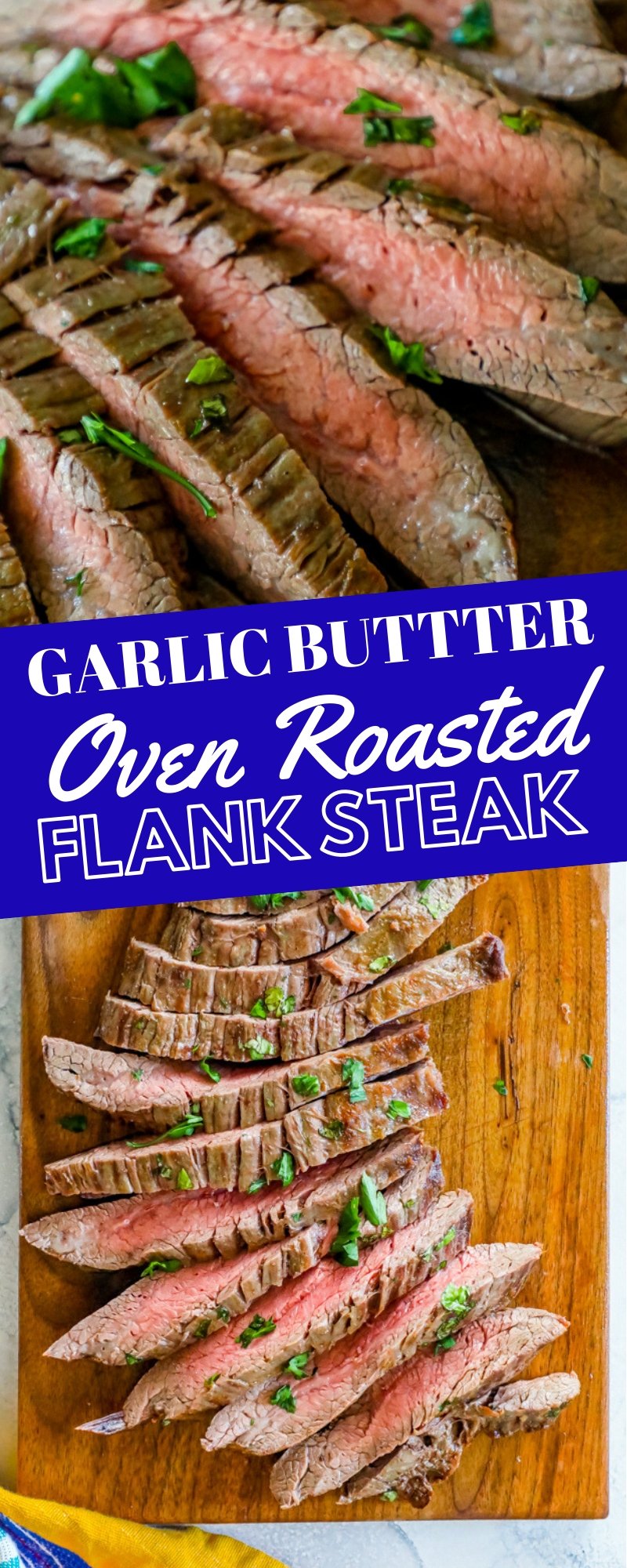 CONNECT WITH SWEET C'S!
Be sure to follow me on social media, so you never miss a post!
Facebook | Twitter | Youtube | Pinterest | Instagram
Only have 30 minutes to get dinner on the table? Sign up for my 30 minute dinner plans direct to your inbox!
Find and shop my favorite products in my Amazon storefront here!
Yield:

4
The Best Easy Oven Roasted Garlic Flank Steak Recipe
The Best Oven Roasted Garlic Flank Steak Recipe - how to cook flank steak or skirt steak in the oven with tons of garlic butter steak flavor!
Ingredients
1 ½ lb flank steak
1 teaspoon sea salt
1 teaspoon pepper, freshly cracked
½ cup olive oil
1 teaspoon italian herb mix
¼ cup diced garlic
2 oz lemon juice
1 tablespoon garlic powder
zest of 1 lemon
Instructions
Lay flank steak out flat, trim any extra fat or silver skin.
Generously season steak with salt and pepper.
Add olive oil, herbs, lemon zest and juice, and diced garlic to a large bowl or (preferably) a large plastic bag and mix well.
Add steak to bag and let marinate for 40 minutes up to two hours.
Preheat oven to 500 degrees (or 450 - as high as your oven broiler can go.)
Add large cast iron pan or skillet to oven. If you don't have a pan or cast iron griddle large enough for your steak, you can use a heavy baking sheet lined with foil. (Cast iron will get best results, but don't worry if you don't have it.) Make sure pan is close to broiler, but not touching (I give about 5" to make sure my steak has room under the broiler since I have a gas flame broiler and don't want to start a fire from spattering fat.) Let pan get scorching hot before adding steak to it for the best texture.
Remove steak from bag, and sprinkle with garlic powder.
Cook steak in oven for 8 minutes, then flip to other side and cook another 8.
Continue to cook until steak has reached desired doneness: 125 degrees with a digital thermometer inserted into the fattest part of the steak will give you a rare steak. 135 degrees will get you medium rare, 155 for medium well, and 165 degrees for well done.
When your steak is done to your taste, remove from oven.
Place a small piece of foil over the steak to "tent" it and let it finish carryover cooking as it rests for 10 minutes.
When steak has rested for at least 10 minutes (don't rush - if you cut it right off the grill the steaks juices will all run out), slice it width-wise (so you have lots of thin strips instead of just a few long strips) against the grain - which is essential to keeping the steak from being too chewy or tough.
Serve immediately and enjoy!
Nutrition Information
Yield
6
Serving Size
1
Amount Per Serving
Calories

398
Total Fat

27g
Saturated Fat

6g
Trans Fat

0g
Unsaturated Fat

19g
Cholesterol

90mg
Sodium

456mg
Carbohydrates

5g
Net Carbohydrates

0g
Fiber

1g
Sugar

1g
Sugar Alcohols

0g
Protein

32g
Nutrition is automatically calculated by Nutritionix - please verify all nutrition information independently and consult with a doctor or nutritionist for any and all medical and diet advice.
If you love this knockout steak dinner, be ssure to check out some of our reader favorites!
These recipes are tried and true viral hits with our readers and are all easy and loaded with flavor your family will love!
Sweet C's Favorite Recipes
Favorite recipes from Sweet Cs Designs