The Tastiest and easiest white Sangria and Virgin Sangria Ever- this recipe is bound to be your summer entertaining favorite! It is always the first thing to go at our parties!
With summer coming up, I have been dying to re-share one of my favorite drink recipes ever- my super-simple White Sangria and Virgin Sangria. It is quick, delicious, and SO good- and it is always a massive hit! We always run out of this drink quickly- and people always ask me the recipe. It is bound to be one of your favorite go-to party drinks!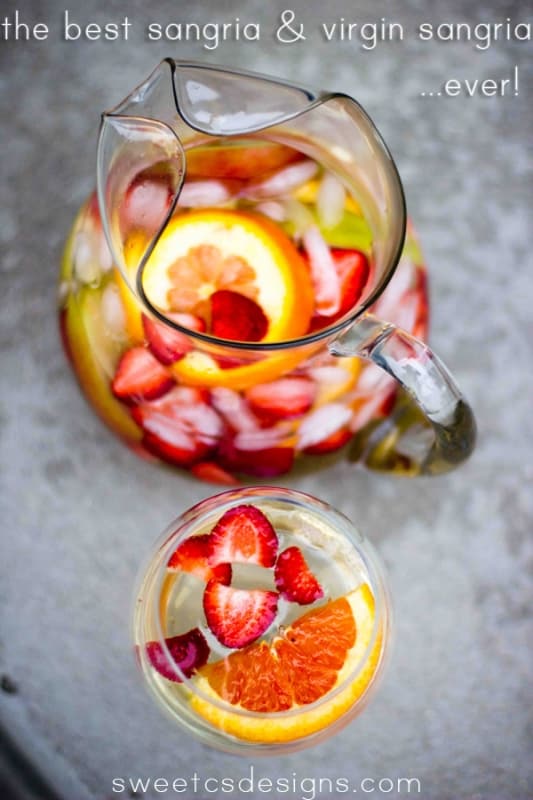 Today I am going to share the secret to perfect parties.... with the Tastiest and Easiest White Sangria & Virgin Sangria... ever!! Pull up a glass, pour the goods, and sip away my friends- because this recipe is bound to become one of your new favorites.
The thing I love most about this drink is that you can completely adapt it to what you have on hand. Have some leftover sodas or juices? Toss 'em in! Have some fruit you need to get rid of? Toss it in! Want to change it up and try a different flavor? No problem- just check out the recipe below. I've outlined a bunch of flavors to get you going!
Also, I'm making a white sangria. If you'd like a red Sangria, swap the white wine or apple/white grape juice for Red wine and dark grape juice. Easy peasy!
I also made some notes for you to adapt your own mix as you'd like- maybe a little less alcoholic, less sweet, more sweet, with an herb-y kick- whatever!
This is a fabulously easy drink that you can throw together in just a few minutes and chill ahead of your dinner party- and both the alcoholic and virgin versions are very affordable, fresh, and refreshing!
Yield:

1 gallon
The Tastiest (& easiest) White Sangria & Virgin Sangria Recipe
Ingredients
For both full-strength and virgin recipes, you'll need:
-citrus of some kind, oranges, lemons, limes, sliced into rounds with peels ON and seeds popped out
-berries, strawberries, raspberries, blueberries
-apples, peaches, grapes, cherries (pitted) or other fruit on hand sliced thin, peel on
-ice
For the full strength Sangria, you'll need:
-1 bottle moscato, white table wine, or white zin
-1 bottle sparkling white wine, or ginger ale, tonic if you'd like the less-alcoholic version
-3 oz peach schnapps
For the Virgin Sangria you'll need:
-1 bottle Sprite/7up/sierra mist, for the most sweet, Ginger ale, sparkling cider, or soda water (for something less sweet)
-1 bottle apple juice or white grape juice
Optional for either:
Mint, basil, or rosemary for a little kick; muddled
Instructions
Thoroughly wash all fruit and slice thin. Leave peels on for color and their delicious flavor!
Pour in wine or juice and stir. Slowly pour in sparkling drink (champagne, soda or cider), peach schnapps (for the adult version), and any additional herbs you'd like to add.
Refrigerate, covered, for at least 3 hours.
Serve over ice and enjoy!!
Warning: The adult Sangria contains two bottles of wine and some liquor. This is NOT a recipe to sip and then drive- it is STRONG!! Please ask a friend to be your designated driver when consuming this drink. Even one is probably too much to risk it.