One Pot Cheesy Taco Skillet– this easy, delicious, veggie packed meal is quick and great for a budget- as well as a low carb diet! Gets RAVE reviews from tons of readers! 
If you are viewing this post on your mobile device, click "Click Here For Full Post" in the pink button below – I truncate posts so they load faster on your phone. Clicking this link will expand the full post! 🙂
Nothing gets our family to gather around a table faster than two things- tacos, and cheese.
Mention either one, and we're ready for a feast!
For us, quick, hearty, and secretly-packed-with-veggies meals (my son in particular has an extremely strong aversion to veggies, so I am a bit pressed to sneak in as many as I can into food he actually likes) are our go to options- and this Cheesy Taco Skillet is one that doesn't disappoint!
This dinner is quick (under 20 minutes), easy enough for beginner cooks, and is secretly packed with veggies. It is perfect served over salad, rice, in a burrito – or just on it's own!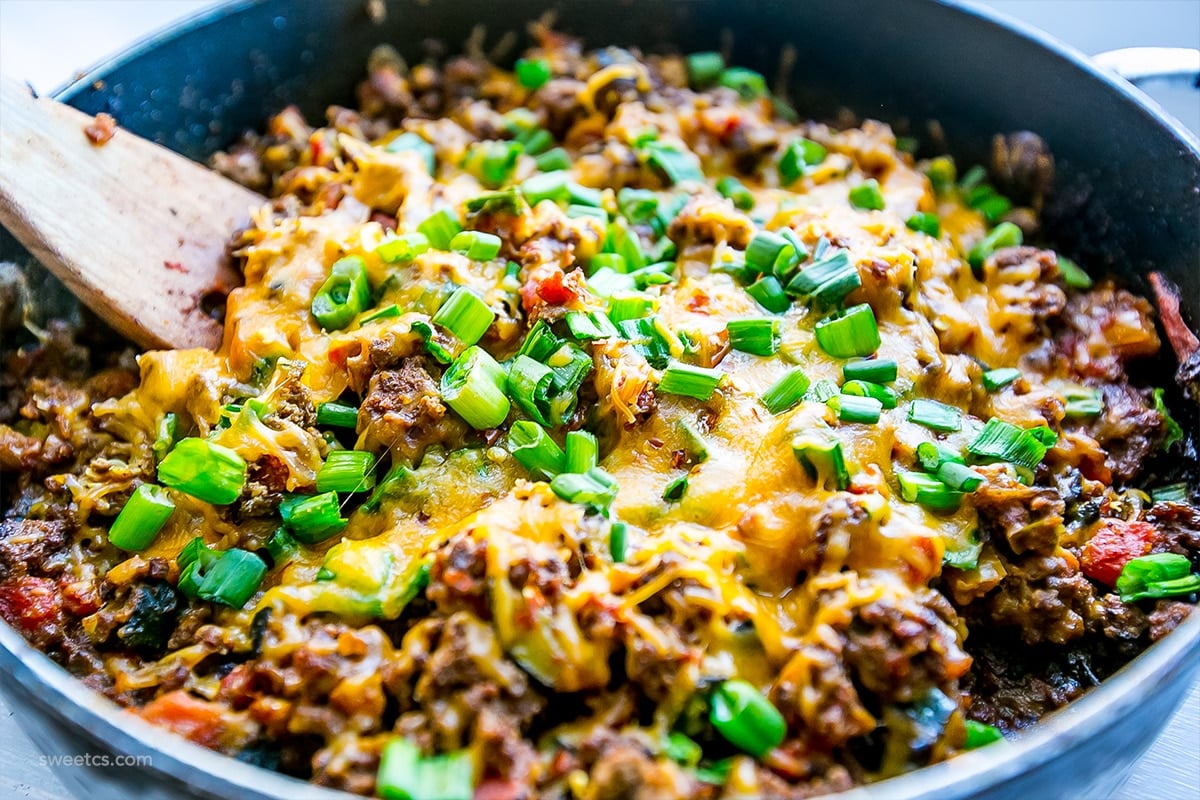 I first got the idea for taco skillets from Melissa at Number 2 Pencil- she is the queen of one pot meals! Her One Pan Chicken Burrito Bowls kind of spurred on this take- because how good do these look?
My take has ground beef, peppers, onions, green onions- and we're sneaking in some spinach or kale for an extra nutritional hit!
I mean, just check out this nutritional profile, and you can see why this is one of my favorite meals.
Super cheesy, under 13 carbs and 350 calories per serving, and tons of protein – so it is perfect for a warm, comforting meal that won't kill your waistline.
Plus, you're getting tons of vegetables in each serving- perfect for a hearty, healthy dinner!
This recipe is incredibly low carb- but you can also reduce the calories by using ground chicken or turkey meat, and using a skim cheese like mozzarella (though I am a proponent of full fat, gooey cheese!).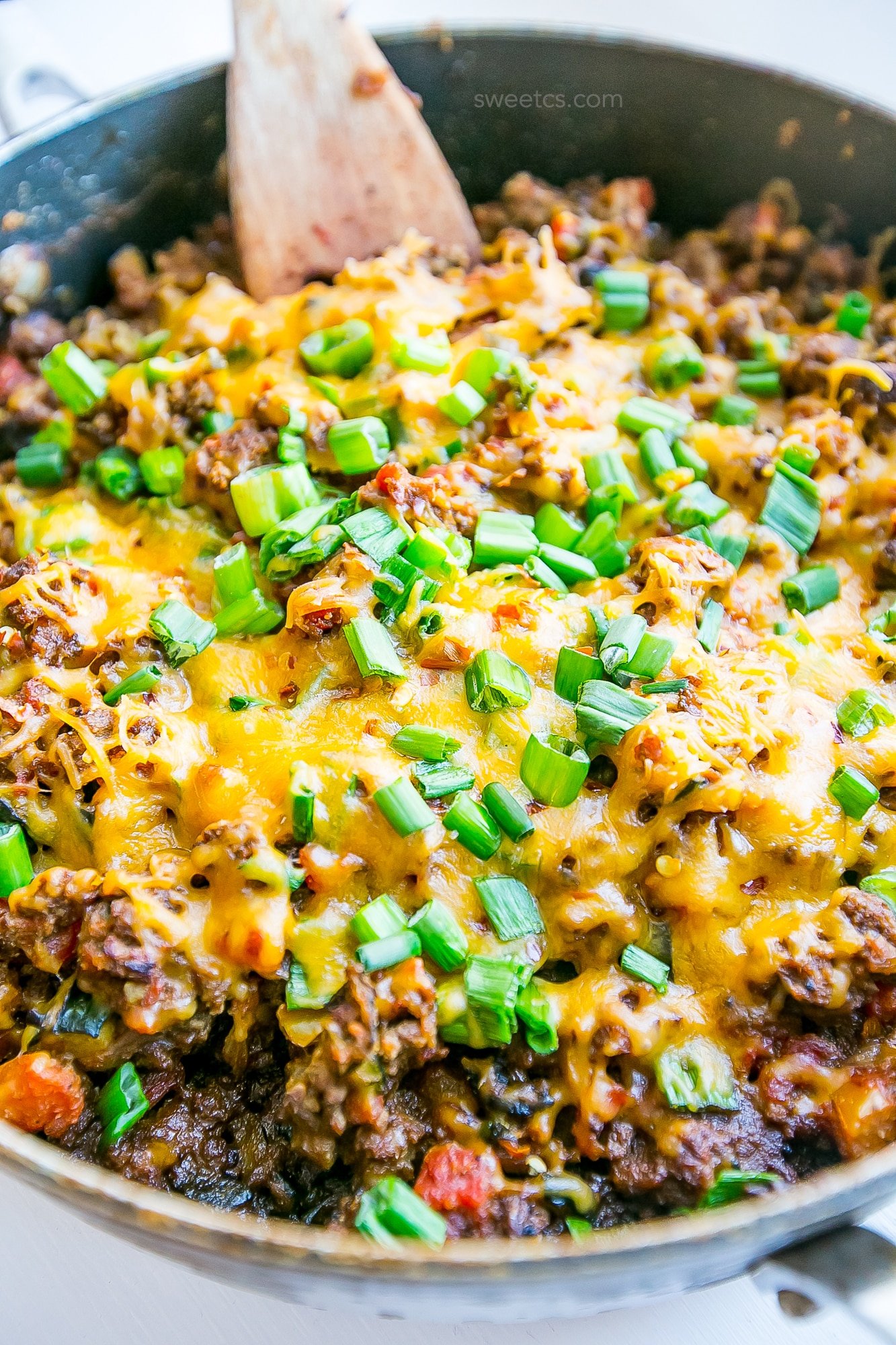 I left the baby kale mix I used unchopped so you can see it in the photos- but if you have picky eater kids, be sure to chop it up. They will never knew what hit them! You could also swap it out for spinach, or just leave it out.
I also love to chop up zucchini and browning it with my beef- it browns really nicely and takes on the meaty flavor – without adding many calories. Since zucchini is very low cost, it helps to "stretch" taco meat without adding calories – I almost always sneak zucchini into taco meat.
Hot tip: If you want to sneak the zucchini in so your family can't find it (or if you're a bit unsure of how it will taste), remove the skin from the outside and very, very finely dice the zucchini into tiny bites. When cooked with the ground beef, it really does break down to the size of ground beef crumbles and browns nicely – you'll be surprised at how well it blends in and adds to the meaty flavor!
I like to serve this meal over a bed of lettuce or greens- like a Chipotle Burrito Bowl- but you can also add it over rice or dump it in a taco or burrito, too!
And if you're looking for an even easier and healthier version, check out this Slow Cooker Chicken Taco Bowl recipe, or my Meaty Vegan Paleo Taco Skillet recipe.
I hope you love this recipe as much as my family and I do!!
One Pot Cheesy Taco Skillet
One Pot Cheesy Taco Skillet
Prep time:
Cook time:
Total time:
One Pot Cheesy Taco Skillet- this easy, delicious, veggie packed meal is quick and great for a budget- as well as a low carb diet!
Ingredients
1 lb lean ground beef
1 large yellow onion, diced
2 bell peppers, diced
1 can diced tomatoes with green chilis
1-2 large zucchinis, diced
taco seasoning
3 cups baby kale/spinach mixture (this sounds like a lot- it cooks down to a small amount), optional
1½ cup shredded cheddar and jack cheese
green onions, to garnish
Instructions
In a large pan, lightly brown ground beef and crumble well.
Drain excess fat.
Add onions and peppers, and cook until browned.
Add canned tomatoes, taco seasoning, and any water needed for taco seasoning to evenly coat mixture (up to 1 tbsp- the liquid from the tomatoes will help)
Add greens and let fully wilt.
Mix well.
Cover with shredded cheese and let cheese melt.
When cheese is melted, serve over a bed of lettuce, rice, or in a taco or burrito!
Nutrition Information
Serving size:
343g
Calories:
330
Fat:
14.2
Saturated fat:
7.6
Trans fat:
0
Carbohydrates:
12.9
Sugar:
5.8
Fiber:
3.5
Protein:
36.8
Be Sure to Check Out These Other Top Easy Recipes:
Cheesy One Pot Taco and Rice Skillet
This amazingly creamy and delicious Sausage and Ravioli Skillet:
Quick and easy one pot risotto: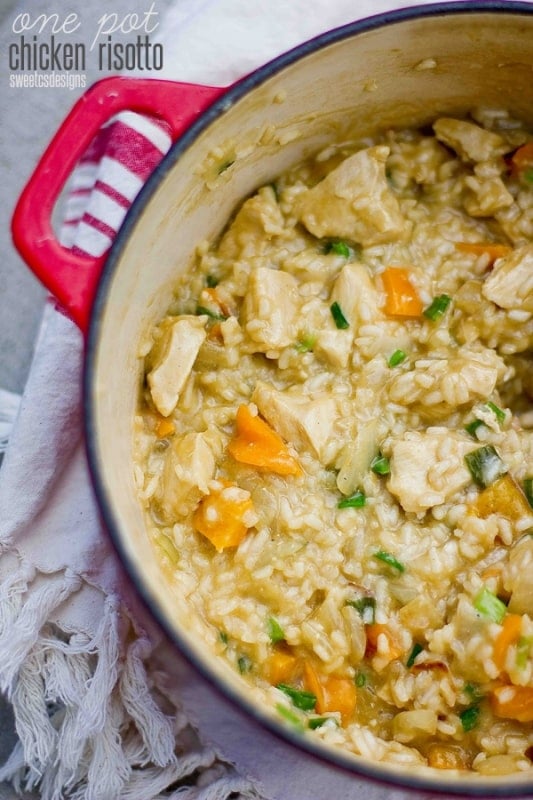 Lemon Chicken and Asparagus:
Tuscan Baked Fish: