This recipe for Slow Cooker Chicken Taco Bowls is so simple – set and forget it and come home to a delicious low calorie mexican dinner!
I love delicious taco-style bowls full of cheese, veggies, and TONS of flavor.
They are simple, quick, and really adaptable – you can pile them on salads, in tacos, over rice, or even in a mexican style pasta or enchiladas and burritos!
I recently upped my taco bowl game and started making them in the slow cooker though, and now I might never look back…. especially when these crazy healthy Slow Cooker Chicken Taco Bowls are so quick, simple, and freaking DELICIOUS!
When I say crazy healthy, I mean these clock in at under 220 calories per serving— really!
Even with all that melty, delicious cheese.
I like to fill my taco meat with zucchini (which sounds super odd- but I promise, it really does take on a meaty flavor when slow cooked with taco seasoning…) which makes it more delicious and cuts down on fat and calories.
These Slow Cooker Chicken Taco Bowls also go great over nachos!
Dieting tip: Make this recipe perfectly paleo by omitting the cheese, or vegan by swapping tofu for chicken. Both still taste GREAT!
This will soon be your family's favorite meal!
Be sure you check out my other one pot taco dinners!
A delicious paleo taco skillet,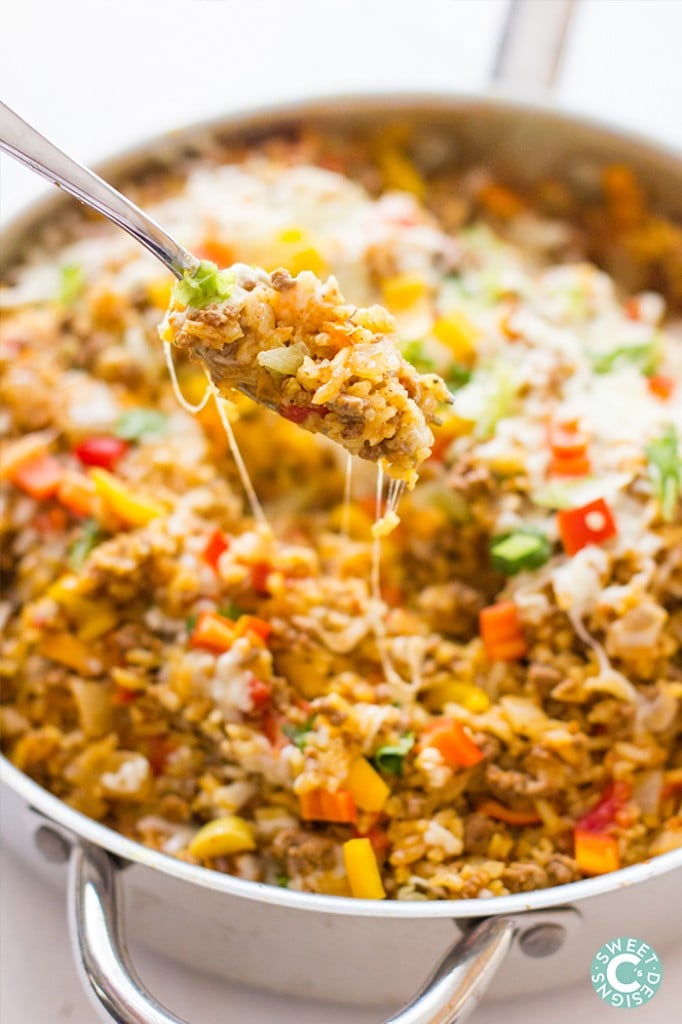 A one pot taco and rice skillet,
A vegan  taco skillet you will actually want to eat (no weird ingredients!!)
And a super cheesy taco skillet that is the one recipe I make at least once a week – plus the video tutorial for the cheesy taco skillet!
Slow Cooker Chicken Taco Bowls
Slow Cooker Chicken Taco Bowls
Ingredients
1lb ground chicken
1 large onion
2 bell peppers
1 zucchini
2 tbsp taco seasoning
8oz diced tomatoes with green chilis
½ cup shredded cheddar cheese
2 g cilantro
Instructions
Add diced vegetables and ground chicken to slow cooker with taco seasoning.
Cook on low for 4 hours, 2½ hours on high.
When meat and vegetables are cooked, top with shredded cheddar cheese and cilantro and serve!
Nutrition Information
Serving size:
220g
Calories:
215
Fat:
9
Saturated fat:
3.5
Carbohydrates:
7.3
Sugar:
3.3
Sodium:
281
Fiber:
1.7
Protein:
25.6
Cholesterol:
7.7